Calls for justice after journalist Shireen Abu-Akleh killed in 'targeted attack' by Israeli forces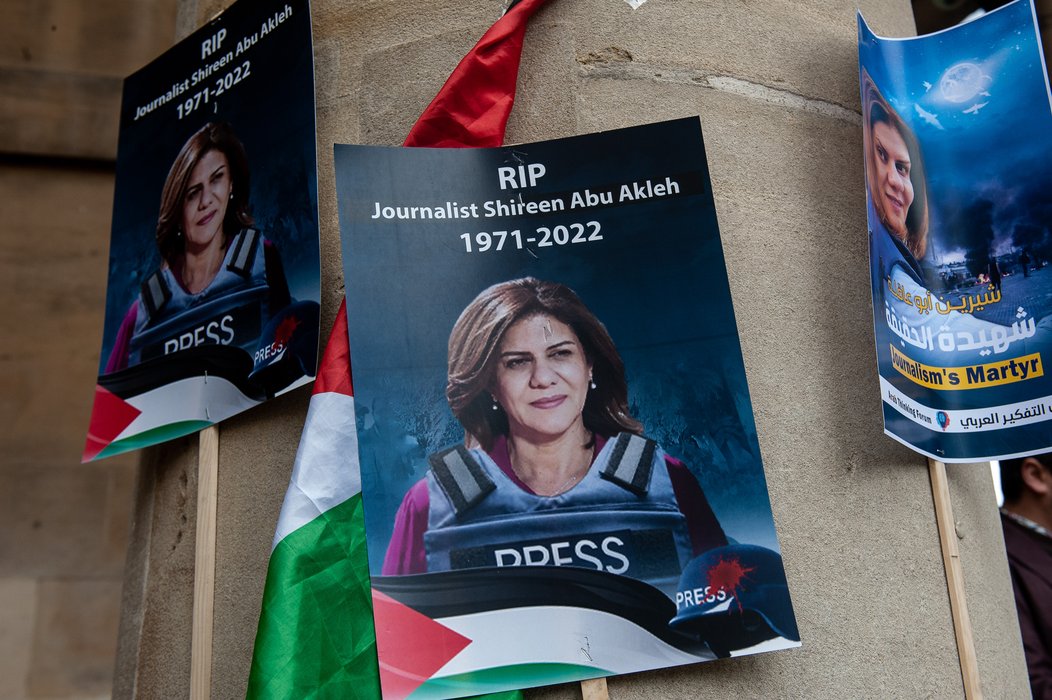 Association
In June 2022 the United Nations Independent International Commission of Inquiry on the Occupied Palestinian Territory, including East Jerusalem, and Israel (COI-OPTI) issued its first report to the UN Human Rights Council. This is the first COI to address human rights violations perpetrated against Palestinians in all the territories under Israeli control including Palestinian citizens of Israel. The COI-OPTI identified the continued Israeli occupation, which persist with a "culture of impunity" in perpetrating discrimination against Palestinians, as underlying root causes of recurrent tensions, instability and protraction of conflict.
The Commission has noted with concern the increasing attacks on and efforts to silence human rights defenders and civil society organisations which advocate for the protection of human rights and accountability in the Occupied Palestinian Territory and Israel.
"Our review of the findings and recommendations of previous UN mechanisms and bodies clearly indicates that ending Israel's occupation, in full conformity with Security Council resolutions, remains essential in stopping the persistent cycle of violence. It is only with the ending of occupation that the world can begin to reverse historical injustices and move towards self-determination of the Palestinian peoples," Commissioner Miloon Kothari noted.
Restrictions on representatives of civil society organisations have continued. For instance, on 1st June 2022, Israeli authorities prevented Ubai Al-Aboudi, the Executive Director of the Bisan Center for Research and Development, from traveling to Amman, Jordan to attend a two-day expert meeting with the United Nations Economic and Social Commission for Western Asia. Al-Aboudi was due to discuss Israel's policy and practices in the Occupied Palestinian Territory and their economic implications. The travel ban comes following Israel's designation of Bisan as a "terrorist organisation" and "unlawful association" in October 2021 (see previous update). In a statement the center said:
"This cannot be interpreted as anything other than a politically-motivated attack on Palestinian activists and human rights defenders who dare to speak out against Israel's regime of occupation, domination, oppression with clear apartheid characteristics."
Separately, in an open letter to the President of the European Parliament, civil society representatives raised their concerns after Israeli authorities denied the entry of European Members of Parliament into Palestine. Six MEPs were meant to go on an official mission as part of their mandate in the Delegation for Relations with Palestine, following the death of Al-Jazeerajournalist Shireen Abu Akleh (see more under expression).This continues a decades-long policy of restricting access to international experts, preventing the monitoring and documentation of international crimes and deterring solidarity with the Palestinian people. Israel has denied entry to many UN Officials and US Congresspeople and deported the Director of Human Rights Watch in 2019.
The letter also condemned officials for continuing their plans to meet Israeli officials despite the denial of the opportunity to meet with Palestinian CSOs.
"We also strongly decry your decision to pursue your trip to meet with Israeli officials and address Israeli lawmakers, regardless of the above, promoting impunity for a regime perpetuating war crimes and crimes against humanity, all despite the utter disrespect shown to your very own institution."
CSOs also raised concerns about a new Israeli policy which could come into effect on 5th July 2022 and make the requirements more stringent for foreigners to enter the West Bank. 
Expression
Palestinian journalist killed in targeted attack
On 11 May 2022, Shireen Abu Akleh, a prominent 51-year-old Palestinian-American journalist from Jerusalem, was killed while she was covering the aggression in Jenin Refugee Camp in the occupied West Bank, despite her wearing her press uniform. An investigation by CNN suggests that Abu Akleh was killed in a targeted attack by Israeli occupation forces with a direct bullet in the head. Her colleague, Ali al-Samoudi, who was also reporting on the same event, was shot in the back and is currently in a critical condition. Following Abu Akleh's death, Israeli security forces raided her East Jerusalem home.
One month. One month ago an Israeli soldier murdered my aunt in cold blood. One month without justice. One month and no one has been held accountable. One entire month, but everyday feels like May 11. #ShireenAbuAkleh #JusticeForShireen #شيرين_ابو_عاقلة pic.twitter.com/H6zqILGLRt

— Lina Abu Akleh (@LinaAbuAkleh) June 11, 2022
In a statement, PNGO condemned the assassination of the journalist and called for accountability:
"PNGO stresses the need for intensified and concerted efforts to prosecute the occupying power and hold it accountable for its crimes against Palestinian journalists. This heinous crime is in violation of the principles of international law and the provisions of the United Nations Charter. It is a grave breach of international humanitarian law and international human rights law (war crimes and crimes against humanity) as well as all relevant United Nations Security Council resolutions. This is a daily crime committed by the occupying power with the objective of concealing the narrative and preventing the truth from being communicated to the rest of the world."
"In light of the international community's silence towards our people and their rights, PNGO views the assassination of Palestinian journalist Abu Akleh as an expression of the occupation's continued crimes against Palestinian civilians. PNGO calls on the international community to hold the Israeli government and its occupying armed forces accountable for this horrific crime. We demand the international community to amplify its voice and fulfill its duty toward the crimes being committed by the occupying power."
International press freedom groups Reporters without Borders (RSF) and the Committee to Protect Journalists (CPJ) also condemned the death of Abu Akleh and called for an independent international investigation into her death as soon as possible.
UN experts also called fora "prompt, transparent, thorough and independent investigation" into the killing of Shireen Abu Akleh, in full compliance with the Revised United Nations Manual on the Effective Prevention and Investigation of Extra-Legal, Arbitrary and Summary Executions (The Minnesota Protocol on the Investigation of Potentially Unlawful Death). Experts urged the Israeli and Palestinian authorities and other stakeholders to cooperate with such an investigation.
Violations against journalists
Violations by Israeli occupation forces against journalists have been systematic, as documented by the CIVICUS Monitor previously. Earlier in March 2022, MADA documented a total of 16 violations committed by the Israeli occupation forces. This included:
Seven physical attacks on journalists, with some journalists hit by bullets. This included photographers Abdel Mohsen Shalalda and Musab Al-Tamimi.

Some journalists were also hit by two bullets during the same event, such as reporter Abdullah Bahsh and cameraman Mamoun Wazouz.

A correspondent of Al-Irsal Agency was subjected to gas suffocation while covering the incursion of the Israeli army into Qalandia refugee camp.

Occupation forces targeted the Palestine TV crew to prevent them from covering the olive tree planting activity in Jabal al-Raysan, west of Ramallah.

Occupation snipers also targeted journalists Mujahid al-Saadi and Muhammad Abed by shining a laser on them to intimidate them and prevent them from covering the demolition of a house in the town of Silat al-Harithiya near the city of Jenin.
During March 2022, the occupation arrested three journalists:
Bushra Al-Taweel, who was arrested at the "Za'tara" checkpoint, and later transferred to administrative detention for a period of three months, the director and cameraman for Palestine TV Raja'i Hamad, who was arrested at the "Ma'ale Adumim" checkpoint, as well as journalist and political analyst Imad Abu Awad held for several days before being released.

The occupation forces detained journalists Osama Shaheen and Jawad Fakhri for two hours at the "Ras al-Jura" checkpoint, and interrogated journalist Osama Shaheen two days later in Etzion detention centre after they handed him a summons while in detention.

Separately, journalist Assem Mustafa Al-Shannar from the city of Nablus was released by occupation forces after spending six months in prison.
In April 2022, MADA documented 47 violations by the Israeli Occupation forces, noting that the attacks were committed "deliberately and systematically against journalists". Attacks included:
10 journalists were attacked with rubber bullets and specifically targeted on the upper part of their bodies, such as journalists Nisreen Al-Abed andFadi Yassin, who were wounded on their necks.

Four journalists were arrested, including Palestine Times Network correspondent Omar Abu Al-Rub, Al-Qastal news network cameraman Ahmed Abu Sobeih, Al-Qastal network correspondent Muhammad Samreen, and Ayman Qawariq, who is still in Ofer Prison.

Additionally, Hani Fanoun, Palestine TV reporter, and Shadia Bani Shamsa, correspondent of Nablus Post website, were briefly detained.
In May 2022, MADA documented 64 violations against journalists, of which 49 were committed by the Israeli Occupation forces, with the most serious violation being the killing of journalist Shireen Abu-Akleh.
Human Rights Defenders at risk
On 6th June 2022, several organisations criticised the decision by Israeli authorities to extend human rights defender Salah Hammouri's administrative detention for another three months. 37-year old Salah Hammouri is a Palestinian-French Jerusalemite, a long-time human rights defender, a lawyer with Addameer Prisoner Support and Human Rights Association, and a former political prisoner. A justice campaign has been launched, aiming to end the Israeli authorities' harassment of Salah Hammouri and raise awareness about the systematic and illegal policies and practices employed against the Palestinian people. The campaign calls for:
The immediate release of Salah from administrative detention;

End all threats against Salah of forcible deportation from his homeland;

Cease all harassment practices against Salah and allow him and his family to live freely in Jerusalem; and

Repeal all ID revocation and deportation policies against Jerusalemites, and allow for the return to Jerusalem of those deported or who had their IDs revoked.
Peaceful Assembly
In April 2022, Michael Lynk, the UN Special Rapporteur on the situation of human rights in the Palestinian Territory occupied since 1967, raised concerns over the "rising level of violence associated with Israel's 55-year-old occupation of Palestine" in relation to several incidents which took place in April which saw excessive force by Israeli Occupation forces. He stated:
"In recent weeks, Israeli security forces have entered the Haram al-Sharif in East Jerusalem and arrested hundreds of Palestinian worshippers amidst protests and stone-throwing, rockets have been fired towards Israel from Gaza and Israel has bombed Gaza, and scores of Palestinians have been injured in demonstrations against settler marches in the West Bank."
On 15th April 2022, thousands of Palestinians who gathered at the Al-Aqsa Mosque in occupied East Jerusalem for early morning prayers were met with force from Israeli police resulting in at least 158 injuries and hundreds of detentions. Israeli occupation forces raided the site and used tear gas and stun grenades against worshippers. In response to the force, Palestinians threw rocks.

At least 40 Palestinian protesters were injured following a march by Israeli Jewish Settlers to the abandoned outpost of Homesh in the occupied West Bank. Israeli forces used rubber coated bullets and tear gas against Palestinians who protested against the march.

In May 2022, thousands of Israeli ultra-nationalists marched in occupied Jerusalem's old city, chanting "Death to Arabs" during the so-called flag march. The group also attacked the Sheik Jarrah neighbourhood (see previous updates) by throwing stones, vandalising cars and firing live bullets at residents.
A pogrom took place in Sheikh Jarrah this evening, it lasted for hours. When Israeli forces intervened, they secured the perimeter to the aid of raiding settlers.
they used bullets, gas & water cannon against🇵🇸, while a State-Sponsored Pogrom took place uninterrupted inside SJ.

— Jalal (@JalalAK_jojo) May 29, 2022