Brazil: shocking violence on HRDs and journalists continues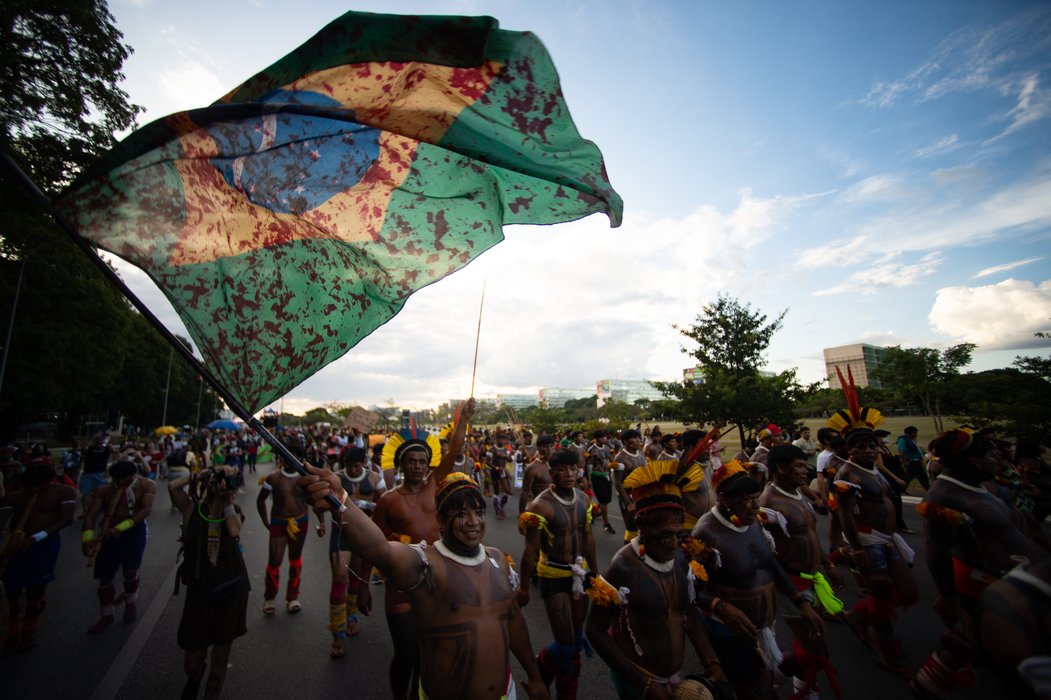 Association
Killings and attacks on HRDs
#URGENTE | Uma criança de 9 anos foi assassinada a tiros na noite dessa quinta (10), no Engenho Roncadorzinho, município de Barreiros, Mata Sul de PE. O pai do menino, Geovane da Silva Santos, tmb foi atingido com os disparos, mas sobreviveu ao atentado. https://t.co/HTIzlAPwq3

— CPT Nacional (@cptnacional) February 11, 2022
On 10th February 2022, nine-year-old Jonatas de Oliveira dos Santos was shot and killed in an attack in Engenho Roncadorzinho, a community in the town of Barreiros, Pernambuco state. According to the local police, the boy was killed in retaliation against his father, Geovane da Silva Santos, a community leader and president of the local smallholder farmers' association. The killers attacked Geovane's home overnight, murdering the boy and wounding Geovane. On 16th February 2022, three suspects were arrested in connection with the attack.
The police said they were investigating whether the crime was ordered by a criminal group engaged in land trafficking. However, Geovane told civil society groups that he believes the crime was motivated by the community's struggle for their land rights. The Engenho Roncadorzinho community has faced threats and violence from people allegedly connected with private companies in the region.
Separately, on 17th February 2022 Ilma Rodrigues dos Santos and her husband Edson Lima Rodrigues, members of the Liga dos Campesinos Pobres (League of Poor Campesinos - LCP), were found dead with shots to the head in the countryside of Rondônia. The couple's truck had also been set on fire in the attack. Ilma worked as a treasurer in the LCP, which advocates for land reform. Their bodies were found in a region known as the "Nova Brasil" farm, marked by violence stemming from land conflict. Local police have blamed the LCP for attacks against environmental police officers in the region, which advocates say is an attempt to criminalise the group.
In a separate but related development, speaking at the end of a 12-day official visit to Brazil on 11th April 2022, a UN expert expressed concerns about restrictions on Brazilians' rights to full and active social and political participation, and the appalling levels of violence directed against human rights defenders, women journalists, Indigenous peoples and traditional communities, in particular those of African descent. The Special Rapporteur on the rights to peaceful assembly and of association, Clément Nyaletsossi Voule, urged the State to create and maintain a safe and enabling environment that is conducive to the exercise of the rights to peaceful assembly and association.
Lawsuit against abusive police operation
Agricultores familiares foram alvos da Operação Agrofantasma, deflagrada em 2013 pela PF. Trabalhadores foram absolvidos por falta de provas.https://t.co/kachvPayTz

— Terra de Direitos (@terradedireitos) March 11, 2022
In March 2022, three smallholder farmers filed a lawsuit against Paraná state, claiming compensation for moral and material damages incurred as a result of a police operation in 2013. According to the farmers' defence, they were among a group of farmers from Paraná who were detained amid a police operation known as Operação Agrofantasma ("Agro-ghost Operation") which investigated alleged irregularities in the management of resources and food distribution in a government programme promoting smallholder farming.
The lawsuit claims the three farmers faced illegal pre-trial detention, power abuses and police violence during the criminal proceedings against them, which eventually ended in their acquittal in 2017. The three were members of the civil society organisation Associação dos Grupos de Agricultura Ecológica São Francisco de Assis, which worked on promoting agroecology in the region. The farmers' defence said the criminalisation led the organisation to lose contracts and members as a result of the accusations. The farmers also endured emotional distress and stigmatisation in their communities due to the unfounded criminal charges.
Military police linked to disinformation on environment
Facebook takes down Brazil environmental disinformation network with ties to military https://t.co/XyplHW2mqa pic.twitter.com/OeopRtc4J3

— Reuters (@Reuters) April 8, 2022
On 7th April 2022, Facebook announced it had taken down a network of fake accounts and profiles which disseminated disinformation related to environmental debates. Some of the profiles masqueraded as environmental groups interested in the Amazon's preservation, but attacked legitimate civil society organisations working on the issue. The network appears as an example of "coordinated inauthentic behaviour", a term used by the tech company to refer to networks of fake profiles and pages used in an effort to manipulate public debate.
Facebook's parent company, Meta, said in their report that the Brazilian network was the first such operation disrupted that primarily focused on environmental issues. Although the people behind it attempted to conceal their identities and coordination, the company's investigation found links to officials of the Brazilian Military.
Peaceful Assembly
Murder of Congolese refugee sparks protests
No Rio de Janeiro, o ato por justiça à Moïse foi marcado pela presença de, pelo menos, 5 mil pessoas, na Barra da Tijuca. #JustiçaPorMoise

📸Jefferson Barbosa/Perifa Connection pic.twitter.com/5NsjmPkofq

— Alma Preta (@Alma_Preta) February 5, 2022
On 5th February 2022, thousands of people protested across Brazilian cities after the murder of a 24-year-old Congolese refugee who was beaten to death on 24th January 2022. Moïse Mugenyi Kabagambe was assaulted by three men at a beach kiosk at one of Rio de Janeiro's most popular beachfronts where he used to work. The attack was caught on security camera footage that police released to the public, sparking outrage and revulsion.
The protest in Rio de Janeiro was organised by Kabagambe's family and joined by thousands of supporters who decried racism against Black people and xenophobia in Brazil. They demanded justice for Moïse, who had fled civil war in the Democratic Republic of the Congo and had lived as a refugee in Brazil since 2011.
Artists and activists protest anti-environment bills
Thousands protest against Brazil's 'death combo' of anti-environment bills

The "Ato pela Terra" (Stand for the Earth) demonstration was held in Brasília to oppose what activists call a "death combo" of five environment-related bills.https://t.co/g3nhPdtJ47?
Photos:Mídia Ninja pic.twitter.com/zAVEY6j738

— Climate Save Movement (@climatesavemvmt) March 11, 2022
On 9th March 2022, thousands joined the demonstration "Ato pela Terra" ("Stand for the Earth") in front of the National Congress in Brasília to oppose five bills dismantling environmental governance and land rights in Brazil. The draft laws, in what was dubbed a congressional "death combo" by environmental groups, would allow commercial mining on Indigenous lands, jeopardise land rights of tens of thousands of Indigenous peoples, loosen environmental licensing regulations and shield activities of land grabbers and illegal loggers.
Legendary musician Caetano Veloso led the call to protest and denounced the historic assault on Brazil's environmental governance under President Jair Bolsonaro. In an interview with The Guardian, Veloso said: "Our forests, our songs, our plays and our films … are being threatened by this government – and are in the process of being destroyed. But, as one of the members of the group that produces popular music, I can assure you we are here – Brazil is here."
Impunity for Marielle Franco's murder four years on
14th March marked the fourth anniversary of the murder of Marielle Franco, a Black activist and feminist who was elected in 2016 to Rio Janeiro's city council. As reported in the CIVICUS Monitor at the time, Franco and her driver Anderson Pedro Gomes were killed in a drive-by shooting in 2018. After four years, police investigators have made little progress towards solving the case, which has all the signs of a carefully orchestrated hired assassination. In 2019, two former military policemen were arrested as suspects. They were accused of acting as hired assassins, however police have failed to publicly identify intellectual authors and the motive for the crime. On the day of the anniversary, family members and activists organised protests in Rio de Janeiro and in Brasília to demand an answer to the question "who ordered Marielle Franco's killing?"
Thousands gather in Indigenous mobilisation
🇧🇷🏹✊🏿 The 18th edition of the Acampamento Terra Livre was held from April 4 to 18 in Brasilia. More than 7 thousand people from 200 Indigenous Peoples from all parts of the country were present during the two weeks of mobilization.

📷 @RenanBraga #ATL2022 pic.twitter.com/vvZEn1es8Y

— Indigenous Peoples Rights International (@IPRightsIntl) April 19, 2022
Between 4th and 14th April 2022, thousands of Indigenous peoples and supporters gathered in the 18th Acampamento Terra Livre ("Free Land Camp") in the country's capital. The theme of this year's mobilisation was "Retaking Brazil: demarcate territories and indigenise politics." On 6th April 2022, over 7,000 Indigenous people chanted and marched in Brasília in protest at the Bolsonaro government's "anti-Indigenous" agenda. In the final document of the 10-day demonstration, leaders of 200 Indigenous populations from across Brazil highlighted the union and continued struggle of their peoples. The document said:
"We continue and we will continue together, resisting against the different extermination projects that the elites, capital owners or representatives and their successive government leaders and allies in the Legislative Power have articulated against us throughout these 522 years."
Expression
Journalist killed in Fortaleza
A polícia civil do Ceará prendeu em 18/2 o suspeito de ter assassinado o blogueiro Givanildo Oliveira, dono do portal de notícias Pirambu News, em 7/2, em Fortalezahttps://t.co/d8Mz2OrGPu

— Portal dos Jornalistas (@JornalistaseCia) February 22, 2022
On 7th February 2022, Givanildo Oliveira, founder and journalist of news website Pirambu News, was shot and killed in Fortaleza, Ceará. Security camera footage from a nearby church showed Oliveira walking in the street when a man ran behind him, pushed him to the ground, fired about four shots and then fled. The crime took place in the evening with a number of witnesses nearby.
Pirambu News mainly publishes news reports on crime and violence in the Pirambu neighbourhood of Fortaleza. Oliveira had been threatened and warned not to publish information about local criminals, according to a statement from the Brazilian Association of Investigative Journalism (Abraji). News outlet Diário do Nordeste also reported that Oliveira's death followed the publication of a news report about the detention of a local man suspected of double homicide. Police arrested a suspect in the case, an alleged hired gunman working with a criminal gang.
Violence and attacks on the press
Imagens do momento em que o cidadão me aborda em Balneário Camboriú – junto com minha família – para me ameaçar dizendo pra eu "me ligar" porque "a vida do meu filho depende de mim". Vídeo obtido pela @dspautzsc e que já está em posse da polícia. pic.twitter.com/5sry8xX11U

— Leandro Demori (@demori) January 12, 2022
On 9th January 2022, journalist Leandro Demori, editor-in-chief of the website Intercept Brazil, was threatened while he was out with his wife and three-year-old son in Balneário Camboriú, Santa Catarina state. In an article, Demori wrote that he and his wife were walking down the street when a man approached them and said "get smart, because your son's life depends on you." The man had followed the family from a nearby shop. The local police reportedly charged a man for the threat.
On 14th January 2022, journalist Daniel Carniel was punched and kicked by two assailants at the entrance of privately owned broadcaster Adesso TV in the city of Garibaldi, in the southern Brazilian state of Rio Grande do Sul. Carniel told Abraji that, while hitting him, the assailants said, "This is so you learn to tell the truth in your programme. To report properly." Carniel discusses local news, politics and corruption in a programme on Adesso TV.
On 1st February 2022, two men fired warning shots at reporting teams from the broadcasters TV Aratu and Band in Salvador, Bahia, and assaulted one of the crew members. The news teams were in the area to report on a killing that occurred earlier that morning, when the men fired into the air, yelled at them to leave and assaulted camera operator Jefferson Alves.
On 9th March 2022, during a protest held by striking Minas Gerais police officers in Belo Horizonte, the state capital, unidentified protesters threw explosive devices at journalists covering the demonstration. The unidentified explosives inflicted temporary hearing damage on Band Minas journalist Laura França. A few weeks before, in February, protesting police officers insulted and threatened a journalist and a camera operator from TV Globo Minas and prevented them from covering a demonstration in Belo Horizonte.
On 28th March 2022, an employee of the Brazilian subsidiary of Britain's Brazil Iron in Piatã, Bahia, attempted to intimidate reporters with the investigative news group Repórter Brasil who requested comment about the alleged impact of their mining activities on local communities. The reporters said they met with a company employee to explain their investigation and request an interview, and were then asked to wait in a meeting room. After about an hour, two armed police officers arrived and said the company had accused the journalists of trespassing. The company had also requested the seizure of images captured by the reporters, which they refused to hand over. The police officers took the journalists to a police station and released them without charge after about an hour.
Reports on violence against the press
Ataques a jornalistas e ao jornalismo mantêm patamar elevado e somam 430 casos em 2021 https://t.co/SmQ5Embdky via @FENAJ pic.twitter.com/1YDeZ1UPbE

— FENAJ (@FENAJoficial) January 27, 2022
The Federação Nacional dos Jornalistas do Brasil (Brazil's National Journalists' Federation– FENAJ) released their report on press freedom and violence against journalists in Brazil in 2021. According to FENAJ, 430 cases of attacks against the press were reported in 2021. This was the highest number of attacks registered by the group since they began their monitoring in the '90s. President Bolsonaro was identified as the main perpetrator of public vilification and verbal attacks, and was alone responsible for 129 incidents of stigmatisation of the press and 18 verbal attacks on journalists. There were also 140 complaints of censorship, 33 cases of intimidation and threats and 26 cases of physical attacks.
Separately, the Associação Brasileira de Emissoras de Rádio e TV (Brazilian Association of Radio and Television Broadcasters - ABERT) presented a report showing that attacks on journalists increased 21.69% in 2021 in comparison with the previous year. They registered 145 cases affecting at least 230 media professionals. The group also noted that over half the attacks were perpetrated by President Bolsonaro, his personal security or supporters, as well as government allies.
Censorship in final report of National Truth Commission
On 11th February 2022, the Forum for the Right of Access to Public Information issued a public statement questioning censorship in the final report of the National Truth Commission on abuses during the country's dictatorship. According to the group, the Commission's final report redacted mentions of former colonel Olinto de Sousa Ferraz, who directed a prison in Pernambuco where an activist in state custody was killed in 1971. The organisations signing the statement said this type of censorship posed a "serious threat to access to information, the right to truth and memory in Brazil." The removal of Sousa Ferraz's name was motivated by a lawsuit filed by his children against the Union. However, the Forum said the decision to remove the name contravenes international human rights standards as well as local laws on access to information and Brazilian society's right to truth and memory.
Debate continues on 'Fake News' bill
📢#PL2630 #PLFakeNews | MAIS DE 50 ENTIDADES DA SOCIEDADE CIVIL ALERTAM sobre o salvo-conduto e a imunidade a parlamentares que espalham desinformação e para a definição de modelo de remuneração de conteúdos, que ameaçam o trabalho jornalístico.

📌Leia: https://t.co/8zoTuXajUE pic.twitter.com/6F5GThsus4

— Direitos na Rede (@cdr_br) April 6, 2022
Civil society organisations and freedom of expression experts warned of outstanding issues in the bill on the regulation of social media platforms (PL 2.630/2020, known as the Fake News bill). As previously reported on the CIVICUS Monitor, the controversial draft law has been in discussion in Congress since 2020, undergoing several debates and receiving criticism for provisions that could constrain freedom of expression.
On 16th March 2022, the former Rapporteurs for Freedom of Expression of the Inter-American Commission on Human Rights (IACHR) Edison Lanza, Santiago Cantón and Frank LaRue warned that it is necessary to carry out a detailed study of the bill. The current draft, they said, establishes particular privileges for public figures which could affect public debate online.
As analysed by internet freedom group Coalizão Direitos na Rede (Rights Online Coalition), the most recent version of the bill made positive modifications but some challenging topics remain. Among other issues, the organisation said the "immunity" of elected representatives could shield them from following social media platforms' rules and allow them to use their public authority to spread misinformation. The group also underscored that mandatory remuneration of journalistic activity by social media platforms, addressed vaguely in the text, would risk undermining journalism by disproportionally rewarding large media conglomerates. However, the group reasserted that social media regulation is urgent and that, while more improvements are needed on this bill, it still provides a great opportunity for Brazilian society to establish instruments for greater accountability in the activities of tech giants.
On 6th April 2022, the Congress' Chamber of Deputies rejected a request for an urgent vote on the bill.
Civic Space Developments
Tags
youth,
attack on HRD,
intimidation,
enabling law,
harassment,
HRD killing,
killing of journalist,
censorship,
environmental rights,
access to info. law,
private sector,
land rights,
non state actors,
women,
indigenous groups,
refugees and migrants,
attack on journalist,
protest,
extractive industries,
restrictive law,
Back to civic space developments