Bolivia: teachers protest; harassment of human rights defenders continues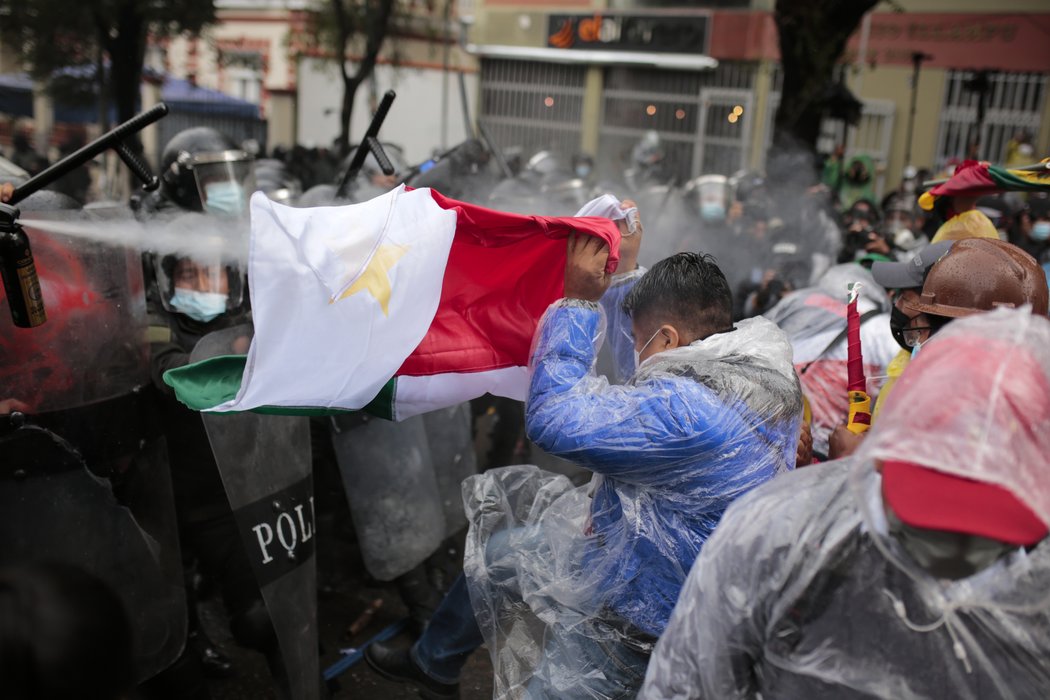 Association
#Bolivia: Autoridades no deben utilizar el sistema de justicia para hostigar a personas defensoras de #DDHH. Si no hay evidencias sólidas y admisibles en la imputación contra @WaldoAlbarracin, el proceso penal en su contra debe concluir.

Lee más aquí.👇 https://t.co/AdHXZes6pI

— Amnistía Internacional Américas (@AmnistiaOnline) April 8, 2022
On 29th March 2022, Amnesty International published their annual report 2021/22 underscoring the continued stigmatisation and harassment faced by human rights defenders in Bolivia. The human rights group also said that in the reporting period, dozens of former government officials, lawyers, judges and human rights defenders were accused of staging a coup in 2019 and charged with vague offences including "terrorism", "sedition" and "conspiracy." In addition, Indigenous peoples continued to be harassed and attacked for defending their territory and the environment.
In a separate statement published on 7th April 2022, Amnesty International said it was monitoring a criminal complaint against human rights defender Waldo Albarracín for allegedly "abandoning a pregnant woman." In March 2022, a judge determined that the defender should be placed under house arrest, despite lack of evidence of his paternity in relation to the complainant's daughter. The human rights groups said the Public Prosecutor's Office failed to disclose the result of a genetic test, which reportedly showed Albarracín was not the child's father. In addition, the organisation expressed concern about harassment against Albarracín and the lack of judicial independence in Bolivia.
Peaceful Assembly
Maestros protestan en #Bolivia para exigir mejoras salariales y en su sector. La protesta terminó en enfrentamientos con la Policía, que utilizó agentes químicos para dispersar a los manifestantes.

Ver galería completa: https://t.co/CjW8nVMgTz

Fotos: Luis Gandarillas | pic.twitter.com/OMGQVPhSlW

— Agencia Anadolu (@AgenciaAnadolu) March 17, 2022
In March 2022, teachers in Bolivia organised protests calling for an increased budget for the education sector. On 16th March 2022, protesters in La Paz gathered near the Ministry of Education and were repressed by police using tear gas. The police intervention reportedly led to violent clashes between protesters and law enforcement. Ten people were injured and two were detained during the confrontation. After several days of protest, the Bolivian government and representatives of union Confederación de Trabajadores en Educación Urbana de Bolivia (Bolivian Confederation of Urban Education Workers - Cteub) reached an agreement on 19th March 2022, putting an end to protests while the government prepares proposals responding to the teachers' demands.
Expression
Sujeto atenta y prende fuego a la radio Juan XXIII: La radio Juan XXIII, ubicada en San Ignacio de Velasco, en el departamento de Santa Cruz, denunció que sufrió un atentado por parte de un sujeto que usó gasolina para… https://t.co/JUeUE4PnGu #FmBolivia #Bolivia #Noticias

— Radio FmBolivia (@FmBolivia) April 5, 2022
On 4th April 2022, an individual set fire to the facilities of radio station Radio Juan XXIII in San Ignacio de Velasco, in the Santa Cruz department. According to a report by press union Asociación Nacional de la Prensa – Bolivia (ANP), the incident took place after the radio's staff refused the attacker's request to air a collection notice for a family debt. The radio said such communication would have violated legal, professional and ethical norms. In retaliation for the refusal, the man used gasoline to set fire to the radio's facilities. The arson caused material damage but no one was injured. On 7th April 2022, a judge determined that the individual responsible for the attack should be placed under house arrest and transferred to a psychiatric hospital for treatment.
In separate incidents on 4th April 2022, journalists were excluded from a virtual hearing in the trial against former interim President Jeanine Añez. As reported by ANP, journalists who usually follow the sessions through an account set up by the judiciary were excluded on the grounds that they did not present accreditation to those responsible for the virtual courtroom. Marcelo Tedesqui, a journalist with El Deber, said he had identified himself but was still removed from the hearing. Journalists from Los Tiempos, Correo del Sur de Sucre and Página Siete were similarly restricted.