Bolivia: opposition leader's arrest sparks protests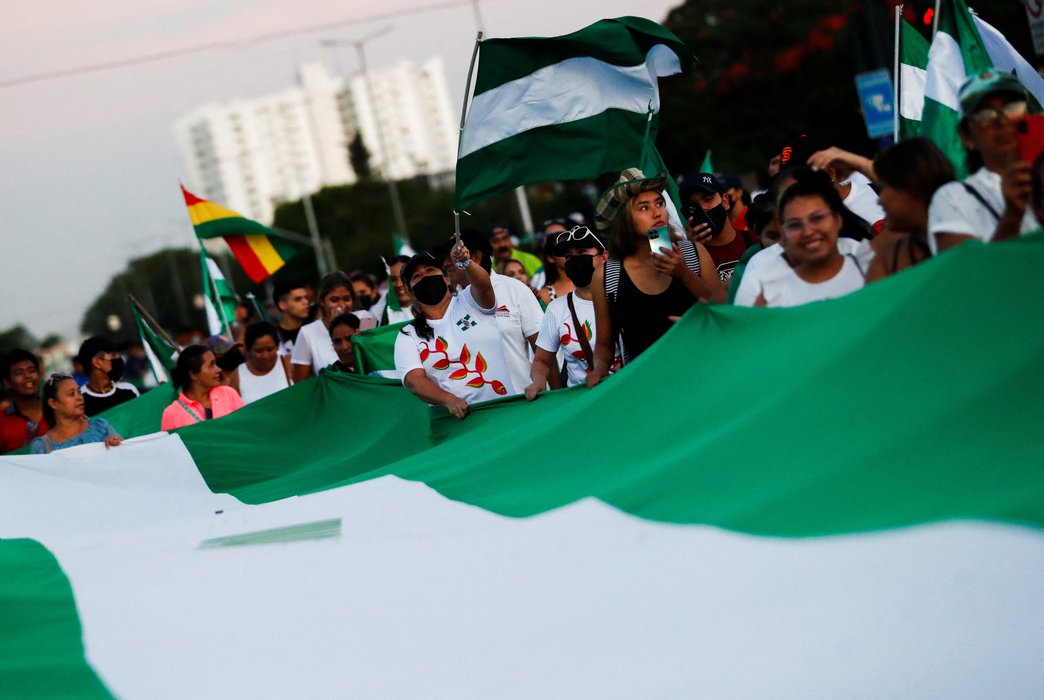 Peaceful Assembly
Protestas en #Bolivia: #CIDH y @RELE_CIDH monitorean la situación en Santa Cruz de la Sierra, Bolivia.#DerechosHumanos 👉 https://t.co/ndVbDb7MHn pic.twitter.com/19u7nAly9Q

— CIDH - IACHR (@CIDH) January 18, 2023
On 28th December 2022, the governor of the Santa Cruz department, Luis Fernando Camacho, was arrested on charges of 'terrorism'. The indictment was made in the framework of an ongoing criminal case related to the ouster of former president Evo Morales in 2019. Camacho is a leader of the opposition to governing party Movimiento al Socialismo (MAS), having formerly presided over the local opposition movement through the right-wing group Pro-Santa Cruz Civic Committee.
His arrest sparked protests in Santa Cruz, with his supporters calling for his release and claiming that Camacho has been politically persecuted. Demonstrations have continued in January 2023, sometimes becoming violent with protesters torching buildings such as the local Public Prosecutor's Office. In early January 2023, protesters blocked several highways around Santa Cruz.
Throughout the period, there were several reports of clashes between police and protesters, with officers often using tear gas and pellets to disrupt demonstrations. According to news reports, some of the tear gas used by police had expired by over a year, which experts said could make the substance more dangerous and a public health hazard.
Protests have also taken place in other regions of Bolivia. During a march in La Paz on 10th January 2023, there were clashes between protesters demanding Camacho's release and counter-protesters affiliated with MAS. MAS supporters reportedly prevented the demonstration, including by attacking protesters with firecrackers and flares.
On 10th January 2023, the Bolivian Ombudsperson called on all those mobilising to exercise their right to protest peacefully. In 13 days of demonstrations, the Ombudsperson's Office recorded 25 cases of human rights violations, which included cases of excessive use of force by police and attacks on journalists. Separate monitoring by the Observatory of Human Rights Defenders of civil society group Red UNITAS showed at least 45 rights violations amid demonstrations between 28th December 2022 and 10th January 2023, of which 26 incidents involved excessive use of force by police. They also recorded five cases of attacks on the press.
On 17th January 2023, the Inter-American Commission on Human Rights (IACHR) expressed concern about reports of excessive use of force by law enforcement agents as well as of violent actions by organised groups during the protests. The Bolivian government reported that 76 people were arrested for damages to public patrimony and other charges, of whom 24 were sentenced. In their statement, IACHR said it would monitor such cases of people detained in the protests. The organisation also highlighted cases of human rights defenders and communicators threatened on social networks by violent groups amid the protests.
Expression
@ANPBOLIVIA denuncia violencia policial contra periodistas en medio de disturbios https://t.co/deGntNL4MH @PVacaV @vds @AlianzaRegional @IFEXALC @RELE_CIDH @sip_oficial @derechosdigital @KnightCenterUT @RSF_esp @CPJAmericas @Oacnudh_BO @IPYS

— ANP Bolivia (@ANPBOLIVIA) January 1, 2023
In December 2022 and January 2023, press workers covering protests in Santa Cruz reported facing attacks, in particular from police officers during clashes with protesters. On 30th December 2022, camera operator José Tarqui with the online news programme Periodismo Somos Todos (PST) was injured with pellets fired by riot police. Tarqui said he was shot in the abdomen at close range, and that he planned to file a complaint against the Santa Cruz police commander.
News crews from Unitel, Sitel, PAT and Gigavisión reported that police officers fired tear gas grenades at them on the same day. Also on 30th December, the parked vehicle of independent journalist Harold Salvatierra was set on fire while he covered clashes between demonstrators and police near the Santa Cruz police headquarters.
On 1st January 2023, Joel Orellana and Miguel Ángel Rivero with broadcaster Unitel were assaulted by police officers, who also confiscated their equipment. According to the Asociación Nacional de la Prensa (National Press Association – ANP), Rivero said officers made them remove their protective gear, pushed them to the ground and beat them up. As a result, he required medical assistance for injuries to his head and hands. Unitel later reported that a police officer involved in the attack had been identified and that an investigation was expected.
The Inter-American Press Association (IAPA) and Pedro Vaca, the IACHR's Special Rapporteur for Freedom of Expression, expressed their concern about the attacks and acts of violence against journalists covering protests in Bolivia.