Bolivia: Indigenous environmental defenders face threats and judicial harassment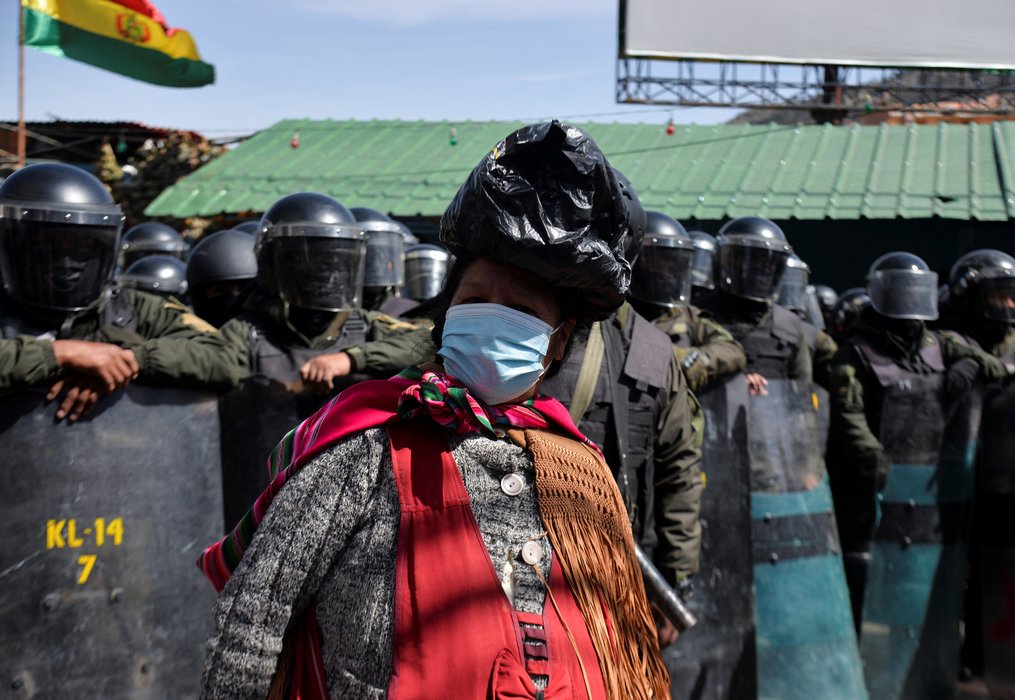 Association
#FotoNoticias
Representantes del ayllu Acre Antequera, del departamento de Oruro, denuncian contaminación a sus plantaciones y bofedales por parte de la mina Bolívar. Piden, además, justicia par pobladores que fueron agredidos por mineros.
Fotos: APG pic.twitter.com/fGdpKQtsT7

— La Razón Digital (@LaRazon_Bolivia) June 14, 2022
In May and June 2022, about 30 members of the Ayllu Acre Antequera community in Antequera, Oruro department organised a vigil to draw attention to water contamination and other environmental damage resulting from mining in the region. Local community leaders said they have were threatened for their mobilisation campaign against the Illapa mine, which they claim has not complied with its license in terms of environmental protection. Members of the community have also faced judicial harassment for speaking out on the environmental issues caused by the extractive industry. The mining company operating in the region has sued some community leaders for alleged "trespassing" after they warned local authorities of irregularities.
On a related note, the Observatory of Human Rights Defenders of the National Union of Institutions for Social Action Work (UNITAS) registered 34 cases of human rights defenders (HRDs) in Bolivia who have faced restrictions on their work and violations of their rights between January and June 2022. Of these, 22 cases relate to actions that obstruct the HRDs ability to carry out their activities. UNITAS also recorded four cases of attacks on HRDs; another four cases including lack of protection in situations of personal risk; three cases of criminalisation and one instance of an HRD being threatened.
Peaceful Assembly
[Periódico digital Sumando Voces]

Organizaciones sociales y defensores, los más atacados por ejercer el derecho a la protestahttps://t.co/Nb66kg2lYQ pic.twitter.com/OtTrmi9bjP

— Red UNITAS (@redunitas) June 10, 2022
On 21st July 2022, medical doctors with the Bolivian Medical Association and other groups marched in La Paz. The protest slogan was "Freedom, Justice, Democracy", and the demonstrators condemned alleged political persecution led by the Luis Arce government. Earlier in the month, the president of the Bolivian Medical Association was arrested based on criminal charges which the Association claims are unjust. A counter-protest was organised by supporters of the government, which led to some clashes between the two groups. According to EFE news report, the healthcare workers dispersed to avoid a more serious confrontation.
On 25th July 2022, a number of business associations organised a strike in Santa Cruz de la Sierra over a government decision to postpone the country's national census to 2024. The groups said that outdated data impacts the country's development planning and budget allocation. For nearly a day, protesters blocked a checkpoint on the country's border with the Brazilian state of Mato Grosso do Sul. The national census process was originally scheduled to take place in November 2021, but the government said that the delay was necessary in order to address challenges, such as the need to incorporate Indigenous languages in the process.
In early August 2022, members of Asociación de Productores de Coca (Coca Producers Association - Adepcoca) protested against a coca leaf market in La Paz, which they claim is illegal but enjoys protection from government authorities. Since 2021, the market has become the centre of a dispute between two groups of producers - one loyal to the government and the other opponents. Adepcoca members demanded the market's closure and the resignation of Bolivia's Rural Development Minister, Remmy Gonzales. On 2nd August 2022, clashes broke out between the producers and riot police which prevented the market's closure. Some protesters launched firecrackers and low-intensity explosive devices, and were met with tear gas from the police. On 8th August 2022, further clashes over the market left several people injured.
Report on Bolivia

Asociación Nacional de la Prensa (National Press Association - ANP) reported that journalists from several media outlets were harassed by members of the security team associated with the La Paz Mayor's office on 15th July 2022. The media workers were covering public events commemorating La Paz Day, which marks a local uprising against the Spanish crown. Reporter Geraldine Mendoza Benavides of F10 HD said she fell to the ground twice after being pushed by members of the security team. Other journalists reported similar incidents with security guards pushing members of the press and obstructing their free movement during the public event.
On 21st July 2022, a government supporter attacked a reporter who was covering the protest by healthcare workers in La Paz (see under Peaceful Assembly). According to ANP, a man attending the counter-protest organised by Movimiento Al Socialismo (MAS) supporters punched the journalist in the face. After the reporter showed his press card, the assailant said he had mistaken the journalist for someone else and walked away.
The UNITAS Observatory of Human Rights Defenders recorded 48 violations of the right to peaceful assembly between January and May 2022. Of these, there were 24 cases of demonstrators being detained; 15 cases of protesters injured; three incidents in which protests were prevented; three claims of repression; and another three cases of criminalisation. According to UNITAS, the police was responsible for most of these violations (42 out of 48 cases). In one example, on 1st April, 13 activists from Articulación Mujeres Feministas Pluridiversas de La Paz (Pluridiverse Feminist Women's Coordinator of La Paz) were detained by police at a protest in the Villa Copacabana area, outside a school where a girl had been sexually abused.
Expression
Los diarios asociados a la @ANPBOLIVIA denuncian agresiones a periodistas durante acto protocolar https://t.co/lgMYRvDkFd @PVacaV @VDSorg @AlianzaRegional @IFEXALC @sip_oficial @CPJAmericas @RSF_esp @KnightCenterUT @derechosdigital @FLIP_org @ipysvenezuela

— ANP Bolivia (@ANPBOLIVIA) July 20, 2022