Bolivia: 83 attacks on the press reported in 2021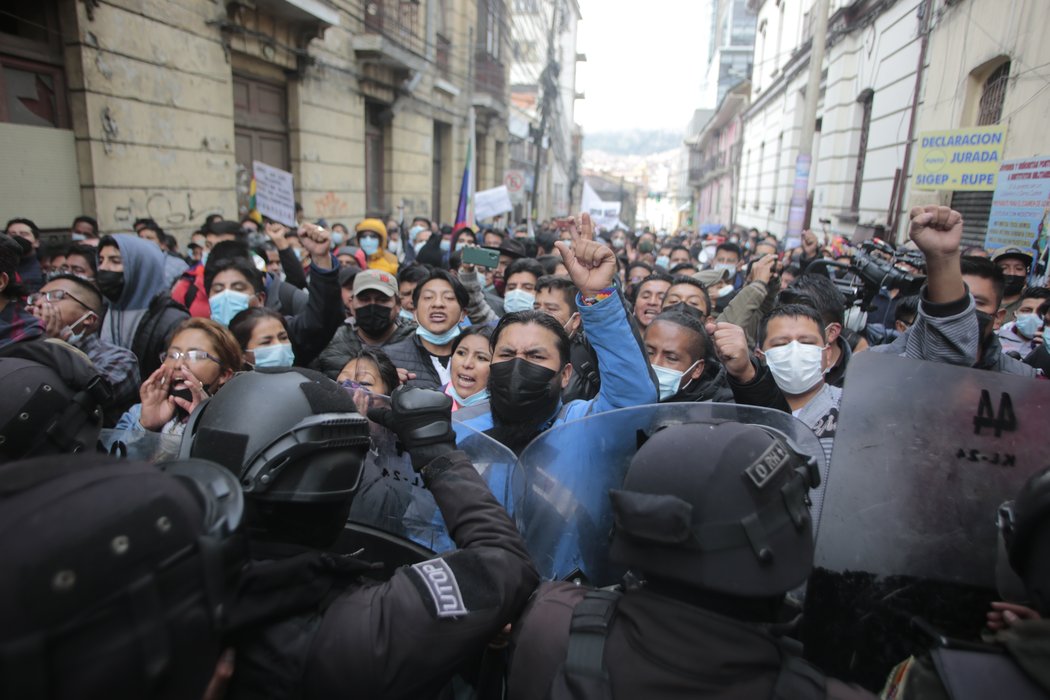 Expression
[Periódico digital Sumando Voces]

Observatorio de UNITAS: 83 vulneraciones a la libertad de expresión fueron registradas en 2021https://t.co/nIPZM29j5I pic.twitter.com/SI1PzzvgEi

— Red UNITAS (@redunitas) January 31, 2022
In January 2022, the Human Rights Defenders Observatory of civil society group UNITAS reported registering 83 cases of press freedom violations in 2021. The most frequent violation was attack on journalists, with 34 cases documented, followed by denial of access to information, censorship, stigmatisation and threats.
On 8th February 2022, Bolivia's Asociación Nacional de la Prensa (National Press Association - ANP) warned that investigations into the abduction of journalists in Guarayos were paralysed after police officers in charge of the inquiry were reassigned. As previously reported on the CIVICUS Monitor, seven communicators were assaulted and six held captive for several hours on 28th October 2021. According to ANP, the officers were removed from the investigation after leaders of the Campesino Workers' Unions Federation (FSUTC), who are among those investigated, accused them of being partial.
Peaceful Assembly
Antivacunas llegan al sexto día de bloqueo en la avenida Petrolera de Cochabamba, exigiendo la abrogación de los decretos gubernamentales que solicitan la presentación del carnet de vacunación.
🌐 https://t.co/wcGYKOYcUj
📷 NOÉ PORTUGAL - DIARIO OPINIÓN. pic.twitter.com/pA0z3TXi2S

— Opinión Bolivia (@Opinion_Bolivia) January 24, 2022
On 2nd February 2022, police detained 14 demonstrators who had blocked an avenue in Cochabamba to protest mandatory COVID-19 vaccine certificates. Anti-vaccine demonstrators had blocked the Petrolera Avenue for over ten days when the police intervention took place. According to Los Tiempos, about 300 officers were deployed to disrupt the demonstration. Police claimed that some of the demonstrators carried home-made arms and explosives, charging them with offences such as "attack on transport services" and "possession, carrying and manufacturing explosives".
Before the demonstration was disrupted, there were reports of protesters attacking members of the press. On 18th January 2022, journalists with Red Uno, Univalle and Los Tiempos were threatened and attacked with firecrackers and stones when covering the protests. Demonstrators insulted the reporters, saying they lied and "sold out". Similar protests and attacks took place in El Alto, where two journalists with Unitel were physically assaulted by anti-vaccination demonstrators.
Separately, the trial of former interim President Jeanine Áñez led to protests and counter-protests in front of the courthouse in La Paz on 10th February 2022. Supporters demanded her release and said this was a political trial, while counter-protesters called for her conviction and demanded justice for massacres committed by security forces during Bolivia's post-election crisis in 2019. Áñez is facing an accusation of having "breached Constitutional duties and resolutions" when assuming the presidential role. She may also face charges such as "sedition" in a separate case still under investigation. The trial, which began virtually, was suspended on the same day after technical failures and procedural issues.