Beirut explosion probe, worsening economic crisis and political interference spark protests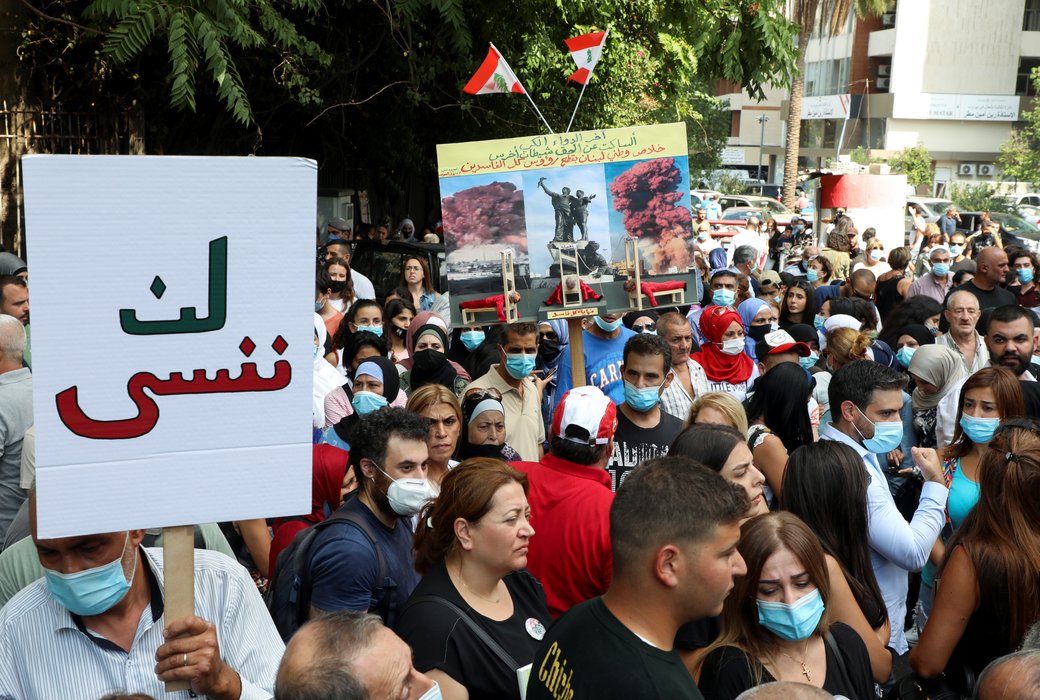 Background
Following the Beirut port explosion in August 2020, demands for political accountability continue, amid an ongoing and worsening economic crisis. Since the explosion, authorities and political leaders have hampered investigations into the blast. On 10th December 2020, Judge Fadi Sawan, who was appointed to the investigation, attempted to summon political figures for questioning. However, political heads rejected the judge's requests to lift MPs' immunity and to question senior members of the security forces in connection with the tragedy. The judge was dismissed in February 2021, after former ministers filed a lawsuit with the Court of Cassation to remove him from the investigation, citing immunity of MPs from criminal prosecution. On 2nd July 2021, judge Tarek Bitar was assigned to the investigation and submitted a request to parliament to lift parliamentary immunity for MPs. However, the judge has been accused by government and Hezbollah of political bias.
Association
CSOS call on authorities to cease intimidation against lawyer
On 13th October 2021, the Lebanese Centre for Human Rights and several other CSOs jointly expressed concerns over authorities' recent attempts to silence and discredit Mohammed Sablouh, a human rights lawyer defending victims of torture and Syrian refugees facing deportation. Sablouh is a Lebanese lawyer and the director of the Prisoners' Rights Center at the Tripoli Bar Association. The letter states that on 23rd September 2021, the Government's Commissioner to the Military Court, Judge Fadi Akiki, and the Military Police pressured one of Sablouh's clients, a detainee in the Fakhr El-Din facility, to testify that his lawyer's claim of torture was fabricated. On 28th September, the Military Court sent a letter to the Tripoli Bar Association requesting authorisation to prosecute Sablouh under article 403 of the Lebanese Penal Code, which penalises false accusations.
"This request indicates that the Lebanese authorities are initiating retaliatory legal proceedings against Sablouh in an attempt to discredit his legally sanctioned work documenting instances of torture. By obstructing the work of lawyers, Lebanon is violating its own laws and criminal procedures as well as its international human rights obligations."
This follows the lawyer's collaboration with Amnesty International in the publication of a report about Syrian refuges detained and tortured in Lebanon. During a meeting the General Security Director told Sablouh that he "should not communicate with international NGOs".
Peaceful Assembly
Protests over economic crisis and lockdown
In response to the worsening economic crisis and the government's announcement to impose a renewed lockdown, anti-lockdown protests were staged in Tripoli during January 2021. On 27th January, the Lebanese Red Cross reported that 45 people were injured during the protests, after police and protesters clashed. The Lebanese army, which was also deployed, used rubber bullets against protesters. By the 28th January 2021, media reports state that over 200 people were injured, with one protester, Omar Tayba, dying after sustaining a bullet wound.
"We are here to demand food. People are hungry. It's time for people to take to the streets,"- 20-year-old protester Mohammed Ezzedine told Al Jazeera.
According to an investigation by Human Rights Watch, military Intelligence forcibly disappeared and allegedly tortured detainees who were participating in protests. On 22nd February 2021, Lebanon's military prosecutor charged at least 35 people, including at least 2 children, with terrorism, forming criminal associations and stealing public property in relation to their participation in protests. Of those, 19 were arrested in their homes, workplaces and on the streets, with most of those arrested forcibly disappeared for periods of one to five days in Military Intelligence facilities. One family said that their 15-year-old son was tortured into signing a confession and others reported being beaten and tortured.
The International Commission of Jurists (ICJ) and the Lebanese Centre for Human Rights (CLDH) expressed concerns about the role of the military in the arrest, detention and referral for prosecution by military courts of dozens of civilians in Tripoli.
"Under the Rule of Law, the military has no business policing demonstrations, detaining protesters or prosecuting civilians. Instead of addressing the legitimate grievances of those protesting, the Lebanese government is using the military to silence dissenting voices by arresting and sending protestors for trial before military tribunals,"- Benarbia, the ICJ's Middle East and North Africa Programme Director.
Protests marking one year anniversary of Beirut explosion
On 4th August 2021, people took to the streets to demand political accountability on the one-year anniversary of the Beirut port explosion which killed more than 200 people (see previous update). According to media reports, clashes broke out near the parliament as protesters attempted to gain access to the main building. Authorities responded using tear gas, a water cannon and beating protesters with batons. The Lebanese Red Cross reported that six people were hospitalised as a result. The Lebanese army said it had arrested several people who were on their way to take part in the protests, stating that they were in possession of weapons and ammunition. 
#Beirut at the moment.#beirutblast #beirutexplosion #lebanon #liban #beyrouth pic.twitter.com/SR4lLyWxqy

— Matthieu Karam (@MatthieuKaram) August 4, 2021
We first want justice for the victims. We want answers, we want to know who was responsible for allowing the ammonium nitrate into the country, who stored it, who it was for, and who ignited it," Kayan Tlais, a spokesperson for a committee of the families of the victims, told Middle East Eye.
Beirut probe sparks protest
On 14th October 2021, atleast seven people were shot dead in Beirut and 30 others injured when gunfire erupted during protests demanding the removal of judge Tarek Bitar investigating the Beirut port explosion, accusing him of bias. The protests were called by Hezbollah. Nine people were arrested in relation to the unrest. Human Rights Watch (HRW) called on authorities to conduct an investigation into those responsible for the violence and to stand up against any political interference into the Beirut blast investigation.
"If Lebanon is to reverse the culture of impunity that has pervaded since the civil war, Bitar should be given all the resources and protection he needs to continue his investigation. After yesterday's show of force, it is imperative that the international community provides support to domestic accountability efforts by establishing an international, independent, and impartial fact-finding mission into the blast."
Earlier on 29th September 2021, families protested against the suspension of the Beirut blast probe after it was affected by political interference.
Related to the Beirut blast investigation, the European Parliament passed a resolution calling on the United Nations to establish an international, independent fact-finding mission.The resolution also called on EU member states to impose sanctions against corrupt Lebanese officials and those blocking critical economic and governance reforms in the country.
Expression
Incidents against journalists
On 24th November 2020, Rabih Shantaf, Sawt Beirut International reporter, and photographer Mahmoud Al-Sayed had to be hospitalised after being insulted and beaten by around 30 Hezbollah supporters in Zokak El-Blat, a southwestern suburb of Beirut. The pair were covering the outbreak of a fire in an apartment building.
On 7th January 2021, Yahya Habchiti, a reporter for the Lebanese TV channel LBCI in the northern city of Tripoli, was physically attacked by a group of seven men while covering a police raid on a crowded café as part of their enforcement of the coronavirus lockdown that took effect that day. In response to the attack, journalists staged a sit-in outside the lawcourts in Tripoli the next day.
"If the justice system can prosecute journalists for defamation, it can also protect them when they are the victims of violence while just trying to report the facts as they really are," journalist Ghassan Rifi.
Reporters without Borders condemned the violence against journalists:
"The increasing frequency of attacks against journalists in Lebanon, fuelled by the growing political tension, is extremely disturbing. The authorities cannot allow the media to continue to become an easy target for demonstrators or party activists, who prevent them from doing their job. Protective measures must be studied and implemented without delay,"- Sabrina Bennoui, the head of RSF's Middle East desk.
On 25th January 2021, journalist Ibrahim Fatfat, who works for independent news website Sawt, was assaulted by a group of riot police officers with Lebanon's Internal Security Forces. The incident took place while Fatfat was covering a protest over worsening living standards in the northern city of Tripoli. The Committee to Protect Journalists (CPJ) called for an urgent investigation into the incident. In August 2021, Fawaz was the target of harmful speech on social media after she posted a tweet calling for the Lebanese President to be held to account for his share of responsibility for the Beirut port explosion.
Journalist Mariam Seif El Dine and her family had to flee their neighbourbood after receiving repeated threats that they would be killed. The journalist has been a strong critic of Lebanon's political parties and is often targeted because of her coverage. She believes that the threats are related to her reports during September 2020 on the gruesome murder of a teenage girl in the suburbs of Beirut, which exposed powerful people in the area who wanted to cover up the killing. On two occasions, 5th November and 5th December 2020 Mariam's brothers were subjected to torture and threatened. They were told to leave their home and neighbourhood.
During August 2021, Yuman Fawaz, freelance journalist and anchor at Al Jadeed TV, was targeted by a social media smear campaign by supporters of the Free Patriotic Movement (FPM) and its powerful ally, Hezbollah. Fawaz posted a tweet in which she called for political accountability from President Michel Aoun, the FPM's founder, in relation to the Beirut port explosion. Her tweet was met with a flood of insults and hate speech. Fawaz intends to file a complaint of defamation.
Killing of journalists
On 21st December 2020 Joseph Bejjani , a photographer working for the Lebanese army, was gunned down. His phone was taken. According to media sources, Bejjani was one of the first photographers at the scene after the Beirut port explosion, raising speculation about the motive for his murder.
بينما يستعد لنقل أطفاله إلى المدرسة، باغت مجهولان المصوّر اللبناني #جوزيف_بجاني في بلدة الكحالة قضاء عاليه، وأطلقا عليه 3 رصاصات من مسدس كاتم صوت، فأردوه قتيلاً. جوزيف كان يعمل مصوراً وهو أحد الذين شاركوا في تصوير اللحظات الأولى لانفجار المرفأ. #لبنان pic.twitter.com/lVitbMy7RE

— Daraj درج (@Daraj_media) December 21, 2020
On 4th February 2021, Lokman Slim, an activist, journalist and political commentator, was found dead in his car. The incident sparked concern from RSF, which called for an immediate investigation by authorities. Slim is the founder of Shia Watch, a website where he provided political analysis that was critical of Hezbollah. The journalist had received threats before from people affiliated with Hezbollah.