Banks stage strikes amid crippling economic crisis, several arson attacks against media outlets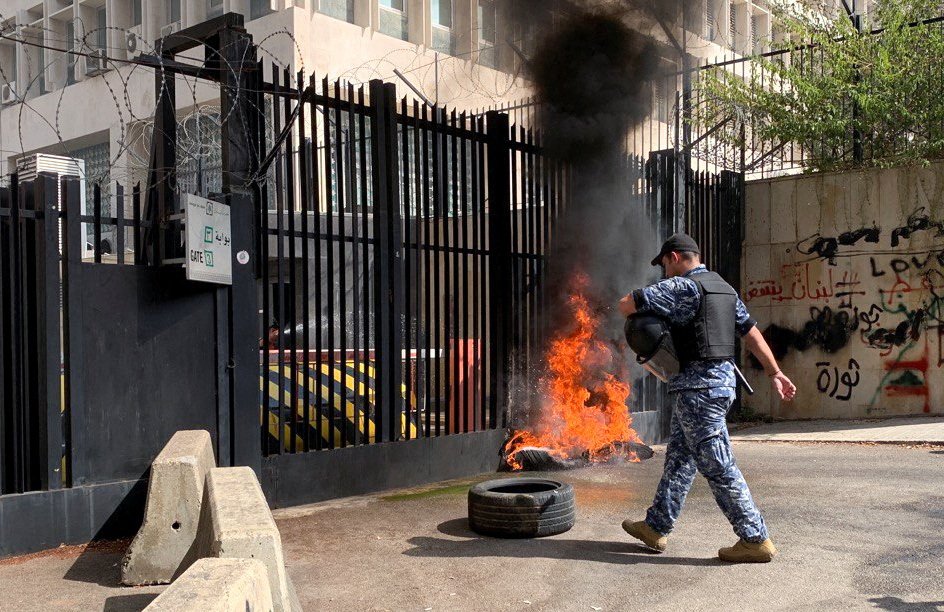 Introduction
Alarming levels of poverty and food insecurity were documented in the latest report of the Human Rights Watch. The report highlighted the lack of social protection together with continuous political instability and the rising cost of living. This multidimensional crisis in Lebanon has had severe impacts and resulted in violations on social and economic rights.
"Millions of people in Lebanon have been pushed into poverty and have cut back on food. Three years into the economic crisis, the government has not acted sufficiently, and the existing system reaches Lena Simet, senior economic justice researcher at Human Rights Watch.
Peaceful Assembly
Since the start of this crisis in Lebanon, a number of decrees imposing banking restrictions such as Circular 151 containing exceptional measures for cash withdrawals from foreign-currency accounts and Circular 158 containing exceptional measures for the gradual repayment of foreign currency deposits, have been issued by the central bank. As a result, since 4th October 2022, some depositors have stormed local banks to access their own funds - many needed them for urgent medical care of family members. Customers and staff of the respective banks were held hostage during these operations, which included arrests and the use of weapons, albeit toy guns in the case of Saly Hafiz, a woman who broke into Beirut bank to take her trapped savings using a toy gun (see previous update). Consequently, the Association of Banks in Lebanon announced a number of strikes following the storming of seven bank branches between 4th October and the end of that month.
Separately, protests took place in Martyrs Square to mark the three-year anniversary of the 2019 Lebanese revolution, broadly referred to as the "thawra" ("revolution" in Arabic). According to L'Orient-Le Jour, a light military and police deployment were present.
Under the title "#FeministsForJina" (#MahsaAmini), feminist groupsorganised a protest in solidarity with Iranian activists on 2nd October 2022 in front of the National Museum in Beirut.
Expression
A new report by Skeyes Center for Media and Cultural Freedom highlights an unprecedented number of violations committed against media workers and activists during President Michel Aoun's term. According to the report, the world press freedom rating for Lebanon has dropped 32 places to 130 out of 180 countries in 2022, down from 98 in 2016. Assassinations, armed attacks against media properties, journalists and activists by both official and unofficial groups, summoning and interrogations of journalists and activists by competent and non-competent courts – including the military court – threats and bullying, lawsuits, censorship of works and activities, in addition to jail time were all documented violations according to the report.
"We concluded from our findings that this era was an oppressive one that peaked in its tyranny during the October 17 revolution in 2019." 
During the reporting period, the following violations occurred:
Al-Jadeed television "Fashit Kheleq'" show presenter Dalia Ahmad and actress Joanna Karaky were victims of a social media incitement and harassment campaign, after a satirical segment in response to the killing of an Irish peacekeeping soldier in South Lebanon. Militants threw a Molotov cocktail at the channel's building on 27th December 2022. The next day, unknown gunmen opened fire on the building and two days later more gunshots hit several floors including a publishing house, Dar Al-Farabi.

On 24th October 2022, Rami Naim, the publisher of the Al-Seyassah website and deputy editor-in-chief of MTV news, was subjected to a campaign aimed at discrediting him by broadcasting false news on social media stating that "security forces are chasing him because of his drug promotion."

On 27th October 2022, member of parliament Gibran Bassil filed a case with the Appeal Public Prosecution accusing journalist Youssef Diab and Al-Jadeed channel reporter Rif Aqil of "defamation" in relation to a news report about Basil's legal proceedings.
Minister bans LGBTQI+ events
Minister of Interior and Municipalities, Bassam Mawlawi, banned two LGBTQI+ events scheduled for November 2022, despite a decision by the State Consultative Council confirming the illegality of the minister's decisions to prevent activities related to LGBTQI+ rights. Lebanon's State Council has temporarily suspended a ban on LGBTQI+ gatherings, following the Minister's previous similar decision in June 2022 to ban an LGBTQI event. However, while the State Council will take some time to formulate its final ruling on Mawlawi's ban, the Minister continues to ban these events.