Bangladesh authorities suppressing critics and restricting freedoms in refugee camps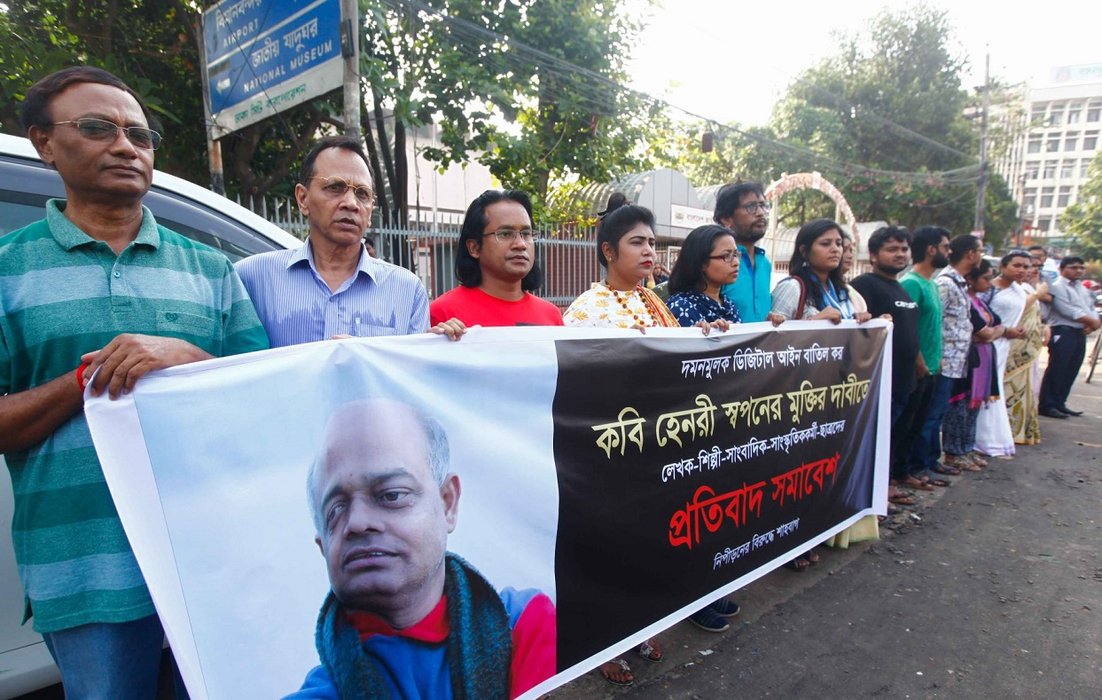 The suppression of civic freedoms continues to be documented in Bangladesh. In recent months lawyers and writers have faced criminal defamation charges for their critical comments, four journalists are facing trumped up charges for exposing police negligence and a news website has been blocked. Further, the authorities are attempting to restrict the civic freedoms of Rohingya refugees in the camps in Cox Bazar and have banned some NGOs from working there.
In June 2019, the EU Special Representative (EUSR) for Human Rights Eamon Gilmore visited Bangladesh and raised a wide range of issues with the authorities including the rule of law and law enforcement, freedom of expression and of the media and freedom of assembly.
In August 2019, Bangladesh was reviewed by the United Nations Committee against Torture. In its Concluding Observations report it said that "the Committee is concerned at information it has received alleging the widespread and routine commission of torture and ill-treatment in the State party by law enforcement officials for the purpose of obtaining confessions or to solicit the payment of bribes."
The Committee also raised concerns about reports that civil society activists, lawyers and journalists in Bangladesh who have criticised the conduct of the authorities and brought to light allegations of torture, disappearance, extrajudicial killings and related impunity have faced harassment and violence, as well as retaliatory lawsuits. The Committee was also alarmed that some civil society activists, lawyers and journalists have reportedly been subjected to torture and ill-treatment while detained.
Expression
Free speech concerns in Bangladesh as activist and critics arrested
Bangladesh: New Arrests Over Social Media Posts https://t.co/2GKnsiLwXj

— Human Rights Watch (@hrw) May 17, 2019
In May 2019, Bangladesh authorities made a series of new arrests in their crackdown on the right to free speech. The arrests were based on vague charges such as "hurting religious sentiment" or undermining "law and order."
Mohammad Abdul Kaium, an activist with the prominent human rights organisation Odhikar, and editor of news portal Mymensinghlive, was arrested on 12th May 2019 and denied bail. Idris Ali, an influential madrassah teacher, filed a case accusing Kaium of extortion under the penal code and dissemination of "false or fear inducing information/data" (section 25) and defamation (section 29) under the Digital Security Act. Human rights groups believe the case was fabricated to silence him. He was also allegedly tortured in custody during his arbitrary detention. He was released on bail on 3rd July.
Henry Sawpon, 48, a prominent poet living in the southern district of Barisal, was arrested under the Digital Security Act on 14th May for allegedly insulting Bangladesh's minority Christian community. He was charged for "hurting religious values or sentiments" (section 28), defamation (section 29), and "causing deterioration of law and order" (section 31). He was subsequently released on bail.
On 15th May 2019, lawyer Imtiaz Mahmood was arrested at his home in Dhaka on charges filed by police in July 2017 under the Information Communication and Technology (ICT) Act (now known as the Digital Security Act) over a Facebook post about violence in Bangladesh's Chittagong Hill Tracts. According to Human Rights Watch "there have been serious allegations of human rights violations by the military deployed in the Chittagong Hill Tracts in south-eastern Bangladesh, where much of the country's indigenous population lives". A case was filed against Mahmood under the ICT Act accusing him of spreading rumours with an "ill motive to tarnish the country's image," hurting "religious sentiment," and "deteriorating the law and order."
Brad Adams, Asia director of HRW said:
"Arresting activists, poets and lawyers for exercising their right to free speech is straight out of the authoritarian playbook. The Bangladesh government should stop locking up its critics and review the law to ensure it upholds international standards on the right to peaceful expression."
Barrister Mainul Hosein detained again for defamation
Former #Bangladesh caretaker government adviser Barrister Mainul Hosein yesterday walked out of jail on bail four days after a Dhaka court sent him to jail in a case filed by journalist Masuda Bhatti for defaming her in October last year. pic.twitter.com/Ug2NL36gtH

— Ali Ahmad Mabrur (@Mabrur00) September 9, 2019
According to the Asian Human Rights Commission, Mainul Hosein – a barrister cum publisher of a national daily The New Nation – was detained in prison on 3rd September 2019 for the second time for defamation. He was released on bail on 8th September.
Mainul Hosein was previously detained for 98 days – from 22nd October 2018 to 27th January 2019 on the same defamation allegations following his criticism of a pro-ruling party female journalist on a television talk show. 15 defamation cases were filed against Hossain by ruling party supporters across Bangladesh on the same incident while he was detained in prison last year.
Mainul Hosein was instrumental behind the formation of a unified political platform called Jatiya Oiykafront (National Unity Alliance) comprising most of the opposition political parties ahead of Bangladesh's 11th general election in 2018.
Journalists exposing police negligence face trumped up charges
According to the Asian Human Rights Commission (AHRC) four journalists are facing trumped-up charges for exposing the murder of a young girl after she was sexually abused. In April 2019, Nusrat Jahan Rafi was doused with kerosene and set on fire at her school in Feni district. Less than two weeks earlier she had filed a sexual harassment complaint against her headmaster.
Investigative reports by the four journalists found negligence by police officers in Nusrat's murder. In response to this the police allegedly brought the trumped-up charges of criminal offences against them.
The four journalists facing charges in the police investigation report are:
Mohammad Shahadat Hossain – Editor cum Publisher of Dainik Fenir Somoy (The Daily Feni Times) and Feni District Correspondent of the Daily Nayadiganta;

SM Yousuf Ali – Correspondent of the Dainik Odhikar (The Daily Rights);

Solaiman Hazari Dalim – Correspondent of online portal the Bangla News; and

Moyeen Uddin Patwari – Correspondent of the Dainik Somoyer Alo (The Daily Time's Light) and the Dainik Star Line.
They have been charged in nine separate criminal cases in four different police stations in Feni district for committing vandalism and subversive acts under Sections 3 and 4, the Explosive Substances Act of 1908 and under Section 15 (3) of the Special Powers Act of 1974. Six police officers and three civilians had filed the nine complaints between 7th and 12th May 2019.
Government planning to 'intervene' on social media 
'No one will be able to publish anything as per whims in social media' Posts and Telecommunications Minister Mustafa Jabbar says that the government will be able to control social media sites such as Facebook and YouTube after September this year to cont… https://t.co/uy5kFkvIoe

— News from Bangladesh (@banglanews_eng) June 29, 2019
Bangladesh's Post and Telecommunications Minister Mustafa Jabbar had said in a public meeting that the government would establish 'complete control' over social networking platforms by September 2019. In a public meeting on 29th June 2019, the minister said that the government will start directly "intervening" in any content on social media using 'collected technology'. The government's plan is to intervene in any content uploaded on social media platforms, such as Facebook or YouTube.
Slamming the government move, human rights activist advocate Sultana Kamal said:
"Except social awareness, the state's intervention cannot stop the abuse of social media. The decision to control will take a heavy toll on the freedom of speech and thought."
Government blocks news website 
Bangladesh blocks news websites in press freedom gag @AJENews https://t.co/x7iot5gQvQ

— Faisal Mahmud (@FaisalM08083126) May 23, 2019
In May 2019, Bangladesh authorities blocked access to a popular news portal, Poriborton.com, one of the country's top five online news outlets. The Bangladesh Telecommunication Regulatory Commission (BTRC) that regulates the Internet confirmed that it had blocked the site but did not say why.
However, according to reports, a government security agency ordered the closure after the website raised questions about the financing behind a newspaper advert against Muslim militancy. Muslim groups had condemned the advert, saying "it described some signs of Islamic faith as marks of radicalisation".
Poriborton joins a list of 54 news portals and websites that the government has blocked in recent months, citing security concerns. In March, Prime Minister Sheikh Hasina's government blocked the Al Jazeera website, after it published an article alleging that a senior Bangladeshi government official was involved in the disappearance of three men.
The Bangladesh Federal Union of Journalists (BFUJ) and Dhaka Union of Journalists (DUJ) called on the government to immediately unblock all of the news sites including Poriborton. They issued a joint statement calling the blocking of Poriborton an "autocratic and reckless" decision by the government.
In the annual press freedom index by Reporters without Borders, Bangladesh dropped to 150th out of 180 countries – the lowest ranking it has ever received.
Restrictions on mobile communications for Rohingya community
The decision by #Bangladesh authorities to restrict access to mobile telecommunications services by Rohingya refugees violates the right to freedom of expressionhttps://t.co/V0ZUu4Xv6Z

— ARTICLE 19 (@article19org) September 9, 2019
According to ARTICLE 19, on 1st September 2019, the Bangladesh Telecommunication Regulatory Commission (BTRC) wrote to telecommunications operators instructing them to 'ensure that the Rohingya refugees near Cox's Bazaar do not get access to the mobiles for the sake of state security and importance, law and order and public safety,' including by withdrawing SIM cards used by the Rohingya and ending the sale of SIM cards to them.
On 3rd September, the BTRC ordered telecommunications operators to shut off high-speed mobile Internet access in the refugee camps near Cox's Bazaar between 5pm and 6am. Companies were given seven days to report on their implementation of these orders.
Bangladeshi officials cited a spike in violent crime as the reason for the orders, but failed to provide evidence justifying the need for such broad restrictions. Non-refugee communities residing near the camps have reportedly been impacted by the changes to mobile internet services.
ARTICLE 19 said that the decision by Bangladesh authorities to restrict access to mobile telecommunications services by Rohingya refugees violates the rights to freedom of expression, information and non-discrimination.
Faruq Faisel, ARTICLE 19's Regional Director for Bangladesh and South Asia said:
"The order will have an enormously detrimental impact on the Rohingya refugee population. These measures will deepen the vulnerability and isolation of a traumatised community that has suffered horrific violence and persecution."
The Rohingya have faced intense persecution in Myanmar for decades. In August 2017, a Myanmar military operation in Rakhine State killed thousands of Rohingya and forced over 700,000 to flee into neighbouring Bangladesh, where they settled in and near refugee camps that have been home to Rohingya since the early 1970s.
Peaceful Assembly
Government to restrict movement of Rohingyas after mass protests
#BANGLADESH: Government restrictions intensify following failed repatriation attempt, large commemoration rally by #Rohingya refugees, the killings of a local politician & 4 refugees. Internet shutdown blocks access to basic services - increasing risks. https://t.co/odfEtUiuIe

— APRRN (@APRRN_) September 11, 2019
On 25th August 2019, thousands of Rohingya refugees marked the second anniversary of their exodus into Bangladesh by holding a rally to demand Myanmar grant them citizenship and other rights before they agree to return.
Almost 200,000 Rohingya participated in a peaceful gathering, which was attended by UN officials, at the Kutupalong camp in Bangladesh's Cox's Bazar. Children, women and men marched in the heart of the world's largest refugee camp to commemorate what they described as "Genocide Day". Some carried placards and banners, reading "Never again! Rohingya genocide remembrance day" and "Restore our citizenship". The rally came days after a second failed attempt to repatriate the refugees, which saw not a single Rohingya turn up to return across the border.
However, Human Rights Watch reported that because of the protest and other 'security' issues, on 4th September, Bangladesh's Parliamentary Standing Committee on Defence recommended building a security fence around the camps. The government also suspended three officials, including the refugee relief and repatriation commissioner, Mohammad Abul Kalam, from Cox's Bazar for allowing the refugees to organise such a large gathering. A number of the protest organisers have been questioned and subjected to intimidation.
UN human rights experts have expressed serious concerns about tight new restrictions and an increased military presence at Rohingya refugee camps. They said:
"We are alarmed by the sudden crackdown on the rights to freedom of expression, peaceful assembly and association, and are seriously concerned, not only that these restrictions have been applied in a discriminatory manner against members of the Rohingya minority, who are refugees in Bangladesh, but also that curfews and communications shutdowns could facilitate further serious human rights abuses against them."
Association
NGOs banned from refugee camps
Bangladesh bans two aid agencies from Rohingya refugee camps https://t.co/pSHjcEdkHG pic.twitter.com/EnTgQU0a4Z

— CNA (@ChannelNewsAsia) September 5, 2019
On 7th September 2019, Human Rights Watch reported that the government has banned certain NGOs from working in the camps, including the Adventist Development and Relief Agency (ADRA) and an Islamic aid organisation, Al Markazul Islami, for allegedly supporting the 25th August rally, including by providing refugees with T-shirts for the event. They have also been accused of allegedly instigating Rohingya refugees to oppose repatriation to Myanmar. Both the NGOs have been asked to shut their operations across Bangladesh. Banks have been asked to halt all transactions relating to these two NGOs.
The NGO Affairs Bureau, the state's watchdog for NGO activities, has also suspended six different projects being run out of the Cox's Bazar branch of an NGO called Mukti - on allegations of making sharp weeding tools for distribution among the Rohingyas. Human Rights Watch also reported that two foreign aid workers were given notice to leave the country.