Bahrain: culture of impunity leaves imprisoned HRDs with no option but to go on hunger strie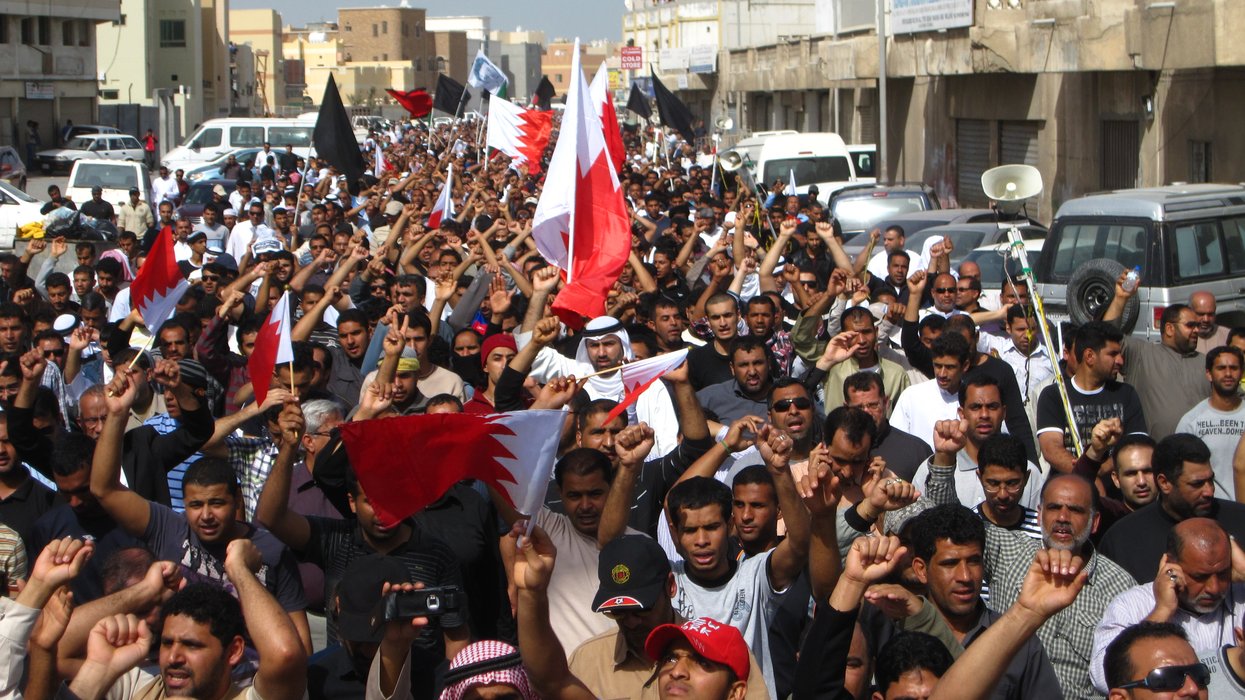 Activist Dr. Abduljalil Al-Singace just reached his 190th day on hunger strike in prison in #Bahrain. Please watch & share this video made as part of the #FreeBahrainiPrisoners campaign & stand by to take action to mark Dr. Al-Singace's 60th birthday on 15 January #FreeAlSingace pic.twitter.com/5Hd8dX5d42

— GC4HR (@GulfCentre4HR) January 13, 2022
Expression
On 15th January 2022, prominent Bahraini human rights defender Dr Abduljalil Al-Singace marked his 60th birthday in Kanoo Medical Centre, where he was transferred in July 2021 from Jau Prison. Dr Al-Singace is a respected academic and human rights defender serving a life sentence for his peaceful role in Bahrain's 2011 pro-democracy movement. In protest against the confiscation of a book on Bahraini dialects and culture that he has been working on in prison for over four years, Dr Al-Singace has been on a liquid-only hunger strike since 8th July 2021. The fears for Dr Al-Singace's life expressed by the Bahrain Institute for Rights and Democracy (BIRD), the Gulf Centre for Human Rights (GCHR), Scholars at Risk and other organisations are exacerbated by the fact that he suffers from a number of serious pre-existing health conditions that have worsened as a result of torture and mistreatment. The extreme cruelty of the Bahraini authorities is demonstrated by the fact that despite the human rights defender's rapidly deteriorating health, in November 2021, they suspended Dr Al-Singace's weekly video calls with his family. Dr Al-Singace responded by refusing to take IVs, supplementary vitamins and oral medication.
Over two dozen NGOs co-signed a joint letter calling on the authorities in the United Kingdom, United States, Germany and the European Union to help secure the immediate and unconditional freedom of Dr Al-Singace. The letter also mentions other prominent Bahraini prisoners of conscience, including Abdulhadi Al-Khawaja, co-founder of GCHR and the Bahrain Centre for Human Rights, and human rights defender Naji Fateel.
On 13th January 2022, a Backbench Debate on the ongoing detention of Bahraini political prisoners took place in the UK House of Commons. Cross-party MPs discussed the ongoing detentions of human rights defenders and political prisoners such as Dr Al-Singace and Hassan Mushaima and scrutinised the human rights implications of UK funding to Bahrain through the Gulf Strategy Fund and an upcoming Free Trade Agreement with Gulf Cooperation Council States. Several dozen UK MPs called on the government to impose 'Magnitsky' style sanctions on Bahrain officials such as interior minister Rashid Al-Khalifa. Scottish National Party (SNP) MP Brendan O'Hara led the debate and highlighted Dr Al-Singace's case. The only MP to speak out in defence of Bahrain's human rights record was Conservative MP Bob Stewart. Ironically, Stewart's intervention came just days after the Middle East Eye revealed that he had enjoyed the lavish hospitality of the Bahraini Government during an all-expenses paid trip to the Kingdom in November 2021.
In other developments, on 16th December 2021, the authorities released 105 prisoners who were pardoned by the King to mark Bahrain's National Day. In what is a bitter disappointment to the families and colleagues of imprisoned human rights defenders and activists, the authorities failed to release Abdulhadi Al-Khawaja, Dr Abduljalil Al-Singace, Hassan Mushaima, Naji Fateel and other human rights defenders. Commenting on this news, GCHR's Journalists Protection Coordinator and daughter of Abdulhadi Al-Khawaja, Zaynab Al-Khawaja, stated:
"During the last call, my dad said that what they demand is justice, dignity and freedom, not better conditions inside the cages of oppression."
On 18th November 2021, GCHR reported that Abdulhadi Al-Khawaja's blood sugars had dropped to a dangerously low level after he undertook a hunger strike in protest at the ongoing torture and harassment he suffers at the hands of the prison authorities. Al-Khawaja's latest hunger strike was in response to a decision to deprive him of phone calls. However, after he refused an IV to improve his blood sugar levels, the authorities reinstated his call privileges and Al-Khawaja ended his hunger strike.
In more positive developments, Abdulhadi Al-Khawaja continues to be recognised for his relentless commitment to human rights, and is one of three laureates for the Martin Ennals Award 2022. Martin Ennals says,
"Al-Khawaja, with other human rights defenders from the region, co-founded the Bahrain Center for Human Rights (in 2001) and the Gulf Center for Human Rights (in 2011). These two organisations were the first of their kind in the MENA region igniting a powerful culture of resistance against authoritarian governments."
Separately, 23rd November 2021 marked the tenth anniversary of the publication of the Bahrain Independent Commission of Inquiry (BICI) report. The Commission was established by King Hamad bin Isa Al Khalifa to determine whether the events of February and March 2011 involved violations of international human rights laws and norms. The report was informed by 9,000 testimonies and documented 46 deaths, 559 allegations of torture and more than 4,000 cases of employees being dismissed for participating in protests. Among other things, the report confirmed the Bahraini government's use of systematic torture and other forms of physical and psychological abuse on detainees and other human rights violations, including unfair trials, dismissal of judicial due process procedures and arbitrary detention of peaceful political activists. Ten years on, most of the 26 recommendations made to the Bahraini government are yet to be implemented.
Relatedly, Al-Khawaja, Fateel, Dr Al-Singace and other prisoners, including children, were featured in a video campaign to #FreeBahrainiPrisonersin November 2021 on the tenth anniversary of the BICI, which specifically documented the torture of Al-Khawaja and Dr. Al-Singace. The campaign was coordinated by GCHR with Bahraini partners including BIRD, BCHR, Americans for Democracy & Human Rights (ADHRB) and regional NGOs. You can find the videos on GCHR's YouTube channel.