Authorities use the criminal justice system to harass journalists and activists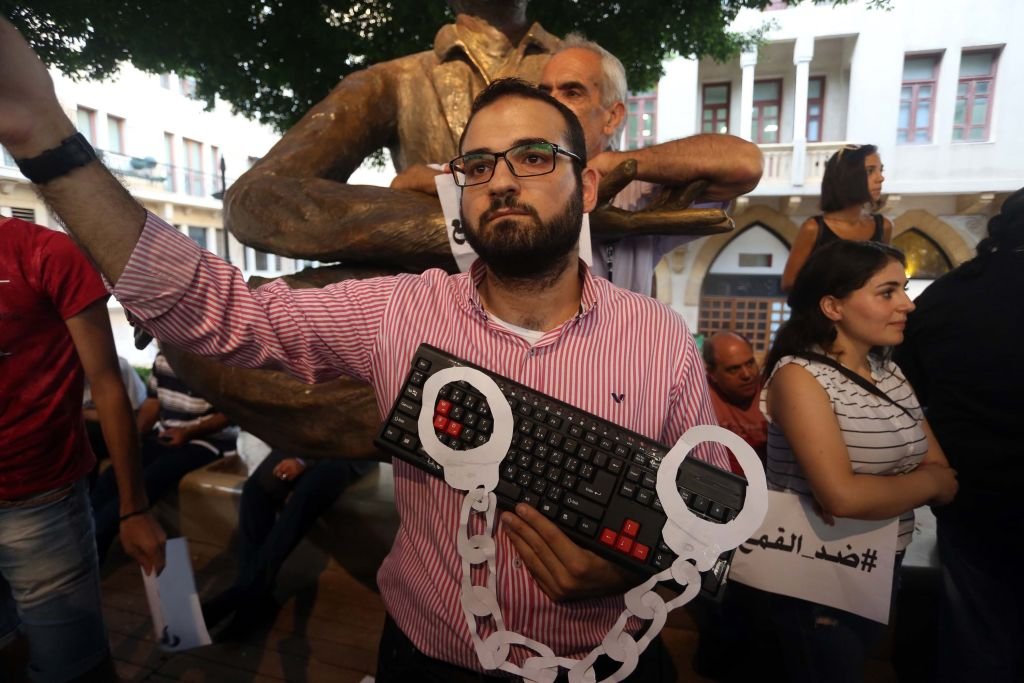 General Update
4th August 2023 marked three years since the Beirut port explosion of 4th August 2020 which led to more than 200 deaths and thousands of wounded people. While the lives of Lebanese people have changed tremendously since then, accountability and justice remain elusive.
Civil society groups in Lebanon, together with regional and international human rights groups, issued a letter to the UN Human Rights Council calling on the Council to adopt a resolution at its 54th regular session to establish an international, independent and impartial fact-finding mission into human rights violations related to the 2020 Beirut port explosion. The letter called for the fact-finding mission to:
Establish the facts and circumstances of the explosion, including its causes, with a view to establishing state and individual responsibility;
Identify human rights violations arising from the Lebanese state's failure to protect the right to life;
Identify the obstacles in the investigation into the blast that would constitute a violation of the state's duty to investigate gross violations of international human rights law effectively, promptly, thoroughly and impartially and, where appropriate, to take action against those allegedly responsible in accordance with domestic and international law;
Identify violations of the victims' rights to access to justice and effective remedies, including reparation; and
Formulate recommendations to ensure justice and reparations for the families.
#Lebanon🇱🇧: Journalist Dima Sadek has been sentenced to one year in jail for 'defamation' and 'slander'. We reject the decision which criminalises freedom of expression and sets a dangerous precedent for journalists' professional rights. @IFJ_AR https://t.co/b8Qzhi14aD

— IFJ (@IFJGlobal) July 13, 2023
Expression
On 10th July 2023, Judge Rosine Hojeili sentenced journalist Dima Sadek to a one-year prison term, deprivation of civil rights, and a fine of 110 million Lebanese pounds ($7,316) in a case filed by the Free Patriotic Movement. The charges against her included spreading false news, inciting sectarian and racist tensions and provoking conflicts between the sects. She was also charged with libel, defamation and insult, which are crimes specified in Lebanese penal law. Dima Sadek had previously faced criminal prosecution and investigation by the Central Criminal Investigations Office under the supervision of the Prosecutor General, based on a criminal complaint filed by the Free Patriotic Movement against her in February 2020. This complaint came in response to her sharing a widely circulated video of a sectarian nature featuring a young man from the Tripoli region being beaten by individuals claiming they belong to the Free Patriotic Movement in the Keserwan region. She commented on the incident using the following phrase: "Another attack by the party, hitting him on the head and throwing him into the sewers, telling him, 'Aoun is the crown on your head and Tripoli's head.'"
On 6th June 2023, the Anti-Cybercrime and Intellectual Property Bureau summoned journalists Rabih Farran and Rihab Daher, and also summoned journalist Pascale Abou Nader from the Elnashra website on 20th June 2023.
On 18th May 2023, Hayat Mirshad, journalist and editor-in-chief of online news outlet Sharika wa Laken and executive director of an NGO known as Fe-Male, was summoned by the Internal Security Forces' (ISF) Anti-Cybercrime and Intellectual Property Bureau due to a slander and defamation complaint filed against her by theatre director Joe Kodeih. The summons was issued in relation to the news outlet's call to boycott a play written and directed by Kodeih, in solidarity with women and girl survivors who came forward to expose Kodeih's sexual and physical harassment.
On 31st March 2023, the Cybercrimes Bureau summoned journalist Lara Bitar, editor-in-chief of The Public Source, based on a complaint filed by the Lebanese Forces after publishing an article on the toxic waste that threatens large areas in Lebanon. Bitar's case was later moved from the Cybercrime Bureau to the Publications Court.
In a statement condemning Bihtar's summoning, WHRD Mena noted that:
"The targeting of journalists and WHRDs in Lebanon is a continuation of anti-rights actors' efforts to silence voices exposing violations and demanding rights. The Public Source is criminalized via institutions that do not have the legal capacity to do so, for their exposure of environmental crimes committed by the Lebanese Forces Party since the civil war, including environmental fires and explosions, that affect local communities in geographically isolated areas in Lebanon, to cover their crimes and enjoy impunity. It is also important to bear in mind that Bitar and other journalists are easily targeted through unlawful means due to the fact state actors are accustomed to target independent women journalists, and according to Bitar: (due) to the fact that the Lebanese Law does not recognize them as syndicate members and subsequently, are easily attacked."
On 30th March 2023, the General Directorate of State Security summoned Jean Kassir, co-founder of independent media outlet Megaphone, in relation to a twitter post by Megaphone which accused Lebanese leaders of being fugitives of justice. Following protests and condemnation by Lebanese civil society organisations, the investigation against Kassir was dropped.
During February 2023 several other violations were also documented including:
A complaint against Charles Ayoub, the editor-in-chief of Addiyar filed by MP Gebran Bassil for slander and defamation in relation to his publication.
Several journalists were also sued over their social media posts discussing the murder of Sheikh Ahmad Al-Rifai. The accused include Kabset Zr website journalist Mariam Majdoline Lahham, Al-Markazia website journalist Joanna Farhat, freelance journalist Ziad Al-Masri, journalist and writer Tony Boulos, and journalist Ibrahim Fatfat. All of these individuals accused Hezbollah and the Lebanese Resistance Brigades in their posts.
With the increasing violations against journalists in the country, an article published by SMEX on 5th April 2023 noted that more than 800 violations against journalists have been reported in the past six years in Lebanon. These include severe beatings by security forces, legal and illegal summonses, and personal harassment via phones. In response to the summoning of journalists, many social media campaigns have been launched using hashtags such as الصحافة_ليست_مكسر_عصا# (the press is not a scapegoat) and عسكر_على_مين# (Who is the police protecting?), coupled with limited protests on the ground.
Peaceful Assembly
A protest in solidarity with Hayat Mirshad (See expression section) was held at the Palace of Justice, objecting to the summoning of journalists before security agencies. Protestors also denounced the judiciary's implicit protection of harassers, as it prosecutes journalists and activists who defend survivors. Mirshad's attorney, Farouk al-Moghrabi, said she did not appear before the judicial police because it lacks the proper authority to hear journalists. The NGO issued a statement noting that her case "constitutes a blatant violation of the rights of journalists whereby Judge Hmedeh violates the Publications Law, especially Articles 28 and 29, which stipulate that if the publications lawsuit requires an investigation with a journalist, the investigation judge must carry it out".