Authorities embark on coordinated reprisals against CSOs, HRDs following mass 2020 protests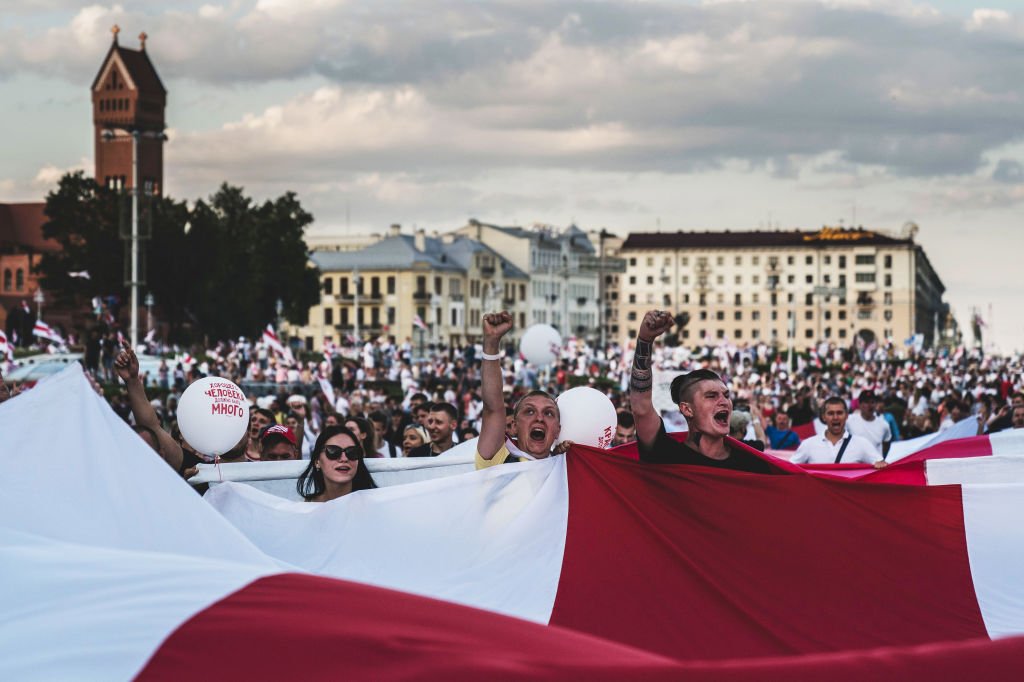 🔵 Human Rights Situation in Belarus: September 2020 — https://t.co/qmL01V9Ff8
In general, Viasna experts note the intensification of repression and the further aggravation of the human rights crisis in the country.#Viasna #Repressions #Protests #Belarus2020 pic.twitter.com/MXtTXVJnJE

— Viasna (@viasna96) October 5, 2020
Peaceful Assembly
Post-election protests continued to December 2020
Post-election protests continued in Belarus between November and December 2020. Law enforcement continued to use force against the protesters, and many of them were arrested and taken to detention centres. Those detained accused the police of torture.
The marches continued every weekend, and sometimes even during working days, especially after the death of protester Roman Bandarenko, who died from blows by the police. After his death, the place where he was hit and detained became a place of pilgrimage for protesters where they began to bring flowers. Law enforcement however destroyed the memorial and arrested several protesters guarding it.
Over time, the protests gained a neighbourhood character, with protesters gathering in smaller numbers in their neighbourhoods. Authorities continued to use force and detained those hiding in nearby blocks of flats.
Among those detained by law enforcement were Andrei Yahorau, the leader of the Belarusian National Platform of the Eastern Partnership Civil Society Forum, as well as other civil society representatives. They were accused of participating in or encouraging participation in actions not sanctioned by the authorities.
The demands of the protesters remained the same: free and fair elections, the sanctioning of those guilty of the deaths of several protesters and the application of torture against peaceful people.
Reports reveal extent of violent crackdown on post-election protests by law enforcement
In December 2020, the Viasna Center, Barys Zvozskau Belarusian Human Rights House International Federation for Human Rights, and the World Organization against Torture presented a joint report titled "Belarus, August 2020: Justice for Protesters". The report focused on the violent crackdown on protests in Belarus immediately after the August 2020 presidential election. The analysis contains testimonies of more than 40 persons detained illegally and who did not have access to legal representation or did not receive a fair trial due to procedural violations by the courts, which are also highlighted in the report.
The report also contained a series of recommendations, including the immediate release of illegally detained persons and punishment for those guilty of using force against peaceful protesters and torture in temporary detention centres.
In a similar context, another report entitled "Corridor of Truncheons. How popular demonstrations are met with massive police violence and denial of justice", prepared by the Committee Against Torture (CAT Russia) and the World Organization Against Torture (OMCT), completes the picture of the abuses committed by the Belarusian authorities from August to November 2020. This report particularly denounces the police's abuses and highlights how they abused their power to suppress the peaceful protests, noting the fact that no one had been held accountable for the abuses against protesters despite the fact that 1,800 bodily injuries had been documented by 9th September 2020.
Current Time @CurrentTimeTv: Our correspondent Roman Vasyukovich was detained at the Minsk airport. His laptop and documents were seized. No contact with him now https://t.co/Xsn394D1q3 via @CurrentTimeTv #Belarus

— Liveuamap (@Liveuamap) December 11, 2020
Expression
Journalist detained upon arrival at the airport in Minsk
On 11th December 2020, a correspondent of Current Time in Belarus, Roman Vasyukovich was detained at the Minsk airport and had his laptop and documents confiscated by border guards without explanation. Half an hour later he was released, but without his notebook. In the months prior to the incident, Vasyukovich had been actively covering the election-related mass protests in Belarus, and this was not the first time he was approached by the Belarusian authorities.
As previously reported on the Monitor, in October 2020, the Ministry of Foreign Affairs of Belarus deprived all foreign media of accreditation, and several dozen journalists were sentenced to several days of arrest and fines for "violating the procedure for organising or holding mass events."
In early August 2020, three correspondents of Present Time, Irina Romaliyskaya, Yuri Baranyuk and Ivan Grebenyuk, were deported from Belarus and banned from entering the country for ten years.
BAJ demands immediate release of https://t.co/NajMGHlF2c reporter Katsiaryna Barysevich — https://t.co/CmhyHN2aOT

BAJ demands from the Belarusian authorities and, above all, from the Prosecutor's Office of the Republic of Belarus, to immediately release Katsiaryna#Viasna pic.twitter.com/emRCciJ4Ph

— Viasna (@viasna96) November 21, 2020
TUT.BY journalists persecuted by Belarusian authorities
On 19th November 2020, TUT.BY journalist Katsiaryna Barysevich, the first journalist to write about the death of protester Roman Bandarenka (see above in peaceful assembly section), was detained by the authorities and placed in the KGB detention centre. Prior to her arrest, law enforcement officers undertook a search of her house. Barysevich was accused of "Disclosure of medical secrets, resulting in serious consequences" in relation to Bandarenka's death, which led to increased protests in Minsk and other cities of Belarus.
In response to Barysevich's detention , the Belarusian Association of Journalists called on the authorities to investigate Bandarenko's death instead of persecuting journalists who fulfil their duties.
Despite the pressure mounted on its journalists such as Barysevich however, TUT.BYs important work continues to be recognised, and in December 2020 the outlet received the Pavel Sheremet Award for courage in journalism, an award established in honour of slain Belarusian journalist Pavel Sheremet who was killed in a car bomb explosion in 2016.
Belarus: Police raid homes of journalists, activists | News | DW | 16.02.2021 https://t.co/TGf3p4xMNN

— D.K.R. Boyd (@ReflectingMan) February 16, 2021
Dozens of journalists, HRDs, CSOs targeted in coordinated raids
On 16th February 2021, Nikolai Kvantaliani, a member of the Belarusian National Platform Coordination Committee of the Eastern Partnership Civil Society Forum, announced on social media that law enforcement officers had descended on his apartment that morning to conduct searches. On the same day, theNational Platform of Belarus in the Eastern Partnership Civil Society Forum issued an emergency statement condemning a series of searches that were being undertaken by law enforcement officers that day, targeting journalists, civic activists and human rights defenders. According to the statement, at least 40 journalists and human rights defenders were among those who had been searched, while other searches took place at the office of the Viasna Center, the headquarters of the independent trade union REP, among other CSO offices. It was reported that the searches were part of a criminal case under Article 342 of the Criminal Code of Belarus – "organisation and preparation of actions that grossly violate public order or active participation in them".
The statement's signatories called on the authorities to stop the pressure and coordinated persecution of independent journalists and civil society representatives.
Similarly, on the same day, International Media Support (IMS) also condemned the illegal and politically motivated detentions and police raids in several cities across the country targeting human rights defenders as part of a deliberate, sophisticated effort to muzzle the critical voice in Belarus.
Gulnara Akhundova, IMS Head of Global Response, said:
"We condemn in the strongest possible terms this brazen attack of the unprecedented scale on freedom of expression in Belarus…The prosecution of the key civil society actors in Belarus signals a dangerous escalation of the Belarusian authorities' despicable clampdown on freedom of expression and demonstrates the extent of measures the authorities are prepared to employ to keep the power, whatever it takes."
On their part, the EU Delegation in Belarus published a Joint Statement condemning the pressure on civil society and called on the Belarusian authorities to release those detained illegally for their actions to promote human rights and denounce abuses.
Support free #Belarus media. Outregous mockery of justice by a court that sent journalists Katsiaryna Bakhvalava and Daria Chultsova to prison for covering protests. We are with you! pic.twitter.com/FnWKnQwj4q

— Vaidotas Beniušis (@BeniusisV) February 18, 2021
Journalists sentenced to imprisonment
On 18th February2021, Viasna Center reported that Katsiaryna Bakhvalava and Darya Chultsova, journalists working with the Belsat TV channel, were sentenced to two years' imprisonment after they were both found guilty of involvement in "group actions gravely breaching public order" (that means participated in protest actions). According to Viasna Center, the journalists were charged for disrupting public transport work while covering on YouTube a protest held in Minsk after the death of Roman Bandarenka in November 2020. The two were detained during the rally when the police violently dispersed the crowd.
The civil society community declared both Belsat TV journalists as political prisoners.
Another young man, Ihar Prazhennikau, was accused of obstructing traffic during a protest in October 2020 and sentenced to one and a half years in a general-security penal colony. The 21-year-old was also declared a political prisoner.
The list of political prisoners of Belarus is documented by Viasna Center and can be accessed here.
Association
Report highlights state of civil society during pre- and post-2020 election period
In early October 2020, the Center for Legal Transformation (Lawtrend), within the framework of the OSCE Moscow Mechanism, prepared a report on the situation of freedom of association in the Republic of Belarus in the pre- and post-election period of 2020. According to the report, although art. 36 of the Constitution guarantees the right to freedom of association, the country has a ban on the activities of unregistered organisations, including public associations and religious organisations. The procedure for state registration of CSOs and political parties is very difficult and allows the registering authorities to refuse registration of any organisation. The report also highlighted the fact that access to funding by civil society organisations, the freedoms of association, peaceful assembly, access to information and judicial independence are significantly limited.
With regards to access to funding by CSOs, President Alexander Lukashenko has repeatedly asked for strengthening of control over foreign financing in a bid to identify channels for alleged financing of "mass riots" in Belarus. Most civil society organisations, recipients of foreign financial support, received a request from the Ministry of Internal Affairs, to provide information on the receipt and targeted use of foreign aid. Several civil society organisations have faced additional requests to provide supporting documents for any transactions in their bank accounts.
Additionally, the Ministry of Justice, based on the request from president Lukashenko, began to check the activities of political parties.
The report makes some recommendations to the government, including:
End the practice of intimidation and discrediting of civil society activists and political opposition, and stop propaganda campaigns of intimidation in the state media against civic activists and civil society organisations;
End interference in the internal affairs of civil society organisations.

CSOs highlight increasing pressure for foreign funding
Separately, but related to the concerns mentioned above related to challenges faced by foreign funded CSOs, on 5th January 2021, several CSOs issued a joint statement to highlight increasing pressure and suppression being experienced by civil society.
The statement highlighted several cases of abuse by the police who, under the pretext of illegal funding, have descended on the offices of several CSOs or their employees' homes. Journalist Andrei Aliaksandarau and human rights defender Leanid Sudalenka were detained for allegedly providing financial assistance to people whose rights and freedoms had been violated. Another case mentioned in the statement was one involving the office for the Rights of People with Disabilities, whose employees were searched because they had provided financial assistance, including from foreign sources, for people with disabilities.
The statement also noted that in 2020, accusations of illegal financing against CSOs increased, and most of the time the reasons were political.