Attacks on the press and critics persist as UN report on the Philippines finds widespread violations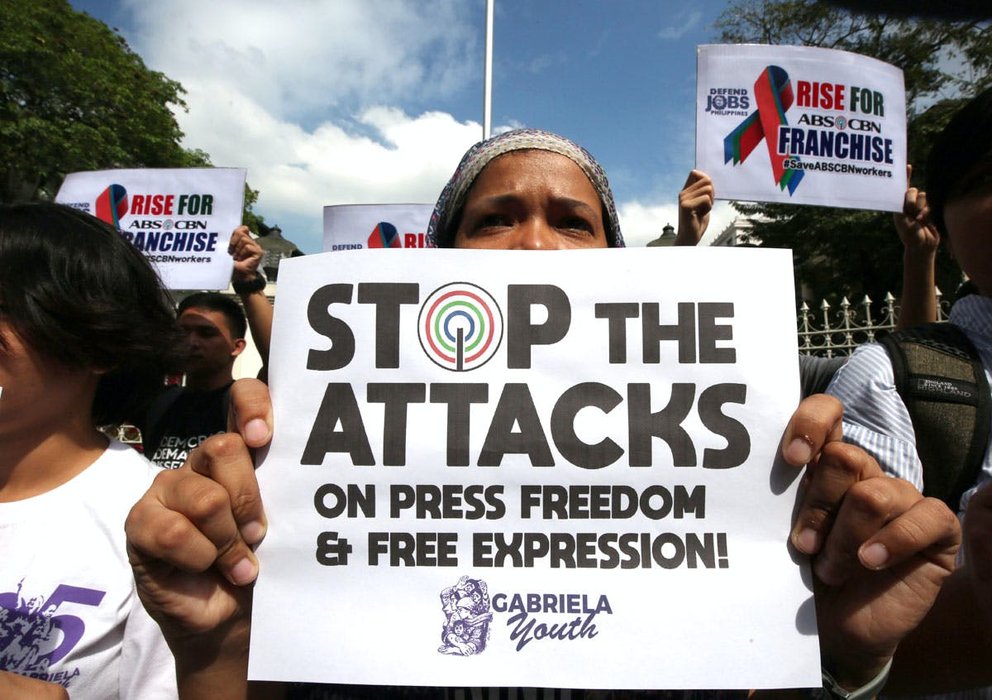 Over the last two months, amid the COVID-19 pandemic, top broadcaster ABS-CBN was forced off the air while prominent journalist Maria Ressa and her former colleague were convicted for 'cyber-libel' in another blow for press freedom. The authorities have also pursued journalists and social media users for criticism of the handling of the pandemic. 
Civil society is seriously concerned that the new anti-terror bill will facilitate abuse of power and erode democracy, while a new UN report details widespread human rights violations and persistent impunity. Human rights defender Teresita Naul remains in prison on trumped up charges while the red-tagging of activists has continued.
The Philippine police have been arresting hundreds daily since the start of the pandemic lockdown on 15th March 2020 despite global calls to decongest jails. Three months later more than 2,000 Filipinos are still in jail. The total number of cases of those infected by COVID-19 has soared to 32,295 with the death toll standing at 1,204.
Expression
Top news outlet forced off the air
ABS-CBN: Philippines' biggest broadcaster forced off air https://t.co/jFrKXlL5qX

— BBC Asia (@BBCNewsAsia) May 5, 2020
The Philippines' top broadcaster ABS-CBN was forced off the air in May 2020 after it was ordered by the media regulator to stop operations. Press freedom advocates and legal experts say it is another attempt by the administration of President Rodrigo Duterte to silence critical media.
On 5th May 2020 the National Telecommunications Commission (NTC), a government regulatory agency under the office of the president, issued a "cease and desist" order against ABS-CBN after the network's congressional franchise expired the previous day. This came after the government's chief lawyer, Solicitor General Jose Calida, warned the commission against granting ABS-CBN a provisional extension to operate, as some members of Congress had requested.
Media watchdogs describe the move as a serious blow to press freedom. ABS-CBN's coverage of Duterte's so-called 'war on drugs', which has killed thousands of people, has angered the Philippine president, and on several occasions he has threatened to block the renewal of its franchise while suggesting the owners should sell the company.
Phil Robertson, deputy Asia director at Human Rights Watch said:
"The Philippine government shutdown of ABS-CBN reeks of a political vendetta by President Duterte, who has repeatedly threatened the network for criticising his abusive 'war on drugs."
ABS-CBN is challenging the shutdown order in court. Although the ruling does not affect its other platforms, such as cable and online, its popular free TV and radio services stopped airing since the evening of 5th May 2020. Discussion for a new franchise for ABS-CBN at the House of Representatives will resume on 29th June 2020.
Journalist convicted for 'cyber-libel' in another blow for press freedom
'PROTECT YOUR RIGHTS.' This is journalist and Rappler CEO Maria Ressa's message to Filipinos after she was convicted of cyber libel for a story written in 2012. She stressed that press freedom is also the right of every citizen.

READ: https://t.co/bQ8T4n7rMC pic.twitter.com/gn2fjCvt1L

— ABS-CBN News (@ABSCBNNews) June 15, 2020
Prominent journalist Maria Ressa, working for news platform Rappler, was found guilty of 'cyber-libel' in a case seen as a test of the country's media freedom. She is facing up to six years in prison. Also convicted was Rappler's former researcher and writer Reynaldo Santos Jr. Maria Ressa, 56, and her colleague were allowed to remain free on bail pending a possible appeal.
Rappler has been a vocal critic of the Duterte regime and especially its notorious 'war on drugs'. Human rights groups believe the charges against her and Rappler are politically motivated. In a press conference following the verdict, Ressa vowed to fight the case, saying the case of Rappler was "a cautionary tale" for the Philippine media.
In a statement, the National Union of Journalists of the Philippines (NUJP) called the decision "a dark day" for independent Philippine media and all Filipinos. They added:
"The verdict basically kills freedom of speech and of the press. But we will not be cowed. We will continue to stand our ground against all attempts to suppress our freedoms."
As previously documented, in February 2019, Ressa was arrested by National Bureau of Investigation (NBI) officers in connection with 'cyber libel' charges. The charges were filed by the Justice Department over a 2012 Rappler article, which was updated in 2014. The article linked a Filipino businessman to murder, human trafficking and drug smuggling.
The case was first filed in 2017 but was dismissed because it was outside the statute of limitations. The justice department later allowed the case to proceed to trial, extending the liability period for such claims from one to twelve years. Ressa's lawyers point out that the controversial cyber libel law did not exist at the time of publication and was in fact only enacted four months after the story was written. However, the justice department said the case could go ahead because the online article had been updated in February 2014 to correct a spelling error.
Authorities pursue journalists and social media users
According to Human Rights Watch, the Philippine government is cracking down on journalists and social media users critical of the government's COVID-19 response, threatening media freedom and the rights to free expression and access to information.
As previously documented, in response to COVID-19, the government declared a state of emergency on 25th March 2020 and granted President Duterte special powers by passing the "Bayanihan to Heal as One Act". Among the provisions in the law is one penalising spreading "false information" on social media and other platforms, a proposal that had been in deliberation since before the pandemic was declared. Those found violating this provision may face two months' imprisonment or a fine of up to P1 million (USD 19,000).
National and local authorities have used COVID-19 and existing legislation against those critical of the government's response to the coronavirus outbreak. According to Reporters Without Borders, on 27th March, the Philippine National Police filed a criminal complaint against Batuigas, owner of the Latigo News TV news portal, and Virata, an independent online reporter, for spreading "false information" about the country's COVID-19 crisis. The police complaint was filed in response to a complaint issued by the government of Cavite City, according to that report.
In April 2020, the National Bureau of Investigation (NBI) initiated legal action against 17 people for allegedly posting "false information" online, an offence that carries steep penalties. Police also brought a case against a town mayor for allegedly "causing a COVID-19 scare."
On 2nd April 2020, human rights lawyer Jose Manuel Diokno disclosed on Twitter that the NBI had subpoenaed a Facebook user for his critical posts, citing the COVID-19 law. "This has become a concerning trend because it is easy for the government to blur the line between legitimate criticism and 'fake news,'" Diokno told Human Rights Watch. Diokno's decision to take on this case prompted President Duterte to publicly accuse the lawyer of encouraging people to violate lockdowns.
On 19th April 2020, Maria Victoria Beltran, a poet and scriptwriter, was arrested for allegedly spreading false information on the alleged surge of COVID-19 cases.
Association
Anti-terror law will facilitate abuse of power and erode democracy
"The Anti-Terrorism Act is a human rights disaster in the making that will open the door to arbitrary arrests & long prison sentences for people or representatives of organizations that have displeased President #Duterte" says @hrw about the #Philippines. https://t.co/9N09qRt2WD pic.twitter.com/7fkR5f8Ych

— Phil Robertson (@Reaproy) June 5, 2020
Human rights groups have warned that the passage of the anti-terror bill will further lead to the erosion of democracy and state abuse in the Philippines. The bill replaces the country's existing anti-terror law, the Human Security Act of 2007.
On 2nd June 2020, the Asian Forum for Human Rights and Development (FORUM-ASIA) and its Philippine member organisations said:
"We have seen the systematic intimidation of civil society, from human rights organisations to journalists and the general public under the Duterte regime. The Anti-Terrorism Bill would institutionalise and facilitate an abuse of power, leading to the weaponisation of the law against its people."
The new law includes a worryingly overbroad definition of terrorism. This leaves the proposed law susceptible to arbitrary and discriminatory enforcement – possibly against human rights defenders, political activists, religious or ethnic communities.
If approved, the new law will grant Philippine police and military personnel the power to detain suspects without a warrant or charge for up to 24 days for investigation (an initial period of 14 days and a 10-day extension). The pre-charge period of 24 days greatly exceeds the norm under international standards for being promptly informed of criminal charges. Under existing law, terrorism suspects must be brought before a judge in three days.
The bill also relaxes accountability for law enforcement agents who violate the rights of suspects, particularly those in detention. The bill eliminates an existing provision under the current law ordering the payment of PhP 500,000 (USD 9,970) for each day that a person who is wrongly accused of terrorism spends in jail.
The broad role of the Anti-Terrorism Council under the new law places people's liberty rights at considerable risk. It is an executive department-led agency chaired by the president's executive secretary and composed of presidential appointees such as the secretary of national defence. The council's secretariat will be run by the National Intelligence Coordinating Agency (NICA), the government's main intelligence body composed primarily of security force officials.
In a recent report by the UN, published in June 2020, it warned that the anti-terrorism bill "dilutes human rights safeguards."
On 3rd June 2020, the House of Representatives approved House Bill (HB) 6875 or the "Anti-Terrorism Act of 2020" on final reading, rejecting all attempts to introduce amendments to the bill. The Senate had already approved its version of the bill in February, and all that remains is for the bill to be signed off by the President.
On 23rd June, President Duterte said his legal team is still reviewing the bill that was transmitted to the Presidential Palace on 9th June 2020.
UN report details widespread human rights violations and persistent impunity
New report shows heavy-handed focus on countering national security threats & illegal drugs has resulted in serious rights violations in the #Philippines 🇵🇭
"People who use or sell drugs do not lose their #HumanRights" – UN Human Rights Chief @mbachelet 👉 https://t.co/GmLXjaVSrr pic.twitter.com/LpM2eP6kQp

— UN Human Rights (@UNHumanRights) June 4, 2020
On 4th June 2020 the UN Human Rights Office released a new report on the Philippines highlighting that "a heavy-handed focus on countering national security threats and illegal drugs has resulted in serious human rights violations in the Philippines, including killings and arbitrary detentions, as well as the vilification of dissent".
The report, which was mandated by a UN Human Rights Council resolution, noted that many of the human rights concerns it has documented are long-standing, but have become more acute in recent years. This has been manifested particularly starkly in the widespread and systematic killing of thousands of alleged drug suspects. Numerous human rights defenders have also been killed over the past five years.
"While there have been important human rights gains in recent years, particularly in economic and social rights, the underpinning focus on national security threats – real and inflated – has led to serious human rights violations, reinforced by harmful rhetoric from high-level officials," the report stated. "This focus has permeated the implementation of existing laws and policies and the adoption of new measures – often at the expense of human rights, due process rights, the rule of law, and accountability."
The UN Human Rights Office documented that, between 2015 and 2019, at least 248 human rights defenders, legal professionals, journalists and trade unionists have been killed in relation to their work. The vilification of dissent and attacks against perceived critics, the report said, are being "increasingly institutionalised and normalised in ways that will be very difficult to reverse."
The phenomenon of "red-tagging" – labelling individuals or groups (including human rights defenders and NGOs) as communists or terrorists – has posed a serious threat to civil society and freedom of expression. The report notes how in some cases those who have been red-tagged were subsequently killed. Others told the UN Human Rights Office they had received death threats or sexually charged comments in private messages or on social media.
Karapatan Secretary General Cristina Palabay said:
"The timely report is a damning indictment of the Duterte administration's brutal and bloody human rights violations and attacks on the people. It is imperative for the UN Human Rights Council to conduct an independent investigation, whether through a Commission of Inquiry or through the monitoring of the OHCHR, on the fast-deteriorating situation in the Philippines."
The report is based on 893 written submissions, substantial input from the Government of the Philippines, analysis of legislation, police reports, court documents, videos, photos and other open source material, as well as interviews with victims and witnesses. It is due to be discussed at the next UN Human Rights Council session in Geneva.
Human rights defender remains in detention
#Philippines: Protecting the poor has brought Teresita Naul, 62, in prison. Learn about why she's one of our #FacesofHope https://t.co/l4xcwxgs3F pic.twitter.com/zyruHMJM39

— OMCT (@omctorg) May 8, 2020
Human rights defender Teresita Naul, aged 62, remains in prison. She was among those arrested just two days after the country had been placed under lockdown due to the COVID-19 pandemic.
On 15th March 2020, she was arrested in Lanao del Sur, on the southern island of Mindanao, by the Philippine Army (AFP) and national police on charges of kidnapping, serious illegal detention and destructive arson. Police have claimed she is a member of the New People's Army – an armed rebel group associated with the Communist Party of the Philippines.
Teresita has dedicated her life to protecting the poorest and the most marginalised. She advocates for their right to health and other basic social services. She is a member of the Secretariat of the Union of People's Lawyers in Mindanao – Cagayan de Oro Chapter and Coordinator in Northern Mindanao for Karapatan, a leading human rights group.
She has been accused together with 554 other people of being involved in an attack against the military based in Agusan del Sur in December 2018. According to human rights groups, others accused of being involved include activists and journalists from Caraga and the Northern Mindanao Region, and also include nuns, a lawyer and public sector employees.
After Teresita's arrest she was paraded in front of the media as a "high ranking official of the Communist Party". Teresita remains detained at the Agusan del Sur Provincial Jail, in overcrowded and unsanitary conditions that puts her life at imminent risk given her serious breathing disorder. She has been denied visits from her lawyer or family and is reportedly exhausted as she's been tasked with cleaning the common toilets.
According to her lawyer at the time of the incident she was at St. Ignatius Hospital in Cagayan de Oro City to undergo a medical examination for bronchitis and asthma. The documentary evidence consisting of hospital records and other certifications was simply brushed aside by the prosecution.
Human rights defenders red-tagged
On 23rd June 2020, the Asian Forum for Human Rights and Development (FORUM-ASIA) highlighted the red-tagging of Balaod Mindanaw Executive Director Ritz Lee Santos III and other human rights defenders.
According to FORUM-ASIA, a Facebook post circulated claimed that Santos, along with other human rights defenders and activists who had protested against the Anti-Terrorism Bill, were connected to the Communist Party of the Philippines – New People's Army (CPP-NPA). President Duterte declared the CPP-NPA as a terrorist group in 2017.
Shamini Darshni Kaliemuthu, FORUM-ASIA Executive Director said:
'The inaccurate portrayal of Santos and other human rights defenders as members of the CPP-NPA is irresponsible and dangerous. This does not only endanger the security of these individuals, but also contributes to a culture of impunity. The Government should cease its systematic use of red-tagging to discredit human rights defenders immediately.
Throughout Duterte's regime, human rights defenders and activists have consistently faced 'red-tagging', the practice of connecting individuals to the CPP-NPA to discredit their advocacy.
Peaceful Assembly
Seven arrested for protest on anti-terror bill
On 5th June 2020, police arrested eight people during a protest rally against the anti-terrorism bill. Among those arrested were seven activists and one bystander who did not participate in the rally.
The activists were part of an estimated 50 individuals who participated in the protest action. They were arrested at the protest site near the University of the Philippines (UP) Cebu for violating a ban on mass gatherings under the general community quarantine (GCQ), according to Cebu City police.
The rally started peacefully at around 10 am until the protesters were met by Cebu City police in combat gear and members of the SWAT team.
Among those arrested were Johanna Veloso, associate vice president of the National Union of Students of the Philippines; Bern Cañedo, UP Cebu Student Council vice president; Dyan Cumabao, Kabataan Partylist Cebu and correspondent for Altermidya; Nar Porlas, Anakbayan UP Cebu; Jaime Paglinawan, Bayan Central Visayas; Janry Ubal,  Food Not Bombs Cebu; Al Ingking, UP Alumnus; and Clement Corominas,  a bystander.