USA: Assaults, harassment and arrests of journalists covering protests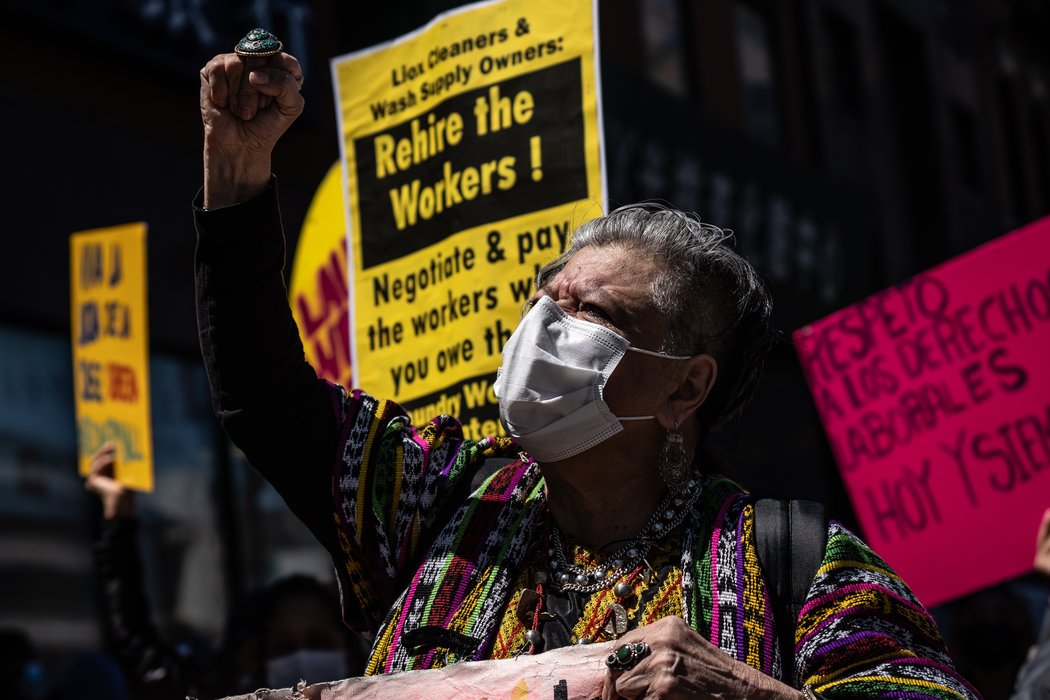 Association
NEW: @McDonalds tried to silence Lizzet Aguilar for demanding safe working conditions during the pandemic.

She grabbed a megaphone instead.

Now, the movement she's led is on the verge of passing historic legislation to transform the fast food industry. pic.twitter.com/g9jPi1QtPY

— More Perfect Union (@MorePerfectUS) June 3, 2021
Lawmakers in California are considering a bill introduced in January 2021 that would protect restaurant workers from abuses and labour violations by their employers. If passed, the Fast Food Accountability and Standards (Fast) Recovery Act would address health and safety issues accelerated by the pandemic by creating a statewide fast-food council that would set new standards specific to the industry. According to research by academic institutions, it is not uncommon for fast-food workers to experience labour violations including harassment, retaliation and wage theft. In April 2021, workers in California rallied behind the bill with a series of demonstrations.
On 19th April 2021, the country's Supreme Court heard arguments in a pair of cases involving non-profits' disclosure requirements to state regulators who police charitable fraud. The cases focus on a requirement in California that non-profits disclose a list of major donors giving more than US$5,000. Two conservative groups claim the California law violates the Constitution by subjecting the donors to possible threats of violence from political opponents. Supporters of the law say a ruling by the court in favour of privacy could weaken disclosure requirements in elections, making it easier for big donors to influence the outcome of political campaigns.
Peaceful Assembly
On 1st May 2021, thousands of people participated in May Day events in multiple cities to express their support for workers' rights and demands. In San Francisco, labour groups held a rally and marched to support the Fast Recovery Act that would empower restaurant workers. In Seattle, the largest rally was organised by El Comité, a group that advocates for labour and workers' rights, highlighting the work and needs of essential workers and immigrants during the pandemic. At a different event in Seattle, where attendees clashed with police, fourteen people were arrested on charges such as assault, disorderly conduct, property damage and obstruction. In Chicago, a series of events organised by Black Lives Matter, Women of Faith, and ANSWER Chicago drew hundreds of people who called for justice for Anthony Alvarez, a man killed by local police.
In May 2021, thousands of people marched in several cities in solidarity with the Palestinians and to call on the Biden administration to do more to stop violence in Gaza. In Washington D.C. on 15th May 2021, hundreds of protestors gathered near the Washington Monument and then marched to the U.S. Capitol carrying Palestinian flags. Protests were also held in Los Angeles, Atlanta and Louisville. "This is not just a Palestinian issue; it's a human rights issue," said a student at the Louisville protest. "This is a humanitarian thing, and as Americans we do have a duty to speak up about this because our own tax dollars are funding the Israeli military." On 22nd May 2021, there were nearly 90 events in support of the people of Palestine in cities like Houston, Philadelphia, Chicago and Portland.
Protests against racism and police brutality
Protests over the death of Daunte Wright continued for a third night in Brooklyn Center, MN, and other U.S. cities on April 13. There were reports of violence between police and protesters in Brooklyn Center after 10 pm when police launched flashbangs and gas grenades pic.twitter.com/5zudFCtN7H

— NowThis (@nowthisnews) April 15, 2021
At the end of March and beginning of April 2021, people continued to rally across the country to protest against anti-Asian racism and violence. During a "National Day of Action", events were held in Los Angeles, Philadelphia, Washington D.C. and other cities in solidarity with Asian Americans who have been victims of attacks. There has been an increase in violence against Asians during the pandemic, including an incident where a 75-year-old woman was assaulted by a man in San Francisco. "We are Americans, we are mothers, we are friends, we live here," said one woman who marched in Indianapolis. "We love our community. This affects all of us, and we don't want any violence against anyone."
Throughout the reporting period, there were dozens of demonstrations against racism and police brutality in several cities following a series of cases where Black and Latino people were killed by police. These included Daunte Wright, a 20-year-old shot by police in Minnesota, Adam Toledo, a 13-year-old killed in a police chase in Chicago, and 16-year-old Ma'Khia Bryant who was shot and killed by a Columbus police officer.
In Minnesota, hundreds of people defied curfew on 12th April 2021 to protest at a police station in Brooklyn Center and were met by police officers dressed in riot gear. The police declared the protest an unlawful assembly and used flash-bang grenades, tear gas and foam rounds to disperse the crowd. About 40 people were arrested, many of whom were cited with misdemeanor curfew violations. Protests demanding justice for Daunte Wright were also held in New York, Seattle, Portland and other cities. Several journalists were detained or assaulted by police while covering further protests in Minneapolis on 16th April 2021, as detailed in the 'Expression' section of this update.
Also in April 2021, in Chicago, thousands marched in Logan Square after a video was released showing Adam Toledo being shot with his arms raised. In Columbus, hundreds rallied against police violence outside a police station, and held a community vigil to remember Ma'Khia Bryant. More than 500 Ohio State University students marched to the Ohio Statehouse to demand the university cut ties with the Columbus police. In Portland, four people were arrested at a protest over the police killing of 46-year-old Robert Douglas Delgado, who was unhoused and reportedly struggled with mental health issues. A riot was declared after some people allegedly smashed windows, burglarised businesses and set fires.
On 19th May 2021, about 50 people protested in North Carolina after the district attorney said the police killing of Andrew Brown Jr., an unarmed Black man shot and killed by officers in Elizabeth City, was "justified". According to news reports, around eight protesters were detained. Two reporters with the Staunton News Leader were arrested while covering the demonstration.
25th May 2021 marked the one year anniversary of George Floyd's killing by Minneapolis police officer Derek Chauvin, which sparked the largest racial justice protests in the United States since the Civil Rights Movement. A series of memorial events took place online and in cities across the United States. In April 2021, Chauvin was found guilty of murder for Floyd's killing.
In a related development, the Department of Homeland Security's internal watchdog rejected a proposal to investigate the Secret Service's use of force against protesters at Lafayette Square in Washington D.C. on 1st June 2020. The investigation would have looked into the Secret Service's role in forcefully moving protesters out of Lafayette Square, including the use of chemical irritants and rubber bullets on peaceful protestors by law enforcement, before former President Donald Trump's photo-op near a church. At least 60 people were injured during the incident.
Restrictive legislation
#Montana is slated to join Kansas and Arkansas as the latest state to pass anti-protest legislation in the name of protecting "critical infrastructure" from trespass and vandalism. https://t.co/WrGRIw6rKf

— ICNL Alliance (@ICNLAlliance) May 3, 2021
According to data from the International Center for Not-for-Profit Law (ICNL), since the start of the 2021 legislative season, Republican lawmakers have introduced more than 80 bills in 34 states aimed at suppressing protest rights. The bills range from criminalising protests to making it easier for people to harm protesters without consequence. A Minnesota bill would prohibit those convicted of unlawful protest from receiving student loans, unemployment benefits or housing assistance. In Oklahoma, the governor signed a bill that protects drivers from any liability when they unintentionally injure or kill demonstrators, while punishing protesters who block roadways with jail time and hefty fines.
In April 2021 in Florida, legislation was enacted that includes new penalties for protesters and a decrease in law enforcement budgets for local governments. The bill also makes blocking traffic on a highway a felony and institutes that protesters will not be eligible for bail until their first court appearance. The UN Special Rapporteur on the right to peaceful assembly criticised the anti-protest bills as vague and draconian, saying:
"Vague definitions of 'riot', 'mob intimidation', and 'obstruction' as set out in these laws provide excessive discretion to law enforcement authorities to intimidate and criminalise legitimate protest activities. Any restrictions on this fundamental freedom must be narrowly and clearly defined."
Expression
Independent photojournalist @chip_nooo was one of at least 20 journalists arrested, charged with failure to disperse near L.A.'s Echo Park Lake on March 25. The City Attorney's office said it has received no paperwork for the arrests: https://t.co/eRpA9d2wI3

— U.S. Press Freedom Tracker (@uspresstracker) June 7, 2021
On 25th March 2021, at least 20 journalists were arrested by police in Los Angeles while covering demonstrations against the city's plan to clear a homeless encampment near Echo Park Lake. Police declared the protest an unlawful assembly and began kettling protesters before they could leave. The Los Angeles Times' Jonathan Queally was arrested despite wearing visible credentials and telling officers that he was with the media. According to the Washington Post, an officer told him: "this is the policy tonight." "Law enforcement cannot be allowed to jail journalists for doing their job," said a statement from Knock LA, whose journalists Jonathan Peltz and Kate Gallagher were among those detained.
Similarly, there were several reports of journalists being assaulted, detained and harassed by police while covering 13th April 2021 protests in Minneapolis sparked by the police killing of Daunte Wright. Minneapolis Star Tribune photojournalist Mark Vancleave was injured after being struck with a rubber bullet. Vancleave said he was wearing his press credentials when he was hit on the hand where he held a camera. Chris Tuite, a freelance photojournalist, said law enforcement officers aimed firearms at him and pulled him from a vehicle. CNN producer Carolyn Sung was thrown to the ground and arrested by Minnesota state police. Sung said she was strip searched and ordered to put on orange prison clothing until her lawyers bailed her out.
Jasper Colt, a photojournalist for USA Today, said on social media that police surrounded members of the press and made them lie flat on their stomachs, photographing their faces and credentials before allowing them to leave. Over the next days of protest in Minneapolis, there were several incidents of journalists pepper sprayed, assaulted, detained, harassed and having their equipment damaged while covering protests.
In another similar incident, two reporters with the Staunton News Leader were arrested on 19th May 2021 while covering a protest to demand justice for Andrew Brown Jr. in Elizabeth City, North Carolina. Both Ayano Nagaishi and Alison Cutler said they had their press credentials and were wearing media vests. In a video from the night, Cutler asks officers why they are being arrested and an officer replies, "For standing in the middle of the street in the roadway."
In a separate development, documents leaked in April 2021 showed that the law enforcement division of the U.S. Postal Service has tracked and collected social media posts, including those about planned protests. Known as "iCOP", or Internet Covert Operations Programme, the programme's analysts monitor social media sites looking for "inflammatory" postings and then share that information across government agencies. Among the documents is a bulletin that has screenshots of social media posts about upcoming protests and includes some users' names and other identifying details. "The type of amorphous, broad mandate under which iCOP is allegedly operating is particularly troubling because it is unclear why the USPS, of all government agencies and the only one devoted to the delivery of Americans' mail, is taking on the role of intelligence collection," said a letter from lawmakers calling for a hearing to investigate the programme.
On 20th May 2021, the U.S. Justice Department (DOJ) confirmed that Trump administration officials secretly obtained a CNN reporter's records, including her personal phone and email records covering two months, as part of a plan to uncover the sources for a 2017 story about alleged links between Russia and the then-president's campaign. Trump's Justice Department also obtained the phone records of three Washington Post reporters and of another reporter working with Politico, the New York Times and Buzzfeed.
In a related story, court filings revealed that the DOJ under William Barr also subpoenaed Twitter in late November 2020 to try to learn the identity of the user behind a parody account that criticised Rep. Devin Nunes. Twitter fought the subpoena and it was later withdrawn after President Biden took office.