Arrests, deadly attacks on protest movement escalate despite condemnation, sanctions on Myanmar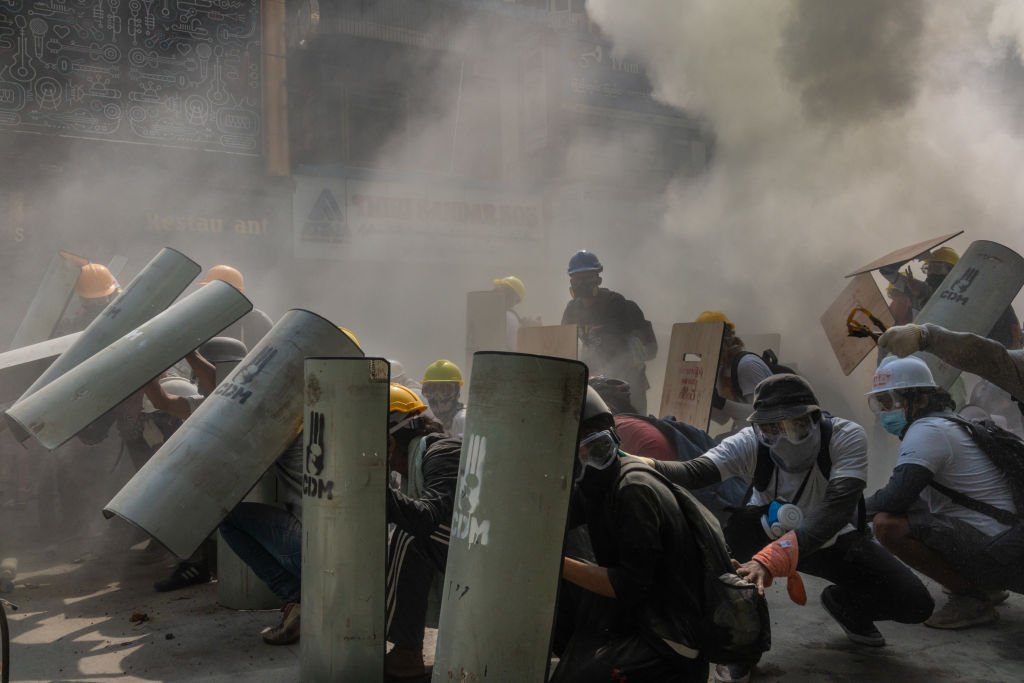 It has been more than two months since the Myanmar military seized power in a coup, arrested the civilian leaders of the national and state governments and announced a one-year "state of emergency." Since then, it has launched a brutal crackdown against a protest movement across the country.
There have been reports of attacks on mass protests, compounds of striking public-sector workers and targeting the general population in cities like Yangon and Mandalay - unleashing night-time terror by beating, arresting and even murdering people apparently at random, while destroying or looting private property
The situation has escalated dramatically, with large numbers of battle-hardened troops deployed into towns and cities. Establishing forward operating bases in schools, universities and hospitals, these units are terrorising the public by using the harsh tactics
According to the Assistance Association for Political Prisoners (AAPP) at least 614 individuals have been killed by this junta as of 9th April 2021. Save the Children reported on 1st April that at least 43 children have reportedly been killed by armed forces. The youngest victim was a girl who was just six years old. 2,857 people are currently arbitrarily detained including opposition members, protesters, activists and journalists. The junta has also continued to impose an internet shutdown. On 15th March 2021, the military junta placed six townships in Yangon and parts of Mandalay under martial law.
On 27th March nearly a dozen senior military commanders condemned the deadly use of force by Myanmar's security forces. The joint statement was signed by 12 chiefs of defence from Australia, Canada, Denmark, Germany, Greece, Italy, Japan, the Netherlands, New Zealand, South Korea, the United Kingdom and the United States.
US to blacklist two Myanmar military-linked conglomerates: Report https://t.co/ohEs6eETV9 pic.twitter.com/4HKpo1H8Cg

— Andy Vermaut (@AndyVermaut) March 25, 2021
On 22nd March 2021, the U.S. Treasury Department's Office of Foreign Assets Control (OFAC) sanctioned two individuals and two entities connected to the Burmese military and its violent repression of pro-democracy protests. This includes Than Hlaing, who was appointed Chief of the Burma Police Force and Deputy of Home Affairs, and Lieutenant General Aung Soe who is a Bureau of Special Operations commander and reports directly to commander-in-chief Senior General Min Aung Hlaing. Treasury is also designating the 33rd Light Infantry Division of the Burmese Army (33 LID) and the 77th Light Infantry Division of the Burmese Army (77 LID), for being responsible for, or complicit in, or for having directly or indirectly engaged or attempted to engage in actions or policies that prohibit, limit or penalise the exercise of freedom of expression or assembly.
On the same day, the EU imposed sanctions on 11 people over the recent military coup and ensuing repression.Ten of the eleven persons targeted belong to the highest ranks of the Myanmar Armed Forces (Tatmadaw), including the Tatmadaw's Commander-in-Chief, Min Aung Hlaing, and Deputy-Commander-in-Chief, Soe Win. The other is the new Chairperson of the Union Election Commission for his role in cancelling the results of the 2020 elections in Myanmar. The restrictive measures introduced include a travel ban and an asset freeze.
On 25th March 2021, OFAC sanctioned two military holding companies, Myanmar Economic Holdings Public Company Limited (MEHL) and Myanmar Economic Corporation Limited (MEC).On the same day, the UK announced further measures targeting the Myanmar regime, sanctioning military-owned conglomerate Myanmar Economic Holdings Ltd for its involvement in serious human rights violations against the Rohingya and its association with senior military figures.
Member states of the Association of Southeast Asian Nations (ASEAN) have failed to effectively address the crisis. On 5th April 2021, Brunei, the chair of ASEAN, threw its support behind a regional leaders' meeting to discuss developments in Myanmar and said it had asked officials to prepare for a meeting in Jakarta.
On 17th March 2021, the Independent Investigative Mechanism for Myanmar - created by the United Nations Human Rights Council - said it was closely following events and collecting evidence regarding arbitrary arrests, torture, enforced disappearances and the use of force, including lethal force, against those peacefully opposing the coup. It encouraged those aware of illegal orders or policies to contact the mechanism.
On 28th March, the UN Special Adviser on the Prevention of Genocide, Alice Wairimu Nderitu, and UN High Commissioner for Human Rights, Michelle Bachelet, issued a clear warning of a heightened risk of atrocities in Myanmar.
Now that the US and UK have imposed sanctions on the Myanmar military's two big conglomerates, with the European Union follow suit? Will the Chinese government continue to block strong action by the UN Security Council? Who really stands against the coup? https://t.co/GHA7NDBT5y pic.twitter.com/rq9KDlV0RU

— Kenneth Roth (@KenRoth) March 26, 2021
On 2nd April, the UN Security Council "strongly condemned" the deaths of hundreds of civilians in Myanmar, in a unanimous statement watered down by China after two days of tough negotiations. Over 460 Myanmar civil society organisations condemned China's position.
Thai authorities were accused of forcing back more than 2,000 refugees who had fled air strikes in Myanmar on 29th March 2021. Thousands of people fled the country after fighter jets attacked villages near the border held by a force from the Karen ethnic group that had attacked a military post.
Peaceful Assembly
Deadly attacks on protesters and civilians by security forces 
More protests against Myanmar's junta today from different parts of the country #WhatsHappeningInMyanmar pic.twitter.com/ZGquaYeYmr

— Matthew Tostevin (@TostevinM) April 8, 2021
The Myanmar security forces have continued to crack down on mass protests and public and private sector worker strikes using deadly force, with hundreds killed and thousands injured. Facing increasing violence from the security forces, demonstrators have attempted to protect themselves with homemade shields and by constructing barricades across roads.
According to the International Crisis Group (ICG) security forces intensified their use of violent crowd dispersal techniques (water cannons, tear gas, rubber bullets and sound grenades) and resorted as well to using battlefield weapons (assault rifles, light machine guns, sniper rifles and live grenades).
Myanmar police go door-to-door hunting for protesters in night-time raids https://t.co/m3JxwN3FNV

— Daily Mail Online (@MailOnline) March 9, 2021
Security forces have unleashed a campaign of random terror at night in residential areas of Yangon and other cities and towns. They are conducting house-to-house searches – whether in pursuit of particular people, looking for any protesters who may be hiding indoors or just to intimidate – lining up entire families, including children, on the street at gunpoint while they check IDs. Suspects were beaten, detained, tortured and in some cases extrajudicially executed, and private property is often destroyed or looted
Remembering Myanmar's Fallen Heroes https://t.co/qZ6OJQk5UP#WhatsHappeningInMyanmar
--------------------
Help The Irrawaddy Report the Truth from Myanmarhttps://t.co/PaJUd0gH3P

— The Irrawaddy (Eng) (@IrrawaddyNews) March 30, 2021
These reports were compiled from news sources as well as data from AAPP:
On 11th March 2021, six people were shot dead by security forces during a brutal crackdown on protests against the military coup in the town of Myaing in upper Myanmar's Magwe Region. On 12th March another ten were killed in Myaing while two others were killed in Mandalay and Yangon
On 13th March, the security forces shot and killed at least eight people at protests throughout Myanmar. Four people in Mandalay were killed in a violent crackdown that also injured 15 demonstrators. At the same time, 19-year-old Htet Myat Aung was killed at a protest in the Bago Region town of Pyay. He was a student at the Myanmar Maritime University in Yangon, and died from a gunshot wound to the chest, according to his father. Dozens of protesters were remanded in state custody. On 14th March it was reported that 74 protesters were killed in one of the bloodiest days yet since the military coup as security forces opened fire in Yangon.
At least 59 people were killed and 129 injured by security forces on 15th March in Yangon's suburban and industrial townships. In one case, a man in his 50s was picking up trash after a protest had dispersed when a soldier walked up to him, pressed a gun to his head and pulled the trigger.
On 16th March, 20 people were reported killed including three teenagers; another nine were killed on 17th March; three on 18th March; eight on 19th March; twelve on 20th March; two on 21st March; eleven on 22nd March; and four on 23rd March.
On 24th March, twelve people were killed including a 7-year-old girl in Mandalay's Chanmyathazi township, while 34 were killed on 25th March.
On 27th March, Myanmar security forces killed 114 people, including children, in a brutal crackdown on pro-democracy protesters. At least 40 people, including a 13-year-old girl, were killed in Mandalay, and at least 27 people were killed in Yangon, Myanmar Now said. Another 13-year-old was among the dead in the central Sagaing region. 13 were killed on 28th March, 14 killed on 29th March, eight killed on 30th March and 15 killed on 31st March. Between 1st and 7th April at least 62 were reported killed.
Protesters use creative tactics despite crackdown
"This year women are actively taking part in the anti-military protests and we decided to use our sarongs as flags of the column," said May Sabe Phyu, director of the Gender Equality Network in Myanmar.https://t.co/7Ox2B2K4uH

— Radio Free Asia (@RadioFreeAsia) March 8, 2021
Despite these deadly attacks, protesters continued to use creative methods to protest. On International Women's Day on 8th March 2021, protesters used 'htameins' or sarong-like garments as flags. Protesters hanged 'htameins' above roads to delay the advance of security forces. Many superstitious soldiers believe that walking beneath the sarong-like garment - or anything else worn by a woman below the waist - diminishes a man's power.
On 22nd March 2021, hundreds of red balloons floated into the sky in Yangon in support of civilian leader Aung San Suu Kyi, who was ousted and detained in the military coup. Citizens also laid out traditional dolls, known as "Pyit Taing Htaung", as their stand-ins, rather than protesting through gathering physically. 
A demonstration protest with myanmar traditional tumbling doll (pyit-tine-htaung) which is a symbol of #resilience @ Ahlone tsp,#Yangon. We will never fall. Democracy must prevail.#WhatsHappeningInMyanmar#Mar15Coup pic.twitter.com/V4sekEH7V2

— Htet Htet Snowy (@HtetSnowy) March 15, 2021
Many also wore red shirts, the colour of her party, the National League for Democracy. On 23rd March 2021, Myanmar protesters held candle-lit vigils for the dozens killed in demonstrations against military rule. Hundreds of people clutching candles held a rally in the Ahlone district of Yangon, the country's biggest city. On 24th March, a "silent strike" was held across Myanmar. Businesses were shut as well as the streets of cities including Yangon, Mandalay, Monywa and Bago, along with ethnic minority areas.
On 4th April 2021, opponents of military rule in Myanmar inscribed messages of protest on Easter eggs. On 6th April, activists daubed roadways with red paint to protest against the junta's bloody crackdown on protests
On 8th April, opponents of the coup regime in Myanmar launched a campaign called the #MarchingShoesStrike placing shoes filled with flowers in public places in memory of protesters who have been killed. 
Expression
Journalists and media outlets targeted
#Myanmar @RSF_inter concerned after 2 reporters Aung Thura for @BBCWorld & Than Htike Aung for @MizzimaNews were arrested today & are missing, calls on the authorities to reveal their whereabouts & to stop persecuting journalists #WhatsHappeningInMyanmarhttps://t.co/EolLnGSL2V

— RSF (@RSF_inter) March 19, 2021
Two months after the coup, being a journalist has become a risk in Myanmar. Many are being hunted down, arrested or targeted. As of 30th March 2021, 57 reporters, photojournalists and publishers had been arrested. Many journalists are working while on the run, even with little or no pay, and using whatever internet they can find. Many too have lost their jobs and have not received employment benefits, much less protection, from companies,. Some journalists have had to go into hiding.
Six reporters arrested in late February 2021 while covering anti-coup protests made their first appearance in court on 12th March to face charges of incitement. Kay Zon Nway (Myanmar Now), Aung Ye Ko (7Day), Ye Myo Khant (Myanmar Pressphoto Agency), Thein Zaw (AP), Hein Pyae Zaw (ZeeKwat Media) and freelance reporter Banyar Oo have all been charged under section 505a of the Penal Code.
On 17th March 2021, The Standard Time (San Taw Chain) joined The Myanmar Times, The Voice, 7Day News and Eleven in suspending operations in the wake of the military coup. As of that day the country no longer has a single independent newspaper in publication.
On 19th March, two more journalists were detained. Mizzima News reported that one of its former reporters, Than Htike Aung, and Aung Thura, a journalist from the BBC's Burmese-language service, were detained outside a court in the capital of Naypyitaw by men who appeared to be plainclothes security agents. The journalists were covering legal proceedings against Win Htein, a detained senior official from the National League for Democracy. Aung Thura was released on 22nd March according to reports.
Baba Joe Phyu, a freelance Bhamo journalist who reported for Mizzima was arrested on 20th March. Myanmar-based Associated Press journalist Thein Zaw was released from Insein Prison in Yangon on 24th March. He was arrested by the military regime on 27th February in Yangon while covering anti-coup protests.
Ko La Raw from Kachin Waves and Ma Chan Bu, from the 74 Media, were arrested by the military while reporting in the city of Myitkyina on 29th March. The International Federation of Journalists (IFJ) reported that witnesses said the journalists were both beaten and detained by authorities while reporting on a crackdown on anti-regime protestors. The junta's police force raided The Hakha Post, an ethnic media outlet based in Chin State, on 3rd April. Police officers broke into the organisation's office in the state capital of Hakha. No staff members were present at the time of the raid.
Internet shuts down, surveillance and hacking
Update: Mobile data is cut in #Myanmar for a 26th day as limited internet is restored from 9 am Friday local time, after the 54th consecutive night of post-coup shutdowns. Online platforms remain heavily restricted 📵

#WhatsHappeningInMyanmar pic.twitter.com/sNK6ZJd5BJ

— NetBlocks (@netblocks) April 9, 2021
On 1st April 2021, the military shut down broadband internet service indefinitely in response to ongoing protests. The shutdown applies to wireless broadband services, while a separate order banning mobile internet at night remains in effect. The orders were given to state telecoms, though no official reason has been given.
The internet shutdowns, which was documented previously following the coup, have now reached a new level of severity, with multiple telecoms ordered to shut off various internet services like mobile data, roaming and public wi-fi for different lengths of time. The efforts appear designed to interfere with protestor organising and to prevent Myanmar citizens, journalists and human rights activists from easily broadcasting what's happening on the ground to the rest of the world.
In addition to the communications blackout and physical violence, Myanmar's military is using surveillance drones, phone hacking devices and software for cracking personal computer security as part of a widespread digital offensive against the opposition. Human Rights Watch has also reported that a new public camera system equipped with facial recognition and licence plate recognition technology poses a serious threat to basic rights in the country.
Association
Ongoing arbitrary arrests and prosecutions
Nearly 2,857 individuals remain in detention according to reporting from AAPP as of 9th April 2021 including opposition members, activists, protesters, students and other critics.
On 15th March, Dr SaSa, who was appointed as the Myanmar representative for the United Nations (UN) by the Committee Representing Pyidaungsu Hluttaw (CRPH), made up of deposed National League for Democracy parliamentarians, was charged with treason at the Dakhina District Court. A report said he has been charged under Section 122 (2) of the Penal Code.
On 17th March, the junta charged more than 300 students who were detained at a protest in Tamwe on 3rd March after keeping their families in the dark about their status for two weeks. They were detained during a march organised by the University of Yangon Students' Union and the All Burma Federation of Student Unions. The students have been charged under section 505(A) of the Penal Code, which the junta recently amended to allow for prison sentences of up to three years for causing fear, spreading fake news or agitating against government employees.
On 18th March, the junta charged Aung San Suu Kyi with violating an anti-corruption law, which carries a maximum of 15 years in prison, according to a broadcast on state-run MRTV. That adds to four other charges the junta had previously filed at a court in Naypyitaw, the capital. The junta accused Suu Kyi of using some funds donated to the Daw Khin Kyi Foundation for personal gain, leasing state-owned land for the foundation's office and purchasing land for a vocational training centre in Naypyitaw at a lower price than the market value. Previously, she was charged under the Export-Import Law, the Natural Disaster Management Law, Telecommunications Law and Incitement under a section of the colonial-era penal code. On 1st April, she was further charged with breaking a colonial-era official secrets law,
On the same day, the military accused the elected lawmakers' appointee as vice-president, Mahn Win Khaing Than, of high treason. He faces the charges for accepting the appointment from the CRPH.
#Breaking : Ma Shwe Hmun, chairman of the Thukhakari Social Welfare Association in South Okkalapa Township, and two members were arrested this morning.Junta and police arrested near the Pun Hlaing Bridge while donating in Hlaing Tharyar.#WhatsHappeningInMyanmar #Mar21Coup pic.twitter.com/4cRrnT0P41

— Khine Shwe Sin Moe (@khineshwesinmoe) March 21, 2021
Three staff members from the Thukha Kari charity group were arrested by the junta on 21st March in Yangon's Hlaing Tharyar Township. Among those arrested were the organisation's chairperson and founder, former journalist Shwe Hmone. The Thukha Kari charity group had been providing medical treatment to injured protesters and funeral services for those killed by the regime.
On 6th April, it was reported that the junta had published a list of 20 people including actors, actresses, musicians and social media influencers who had been charged with violating Section 505(A) of the Penal Code for "spreading news to affect state stability." The penalty for the offence is up to three years' imprisonment.
On 8th April, women human rights defender Thin Thin Aung, the founder of Mizzima News and the Women's Rights and Welfare Association (WRWAB) was arrested and taken to the notorious Yay Kyi Eaing investigation centre.
Today, Mizzima has confirmed that its co-founder Daw Thin Thin Aung and an office staff James were detained by the regime. Mizzima's reporters Ko Zaw Zaw & Ko Than Htike Aung are still in the custody. #WhatsHappeningInMyanmar #Apr9Coup pic.twitter.com/ym0wIoTlsP

— Love, SWAN 🦢 (@LoveSWAN7) April 9, 2021