Arrests of activists dangerously escalate while draft public order law draws flak in Cambodia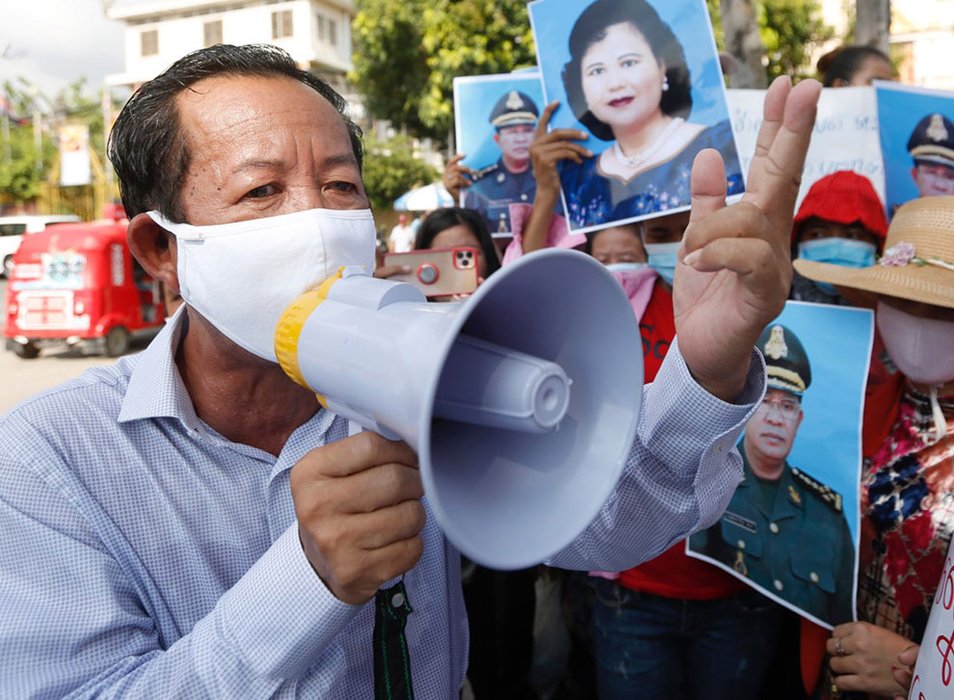 Prime Minister Hun Sen is ratcheting up attempts to silence dissent in the country. Over the last few months, we have seen an escalation in arrests of human rights defenders, activists and musicians on trumped up charges. Former members of the banned opposition party Cambodian National Rescue Party (CNRP) continue to be targeted and have been prosecuted and convicted. Their families who have been protesting outside their detention centres have faced repression. Despite the pandemic, the government is introducing new laws and regulations that could be used to restrict civic freedoms, including a public order law and a national internet gateway.
On 1st October 2020, Special Rapporteur on the situation of human rights in Cambodia Rhona Smith presented her report during the 45th session of the UN Human Rights Council detailing numerous human rights violations committed by the Cambodian government. She said "civic and democratic space has continued to shrink in Cambodia, with a lack of any significant shift towards political reconciliation and restoration of civil and political rights. Cambodia remains, in effect, a one-party State".
Peaceful assembly
Union leader's arrest sparks string of protests and arrests
CCHR's new infographic illustrates the latest crackdown on #FundamentalFreedoms in #Cambodia. 28 activists, #HumanRights defenders & dissenting voices have been arrested since 31 July 2020. 20 remain in detention and 16 have been charged with incitement. https://t.co/QuIF8wwTtD pic.twitter.com/LuA4rtc8IF

— CCHR Cambodia (@cchrcambodia) September 28, 2020
Prominent union leader Rong Chhun was arrested on 31st July 2020. Rong Chhun is the President of the independent Cambodian Confederation of Unions and a member of the Cambodia Watchdog Council. He has been a vocal human rights defender and has long raised concerns about the plight of farmers' and workers' rights.
Chhun was charged with incitement under Article 495 of Cambodia's Penal Code for allegedly spreading 'fake news' after he appeared on a Radio Free Asia broadcast saying Vietnamese soldiers had placed border posts 500 meters into Cambodian territory and expelled villagers from their land. Prior to his arrest, Chhun was reportedly visiting Tbong Khmum province and spoke with affected farmers, who were prevented from using their own land. His family has also faced harassment since then.
Rong Chhun's arrest has prompted a wave of charges against those calling for his release. On 28th September, the Cambodian Centre for Human Rights (CCHR) documented that 28 human rights defenders have either been arrested, detained, or charged.
On 6th August 2020, brothers Chum Huot and Chum Hour of the Lover Environment and Society Association were arrested for taking part in a protest supporting Chhun. The pair were reportedly made to sign an agreement to stop protesting and were subsequently released. On 10th August, activists Chhou Pheng, Chum Puthy and Sar Kanika, were charged with 'incitement' under Article 495 of the Criminal Code for protests calling for Chhun's release
On 13th August 2020, two activists, Hun Vannak and Chhouen Daravy, from youth group Khmer Thavrak were arrested for the same reason. The two were also charged with 'incitement'. Other members of the youth group have been targeted by the authorities for planned protests; on 6th and 7th September, Buddhist monk Koet Saray and Tha Lavy were arrested for planning a gathering calling for the release of Rong Chhun, while activist Eng Malai was picked up by authorities after leaving the office of the UN High Commissioner for Human Rights in Cambodia, where she had raised security concerns. All three were charged with 'incitement'.
The police also arrested Vice-President of the Khmer Student Intelligent League Association (KSILA), Mean Prommony, on 6th September 2020 for planning a protest, while another member of KLSIA, Muong Sopheak was detained on 11th September.
Following the series of arrests, on 7th September 2020, the Cambodian Interior Ministry issued a statement attempting to smear civil society group Khmer Thavrak as an unauthorised organisation, stating that they have been conducting activities "intended to incite and instigate disturbance affecting social stability, security and public order."
The Law on Associations and Non-Governmental Organisations, passed in July 2015, has been widely criticised by grassroots groups, unions, NGOs and the United Nations as inconsistent with international human rights law. It criminalises all unregistered groups and makes registration dependent on an unclear and complex bureaucratic process.
Protest by families of political activists
#Cambodia arrests #CNRP opposition activists on bogus charges, & then when their families protest to demand justice, it sends in the police to rough them up. Thuggish state actions by @PeacePalaceKH blatantly violate human rights says @hrw. #PhnomPenh #HRW https://t.co/Pi7JnmUnMY pic.twitter.com/8lVIisgx4O

— Phil Robertson (@Reaproy) August 6, 2020
Relatives of detained Cambodian National Rescue Party (CNRP) activists have protested in front of the Phnom Penh municipal court weekly since 19th June 2020. They have handed in petitions to foreign embassies and the Office of the United Nations High Commissioner for Human Rights (OHCHR) in Cambodia.
According to Human Rights Watch, on the morning of 24th July 2020, a large presence of mixed security forces confronted the family members of the detained opposition activists gathered in front of the Phnom Penh municipal court and tried to move them away. The security forces violently confiscated one protester's sign. Security officers in civilian clothes with walkie-talkies roamed the area, taking photos of protesters and bystanders.
On 31st July 2020, security forces blocked protesters from reaching the municipal court, grabbing and pushing them to the ground. Officers apprehended Sath Pha, a cousin of Heng Sothy, a detained CNRP activist. They dragged her across the street and forcibly put her into a police car. She was taken to the police station, questioned and released after she signed a pledge not to join marches and protests in the future.
On 4th September 2020, the wife of a CNRP activist was severely injured and several other women were roughed up when security personnel violently dispersed their protest. Seng Chanthorn, the wife of political activist Sun Thun, was admitted to hospital after authorities from the city's Prampi Makara district threw her to the street, causing her to pass out.
Association
Environmental activists arrested and charged with incitement
#Cambodia: Authorities arrest three Mother Nature activists who planned peaceful environmental protest in Phnom Penh https://t.co/Pybx4kJVee

— AG (@ag_fidh) September 4, 2020
On 3rd September 2020, Thun Ratha, Long Kunthea and Phoung Keorasmey, activists with environmental group Mother Nature Cambodia, were arbitrarily detained while planning a peaceful march to call attention to the filling in of a lake, one of the last large lakes in Phnom Penh.
On 6th September 2020, the three were charged with "incitement to cause societal chaos" (articles 494 and 495 of the Cambodian Criminal Code) and placed in pre-trial detention. They could face up to two years in prison.
Mother Nature Cambodia is an environmental rights organisation that advocates and campaigns locally and internationally for the preservation, promotion and protection of Cambodia's natural environment. As part of their work, the organisation monitors and challenges gross environmental violations and also raises awareness, educates and empowers people by providing them with training and financial support.
The authorities have accused the Mother Nature NGO of working to incite people and to provoke instability and social unrest by using social media and other means to disseminate information.
Opposition party members charged and convicted
The government has shown an increasing intolerance of dissent, escalating its intimidation and arrests of former members of the banned Cambodia National Rescue Party (CNRP) and bringing trumped up charges against them.
On 10th September 2020, former CNRP official and activist Pen Mom was sentenced to five years imprisonment for "plotting to overthrow the government." He was found guilty of conspiring with self-exiled opposition party founder Sam Rainsy in 2019.
On 22nd September, seven CNRP activists were sentenced to jail for treason under Article 453 of Cambodia's Penal Code for posting Facebook comments between 2018 and 2019, supporting CNRP acting chief Sam Rainsy's plans to return to the country. Five were sentenced to seven years, while two, who had earlier defected to the ruling party, were handed five-year suspended sentences.
On 23rd September, Oeur Narith, who was an assistant to former CNRP vice presidents Mu Sochua and Eng Chhai Eang, was detained and questioned by authorities. Police informed him that the questioning was related to an "old, personal financial dispute" from 2012.
On 6th October 2020, police arrested Chum Sarath, a former elected commune councillor from CNRP in Anlong Reap commune, Pursat province. According to Human Rights Watch, the charges date back to a land dispute in 2014 between affected villagers and the timber tycoon Try Pheap's M.D.S. Import Export Co. At that time, M.D.S. lodged a complaint against Chum Sarath, alleging that he had cleared forest using a machete. The case had been dormant. The authorities had repeatedly harassed Sarath, and local police and unidentified persons carried out surveillance of his home in Pursat.
Kea Visal, a CNRP member who spent 12 months in the notorious Prey Sar Prison in the capital Phnom Penh prior to his release in September 2020, told RFA's Khmer Service that he was routinely harassed by guards who stripped him naked on his arrival and placed him in solitary confinement for two weeks. He said that guards there discriminated against political prisoners by denying them rights afforded other inmates, such as using cellphones, as part of a campaign of repression.
Expression
Groups call out restrictive draft law on public order
On 13th August 2020, the Cambodian government introduced an overbroad Draft Law on Public Order. The draft law has been written in an attempt to regulate public spaces and public behaviour within those spaces. It covers aesthetics, sanitation, cleanliness, noise and social values, all under the broad aim of maintaining "public order. The law sets out specific activities that are prohibited, lists a range of penalties that may be imposed for breaches, and grants unfettered enforcement powers to authorities across all levels of government.
65 human rights groups including CIVICUS and FORUM-ASIA expressed their concerns over the law. They include vague terms, and categories that are not defined and are based on purported social objectives which are arbitrary, subjective and constantly changing (Article 1); disproportionately impacts certain marginalised groups, in contravention of anti-discrimination guarantees protected in the Constitution and other binding human rights instruments (Article 11); provisions which seriously undermine the rights of individuals with mental health conditions, as well as facilitate discrimination and stigmatisation (Article 25).
The draft Law on Public Order raises serious concerns for the exercise of freedom of peaceful assembly and association in Cambodia (Articles 6, 30, 31 and 33); allows for arbitrary infringements on the right to freedom of expression (Articles 16, 17 and 36) and contains concerning provisions that could exacerbate discrimination against women (Article 37).
The organisations called on the government to immediately discard the draft Law on Public Order in its entirety and uphold its obligations under international human rights law.
Musicians charged with incitement after government criticism
A Cambodian rapper Kea Sokun arrested in Siem Reap yesterday. He rapped about the social issues and one of his songs about "Cambodian Territory". (Source: Ma Chettra) pic.twitter.com/tiTLKN1zeO

— Noan Sereiboth (@noansereiboth) September 7, 2020
Rapper Kea Sokun was arrested in Siem Reap on 10th September 2020 and charged with 'incitement' under Articles 494 and 495 of the Cambodian Criminal Code. Sokun is understood to have been targeted as a result of a song he released in April 2020 called 'Dey Khmer' ('Khmer Land') which addresses the politically sensitive topic of the Cambodian-Vietnamese border.
Days after, on 15th September 2020, Long Puthera was also arrested for incitement for his music. Long Puthera, who penned the track "Wipe Your Tears and Continue Your Journey, Khmer Eyes," was arrested and jailed on charges of 'incitement' under Article 495 of Cambodia's Penal Code. The rapper had regularly posted songs on his YouTube page under the name Thxera-Kampuchea and had thousands of followers.
Chan Chamroeun, provincial coordinator for local rights group ADHOC, told RFA that the "two young men had simply sung songs reflective of current Cambodian social issues and had not breached any laws".
National Internet Gateway planned by government
A sub-decree drafted in July 2020 reveals the government's plan to establish a national internet gateway - a regulatory body - which would 'monitor and control online traffic'. According to Article 6 of the sub-decree, the operators would be expected to "take action in blocking and disconnecting all network connections that affect safety, national revenue, social order, dignity, culture, tradition and customs," but nowhere in the draft sub-decree are these terms expanded upon.
Article 12 of the proposed sub-decree authorises the blocking of any content that goes against "safety, public order, dignity, culture, tradition and the customs of society" but again lacks any explanation of what falls under these terms.
Rights advocates have raised concerns that the sub-decree's vague language would allow the government unrestricted powers to block access to information and curtail freedom of expression. Deputy-director of Human Rights Watch in Asia Phil Robertson said:
"All this means the Cambodian government can block anything it wants for whatever reason it wants to invent—which is typical bad, rights-abusing Cambodian law drafting that provides maximum discretion and minimum oversight of government officers who will be tasked to implement this law."