Arrest of climate protesters, increasing anti-protest laws and continued prosecution of whistleblowers in Australia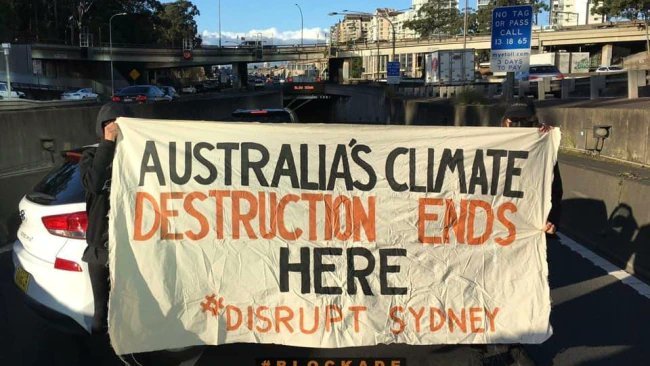 In December 2019, the CIVICUS Monitor downgraded Australia's civic space rating from 'open' to 'narrowed' following a deterioration in fundamental freedoms due to concerns around freedom of the press, the targeting of whistle-blowers, anti-protest laws and increased surveillance.
It has been four months since Australia's Labor party claimed victory in the national election. Around the elections the party said that "promoting universal human rights is an essential policy objective for Labor" and that it "has been a strong advocate for human rights and civil liberties both in Australia and on the international stage."
After taking power, the government took some positive steps. In June 2022, Prime Minister Anthony Albanese allowed an asylum seeker family to return home from detention. In July 2022, new federal attorney general Mark Dreyfus introduced the Australian Human Rights Commission Legislation Amendment (Selection and Appointment) Bill 2022, following concerns raised by the Global Alliance of National Human Rights Institutions (GANHRI) around the appointment of commissioners and other issues.
However, in recent months, the police undertook a preemptive raid of Blockade Australia climate protesters as well as arresting them on the streets. Two states have passed anti-protest laws that invoke harsh penalties for non-violent protest. A former tax officer who is facing proceedings has invoked whistleblower protections while the prosecution of a whistleblower lawyer for allegedly revealing spying on Timor-Leste has been dropped.
Peaceful Assembly
Climate protesters arrested during preemptive raid and on the streets
The repression faced by Blockade Australia activists in previous days has been a dramatic escalation by the police against environmental activists. Of the 7 arrested at the police raid of our camp on Sunday, 5 have been slammed with extreme and punitive bail conditions. pic.twitter.com/Y92ar8lelL

— Blockade Australia (@BlockadeAus) June 22, 2022
Police raided a private property where climate activist group Blockade Australia was camped, a week before the group was planning to "converge" on Sydney for a protest on 27th June 2022.
On 19th June 2022, about 100 police descended on a bush property in the Blue Mountains near Sydney. The huge raid featured helicopters, the paramilitary Public Order and Riot, Raptor Squad and Operations Support Group, the Dog Unit, Police Rescue and plainclothes officers.
According to the New South Wales (NSW) police, it was a "preemptive operation" against "planned unauthorised protest activity."
Statements by climate activists connected to Blockade Australia, as well as their lawyers, indicate that the police provoked a confrontation with a group of people on the property as a pretext for the massive police mobilisation and arrests. The police operation resulted in young people being rounded up and photographed.
According to human rights groups, about 40 individuals were detained during the raid, eight individuals were charged with offences including for conspiracy to obstruct a road under new anti-protest laws.
Forty civil society organisations expressed alarm at the raid and arrests. They said that the extensive covert surveillance and pre-emptive policing sets a disturbing precedent for protest rights and the raid also continues a troubling trend in the state of disproportionate crackdowns on the right to protest.
Alice Drury, Legal Director of the Human Rights Law Centre, said: "Sending in 100 armed police officers to threaten and intimidate people planning a peaceful protest is alarming and disproportionate. NSW police and politicians should commit to protecting protest for the health of our democracy."
Despite the raid, Blockade Australia climate protesters held a mass disruption campaign in Sydney's CBD. On 27th June, they blocked the Sydney Harbour Tunnel which saw ten activists arrested. The following day twelve more protesters were arrested. They have been charged with multiple obstruction and disruption offences.
Increasing number of anti-protest laws being passed
Two states have passed anti-protest laws that invoke harsh penalties for non-violent protest.
In the state of Victoria, a new law to crack down on protests at logging sites was passed on 4th August 2022. The Sustainable Forests Timber Amendment (Timber Harvesting Safety Zones) Bill 2022 passed Victoria's upper house with the final vote count thirty to five after Labor and the coalition joined forces. Under the law, the maximum jail sentence and fines for hindering, obstructing or interfering with timber harvesting operations would be increased to 12 months and more than AUD 21,000 (USD 13,395).
In the same month, Tasmania passed the Police Offences Amendment (Workplace Protection) Bill 2022 in a move that human rights groups say will erode the right to protest. Leading Tasmanian and national civil society organisations had criticised the passing of the bill, which significantly increases some penalties and creates new offences for non-violent protest-related activity. The groups labelled the bill as unnecessary, disproportionate and anti-democratic, and called for it to be repealed at the earliest opportunity.
Under the new laws, a community member who obstructs access to a workplace as part of a protest could face 12 months in prison; a community member protesting the destruction of old growth forests on a forestry site could face a penalty of over AUD 13,000 (USD 8,291) or two years in prison and an organisation supporting members of the community to protest could be fined over AUD 45,000 (USD 28,698).
Previously in April 2022, as documented, the New South Wales (NSW) Parliament passed a new law - the Roads and Crimes Legislation Amendment Bill 2022 - to punish protesters who disrupt economic activity. Penalties of AUD$22,000 (USD15,598) or two years in jail could be enforced for protesting illegally on public roads, rail lines, tunnels, bridges and industrial estates.
Expression
Former tax officer invokes whistleblower protections 
Courts lift suppression orders on ATO whistleblower Richard Boyle's landmark case https://t.co/3MjEqrJSpY

— Guardian news (@guardiannews) September 16, 2022
Former tax office worker Richard Boyle is set to go before the Adelaide District Court to continue his public interest disclosure (PID) defence proceedings on 4th October 2022.
As previously documented, Boyle is a former Australian Taxation Office (ATO) employee who blew the whistle on aggressive debt recovery practices targeting small businesses, which ultimately led to several reviews and policy reform. He initially raised his concerns internally in accordance with the federal Public Interest Disclosure Act, but after nothing was done he went to the media, which is also in accordance with the Act.
He has pleaded not guilty to 24 charges, including the alleged disclosure of protected information and unlawful use of listening devices to record conversations with other ATO employees.
Boyle is attempting to use Australia's whistleblower protections to shield himself from prosecution. The case being heard is the first major test of the Public Interest Disclosure Act (PID Act).
Reporting of the whistleblower hearing was initially subject to suppression orders, including over Boyle's affidavit, designed to prevent prejudicing any future criminal trial. The Guardian news outlet intervened to argue the suppressions were too broad and the district court lifted them.
Kieran Pender from the Human Rights Law Centre said Boyle did the right thing by speaking up about wrongdoing within a powerful government agency. "Boyle has been vindicated by three independent inquiries, which collectively found that the ATO had misused its debt recovery powers, and that the ATO's internal investigation of Boyle's whistleblowing was superficial," Pender says. "Yet he finds himself on trial for telling the truth."
Prosecution of whistleblower lawyer dropped
Excellent news that Australia's new Attorney General has dropped the prosecution of Bernard Collaery. It's shameful that for years, the previous Australian government pursued a secretive Kafkaesque prosecution of the lawyer of former spy Witness K. https://t.co/DZPUuLI8h6 pic.twitter.com/ngHEUNfRpy

— Elaine Pearson (@PearsonElaine) July 7, 2022
On 7th July 2022, the attorney general, Mark Dreyfus, dropped the prosecution against Witness K's lawyer, Bernard Collaery, for allegedly revealing spying on Timor-Leste.
Dreyfus announced that the commonwealth had discontinued the case in which Collaery was charged in 2018 with unlawfully disclosing information about an Australian Secret Intelligence Service mission to bug the government offices of Timor-Leste.
Collaery was set to be tried in October 2022 on five counts of leaking classified information for allegedly helping his client, an ex-spy known only as Witness K, reveal a mission to spy on Timor-Leste, during negotiations over oil and gas reserves in the Timor Sea in 2004.
Since 2018, Collaery has endured a lengthy court process around the level of secrecy to apply to his trial and other related issues. His case has involved almost 100 court dates and over a dozen interlocutory judgments, across the Supreme Court, Court of Appeal and the High Court.
Kieran Pender, Senior Lawyer at the Human Rights Law Centre, said: "This is an important day for Australian democracy. Bernard Collaery should never have been prosecuted. Whistleblowers should be protected, not punished – it's as simple as that. The Human Rights Law Centre is calling on the Attorney-General to similarly intervene in the ongoing prosecutions."
Pender added: "The federal government must also make sure that cases like these can never happen again. Reform to the Public Interest Disclosure Act is now six years overdue. Ensuring people can safely and lawfully speak up about wrongdoing, without fear of prosecution, must be a priority for the Albanese government."
Other whistleblowers continue to face prosecutions including David McBride, who blew the whistle on alleged war crimes by Australian soldiers in Afghanistan.