Arbitrary arrest of activists, excessive use of force and targeting of journalists in Nepal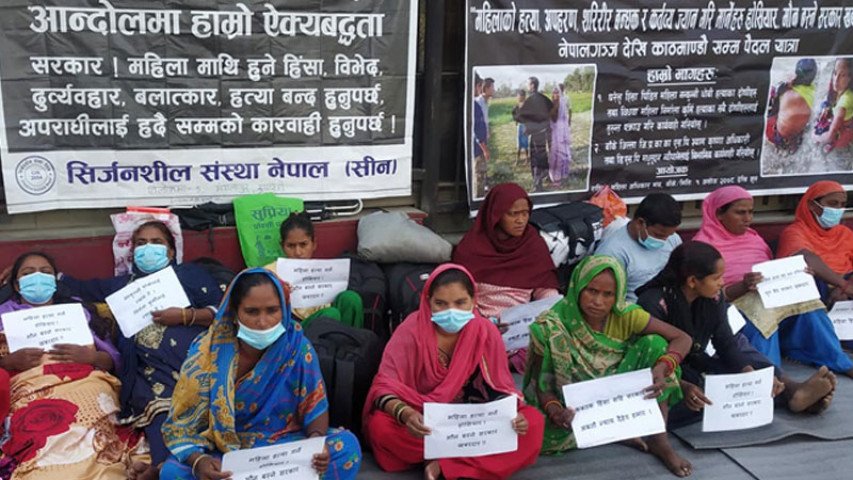 In July 2021, the Supreme Court ordered Sher Bahadur Deuba to be appointed Prime Minister in place of KP Sharma Oli. It ruled that Oli, who had been in power for three years, had breached the constitution by dissolving parliament in May. Dueba, who has previously served four terms as prime minister, then won a vote of confidence in parliament. He heads the centrist Nepali Congress party.
Human rights groups have called on the newly installed prime minister to ensure that his administration focuses on upholding the rights of citizens and strengthening the rule of law. One major area of concern is the culture of impunity for serious rights violations, which has undermined the rule of law since the end of Nepal's armed conflict 15 years ago.
Nepal's two transitional justice commissions, a Truth and Reconciliation Commission and a Commission of Investigation on Enforced Disappeared Persons, which were established in 2015, have made almost no progress in their investigations. In recent years there have been numerous alleged extra-judicial killings, custodial deaths, allegedly from torture, and the excessive use of lethal force against protesters.
On 8th July 2021, the Universal Periodic Review Outcomes of Nepal was adopted by the UN Human Rights Council. Nepal accepted several recommendations related to the protection and promotion of fundamental freedoms, including freedom of expression, assembly and association as well as protection of human rights defenders. However, it rejected recommendations to reform the 2006 Electronic Transactions Act, which has been used to restrict freedom of the press and criminalise critics for legitimate online expression.
In recent months, there have been reports of the arbitrary arrest and detention of a women's rights activist who was leading a protest in Kathmandu and excessive force used by the police in Rupandehi district. There are also ongoing cases of targeting of journalists.
Peaceful Assembly
Police detain women rights activists at sit-in protest
The Supreme Court has ordered the release of Ruby Khan and also instructed not to re-arrest her again after release.

Why do you think Nepal Police took Ruby Khan from Kathmandu to Nepalgunj secretly? #justiceforNirmalaKurmi #justiceForNakunniDhobi #justiceforall #Nepalgunj pic.twitter.com/36ZwEV44cz

— No Next Question (@NoNext_Question) October 14, 2021
Police used trumped up charges of "polygamy" to detain a women's rights activist who was leading a protest against the failure to properly investigate two alleged murders linked to land acquisition.
Human Rights Watch (HRW) said that along with other protesters, Ruby Khan, a human rights defender had walked 500 kilometers to the capital, Kathmandu, from Nepalgunj, in southwest Nepal, to protest police inaction in the alleged murder of two women from Nepalgunj: Nirmala Kurmi, who has been missing since 2010, and Nakunni Dhobi, who died in July. The activists allege that both cases relate to attempts to forcibly acquire the victims' land.
According to the Asian Human Rights Commission (AHRC), numerous attempts and protests by local residents to request the police to investigate the cases of Nirmala Kurmi and and Nakunni Dhobi were turned down. The district police said there was no point investigating the matter as Nirmala was already dead, while the district administration office instead presented a post-mortem report of Nakunni, saying she died by suicide.
Thirteen protesters from the group, including Khan, were arrested at a peaceful sit-in protest in Kathmandu on the evening of 8th October, but others were quickly released. The police defied a Supreme Court habeas corpus order issued on 10th October to produce her within 24 hours. Mohna Ansari, a former national human rights commissioner representing Khan, said that police told the court they did not know where Khan was, when in fact she had been transferred to police custody in Nepalgunj.
She was finally brought to court and released on 14th October. Khan told Human Rights Watch that during her week in custody the police attempted to "bargain" with her, saying she would be released if she ended her protest movement.
Khan then went on a hunger strike for 12 days demanding justice from the government on the two cases. On 19th October, Khan called off her hunger strike after an agreement was reached with the government to immediately start an investigation into the murder and the disappearance.
Lethal force used by police against eviction protest
Four deaths in Rupandehi put spotlight on Nepal's trigger-happy cops

Law enforcement agencies tend to show discriminatory behaviour against protests & crowds in the Tarai & by the underprivileged, rights activists say. https://t.co/gAriiQ6ylT — by @dhungana_shuvam & @tikapradhan

— The Kathmandu Post (@kathmandupost) October 12, 2021
Police in Rupandehi district used excessive force during an eviction on 10th October, killing four protesters and injuring dozens.
The police shooting at Motipur, in Rupandehi, occurred when the authorities moved to evict landless people who are in a long-running dispute with the government over plans to develop the area for industrial use. Government officials later claimed that officers acted in self defence when they opened fire on the crowd with live ammunition.
Charan Prasai, a human rights defender, said the incident once again shows how security forces tend to use excessive force under the guise of "controlling the situation", and this trend is often seen when security forces have to deal with situations in the Tarai region. "This is not the first time such an incident has occurred. Similar incidents of indiscriminate action by police have been reported in the past too," Prasai told the media.
Human Rights Watch (HRW) called for an independent investigation into allegations that police in Rupandehi district used excessive force. The group called on the Nepal police to abide by United Nations guidelines on the use of lethal force and take criminal action against officers responsible for unlawful killings.
According to HRW, there have been repeated incidents of police using excessive and lethal force against protesters in southern Nepal in recent years. The majority of the population in the region belongs to the marginalised Madhesi community, which is underrepresented in national institutions, including the police, and is at greater risk of police abuses.
Expression
Journalists attacked and criminalised
There have been ongoing reports of threats and physical attacks against journalists, while others have been subjected to judicial harassment. Below are some cases that have been documented by media rights group Freedom Forum:
On 8th July 2021, online TV journalist KC Milan was physically attacked by police personnel in Chitwan in the Bagmati Province of Nepal. According to KC, he was attacked while filming a protest staged by family members demanding an investigation into the death of a woman whose body was found in a forest. The attack did not stop even after the journalist showed his identity card. KC sustained injuries to his legs and his camera was damaged during the incident.

A journalist at Radio Shringeshwor in Gulmi, Bhuwan Bhusal, was issued with an arrest warrant on a cybercrime charge on 26th September 2021 for his reporting on a radio programme and on his online media Desh Darshan channel. The arrest warrant was issued on the basis of a complaint filed with the police in April 2021. He was subsequently released on bail.

On 10th October 2021, a journalist for Lumbini Television and Butwal FM, Dinesh Gyawali, was attacked while reporting in Butwal, in Lumbini Province. He was attacked while reporting on conflict among local protestors and police in the industrial area of Motipur. He sustained injuries to his head and hands and underwent treatment at a local hospital.