Alarming escalation of press freedom violations in Burkina Faso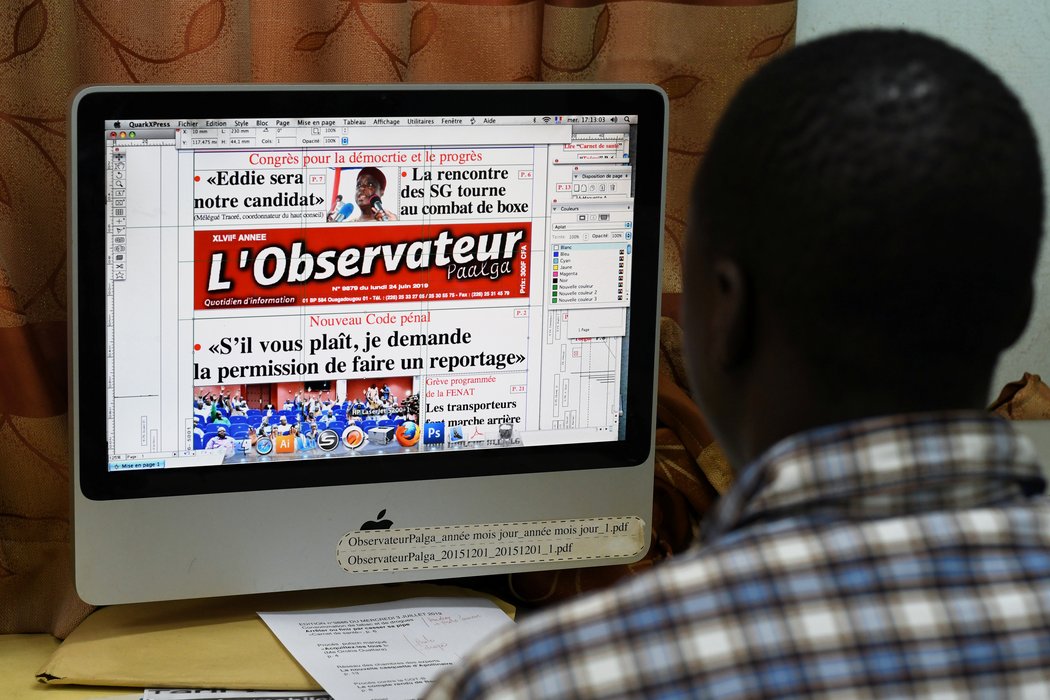 Since the Monitor's last update, press freedom violations have escalated at an alarming pace. In the past few months, two media outlets were suspended, foreign correspondents were expelled and journalist subjected to threats, including death threats, smear campaigns and attacks.
In the face of terrorist attacks in Burkina Faso, military transitional authorities have opted to penalise those reporting on the security crisis, especially those seen to criticise the junta's military response. On 23rd March 2023, transitional president Ibrahim Traoré warned journalists and media that "All those who think they are hidden, inside or outside the country, who continue to inform, to communicate for the enemy, they will pay for it".
In an open letter, 30 organisations have appealed to the African Union, ECOWAS, the UN and the West African Economic and Monetary Union (UEMOA) to defend press freedom in Burkina Faso and Mali, where press freedom is also under attack by the Malian military junta. Quoting the Burkinabé daily L'Observateur Paalga, a "regime of terror" was established in both countries, accompanied by a wave of "fake news", flooding social networks with lies.
French television news channel La Chaine Info (LCI), suspended for 3 months from June 23 by authorities in Burkina Faso, for report on armed groups' activity: https://t.co/GoxSijEh3V.

— IFEX (@IFEX) July 4, 2023
Expression
French broadcaster suspended for three months
In a statement issued on 23rd June 2023, the Conseil supérieur de la communication (CSC; Superior Council of Communication) – Burkina Faso's national media regulator – suspended French television channel La Chaîne Info (LCI) from being broadcast in the country for a period of three months. The CSC accuses LCI of 'false information' after its journalist, Abnousse Shalmani, made statements on the deadly violence and attacks in the country in her analysis of the security situation in Burkina Faso in LCI's programme 4h Pujadas, l'info en question on 24th April.
The CSC said the statements were "not based on any concrete evidence", "lacked objectivity and credibility", exaggerated the scale of the insurgency in Burkina Faso, and "seditiously" exposed "unverified" failures in Burkina Faso's military response.
Burkina Faso's transitional military government has announced the suspension of international news channel @FRANCE24.

It violates the right to a free and independent media – and national law.

Read more in @astroehlein's Daily Brief: https://t.co/ANzn9at4TS

— Human Rights Watch (@hrw) March 30, 2023
French media outlet France 24 suspended indefinitely
On 27th March 2023, Burkina Faso's military junta suspended French media outlet France 24 "until further notice" following the outlet's interview with Yezid Mebarek, also known as Abu Ubaydah Yusuf al-Anabi, the self-proclaimed head of al-Qaeda in the Islamic Maghreb (AQIM). In a statement, Communication Minister and spokesperson for the transitional government, Rimtalba Jean Emmanuel Ouedraogo accused France 24 of "not only acting as a mouthpiece for these terrorists, but worse, it is providing a space for the legitimisation of terrorist actions and hate speech".
France 24, in a statement on 28th March 2023, refuted "the unfounded accusations that call into question the channel's professionalism", stating that it had never allowed the head of AQIM to "speak directly on its programmes, and has simply reported his words in the form of a column, ensuring the necessary distance and context".
The suspension violates Burkinabé's own laws, as a 2013 decree empowers the national media regulator, the Conseil supérieur de la communication (CSC), to decide whether to sanction or suspend a media outlet, which is done with prior notice and can be appealed in a court of law.
Prior to the outlet's suspension, on 24th January 2023, France 24's correspondent in Burkina Faso, Bangaly Touré, was summoned by the CSC over an "error" in a scrolling news ticker broadcast on 16th January 2023. The ticker reported that according to the government, 50 women had been kidnapped by "Islamist rebels" in northern Burkina Faso. The CSC pointed out that the government had said "armed terrorist groups" and not "Islamist rebels". Although Touré had responded that he had not authored that text but that it was a translation of a Reuters dispatch, he was nonetheless called in, where France 24 was threatened with suspension if a similar mistake was made.
Sadibou Marong of Reporters without Borders (RSF) commented:
This decision is a new attack on the freedom to inform in Burkina Faso. We strongly condemn this suspension without prior notice, which comes just a few months after the ban on RFI and further penalises Burkinabé citizens, who are now deprived of another important source of information. In the interest of all and in the name of the right to pluralistic news and information, this decision must be rescinded at once and local broadcasting by France 24 and RFI must be restored. - Sadibou Marong of Reporters without Borders (RSF)
As reported previously on the Monitor, Radio France Internationale (RFI) was suspended on 3rd December 2022 "until further notice" for having relayed "a message intimidating the population that was attributed to a terrorist leader".
In the latest blow to media freedom in Burkina Faso, authorities have expelled two French journalists without giving a reason.

Authorities should uphold the freedom of the press and allow journalists to work freely. #PressFreedomhttps://t.co/ODIo0Dz4h8 pic.twitter.com/2qVsBMffXn

— Human Rights Watch (@hrw) April 4, 2023
Two foreign correspondents expelled
On 1st April 2023, transitional military authorities expelled two foreign correspondents, Agnès Faivre and Sophie Douce of French newspapers Libération and Le Monde respectively. The previous day, the two were summoned to National Security offices (the National Intelligence agency), where they were interrogated. Both journalists later received a verbal notification to leave Burkina Faso within 24 hours as their accreditation was annulled, without giving them the official reasons for their expulsion. Both possessed valid visas and accreditation for Burkina Faso.
In an editorial, La Liberation said that the decision was "arbitrary and unjustified". The newspaper believes the expulsions are related to an article published in the newspaper on 27th March 2023. The article investigated the circumstances of a video, showing the bodies of children and adolescents in military barracks in Ouahigouya, Yatenga province, with the presence of men wearing apparent military uniforms.
#BurkinaFaso 🇧🇫 Harouna Douamba (GPCI), a lobbyist close to the Wagner galaxy, has organised a smear campaign via a bogus media network. RSF denounces these methods of disinformation, which aim to intimidate and discredit French and Burkinabé journalists.👇https://t.co/XTY9rm5BKz pic.twitter.com/Rq0XhkvVwx

— RSF (@RSF_inter) April 20, 2023
Smear campaign against journalists
According to Reporters without Borders (RSF), the two expelled foreign correspondents, Faivre and Douce, and Burkinabé journalists Lamine Traoré of Radio Oméga, Hyacinthe Sanou of Studio Yafa and Boukary Ouoba of the Burkina Journalists' Association were targeted by a smear campaign using a bogus media network. The campaign started five days after the newspaper Libération published the article alleging involvement of military officers in the killing of children and adolescents on 27th March 2023 through bogus sites affiliated to the Pan-African Group for Trade and Investment (GPCI), reportedly notorious for its disinformation campaigns and influence trafficking in Burkina Faso, Mali, Togo, Morocco and the Central African Republic.
At the core of the smear campaign, according to RSF, is a two-minute video produced by Wadjey's TV, created by GPCI, discrediting the Libération article. The video, which was widely circulated on social media and in WhatsApp groups, claims that the targeted journalists were paid "large sums of money to be used to pay leaders of the Fulani community to make false statements" by French authorities and the Research for Development Institute (IRD). The three Burkinabé journalists were accused of abetting Libération and Le Monde.
Before this smear campaign, GPCI websites had already started attacking Libération and Le Monde, according to RSF, accusing the outlets of being paid by France to destabilise Burkina Faso.
Le Faso - Menaces sur les journalistes au Burkina : Des Organisations professionnelles des médias tirent la sonnette d'alarme https://t.co/qwmMhUVTBR pic.twitter.com/8cIk9Wul43

— Afropages (@Afropages) April 13, 2023
Death threats against journalists
Threats, including death threats, against journalists have multiplied in Burkina Faso. In a statement published on 13th April 2023, professional media organisations such as Centre National de la Presse Norbert Zongo (CNP-NZ), Association des Journalistes du Burkina (AJB) and Reporters du Faso, have denounced the increasing number of journalists subjected to death threats, in a context where media and the press have been demonised and targeted as anti-patriots, terrorists or working for terrorists. The statement further denounces the use of the security situation in Burkina Faso as a pretext to restrict freedom of expression. According to these organisations:
We have witnessed and we still witness incessant calls for the murder of journalists and opinion leaders, cabals set up from scratch to tarnish the reputation of some of our colleagues. Threats and other intimidations against media professionals have increased in recent days. These fatwas on the Burkinabè press are part of a Machiavellian plan to demonise the work of journalists, whose only misfortune is to refuse gagging, instrumentalisation, the dictation of a single thought and the deification of authority. (translated from French) -
On 26th March 2023, private media outlet Oméga médias lodged a complaint against 'X' after its founder Alpha Barry and one of its journalists, Alain Traoré, were targeted with threats via social media, including calls to burn down their homes.
Burkina Faso: un collectif lance l'alerte sur le cas Wendpouire Charles Sawadogo https://t.co/Bs9R3Sm4Lr pic.twitter.com/xbqWBtyfCG

— RFI Afrique (@RFIAfrique) April 30, 2023
Association
Detention of activist and whistle-blower
On 27th April 2023, officers of the Central Brigade for the Fight against Cybercrime (BCLCC) arrested activist and whistle-blower Wendpouire Charles Sawadogo on accusations of 'foreign intelligence with the aim of destabilising the regime in place'. The activist, who had published alerts on social media about the massacre in Karma, was summoned the day before by the BCLCC, on 26th April 2023, and reportedly questioned. Sawadogo was released without charge on 1st May 2023. In a statement, the Collective of Journalists, Activists and Opinion Leaders Victims of Threats in Burkina Faso, said the arrest was abusive and aimed at intimidating their member Sawadogo and tarnish his reputation.
Abduction of civil society activist
According to the CSO Organisation Démocratique des Jeunes du Burkina Faso (ODJ – Democratic Youth Organisation of Burkina Faso), three unidentified persons in civilian clothes abducted its president, Ilassa Ouedraogo, on 28th May 2023 in Bobo-Dioulasso. He was reportedly driven to an unknown destination where he was subjected to interrogations and his phone was searched for 48 hours, before having been released a few kilometres from Sikasso in Mali.