Civic space further restricted after a second military coup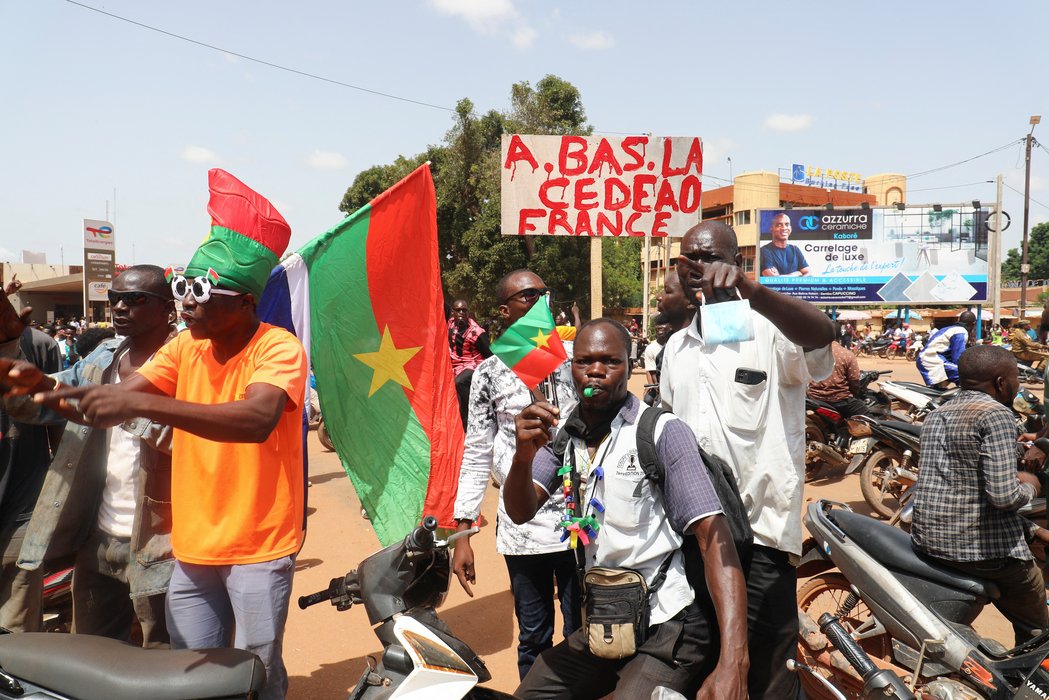 Ibrahim Traore has been sworn in as interim president in Burkina Faso, just weeks after he led a coup and overthrew the country's previous leader. It was the second military coup in Burkina Faso in just eight months. https://t.co/8DNukhB3z2

— Democracy Now! (@democracynow) October 25, 2022
General
Second military coup in less than a year
On 30th September 2022, disgruntled military officers, led by Captain Ibrahim Traoré, staged a second military coup, deposed transitional military leader Lieutenant-Colonel Paul-Henri Sandaogo Damiba, dissolved the transitional government and suspended the Constitution. Traoré said the group of military officers decided to remove Damiba from power due to his inability to stop the jihadist insurgency and deteriorating security in the country. Two days later, following mediation talks, Damiba agreed to step down, avoiding a stand-off and confrontations between army factions, and fled into neighbouring Togo. Traoré was declared the transitional president on 6th October 2022. 
As reported previously on the Monitor, military officers staged a first military coup on 24th January 2022, announcing on the state broadcaster Radio Télévision Burkina (RTB) that they had removed President Roch Marc Christian Kaboré from office; suspended the Constitution; dissolved the Parliament and government; and closed the borders. A few weeks later, Lieutenant-Colonel Paul-Henri Sandaogo Damiba was inaugurated as Burkina Faso's transitional president. 
#BurkinaFaso : La suspension des activités des OSC concerne les appels à « manifestations populaires » (communiqué)https://t.co/k74R4sLPJQ

— Faso7 (@Faso7_BF) October 4, 2022
Peaceful Assembly
Post-coup, anti-French protests
Following the coup, protests supporting Traoré took place in Burkina Faso's capital Ouagadougou, where protesters attacked French institutions and clashed with security forces. For example, on 2nd October 2022, dozens of Traoré supporters had gathered in front of the French embassy in Ouagadougou, following accusations by the new military junta that France was assisting Damiba to retake power. Security forces reportedly used tear gas to disperse the protesters, in response to the protesters throwing stones. 
On several occasions since the second military coup, protests to demand the departure of French military troops from Burkina Faso took place, often with some protesters waving Russian flags. Hundreds of people gathered, for example, on 28th October 2022, at different locations in Ouagadougou, including at the French Embassy and the military camp Bila Zagré de Kamboinsin where French special forces are stationed, to demand the departure of France and its military troops from Burkina Faso. Protesters were seen with slogans such as "France, we had enough", while some were seen bearing Russian flags. The protesters delivered a letter to the French Embassy, demanding their departure "within 72 hours". On 19th November 2022, security forces used tear gas to disperse a group of dozens of protesters in the vicinity of the embassy of France, and later at the Kamboinsin military camp. 
Military junta official: certain protests or calls for popular protests banned 
In a statement issued on 4th October 2022, the Secretary General charged with current affairs within the Ministry of Security of the new military government, Edgard Sié Sou, said "protests or calls for popular protests that could lead to disturbances of public order likely to undermine our common efforts to strengthen social cohesion", organised by CSOs or political parties were banned. In the same statement, Sou invited civil society organisations to "demonstrate more sustained responsibility".
The statement was a precision of the announcement, on 30th September 2022, to suspend activities of political parties and civil society organisations by the new military junta, which was condemned by the United Nations Office of the High Commissioner for Human Rights. 
Après le #Mali 🇲🇱, le Burkina Faso a suspendu jusqu'à nouvel ordre la diffusion des programmes de @RFI sur toute l'étendue du territoire burkinabè. pic.twitter.com/DRJYb4x0Yl

— L'ACCENT (@Laccent_) December 3, 2022
Expression
Radio France International (RFI) suspended until further notice
On 3rd December 2022, French media outlet and public broadcaster Radio France International (RFI) was suspended with immediate effect, and until further notice, by the military junta. In a statement, the spokesperson for the transitional military government, Rimtalba Jean Emmanuel Ouedraogo, said that the suspension relates to a broadcast by RFI on 3rd December 2022 that "relays a message intimidating the population that was attributed to a terrorist leader", while also accusing RFI of publishing a "false report" on 2nd December 2022, which quoted the president of the transitional government, Captain Ibrahim Traoré, of having said that he was the target of a coup attempt. 
Reporters without Borders (RSF) pointed out that the decision by the government bypassed the national media regulator, the Superior Council for Communication (CSC), who has, according to national law, the "exclusive prerogative" to suspend or sanction media outlets. Additionally, before any sanction, the CSC is to hold a hearing, followed by a warning. According to RSF, the CSC is currently unable to operate as the decree nominating CSC's president is yet to be signed by the transitional president, Captain Traoré. 
In March 2022, RFI, along with France 24, was likewise suspended in Mali. 
Journalists and media group Oméga Médias threatened
In a statement issued on 19th October 2022, media group Oméga Médias said it had received several threats, via audio recordings, towards its staff and its offices. The media group mentioned the following threats: 
Threats against the physical integrity and life of journalist and animator Alain Traoré, also known as Alain Alain, following statements made during the Radio Oméga and Oméga TV programme 'Le défouloir de Alain Alain' on 13th October 2022. During the broadcast, he had criticised the destruction of buildings and French interests during the protests that followed the second military coup. 

Threats against the physical integrity of Alpha Barry, promotor of Oméga Médias; 

Threats to set fire to the offices of the media group for their editorial line.
The media group submitted a criminal complaint against unknown individuals for these threats. 
Ollo Mathias Kambou "Kamao", du Balai Citoyen, vient d'être condamné à 6 mois de prison avec sursis et à une amende de 300.000 FCFA pour "outrage contre un dépositaire de l'autorité publique". La sentence est exagérée pour un post Facebook #BurkinaFaso pic.twitter.com/87wKGh1GD7

— Ousmane A. Diallo (@Usmaan_Aali) October 4, 2022
Association
Activist sentenced to six months suspended prison sentence 
On 4th October 2022, a court in Ouagadougou sentenced activist Ollo Mathias Kambou, a member of social movement Balai Citoyen, to a suspended prison sentence of six months and a fine of 300,000 CFA francs (approximately 452 USD) for insulting the Head of State which at the time of his arrest was the transitional president Lieutenant-Colonel Paul-Henri Sandaogo Damiba. The charges relate to statements the activist made on social media. As reported previously on the Monitor, Kambou was detained on 5th September 2022, after he participated in a special programme organised by Radio Oméga. 
On 6th September 2022, Balai Citoyen members protested in front of the offices of the Central Brigade of the Fight against Cybercrime (BCLCC) in Ouagadougou to demand the release of Kambou. According to news reports, clashes occurred with people claiming to be members of the pro-military junta movement Sauvons le Burkina, who were there to counter the protest and reportedly used violence against the protesters. One person was injured.