After disputed elections, a resilient civil society powers through relentlessly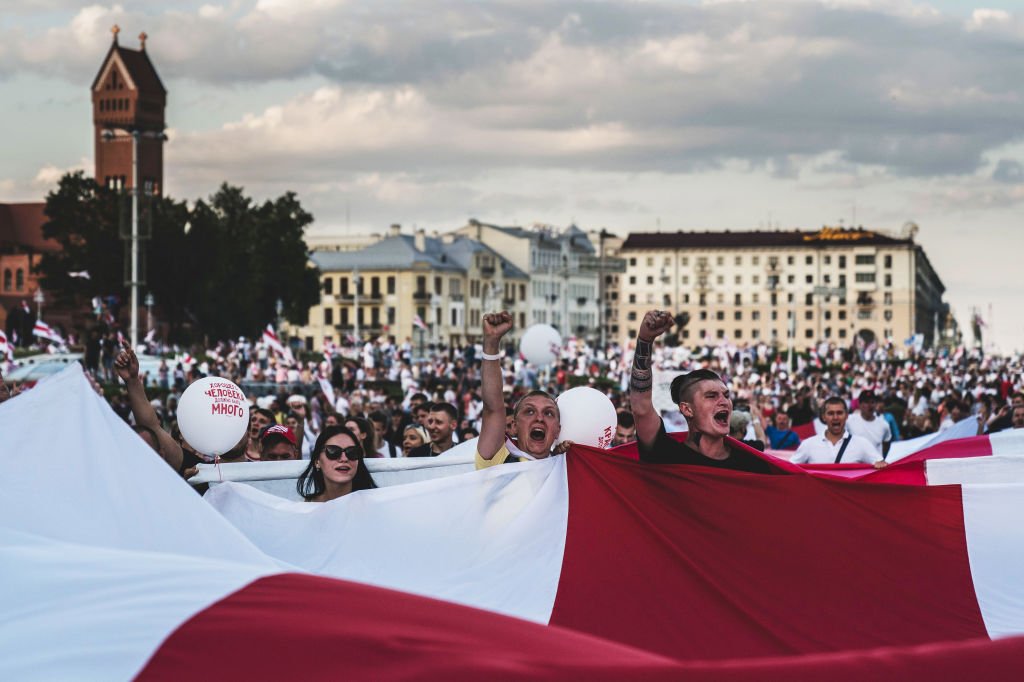 The international community must stand together to demand the release of Marfa Rabkova and all prisoners of conscience advocating for human rights and justice in #Belarus. European Humanities University, where Marfa studies, statement in solidary: https://t.co/Xb9jFCj8tg https://t.co/EAdnVHuPne

— Liza Prendergast (@LizaPrendergast) September 25, 2020
Repression against Belarusian civil society, which was documented by the Monitor before and immediately after the fraudulent August 2020 presidential elections, has continued relentlessly. With the spread of protests, NGO leaders continue to receive threats and in early September 2020 several of them were briefly detained and others sentenced to imprisonment for up to several weeks. Local and foreign journalists lost their accreditation for reporting on rights violations while media outlets were suspended, and one was declared extremist by authorities.
Despite the blatant assault on civic space and human rights by authorities, Belarusian civil society has mobilised even more and showed remarkable resilience.
Association
Activists detained for weeks
On 17th September 2020, human rights activist Marfa Rabkova from the Viasna Centre (human rights organisation) was detained and falsely charged with training for, financing and preparation of riots. Her husband Vadim Zharomski was also detained but soon released. Marfa Rabkova was declared a #politicaldetainee by her colleagues, according to whom she was targeted exclusively for her peaceful work.
International organisations, including Amnesty International, called for her immediate and unconditional release. Their appeal letter read in part:
"Her arrest, detention and prosecution are retaliation for her human rights work, and constitute a major breach of Belarus' obligations under international human rights law… The Belarusian authorities must stop persecuting members of the Human Rights Centre "Viasna" and other civil society activists, and respect the rights to freedom of association, peaceful assembly and expression of all."
BSU Law faculty students took part in a solidarity action in support of Maxim Znak and Ilya Saley.#StandWithBelarus #Belarus
source: https://t.co/kjxWxbP2Tm pic.twitter.com/LElSThuaTL

— Voices from Belarus⚪️🔴⚪️ (@VoicesBelarus) September 10, 2020
On 9th September 2020, two lawyers, Ilya Saley and Maksim Znak, were detained in a politically motivated criminal case. In a Joint Declaration by international civil society, signatory organisations called on the Minsk authorities to immediately release both human rights defenders, and to stop the persecution of lawyers, who exercise their constitutional right to free expression.
Members of the Belarusian National Platform of the Eastern Partnership Civil Society Forum (EaP CSF) were also detained during the wave of arrests. In a joint statement released in October 2020 the platform strongly condemned the unjustified detention of their members, calling for their immediate release from prison. They also called for an end to violence and repression by law enforcement agencies, sanctions for those who used force against citizens and invalidation of the results of the August presidential elections.
Actions of solidarity with the Belarusian protesters and civil society representatives were organised across Europe and in the Eastern Partnership countries. Almost all National Platforms of the EaP CSF protested in front of Belarusian Embassies.
According to the data published by the Viasna Center, as of 21st October 2020, there were 102 political prisoners.
78th day of protests in Belarus.

Picture by: @svaboda pic.twitter.com/Nw8V2zGdbG

— NEXTA (@nexta_tv) October 25, 2020
Peaceful Assembly
Election related protests continue
From September to October 2020, dissatisfied citizens continued to protest across the country to express their disagreement with the governing regime. They used various forms and platforms to organise demonstrations, gathering every weekend in the streets (sometimes even during working days). Among their demands, the protesters are calling for repeat elections, the release of political prisoners, sanctions for those guilty of using force against peaceful protesters and punishment for those guilty of the violent death of several participants in the protests. They also demanded the release from prison of members of the opposition committee, made up of opposition leaders, who were detained and charged with treason or organising terrorist acts. The protests have continued throughout the country (in residential neighbourhoods or online), and have been joined by pensioners, students, doctors. Strikes of the workers also continued in several cities.
Independent media outlets have also documented several cases of intimidation of protest leaders and lawyers defending those illegally detained by law enforcement.
Svetlana Tikhanovskaya, who claims to have won the presidential election and who was exiled from the country by the Belarusian authorities in August 2020, gave Alexander Lukashenko an ultimatum to resign by 25th October 2020. In turn, Lukashenko responded by saying that he would restore public order by then.
.@USOSCE statement highlights information access & free media issues in #Belarus following the Aug 9 elections, incl. detention of journalists, revocation of journos' accreditation, & blocking of independent media, opposition websites, & internet access. https://t.co/FfZmYRltjQ

— Helsinki Commission (@HelsinkiComm) October 21, 2020
Expression
Independent online outlet loses media status
On 29th September 2020, through an order by the Minister of Information of Belarus, the online portal 'TUT.BY' lost its status as an online media outlet for three months effective from 1st October 2020. This followed four official warnings to the outlet by authorities since 7th August 2020, which came after the outlet released materials about the falsification of the presidential elections. The editors however announced that they would not suspend their work but would continue to operate as an Internet resource without media status.
According to Belarusian legislation, the status of an online media resource can be suspended by a decision of a central government body in the field of mass media, if a corresponding claim is filed to a Court. In this case, the central authority sent a claim to the Economic Court on 18th September 2020.
Accreditation of foreign journalists cancelled
On 2nd October 2020, the Ministry of Foreign Affairs announced that it would cancel the accreditations of foreign journalists who reported on the situation in Belarus. According to several foreign outlets, the cancellations were made after the European Union imposed sanctions on government officials (about 40 people, including Alexander Lukashenko) who are guilty of repeated abuse and violence against peaceful protesters. Authorities however argued that the cancellations were done after changes were made to the accreditation rules to 'ensure the country's sovereignty and informational independence'. DW reported that the accreditation rules were reviewed because of critical reports published by the foreign press about the brutality of the Minsk regime. According to DW, the rules will apply to all previously accredited journalists and outlets in Belarus without exception. Among those denied accreditation are journalists from the German TV channel ARD, who were also detained in Minsk. In addition to the foreign journalists, the Belarusian Journalists Association also reported that local journalists working for the BBC, Reuters, Radio Svaboda, AFP and others have been denied new accreditation.
Court in Belarus to include the popular Telegram channel NEXTA in the list of "extremist" materials, penalising Belarusians for seeking to access independent news sources, branding them as 'extremist', and is part of a worsening crackdown on dissent.https://t.co/YM4eJvEXAi

— David Diaz-Jogeix (@DiazJogeix) October 26, 2020
Telegram channel declared extremist
On 20th October 2020, NEXTA Telegram channel announced on their Twitter account that the channel had been labelled as "extremist" following a decision by theCourt of the Central District of Minsk. The decision was in relation to content published by NEXTA about the electoral fraud and outbreaks of violence during the protests in the country.
The Ministry of Information thereafter added the channel and its logo to the republican list of extremist elements, the implication of which is that any reposts from the channel or sharing videos with its watermark will be considered an administrative offence.