Afghanistan: Activists, academics and journalists continue to be targeted as UN talks sideline women's voices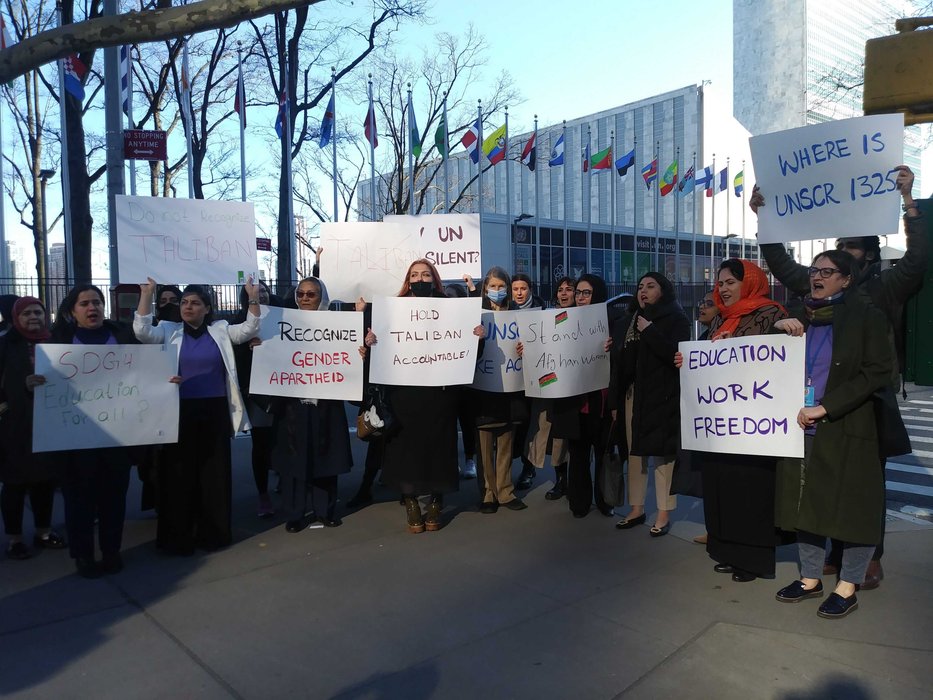 In March 2023, the CIVICUS Monitor downgraded Afghanistan's rating from 'repressed' to 'closed', the lowest possible category on the scale. The rating change reflected the Taliban's sustained, systematic and intensifying clampdown on civic space since their armed takeover of the country in August 2021. Afghans are routinely imprisoned and attacked for exercising their fundamental rights to freedom of association, peaceful assembly and expression.
Richard Bennett, UN Special Rapporteur on the situation of human rights in Afghanistan in his latest report identified a pattern of 'rapidly shrinking civic space'. Published in February 2023 and presented in person to the UN Human Rights Council in March, his latest update covers the period from July to December 2022. In it, he expresses concern that: "human rights defenders, who peacefully protest the increased restrictions on women and girls, are at heightened risk and have been increasingly beaten and arrested. The intention is clearly not only to punish them for protesting, but also to deter others from protesting."
The report goes on to note that: "human rights defenders, civil society organisations and journalists are all facing tremendous pressure" and describes how the "de facto authorities have increased limitations and surveillance over their activities. Further, "human rights defenders had been subjected to intimidation, including by phone calls, visits to their homes, physical and verbal attacks and arbitrary arrest, which have created a climate of fear and sense of desperation."
The Taliban continued to expand restrictions on all aspects of women's lives, and female members of civil society are particularly at risk of being targeted by the de facto authorities. The Taliban in April 2023 banned Afghan women from working for the UN in the country; the UN's Afghan female staff had until then been exempt from a December 2022 ban on Afghan women working for NGOs and aid agencies. The ban drew yet another international outcry, including from the Security Council, but UN agencies have not been able to agree on a coordinated response, limiting the chances of successfully pushing back against the hugely damaging policy.
In April 2023, Afghan women protested against statements made by Amina Mohammed, Deputy Secretary-General of the United Nations, that suggested the international community should officially recognise Taliban rule. Women activists also called out their exclusion from a two-day closed-door meeting in Qatar organised by the UN on Afghanistan.
Following an eight-day joint visit to Afghanistan in early May 2023, UN experts reported an extreme situation of institutionalised gender-based discrimination unparalleled anywhere in the world.
In recent months, women human rights defenders have continued to be arrested as well as education rights activist Matiullah Wesa. The Taliban has also continued to target journalists, academics and social media critics and has used disinformation tactics. There have also been arrests and ill-treatment of women protesters.
Association
The Taliban is actively working to disrupt the emergence of new civil society networks. They are particularly focused on groups of women trying to organise advocacy campaigns against the de facto authorities' gender policies. The General Directorate for Intelligence is often involved in arrests of activists, while the Taliban reportedly also have special units within the Ministry of the Interior that monitor social media, looking for posts critical of the de facto authorities.
Women identified as protest organisers or participants have been tracked down from photos posted on social media, as well as through interrogations of activists who have already been detained. In addition to women detained during the course of protests, women's rights activists are also frequently taken from their homes, sometimes at night. Family members such as brothers and fathers are often detained alongside them. Other women protesters have been detained after having their mobile phones searched at checkpoints.
Arrest of women human rights defenders
In February and March 2023, there were reports that at least eight women human rights defenders had been detained. Several of the women were detained after holding peaceful protests around the occasion of International Women's Day. Another three were detained after holding a peaceful march in Kabul on 26th March calling for girls' access to education soon after the new academic year began with girls still banned from secondary school and university.
On 11th February 2023, women's rights activist Parisa Mobarez and her brother were arrested at her home in Takhar province by local Taliban forces. They were both released the following day after being badly beaten. Parisa, who is a founder of the Takhar Women's Protest Movement, was reportedly tortured or ill-treated by Taliban security forces after she refused to provide her mobile phone password. Former prisoners report that Taliban security forces routinely use violence to gain access to detainees' mobile phones so that they can identify other members of protest networks.
#Taliban arbitrarily arrested Nargis Sadat, a woman protester on February 12. Her fate remains unknown. Nargis publicly protested Taliban's restrictions on women's right to work, education and employment. We demand the immediate release of Nargis and all other civic activists. pic.twitter.com/k7i0BfnYUr

— Freedom Now (@freedomnoworg) March 14, 2023
On the same day, the Taliban arrested women's rights activist Nargis Sadat in Kabul who had reportedly been involved in organising protest activity against the de facto authorities. She was arrested at a checkpoint after Taliban security forces checked her mobile phone. Despite extensive advocacy by international stakeholders, she remained in detention for two months and was finally released on 10th April.
On 15th February 2023, Zarifa Rahmat was reportedly detained in a night raid on her home. Local media said that her detention was linked to the fact she had reportedly been providing education to girls in her home.
Habiba Sharifi urged the United Nations not to leave Afghan women alone in this difficult time.
The Taliban detained her when she staged a protest in front of Ghor provincial office.
#InternationalWomensDay pic.twitter.com/kXhvuDdeeH

— Rukhshana Media (@RukhshanaMedia) March 8, 2023
On 8th March 2023, women's rights activist Habiba Sharifi was detained alongside her father in Ghor province. She was arrested after she held a solo protest outside the provincial governor's office on International Women's Day where she held a placard, demanding rights to education, work and social justice for women. Habiba and her father were kept in detention for one day, and were forced to sign a statement that they would not take part in any further anti-Taliban protests.
On 20th March 2023, women's rights activist Waheeda Mahrami was detained in the capital Kabul and detained for four days. She was reportedly arrested after having referred to the Taliban's policies towards women as 'gender apartheid' on International Women's Day. According to local media reports she had also taken part in a recent protest at Kabul University that was held to highlight the fact the new academic year was starting with only male students.
On 26th March 2023, three women's rights activists were arrested during a protest march in Kabul. The rally was held to call for women's access to education as the new school year began without female students; it took place in the Pol-e Sokhta district in the west of Kabul. Taliban forces reportedly surrounded the marchers and some of the participants were injured while trying to escape. The detainees have since been released.
Education rights activist detained
URGENT: Matiullah Wesa, head of @PenPath1 & longtime advocate for girls' education, was arrested in #Kabul Monday.

The Taliban must release him immediately & unconditionally and end persecution of human rights defenders.#LetAfghanGirlsLearn #FreeWessahttps://t.co/mQ3BZXVBIU pic.twitter.com/zZ0u0assy4

— Front Line Defenders (@FrontLineHRD) March 29, 2023
Prominent education activist Matiullah Wesa was detained by the Taliban on 27th March 2023 outside a mosque in Kabul where he was attending evening prayers. Wesa is a highly respected education activist who has been bringing education services to remote communities since 2009 via his PenPath NGO. Since the Taliban took over Afghanistan in August 2021, PenPath has campaigned publicly and worked with tribal leaders and religious leaders for access to education for girls and to lift bans on education.
The exact reason for his arrest is unclear, but he had recently returned from a trip overseas and one news report quoted an unnamed Taliban official as linking his detention to his "meetings with Westerners". On the day after his arrest, Matiullah's house was reportedly searched and two of his brothers were beaten by Taliban soldiers. Phones, computers and documents were also confiscated. He remained in detention as of late May 2023 despite extensive international advocacy on his behalf by a wide range of stakeholders.
Expression
The de facto authorities' Minister of Higher Education in March 2023 summarised the Taliban's intolerance of freedom of expression during a public speech, exclaiming that anyone criticising the regime is committing treason and deserves to be killed. Statements by other Taliban officials point to differences of opinion within the de facto authorities with regard to their tolerance for media activities; for example the deputy minister of Information and Culture in late January 2023 asked other government agencies not to interfere with media activities. However, the more hardline approach clearly has the upper hand.
The UN Special Rapporteur on Afghanistan noted that "despite repeated assurances from the authorities that they respect and promote press freedom, the Afghan media landscape and press freedoms have further deteriorated." The Afghanistan National Journalists Union (ANJU) in May 2023 reported that the number of female journalists in Afghanistan had dropped by 64 percent since before the Taliban takeover. The group also stated that there are no female journalists working at all in 22 of Afghanistan's 34 provinces.
Arrest and restriction on media workers
Reporters Without Borders (RSF) and a group of French media outlets on 6th February 2023 issued a statement calling for the release of Afghan-French reporter Mortaza Behboudi. He was reportedly arrested in January, but RSF had waited to see how the case would develop before publicising his detention. He was reportedly detained two days after entering Afghanistan while waiting for press accreditation. The Afghanistan Journalists Center (AFJC) called for his release in a statement issued on 19th May 2023 and called on the authorities to "cease the use of force and ensure the freedom of the press in Afghanistan."
AFJC welcomes the release of journalist Mohmmadyar Majrooh in Kandahar but condemns his arrest&5days detention as a press freedom violation.We also call on authorities to release all other journalists who r still in prison because of their journalism work.https://t.co/dA6YKztt5r pic.twitter.com/mN5SH488A7

— Afghanistan Journalists Center (@AFJC_Media) February 19, 2023
Meanwhile, on 15th February 2023 local journalist Mohmmadyar Majrooh was detained in the southern city of Kandahar and held for 5 days. He was detained after being summoned to meet officials from the General Directorate of Intelligence (GDI), the government agency that is most often said to be responsible for arrests of media workers and civil society activists. In addition to harassment, intimidation and detention, journalists complain that the de facto authorities have decreased their cooperation with journalists in recent months, making it even harder to access information about developments around the country.
Media workers involved in news coverage are particularly at risk of harassment, but other parts of the media industry have also fallen foul of Taliban restrictions. For example, four personnel from three local radio stations and one television station in eastern Khost province were reportedly detained for two days in May 2023. They were summoned by officials from the local offices of the Ministry for the Promotion of Virtue and Prevention of Vice, and forced to take part in a 'reform seminar'. Local media reports suggested the detentions were linked to broadcasts that had been made during Ramadan that contained music or perhaps female voices. A women's radio station in northern Badakhshan province was closed down by the Taliban on 30th March 2023, reportedly because it played music.
Restrictions on foreign broadcasters and journalists
In addition to targeting individual journalists, the de facto authorities are placing restrictions on outside broadcasters they consider critical of them. For example, in February 2023 websites belonging to the Dari and Pashto services of Voice of America and Radio Free Europe were blocked in some provinces by local cellular service providers. As the CIVICUS Monitor has previously documented, there are reports that international media personnel are finding it harder to get visas and permits to operate inside Afghanistan. In one recent example, the Taliban refused to give a visa to the Washington Post's bureau chief for Afghanistan and Pakistan; in April the de facto authorities stated that their decision on her case was final and could not be appealed.
Targeting of academics
University professor Ismail Mashal has bravely protested the Taliban's recent ban on women's university education in Afghanistan, saying "If my sister and my mother can't study, then I do not accept this education."

Last week, the Taliban arrested him.https://t.co/DCrpmoSZ2A pic.twitter.com/bPTZMUC7vF

— Human Rights Watch (@hrw) February 6, 2023
Several university staff have been detained in recent months because of their opposition to the ban on women's education or because they have criticised other policies of the de facto administration. For example, University Professor Ismail Mashal was detained on 2nd February 2023 by the Taliban while he was handing out free books in the capital Kabul. Mashal became well known in December 2022 for ripping up his academic qualifications on national television in protest at the Taliban's ban on women attending universities.
Another university lecturer was reportedly detained the day before Mashal in Kaul. Zakaria Osuli, a lecturer and writer from Panjshir had reportedly recently published a book about Ahmad Shah Massoud, a late anti-Taliban military commander. He was held for more than two months and finally released on 10th April 2023. A third university lecturer - Mohammad Ismail Rahmani – was detained on 18th February 2023, reportedly in connection with his writings and social media activism.
Rasoul Parsi a civil society activist and university professor who was abducted by Taliban in early March 2023, he is facing an unfair trail by the Taliban.
Lets raise our voices as loud as possible to stop the unfair trail of this university teacher. https://t.co/OnaBn9L3U1

— Horia Mosadiq (@Hmosadiq) May 16, 2023
In a fourth recent case, former university lecturer Rasul Abdi Parsi was detained in early March 2023; his arrest was reportedly linked to Facebook posts. Parsi remains in detention as of late May 2023 and is reportedly facing trial, though no information has been released about what crime he has been accused of.
Silencing criticism on social media
Ordinary civilians have also been arrested for social media posts, or even for posts made by relatives abroad. In one example in late January 2023, a man was reportedly detained in Paktika province, apparently because of social media posts his brother had made from overseas in which he criticised the Taliban's ban on university education for women.
As discussed in previous CIVICUS Monitor updates, social media influencers have also been a target for the de facto authorities. Many have been detained, with women being particularly at risk of harassment for social media activities because of the Taliban's intolerance of women appearing on camera. An article published by Rukhshana media in late January 2023 detailed the consequences for one such influencer. She was briefly detained during a raid on a gathering of influencers, questioned, forced to sign a piece of paper without knowing what was written on it, and continually harassed by a Taliban official who pressured her with marriage proposals and threats to her family. She has since managed to leave the country but is now living in uncertainty in exile away from her family.
Some social media sites such as TikTok are officially banned, but Afghans use VPNs to get around such restrictions. Media reports in March 2023 suggested that the Taliban were trying to impose controls on the sale of mobile telephones, requiring people to fill in registration details in order to buy a new phone. The de facto authorities have already banned the sale of SIM cards to women in several areas.
Musician from Panjshir province detained
In January 2023, the Taliban arrested Musa Shahin, a local singer of Panjshir province. The singer was arrested from his home in Khair Khana area in Kabul. According to the sources, about twelve members of the Taliban raided Shahin's house and transferred him to an unknown location where he was allegedly tortured. Musa Shahin sings songs about Panjshir, a province which is one of the main bases of the resistance forces against the Taliban.
On 5th April, his relatives said he was "seriously ill" and "has not been granted access" to a doctor in Taliban custody. They said the artist has kidney problems and the Taliban has not been giving him enough water or medicine in the prison where he is being held.
Disinformation used against critics
The results indicate that online abuse and disinformation against women has significantly increased since the #Taliban takeover, with spikes in August and September 2021 (coinciding with the takeover) and January 2022, as illustrated by graph below: pic.twitter.com/lLTpTHYgSe

— Afghan Witness (@afghan_witness) March 9, 2022
Afghan Witness, a group that monitors human rights violations, published a report on 1st March 2023 highlighting the use of fake Twitter accounts to spread disinformation about the situation in Afghanistan. While it is not known who is behind these imposter accounts, which use the branding of real media agencies, the content they post suggests they are run by pro-Taliban individuals or groups.
The goal appears to be to discredit individuals and groups that oppose the de-facto authorities, while compromising the reputation of the real news agencies they are impersonating. As Afghan Witness explains: "The majority of the content could be read as genuine news by a passing viewer, posing a greater risk for mis/disinformation and undermining the information environment."
Peaceful Assembly
Chanting slogans such as "right, justice, freedom", and "a powerful woman, a powerful society", a group of women took to the street in Kabul today to protest against the Taliban's ban on women's secondary education across the country. pic.twitter.com/XtbKp9kD7J

— Rukhshana Media (@RukhshanaMedia) March 7, 2023
Women's groups continued to rally against restrictions on their fundamental rights, including to education and employment. Almost all demonstrations – however small and peaceful – are forcefully dispersed by Taliban security forces. Peaceful protesters are routinely targeted with beatings during the dispersal of rallies, arbitrary incommunicado detention, no access to families or legal representation, and torture and ill-treatment while in custody.
Today , A number of girls protested in front of Kabul University for banning girls from university exams. But they were whipped by the wild group of Taliban.@SanRoeken @NilofarAyoubi @FForotan @Fawziakoofi77 @LinaRozbih @ZarminaParyani @parwananijrabi pic.twitter.com/otJzV5ndEc

— Afghanistan Womens And Children S.W.O (@AWCSWO) March 6, 2023
In one recent example, a small group of young women were reportedly hit with whips by Taliban soldiers when they attempted to hold a peaceful protest outside Kabul university on 6th March 2023. Their protest was held to mark the beginning of yet another academic year while girls are still banned from secondary school and university. At another peaceful rally later that month, three women protesters were detained in Kabul on 26th March 2023 and interrogated overnight before being released the following day. The women were reportedly forced to sign documents vowing not to talk to the media or take part in any further protest activities.
Women have also been detained for so-called indoor protests. Because of the systematic use of violence against public rallies, some women have chosen instead to gather inside people's homes; during these gatherings women hold up placards and take photos or videos which they share on social media or send to their networks.
A recent article from Rukhshana media in March 2023 detailed the case of a woman who had taken part in these types of indoor meetings and subsequently was tracked down by Taliban security forces. Taliban personnel came to her house, beat her so badly that she had a miscarriage and arrested her husband. He was released the following day after intervention by local elders and after signing a guarantee that he would prevent his wife from any more protest activity. Despite this guarantee, Taliban security forces returned to the family home approximately one week later and took the woman into custody. She was kept in detention for around 20 days, and eventually released in return for the payment of a fine. During her time in detention, she witnessed beatings and harassment.