Activists say freedom of expression worsening as Suu Kyi is stripped of award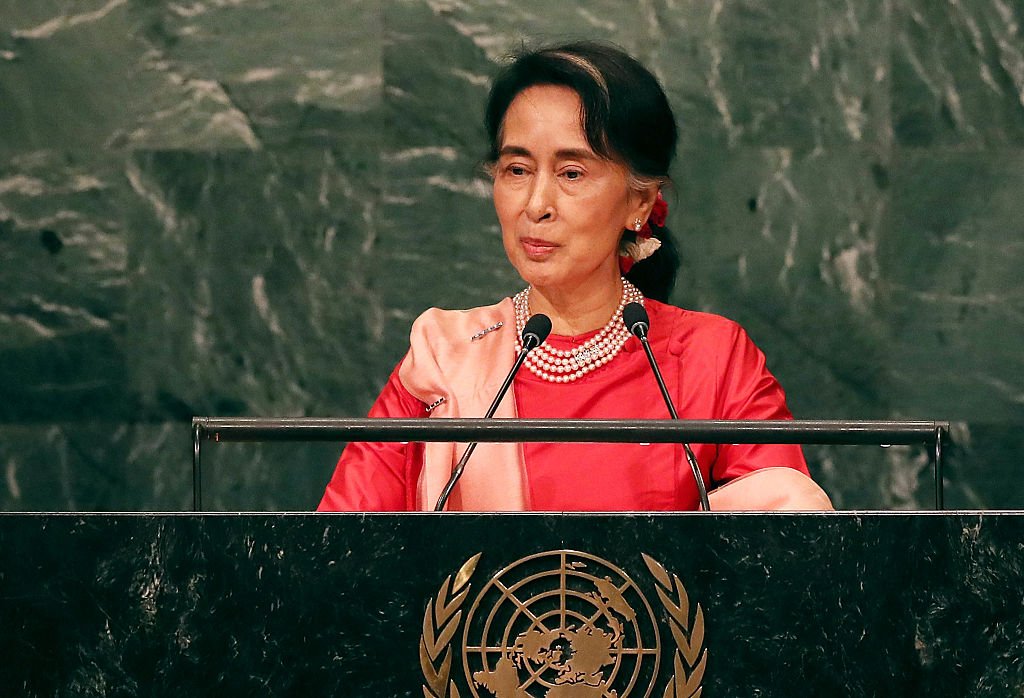 Expression
Government increasing restrictions on freedom of expression, says CSO Athan
According to a new report by civil society group Athan, released on 18th October 2018, freedom of expression under the National League for Democracy-led government is worsening despite initial hopes of improvement. Their "Mid-term Report on Freedom of Expression" used a range of methodologies to document violations of freedom of expression in the 30-month period from 1st April 2016 to 30th September 2018.
According to the report, initial signs when the government took office in April 2016 were promising, with the release of student protesters arrested and prosecuted for marching from Mandalay to Yangon against the National Education Law and pardons granted to imprisoned activists, workers and farmers.
However, according to Athan the situation subsequently changed, and the government and parliament began to "intentionally and recklessly" restrict freedom of expression using an array of oppressive laws. Some of these laws date back to the colonial era but a majority were enacted or used for the first time in recent years.
Athan's founder Ko Maung Saungkha said:
"If the government cannot guarantee peoples' freedom of expression, I doubt that other human rights will be protected by them. We ask the government to be patient and listen to what the people have to say, not just file a case against them. That includes the media as well."
You can download here our ''Mid-term report on freedom of expression''https://t.co/hJy8Cwjg9n#FreedomOfExpression #FreedomOfThePress #Myanmar #Athan pic.twitter.com/1pKuqkovx9

— ATHAN (@athan_info) October 27, 2018
The report also highlights the use of Article 66(d) of the 2013 Telecommunications Law to restrict free speech. Athan has documented 150 cases, of which 139 were filed under the current government. Further, the Law Protecting the Privacy and Security of Citizens was passed in March 2017 to punish criticism of public officials. Human rights groups have raised concerns over its provisions and definitions that are seen as vague and inconsistent with international law and standards.
On freedom of the press, data collected by Athan showed that at least one journalist, Ko Soe Mo Tun, a Monywa-based reporter for Eleven Media, was murdered and 43 journalists have been charged in 25 lawsuits. Of these, 15 lawsuits were filed by government personnel, three were filed by the military and seven by civilians. In 19 of the lawsuits, the Telecommunications Law was used to file charges.
Amnesty International withdraws human rights award from Aung San Suu Kyi
Burma's Suu Kyi stripped of Amnesty's highest award @amnesty https://t.co/lVIcuuKy6s pic.twitter.com/ruNDOwhsOS

— Asian Correspondent (@AsCorrespondent) November 13, 2018
On 12th November 2018, Amnesty International announced that it has withdrawn its highest honour, the Ambassador of Conscience Award, from Aung San Suu Kyi, "in light of the Myanmar leader's shameful betrayal of the values she once stood for".
On 11th November, Amnesty International's Secretary General Kumi Naidoo wrote to Aung San Suu Kyi to inform her the organisation is revoking the award granted in 2009. Naidoo expressed the organisation's disappointment that she had not used her political and moral authority to safeguard human rights, justice or equality in Myanmar, citing her apparent indifference to atrocities committed by the Myanmar military and increasing intolerance of freedom of expression. He further said:
"Today, we are profoundly dismayed that you no longer represent a symbol of hope, courage, and the undying defence of human rights. Amnesty International cannot justify your continued status as a recipient of the Ambassador of Conscience award and so with great sadness we are hereby withdrawing it from you."
According to Amnesty International, despite the power wielded by the military, the civilian-led government has considerable authority to enact reforms to better protect human rights, especially those relating to freedom of expression, association and peaceful assembly. But in the two years since Aung San Suu Kyi's administration assumed power, "human rights defenders, peaceful activists and journalists have been arrested and imprisoned while others face threats, harassment and intimidation for their work".
The organisation also said that Aung San Suu Kyi's administration has also failed to repeal repressive laws – including some of the same laws which were used to detain her and others campaigning for democracy and human rights.
Reuters reporters in Myanmar appeal state-secrets conviction
Myanmar: imprisoned Reuters journalists launch appeal https://t.co/Eq5zxAnXHr

— The Guardian (@guardian) November 5, 2018
On 5th November 2018, lawyers for two Reuters reporters, Wa Lone, 32, and Kyaw Soe Oo, 28, jailed for seven years in Myanmar, lodged an appeal against their conviction on charges of violating the country's Official Secrets Act. The appeal cited evidence of a police set-up and lack of proof of a crime.
As previously documented by the CIVICUS Monitor, Wa Lone and Kyaw Soe Oo were arrested on 12th December 2017 after being handed documents by police officers during a dinner meeting, that turned out to be secret government documents relating to Myanmar's western Rakhine state and security forces. They were then charged under the country's colonial-era Official Secrets Act and on 3rd September 2018 were convicted for "illegal possession of official documents".
At the time of their arrest, the journalists, had been investigating the killing of ten Rohingya Muslims in Inn Din village in Rakhine during a brutal military crackdown in that state against the Rohingya minority that began in August 2017.
On the same day, more than 50 human rights organisations from around the world issued an open letter calling on State Counsellor Aung San Suu Kyi and the Myanmar authorities to release the Reuters reporters, reject their convictions, and review and amend all laws currently being used to restrict freedom of expression in Myanmar.
Facebook admits failures in Myanmar 
This report shows that @Facebook did too little too late to stop murderous incitement & misinformation on its platform prior to - and during - atrocities in #Myanmar, @Amnesty says. (1/3)https://t.co/xT9sTXYLR8

— amnestypress (@amnestypress) November 6, 2018
On 6th November 2018, Facebook said a human right report it commissioned on its presence in Myanmar showed it had not done enough to prevent the social network from being used to incite violence.
"The report concludes that, prior to this year, we weren't doing enough to help prevent our platform from being used to foment division and incite offline violence," Alex Warofka, a Facebook product policy manager, wrote in a blog post. "We agree that we can and should do more."
The report by San Francisco-based Business for Social Responsibility (BSR) recommended that "Facebook more strictly enforce its content policies, increase engagement with both Myanmar officials and civil society groups, and release additional data about its progress in the country". The BSR report also said Facebook "must be prepared to handle a likely onslaught of misinformation during Myanmar's 2020 elections, and new problems related to the growing use of its WhatsApp messaging service in Myanmar".
Questions have been raised on the timing of the report with the media's focus locked on the U.S. midterm elections. People were quick to note on social media that due to this media coverage on the report was minimal.
As previously documented, the social media giant has been accused of acting too slowly to remove "hate speech" that has fueled violence against the minor Muslim Rohingya. In April 2018, six organisations said in a joint letter that it took more than four days for the company to respond when the messages started circulating online during the Rohingya crisis. Further, the group said a major obstacle was the lack of Burmese-speaking Facebook staff and that Facebook was also reluctant to engage with local stakeholders.
Charges dropped temporarily against three journalists
On 9th November 2018, the regional government of Yangon dropped its incitement case against three journalists from Eleven Media Group, two weeks after a court set them free on bail. Chief Phyo Wai Win and managing editors Kyaw Zaw Lin and Nari Min reporter were arrested on 10th October, and charged under Section 505(b) of the Penal Code after the media outlet published an article criticising financial management by the Yangon regional government. Officials said their reporting "incited public alarm" against the regional government, but the three men stood by their story.
Ex-child soldier Aung Ko Htwe acquitted of latest charge
On 31st October 2018, Aung Ko Htwe, a former child soldier in the Myanmar Army, was acquitted of violating the Union Seal Law for allegedly standing on a copy of the Constitution during a protest. Aung Ko Htwe, is currently serving a two-year prison sentence for 'incitement' handed down in March 2018, for speaking to the media about his experiences as a former child soldier. He was facing another three years in jail after police charged him under Section 7 of the Union Seal Law.
"The court did not find that he stepped on the Constitution and the prosecutor could not even prove that he stepped on the book. Therefore, he was acquitted of the second charge," said Robert San Aung, Aung Ko Htwe's lawyer. "We welcome the court's decision".
Both local and international rights groups have condemned the incitement case against Aung Ko Htwe and urged the government to secure his release.
Peaceful assembly
NGOs call for charges to be dropped against three Kachin activists 
.@amnesty and @CIVICUSalliance call on #Myanmar authorities to drop all charges against three #Kachin activists, facing up to two years in prison after they peacefully called for humanitarian access and an end to military abuses in northern Myanmar https://t.co/3PXydTCD3M pic.twitter.com/pQTwZHHjyR

— Laura Haigh (@Lauraehaigh) October 15, 2018
On 15th October 2018, CIVICUS and Amnesty International called on the government to immediately drop defamation charges against three Kachin activists who led a peaceful rally in Myitkyina, the capital of Kachin State. The march was to call for humanitarian access to thousands of displaced civilians and for an end to the armed conflicts in northern Myanmar.
On 3rd September 2018, Lum Zawng (m), Nang Pu (f), and Zau Jet (m) were charged under Section 500 of the Penal Code with defamation of the Myanmar military. The charges relate to statements they made at the peaceful rally on 30 April 2018 and at a press conference the next day, following major escalation in fighting between the Myanmar military and the Kachin Independence Army (KIA), an ethnic armed organisation in Kachin State.
Lawyer Lum Zawng was one of the organisers of the rally where protesters called for the military to stop aerial attacks on civilians. The authorities have charged him with defamation. The other two activists, Nang Pu, Director of the Htoi Gender and Development Foundation, and Zau Jet, Chairman of the Kachin National Social Development Foundation, are also facing defamation charges for comments they made at a press conference after the rally. The two had spoken about the situation of displaced civilians in the Hpakant area and about reports of threats against and ill-treatment of civilians by Myanmar soldiers. If convicted, they each face up to two years in prison.
Activist detained for staging a peaceful solo protest 
Tin Maung Kyi from MDCF holding a placard asking ICC to take action against Burmese generals in front of the city hall in Yangon. He was arrested by the police. #Burma #Myanmar pic.twitter.com/yA4ogsqwDT

— Aung Naing (@KAN601) September 28, 2018
According to Amnesty International, activist Tin Maung Kyi was detained for staging a peaceful solo protest calling on the international community to arrest senior Myanmar generals. He has been charged under laws often used to silence peaceful activists and faces up to two years and one month in prison if found guilty.
Tin Maung Kyi, activist and a central committee member of the Movement for Democracy Current Forces (MDCF), was arrested and charged for staging a peaceful anti-military protest in front of the Yangon City Hall on 28 September 2018. He had informed local authorities of his intention to protest five days in advance, however was told the request had not been granted. During the protest he held a placard and chanted slogans calling for Myanmar to be referred to the International Criminal Court (ICC). Minutes after the protest started, Tin Maung Kyi was arrested by around 10 police officers and taken to the nearby Kyauktada police station.
He was later charged by Kyauktada Township Court under Article 505(b) of Myanmar's Penal Code and Article 20 of the Peaceful Assembly and Peaceful Procession Act (the Peaceful Assembly Act). Article 505(b) provides up to two years' imprisonment for anyone making, publishing or circulating information which may cause public fear or alarm, and which may incite people to commit offences "against the State or against the public tranquillity." Article 20 of the Peaceful Assembly Act carries up to one month in prison for any person who violates the rules for holding a protest. Tin Maung Kyi has been detained at Yangon's Insein prison since his arrest.
Activist receives 15-day sentence for protest while two others fined
On 20th September 2018, the Kyauktada Township Court in Yangon convicted three peace protesters under the Peaceful Assembly Law giving them a choice of paying a fine of 20,000 kyats (USD 12) each or a sentence of 15 days' imprisonment.
The three, peace activist Ko Zeyar Lwin and poets Ko Khant Min Htet and Ko Ye Wint Aung had participated in a protest at Mahabandoola Park on 14th May 2018 calling for an end to the conflict in Kachin State, at which they gave speeches and recited poems. The two poets agreed to pay the 20,000 kyats fine, however Ko Zeyar Lwin choose imprisonment. He said:
"Suing and sentencing us under the Peaceful Assembly Law for participating in a movement for the peace of the country is limiting our freedom of expression and insulting peace…our trial shows the devastation of the judicial system of the country and that is why I decided to take 15 days' imprisonment."
Ko Zeyar Lwin is also facing trial under the Peaceful Assembly Law in Bahan Township where the peace rally passed through on the way to the larger gathering in Mahabandoola Park on the same day.
Association
Human Rights Council establishes independent mechanism on serious crimes
#Myanmar: Today's decision by the UN Human Rights Council to create an 'independent mechanism' to collect evidence of crimes in Myanmar is a significant step toward accountability for gross human rights violations, said @ICJ_org https://t.co/DFdbQ1Tnjz #HRC39 pic.twitter.com/Q48DhMPwfc

— Kingsley Abbott (@AbbottKingsley) September 27, 2018
As previously documented, in September 2018, the UN Independent International Fact-Finding Mission on Myanmar issued its report on serious crimes against the Rohingya and other ethnic groups implicating the military generals. More than 700,000 Rohingya women, men, and children were forced to flee from northern Rakhine State to neighbouring Bangladesh after 25 August 2017, when the Myanmar security forces launched a widespread and systematic assault on hundreds of Rohingya villages.
On 27th September 2018, the Human Rights Council voted by an overwhelming majority to establish an ongoing independent mechanism to "collect, consolidate, preserve and analyse evidence of the most serious international crimes and violations of international law committed in Myanmar since 2011". This has been seen as a move that will "expedite fair and independent criminal proceedings" against the perpetrators of grave human rights violations who have so far acted with impunity.