Activists at risk as repression in Papua escalates while Indonesia imposes further net restrictions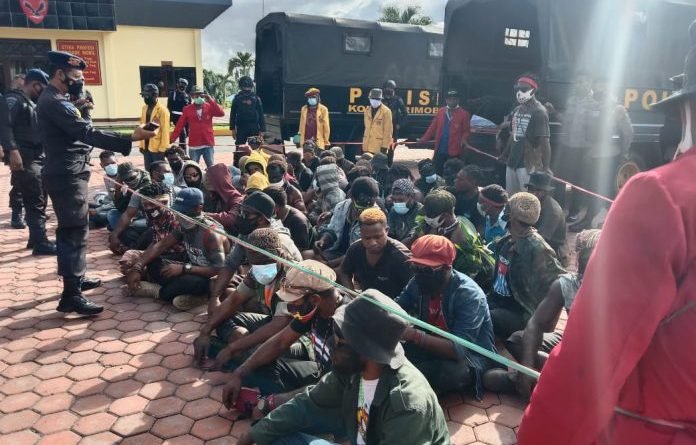 Human rights groups are extremely concerned about the risks facing activists in the region of Papua. This is following new counter-insurgency operations against the West Papua National Liberation Army (WPNLA) since late April 2021 after the killing of the head of the State Intelligence Agency, Brigadier General Gusti Putu Danny Nugraha, in the Puncak Regency.
President Joko Widodo responded to the killing by declaring the WPNLA a terrorist organisation. Civil society are concerned that the designation would undermine any peaceful resolution to the decades-long conflict and only increase human rights violations by the security forces in the region. It will also put peaceful pro-independence activists and others working to end the conflict in Papua at risk.
Civil society say the designation would allow security forces to use the 2018 Anti-Terrorism Law, which has provisions inconsistent with international human rights law and standards. The law grants law enforcement the power to extend pre-trial detention of suspects to up to 221 days – a blatant violation of the right of anyone arrested on a criminal charge to be brought promptly before a judge and be tried within a reasonable time or be released. The law also expands the use of military personnel in counterterrorism operations, which further increases the likelihood of excessive use of force and other human rights violations.
Since then hundreds of additional Indonesian soldiers have been deployed to West Papua, including 400 members of the elite Infantry Battalion 315, nicknamed "Satan's forces". The battalion has previously taken part in conflicts in East Timor and Aceh. Thousands of people have reportedly been displaced in the Puncak regency.
Human rights group have over the last few decades reported severe human rights violations in the Papuan region by Indonesian security forces spanning arbitrary arrests, torture and other ill-treatment and unlawful killings, including of activists, under the guise of suppressing separatism. Dozens of peaceful pro-independence political activists have been prosecuted for treason. Access to foreign journalists and human rights observers has also been restricted.
There have been increasing protests against the extension of the 2001 Special Autonomy Law  which expires this year.  While the law provided for additional funds to the region to accelerate development that has led to increased corruption. Further, is has also failed to deliver on justice for Papuans for serious human rights abuses as provided in the law including the Human Rights Ad-hoc Court and the Commission for Truth and Reconciliation. It has also failed to address the root causes of conflict.
Over the last few months, activists from Papua have been arrested and charged for their activism. Those protesting against government policies, including students, have faced harassment, detention and even attacks from non-state actors with impunity. The internet has been disrupted in Papua and journalists have been targeted. Internet laws have been used to silence criticism of authorities in Papua. The authorities are bringing in new internet regulations which poses serious risks to privacy, freedom of speech and access to information.
Association
Student activists detained
#BreakingNews

Selamat pagi semuanya.
Info dini hari (3/3/2021) sekitar pukul 05.00 WIB subuh , Kawan Ruland Levy Dan Kelvin Molama, Aktivis AMP Komite Kota Jakarta telah ditangkap di indekosnya. pic.twitter.com/A4Vze6KQUm

— Wenas Kobogau (@w_kobogau) March 3, 2021
According to Frontline Defenders, on 3rd March 2021, West Papuan human rights defenders Roland Levy and Kelvin Molama were forcibly taken from their respective student dormitories in East and Central Jakarta by a group of plainclothes individuals. It was only later confirmed that the individuals who had detained them were part of the Criminal Research Unit of the Metro Jaya regional police. Both defenders are currently being detained at the Metro Jaya police station in Jakarta. According to local sources Roland Levy has since contracted COVID-19 and requires medical treatment.
They have been accused of violence and theft under Article 170 and Article 365 of the Criminal Code during a demonstration against the extension of special autonomy for Papua on 27th June outside parliament that was forcibly dispersed by the police. Human rights groups believe they have been targeted to weaken the student movement.
Human rights group KontraS has raised questions about the legality of the confiscation of their phones by the police, the failure to produce an arrest warrant and to show the charge sheet despite multiple requests from the two students.
Roland Levy is a West Papuan student human rights defender. As a coordinator of the Alliansi Mahasaswa Papua - AMP (West Papua Student Alliance) for Jakarta, he leads discussions on democracy, human rights violations and the rights of freedom of the press and is involved in media outreach for the Alliance. He has also coordinated initiatives focused on the state's responsibility to resolve tribal conflicts in Timika in 2017, and West Papua's right to self-determination.
Kelvin Molama is a West Papuan student human rights defender and an active member of the AMP. He has been actively involved in the group's human rights activities, including the organisation of discussion forums and protests against human rights violations in West Papua.
Pro-independence leader detained and charged
Free Victor Yeimo! Free all Papuan political prisoners!https://t.co/DyGfiSBqC6

— Int'l Indigenous Peoples Movement (@ipmsdl_) June 1, 2021
On 9th May 2021, police arrested Victor Yeimo, a pro-independence activist and international spokesperson of the West Papua National Committee (Komite Nasional Papua Barat or KNPB), who has been vocal about human rights violations perpetrated by the Indonesian security forces in Papua.
He is being detained at the Police's Mobile Brigade Headquarters in Abepura, where he was taken without prior notice to his lawyers and denied access to his family. He faces 11 charges including treason for his involvement in 2019 anti-racism protests in the province and across Indonesia. The protests were triggered by racists insults against Papuan students by the authorities on Java island in August 2019.
As previously documented, the anti-racism protests were met with excessive force by the security forces and the prosecution of dozens of activists. One of the reasons cited for his arrest was also his participation in the Human Rights Council in March 2019, which is a clear case of reprisal.
An urgent appeal on behalf of Victor Yeimo has been submitted by human rights organisation TAPOL and lawyer Veronica Koman to the United Nations Special Procedures mechanisms of the Human Rights Council. Pelagio Doutel of TAPOL said "UN Rapporteurs should call for the immediate and unconditional release of Victor Yeimo of West Papua".
Brad Adams, Asia director of Human Rights Watch said: "Indonesian police should investigate the deadly violence and arson attacks in Papua in 2019 but not use that as a pretext to crack down on peaceful activists".
Yeimo was previously arrested in 2008 and 2009 for advocating a United Nations-administered independence referendum in Papua. According to HRW, Yeimo has repeatedly written about racism against Papuans on his Facebook page and called for negotiations between the West Papuan independence movement and Indonesia's government. He has spoken at conferences in Indonesia and internationally about Papua's environmental and human rights problems.
Police arrest family members of pro-independence activist
1/6/21 Jayapura, West Papua

Police could not find prominent peaceful activist Erik Walela, so two members of his family Abi Walela (32) and Anno Walela (31) were arrested instead.

Police also unlawfully took his laptop, phones, and other stuff. pic.twitter.com/ehlcKYEzTF

— Veronica Koman 許愛茜 (@VeronicaKoman) June 1, 2021
According to reports, security forces raided the house of Erik Walela, a pro-independence activist and member of the United Liberation Movement for West Papua (ULMWP). When they failed to find Walela they arrested two of his family members, Abi Walela and Anno Walela. The two men were taken to the Papua Police office in Jayapura for questioning. The authorities also allegedly confiscated phones, laptops and hard drives from his home. Erik Walela is now reportedly in hiding.
Peaceful Assembly
Six West Papuan protesters standing trial in Sorong accused of treason
On 18th May 2021, judges at the Sorong District Court began trials against six West Papuan activists who had been arrested on 27th November 2020 during a peaceful demonstration in Sorong. According to the International Coalition on Papua, people had gathered holding the banned pro-independence Morning Star flags and banners peacefully calling on the government to recognise the proclamation of the Republic of West Papua New Guinea by a Papuan independence group at the European Parliament in Brussels on 27th November 1997.
The six include Ham Nauw, Wenceslaus Saud, Cris Djanoma, Bertus Fenitruma, Jhon Bless and Doni Pattiruhu, who have been charged under Article 106 of the Criminal Code for 'treason' and/or Article 110 for 'criminal conspiracy against the state'. Jhon Bless is also facing additional charges.
The Indonesian authorities have used these criminal code provisions, mainly Articles 106 and 110, to prosecute dozens of peaceful pro-independence political activists in Papua for legitimately exercising their rights to freedom of expression, association and peaceful assembly.
Arbitrary detention and harassment of West Papuan protesters
Indonesian police crack down on West Papuan protests https://t.co/TQn5D4AxpO

— West Papua Media (@westpapuamedia) May 25, 2021
There have been a number of protests related to West Papua where security forces have intervened to arbitrarily arrest and detain protesters. There have also been reports of excessive force during arrests.
On 8th March 2021, dozens of students were detained by police in Denpasar, Bali. The students, calling themselves the Papua-Bali Concerned People's Front (Front Masyarakat Peduli Papua-Bali), had organised to oppose the extensions of special autonomy in Papua which they argue have failed, to end military operations in Papua and to address past human rights violations in the province. They had printed leaflets and posters with their demands. However, before they could hold the protest, police detained them. They were taken to the Denpasar district police station and some were questioned by the police. At least seven alleged that they were assaulted by the police during their arrest. According to LBH Bali, a legal aid NGO, they were denied access to the students for a few hours.
On 1st May 2021, police arbitrarily detained 15 Papuan students among scores arrested at a May Day rally in central Jakarta on the ground that they did not have a permit to demonstrate. The students were arrested as they marched past the US Embassy in central Jakarta. They were taken to the Metro Jaya headquarters and subsequently released.
On 25th May 2021, around a hundred protesters in Manokwari were reportedly arrested and temporarily detained at the Police Mobile Brigade (Brimob) headquarters. They had gathered to hand over a list of demands to the Papua Barat People's Assembly (MRPB). The main demands were the rejection of the special autonomy and the release of Papuan political prisoners. The protest was dispersed by security forces, claiming some protesters violated COVID-19 health protocols. Some protesters reportedly sustained injuries as a result of excessive use of force by police members during their arrest.
On 31 May 2021, nationalist groups harassed and attacked West Papuan students in Bali who were holding a silent protest to demand all West Papuan political prisoners be released. According to reports, the police watched while the attacks occurred and later forcibly dispersed the students.
Expression
Internet disruption in Papua
Continuing telecommunications outages in Indonesia's Papua region have created a media blind spot by blocking the flow of information about ongoing conflict in its central highlands. The communications disruptions add to pressures on basic freedoms of expression at a time when Papuans are trying to voice their opinions about Jakarta's plans for the region's special autonomy provisions.
Since 30th April 2021, the internet in Papua's largest city, Jayapura, has been dysfunctional. Indonesian telecommunications company PT Telkom's Pujo Pramono has claimed that a damaged submarine fibre cable caused the internet disruption along West Papua's northern coast.
However, media observers and human rights activists suspect that the government has deliberately shut down the internet to impede the flow of information on the conflict situation in the central highlands. Similar operations over the past two years have frequently been accompanied by human rights violations and internal displacement of the indigenous population.
The South-East Asia Freedom of Expression Network (SAFEnet) observed that the internet disruptions in West Papua correlate with security-related incidents over the past two years. According to SAFEnet, the latest internet breakdown was also preceded by a series of digital attacks against activists and journalists in Jayapura - an additional indication of a systematic and structural intervention by a third party.
This is not the first of such disruptions. As previously documented, in 2019 the government shut down internet services in the region during weeks of anti-racism protests and deadly unrest. In June 2020, a panel of judges at the Jakarta State Administrative Court (PTUN) declared that the government's decision to impose an internet blackout violated the law, in a lawsuit filed by civil society groups.
Papuan journalist targeted
Jurnalis Jubi Papua Victor Mambor Diteror Orang Tak Dikenal https://t.co/iY4ydcDPxf

— CNN Indonesia (@CNNIndonesia) April 22, 2021
Victor Mambor, journalist and editor of the Papua-based Tabloid Jubi, was targeted in April 2021. His car, which was parked in a road near his home in the Papuan capital of Jayapura was vandalised by unknown individuals between midnight and 2am on 21st April 2021.
The windscreen was smashed with a blunt object. The rear and left-side windows were also damaged by a sharp instrument. The left-side front and back doors were also sprayed with orange paint. Victor Mambor has faced a number of attacks previously, including doxxing and threats suspected to be related to his reporting on the political situation and conflict in West Papua
The Jayapura branch of the Alliance of Independent Journalists (AJI) chairperson, Lucky Ireeuw, suspects that the vandalism was committed over reporting by Tabloid Jubi. Tabloid Jubi and its website are known for consistently presenting the public with reports on human rights violations in Papua. Ireeuw said: "These acts of terror and intimidation are clearly forms of violence against journalists and threaten press freedom in Papua and Indonesia." AJI has recorded that in the last 20 years there were 114 instances of violence against journalists in Papua.
The International Federation of Journalists (IFJ) said: "Recent tensions and conflict in West Papua highlights the ongoing need for journalism and independent reporting in West Papua to ensure civilians' safety and government accountability. The IFJ urges the Indonesian government to respect human rights and the ability of journalists to report independently without interference or intimidation."
Internet law used to criminalise online criticism in Papua
The authorities have also been using the draconian Information and Electronic Transactions Law (ITE Law) to criminalise online criticism of the authorities in Papua, according to information received from Papuan Behind Bars. The ITE law has been used to silence online expression across Indonesia including of activists.
A man with the initials EK was arrested in Jayapura on 15th April by the Nemangkawi police unit for criticising the security forces in Papua. He was charged under Article 45A (2) of the ITE Law.
On 23rd April 2021, judges at the Timika District Court found Soon Tabuni guilty of violating Article 45A(2) of the ITE Law and sentenced to 6 months imprisonment and a fine of IDR 1 billion (USD 68,828) for a Facebook post in May 2020 criticising the Papuan police chief. Soon Tabuni is a member of the West Papua National Committee (KNPB), a pro-independence movement. According to Amnesty International, he was arrested on 27th May 2021, by plain clothed officers from the Mimika Police without an arrest warrant. During the arrest, Soon was shot three times in the leg. Court proceedings had been incredibly slow.
On 1st May 2021, a student in Jayapura, Papua was detained for uploading a photo of President Joko Widodo wearing a hat which had the Papuan pro-independence flag. On 20th May 2021, he was charged for violating Article 45A(2) the ITE law.
Enago Womaki was detained by the Nemangkawi police unit in Mimika, Papua on 6th May 2021 for allegedly posting on Facebook about genocide in Papua. He was being investigated under the ITE Law.
New internet regulation inconsistent with international standards
Human rights groups have called on the Indonesian government to suspend and substantially revise a regulation on online content to meet international human rights standards.
Human Rights Watch reported on 21st May that Ministerial Regulation 5 (MR5), which came into force in November 2020 with little consultation, requires all private digital services and platforms to register with the Ministry of Communication and Information Technology and agree to provide access to their systems and data, as specified in the regulation. Those that fail to register by 24th May will be blocked in Indonesia. This was later postponed for six months.
MR5 governs all private "electronic systems operators" that are accessible in Indonesia, broadly defined to include social media and other content-sharing platforms, digital marketplaces, search engines, financial services, data processing services, and communications services providing messaging or video calls and games. The new regulation will affect national and regional digital services and platforms, as well as multinational companies like Google, Facebook, Twitter and TikTok.
These companies are required to "ensure" that their platform does not contain or facilitate the distribution of "prohibited content," which implies that they have an obligation to monitor content. Failure to do so can lead to blocking of the entire platform.

The regulation's definition of prohibited content is extremely broad, including not only content in violation of Indonesia's already overly broad laws restricting speech, but also any material "causing public unrest or public disorder" or information on how to provide access to, or actually providing access to, prohibited material.

For "urgent" requests, the regulation requires the company to take down content within four hours. For all other prohibited content, they must do so within 24 hours of being notified by the ministry. If they fail to do so, regulators can block the service or, in the case of service providers that facilitate user-generated content, impose substantial fines.

The regulation appears to provide no mechanism for either the company or the person who posted the content to challenge the ministry's order, either before or after the content is taken down. Under the regulation, companies must also provide access to both their "systems" and their "data" for "supervision" purposes whenever requested to do so by the authorities. Companies must also allow law enforcement authorities to access electronic data for criminal investigations into any offence carrying a penalty of at least two years in prison.

To facilitate access requests, the regulation requires each company to appoint a local contact person to receive and act on those requests. A company that fails to provide access for regulators and law enforcement faces penalties ranging from a written warning to revocation of their registration.
Linda Lakhdhir, Asia legal advisor at Human Rights Watch said: "Ministerial Regulation 5 is a tool for censorship that imposes unrealistic burdens on the many digital services and platforms that are used in Indonesia. It poses serious risks to the privacy, freedom of speech, and access to information of Indonesian internet users."
House of Representatives fails to prioritise revision of the draconian ITE Law
On 15th February 2021, President Joko "Jokowi" Widodo instructed newly-appointed National Police Chief Listyo Sigit Prabowo to draft guidelines to ensure police were more selective in prosecuting people reported under the notorious Information and Electronic Transactions Law ("the ITE Law"). If the law could not be implemented fairly, Jokowi said, the government would work with the House of Representatives (DPR) to revise its more problematic articles.
As previously documented, The ITE law carries a maximum sentence of six years' imprisonment and/or a fine of up to one billion rupiah (around USD 66,700) for any person who deliberately and without right disseminates information aimed at inflicting hatred or hostility. It has been used to arrest, prosecute and punish persons, including human rights defenders, for peacefully exercising their freedom of speech.
The Institute for Criminal Justice Reform (ICJR), one of the main civil society organisations advocating for revisions to the ITE Law, recorded 768 people charged under the law between 2016 and February 2020. The study recorded a conviction rate of nearly 97 percent, or 744 cases. Some 88 percent of those convicted received prison sentences. According to SAFEnet in 2020 alone 4,790 people were investigated under the ITE law, the majority for defamation cases.
Not long after Jokowi's statement, Coordinating Minister for Political, Legal and Security Affairs Mahfud MD announced the government was forming an inter-ministerial team to review the law and decide whether it needed reform. However, in May 2021, it was reported that the House of Representatives failed to include it in its list of priority bills for deliberation in 2021.