Activists criminalised for royal defamation and targeted by spyware in Thailand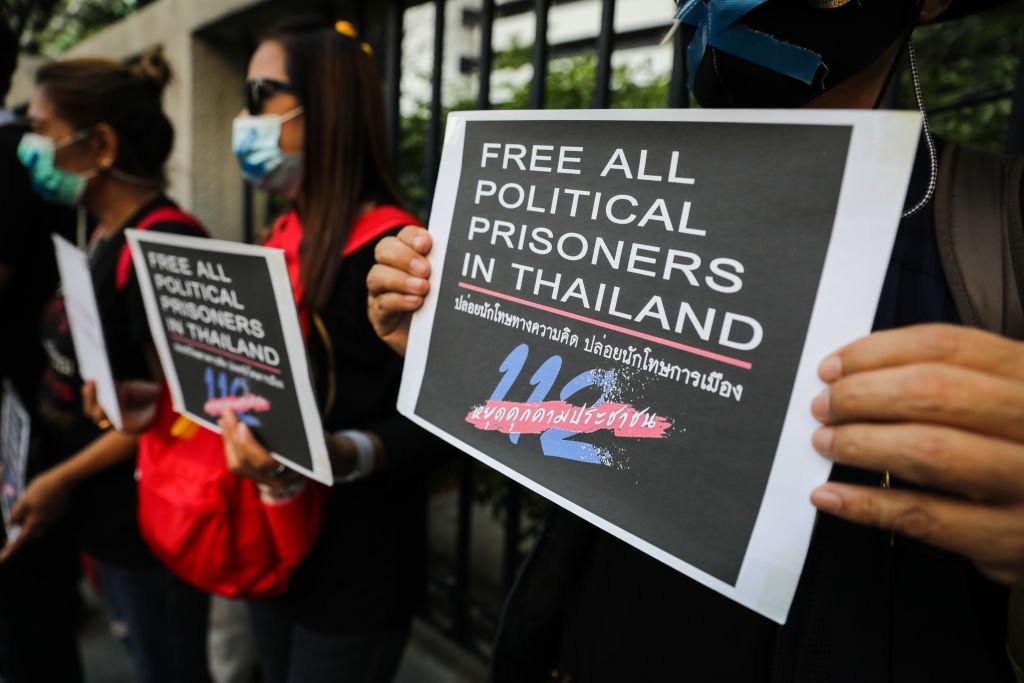 Civic space in Thailand is rated as 'repressed' by the CIVICUS Monitor. Civil society has documented a range of violations in recent years by the government, including the use of criminal defamation, lese-majesté (royal defamation), and other restrictive laws against activists and journalists as well as harassment, physical attacks, and allegations of enforced disappearances of activists. There has also been a crackdown on peaceful protests, the arrests and criminalisation of protesters, and the use of excessive force by the police.
In July 2022, Prime Minister Prayut Chan-o-cha survived his fourth no-confidence vote in parliament over claims of corruption and economic mismanagement. Prayut seized power in a coup in 2014, and served as prime minister in the military administration until an election in 2019, after which a new parliament, elected under a new military-drafted constitution, chose him to remain as prime minister.
In recent months, the authorities have continued to arrest and prosecute activists and critics for royal defamation, including a musician who has been jailed for six years. Some activists prosecuted for royal defamation went on a hunger strike to protest the denial of bail. Human rights grous also exposed the use of Pegasus spyware on the phones of dozens of pro-democracy activists as well as academics. The authorities have brought charges against Sitanun Satsaksit, the brother of Wanchalearm Satsaksit, who has been forcibly disappeared while protsters continued to be indicted. There has also been ongoing opposition against a restrictive draft law on not-for-profit organisations.
Expression
Increasing use of royal defamation law against critics
The authorities have continued to use Section 112 of the Criminal Code to charge, detain, and convict critics for royal defamation. Commonly known as the lese majeste law, the statute criminalises any criticism of the king or the royal family and carries a punishment of up to 15 years imprisonment.
On 13th April 2022, Yukti Mukdawijitra, a lecturer at Thammasat University's Faculty of Sociology and Anthropology, was charged with royal defamation and violation of the Computer Crimes Act over a post he made on Twitter in May 2021 that was deemed an insult and a threat against the King.
Sombat Thongyoi, a former Red Shirt protest guard, has been sentenced to 6 years in prison on charges of royal defamation and violation of the Computer Crimes Act over 3 Facebook posts he made in 2020.https://t.co/6iEhxUYZM9

— Prachatai English (@prachatai_en) April 29, 2022
A former guard for Thailand's anti-government United Front for Democracy against Dictatorship (UDD), known as the "Red Shirts", Sombat Thongyoi was sentenced to six years in prison without parole on 29th April 2022 for royal defamation. The charges stemmed from three posts he made on his personal Facebook profile in October and November 2020. The posts were considered a mockery and insult to the King. He was also found guilty of violating the Computer Crime Act.
On 17th June 2022, three Thai influencers - Aniwat Prathumthin, Kittikhun Thamakitirat, and Thidaporn Chaokovieng - were arrested over a video campaign on TikTok that critics said insulted a member of Thailand's royal family. The now-deleted clips were posted online in May 2022 as part of promotions for Alibaba's e-commerce firm Lazada. They featured a woman dressed in a traditional Thai costume and seated in a wheelchair. Monarchists said the woman was a veiled reference to a royal family member. However, the advert did not mention any royal family members. All three have been released on bail.
This week, police in Thailand charged Piyabutr Saengkanokkul, a co-founder of the disbanded Future Forward Party, with lese majeste, as the government ramps up the legal offensive against opponents. https://t.co/6pn8pCooXd pic.twitter.com/BDaVkntO8x

— The Diplomat (@Diplomat_APAC) June 22, 2022
In another case, police in Thailand charged prominent opposition politician Piyabutr Saengkanokkul on 21st June 2022 for royal defamation after he issued calls for reform of the country's powerful monarchy. Piyabutr, an academic who serves as secretary general of the Progressive Movement - a reformist political group, has been charged over a tweet in October 2021 in which he argued that Section 112 and certain parts of Thailand's constitution need to be improved to prevent the rampant abuse of the law to silence dissenting views. Piyabutr believes the charges were "undoubtedly politically motivated".
On 15th August 2022, the courts sentenced a musician, who is also a member of a pro-democracy group, to six years in prison after finding him guilty of lèse majesté over three Facebook posts he made in 2016. Parinya Cheewinkulpathom, aka "Port Fai Yen", a member of the Fai Yen band, was accused of posting messages deemed critical and defamatory of the monarchy. The court found him guilty on three counts of lèse majesté and imposed a three-year term on each count, but commuted the sentence to six years for his useful testimony. He was granted bail on 300,000 Baht (USD 8.428) surety by the court under the condition that he does not travel outside Thailand.
According to monitoring by Thai Lawyers for Human Rights (TLHR) and the International Federation for Human Rights (FIDH) published on 19th June 2022, the number of individuals charged with royal defamation has surpassed 200 – including 16 children - in just over 18 months. Arrests, detentions, and prosecutions have mainly targeted pro-democratic activists and protesters who exercise their right to freedom of expression.
Activists facing lese-majeste charges granted bail following hunger strike
The Criminal Court on Thursday approved the release on bail of 20-year-old hunger-strike activist Tantawan "Tawan" Tuatulanon, who is charged with lese majeste for running an opinion poll on royal motorcades. #BangkokPost #Thailand https://t.co/RUzm4eqae1

— Bangkok Post (@BangkokPostNews) May 26, 2022
Activist Tantawan 'Tawan' Tuatulanon was granted bail on 26th May 2022 but ordered to wear a monitoring device and not leave her house without a court order. She had been on a hunger strike for the 37 days in protest of her detention and to demand the right to bail for herself and other detained activists.
Tawan is known for her affiliation with the pro-democracy Draconis Revolution group, continuously advocating to abolish Section 112 (lese majeste). She was detained in March 2022 for questioning the monarchy in a live stream broadcast on social media and faces five counts of resisting officers in the execution of their duty, violating the Computer Crimes Act, and royal defamation.
While she was initially granted bail, it was revoked on 20th April 2021 after the police claimed that she had attempted to commit a similar offence with a Facebook post commenting about a royal motorcade. Following the prolonged detention by the Court, she went on a 30-day hunger strike. On 20th May, the Ratchadaphisek Criminal Court denied her bail again after prosecutors said they had just received her case file
The Southern Bangkok Criminal Court set the bail revocation hearing on tomorrow at 09.00 a.m. in case of "Baipor" and "Netiporn" TaluWang activists, both accused of lese-majeste charge for organizing a 'public referendum' pertaining to the monarchy. pic.twitter.com/HtDokzhmfi

— TLHR / ศูนย์ทนายความเพื่อสิทธิมนุษยชน (@TLHR2014) April 26, 2022
Two youth pro-democracy activists, Netiporn 'Bung' Sanesangkhon and Nutthanit 'Bai Po' Duangmusit, were granted bail by the Bangkok South Criminal Court on 4th August. They were detained on 3rd May 2022 after the Court revoked their bail for their involvement in conducting two polls on the monarchy in February and March 2022. The two activists had been on a hunger strike for 64 days in protest against their pre-trial detention at Central Women's Correctional Institute.
Activist sent to jail for writing about prison conditions
Thai activist Ekachai Hongkangwan, who wrote about his experiences in a Bangkok prison, was sentenced to a year in prison in April 2022 under the Computer Crimes Act.
Ekachai, a 47-year-old pro-democracy activist who was out on bail, wrote an expose of life inside Bangkok Remand Prison. In his posts, he detailed the overcrowding and unsanitary conditions.
Ekachai has faced harassment for his activism. He has been attacked and his car was set on fire by unknown men in two separate incidents in 2019. As previously documented, he was arrested in October 2020 for reportedly shouting and holding up the defiant three-finger salute when the Queen's motorcade drove past protesters. He was charged under Section 110 of the Criminal Code and could face life imprisonment. He was granted bail in April 2021.
Pegasus spyware found on phones of activists
A joint report by the Thai NGO iLaw, Digital Reach, and The Citizen Lab in July 2022 found the use of Pegasus spyware on the phones of dozens of Thai activists, including many who have repeatedly faced arrest, harassment, and physical attacks by Thai authorities. Other targeted persons include academics and human rights defenders who have publicly criticised the Thai government.
These findings stemmed from alarming notifications sent by Apple to many Thai activists, notifying them that they had been targeted with the spyware in November 2021. Amnesty International's Security Lab independently confirmed five of the cases in the report through forensic analysis.
Yingcheep Atchanont, the iLaw programme manager said: "We have known for long that the Thai state is inclined to conduct illegitimate surveillance operations on its own citizen, but [this investigation] has shown how desperate the Thai state really is when it comes to controlling the rise of youths who have a different ideal image of the country".
Pegasus is a highly sophisticated spyware produced by the Israel-based cybersecurity company NSO Group and is licensed only to government agencies with the approval of the Israeli government. Once a device is infected, Pegasus can turn the infected phone into a remote surveillance device. Attackers are granted complete control over the phone. It can access all data – photos, videos, text messages and call records – and can also turn on, without the owner's knowledge, the phone's camera and microphone to observe the surroundings in real time.
Sister of abducted activist prosecuted for campaigning
According to the Cross-Cultural Foundation, Thai authorities name Sitanun Satsaksit on a special police red level watch list for campaigning against state-sponsored #enforceddisappearances in a bid to find out what happened to her brother. #Thailand https://t.co/kx873dnqQG

— UCA News (@UCANews) April 28, 2022
The authorities brought charges against Sitanun Satsaksit, the sister of Wanchalearm Satsaksit, who is a victim of enforced disappearance..
According to Amnesty International, Sitanun has been actively campaigning around the fate and whereabouts of her brother as well as other families who face similar ordeals. She has also joined campaigns urging Thailand's House of Representatives to pass a delayed draft law criminalising enforced disappearances and torture.
Due to this, in July 2022 she was charged for her speech in support of the Thai parliament passing a law against torture and enforced disappearances at a peaceful rally on 5th September 2021, which was held at an intersection in central Bangkok. Police filed criminal proceedings under the Emergency Decree against Sitanun and others on the basis that a group of more than 25 people imposed a risk of spreading COVID-19.
She is also accused of gathering with around a dozen activists on International Human Rights Day, 10th December 2021, outside the UN Headquarters in Bangkok before submitting petitions with their human rights concerns. Police initiated separate criminal proceedings against her and five others.
If convicted on both counts, Sitanun could face up to four years in prison and a fine of up to 80,000 baht (around USD 2,250).
As previously documented, Wanchalearm, is a prominent Thai pro-democracy activist living in exile in Phnom Penh, Cambodia who was abducted on 4th June 2020. The alleged abduction took place just a day after he had posted a video on Facebook criticising Thai Prime Minister Prayut Chan-o-cha. He fled to Cambodia after the May 2014 military coup in Thailand. His enforced disappearance corresponds to a deeply alarming pattern of abductions and killings of at least nine Thai activists in exile by unknown persons in neighbouring countries, namely Laos and Vietnam.
Peaceful Assembly
Activists indicted and denied bail for protest
7 activists from the activist group Thalufah were denied bail on Tuesday (19 July), after the public prosecutor decided to indict them on charges relating to a protest at the Democrat Party headquarters on 30 July 2021.https://t.co/GElNAUU32V

— Prachatai English (@prachatai_en) July 22, 2022
Activists from the pro-democracy group Thalufah who were involved in a 2021 protest were indicted in July 2022 and some have been denied bail.
On 19th July 2022, the public prosecutor decided to indict nine activists for joining an assembly of more than ten persons; causing a breach of public peace; not dispersing when ordered to do so by an official; damaging property; trespassing with an act of violence; using a sound amplifier without permission; and violating regulations under the Emergency Decree by staging a public assembly, thus risking the spread of COVID-19.
The protest was held on 30th July 2021 outside the Democrat Party headquarters to demand that the party leave the coalition government. They splashed paint in front of the headquarters, attached stickers and pieces of paper to the gates, and burned a straw effigy of Prime Minister Gen. Prayut Chan-o-cha.
Seven of the protesters were later denied bail by the Criminal Court on the grounds that they are likely to cause further damage since they have previously been prosecuted in the Criminal Court. They are now detained at the Bangkok Remand Prison and the Women Correctional Institution.
Two protest leaders get suspended jails terms and fines for defying emergency law
Parit Chiwarak and Jutatip Sirikhan were sentenced to 2-months in jail, suspended for 2 years, and fined 10,000 baht each by the Pathumwan Municipal Court, after they were found guilty of violating the state of emergency law 2 years ago.https://t.co/WxSWubzOlB #ThaiPBSWorld pic.twitter.com/KWNLWlEJhW

— Thai PBS World (@ThaiPBSWorld) July 12, 2022
On 12th July, two protest leaders, Parit Chiwarak, aka Penguin and Jutatip Sirikhan, aka Ua, were sentenced to two-months in jail, suspended for 2 years, and fined 10,000 baht (USD 282) each by the Pathumwan Municipal Court, after they were found guilty of violating the state of emergency law two years ago. Jutatip was also fined another 2,000 baht (USD 56) for obstructing officials in the performance of their duty.
The offences took place in front of the Bangkok Art and Culture Centre on 5th June 2020 during a protest to demand justice for Wanchalearm Satsaksit, a pro-democracy activist who went missing after being abducted in Phnom Penh. The two activists have been on conditional bail on multiple charges, including violating lese majeste.
Association
Ongoing opposition against restrictive draft law on not-for-profit organisations
As previously reported, human rights groups have raised concerns over a draft law to regulate non-profit groups, which could be used to muzzle civil society groups and non-governmental organisations (NGOs). The Draft Act on the Operations of Not-for-Profit Organisations contains numerous provisions that would subject organisations and their members to restrictive measures, thus curtailing their rights to freedom of expression, association, peaceful assembly and other human rights, including the possibility of violations of the right to privacy.
On 12th May 2022, 65 non-profit organisations wrote to the U.S. government ahead of US-ASEAN special summit at the White House calling on the Biden administration to pressure the Thai government to immediately withdraw the above-mentioned bill and to ensure any other laws and regulations that Thailand proposes pertaining to non-profit organisations strictly adhere to international human rights law and standards.
#NoNPOBill📍After the sit-in protest in front of the UN HQs ytd, today's protest gathered there this morning & marched to the Govt House. NGOs, grassroots groups & activists all want to see the NPO Bill withdrawn!#ไม่เอาพรบควบคุมภาคประชาสังคม #หยุดกฎหมายควบคุมการรวมกลุ่ม pic.twitter.com/YAC3mABtOb

— Manushya Foundation (@ManushyaFdn) May 24, 2022
On 23rd May 2022, the People's Movement Against the Draft Law that Undermine Freedom of Association, a newly formed network of civil society members, protested in front of the UN office. Nutchanart Thanthong from the Four Regions Slum Network said that; "The law is a violation of human rights and should not be used in Thailand". Almost 2,000 NGOs around the country have voiced opposition to the bill, which was endorsed by the Cabinet in January 2022.
Hundreds marched from the UN Headquarters to the offices of the Prime Minister of Thailand on 30th May. Police put up a range of physical barriers to block the protesters, including razor wire and shipping containers, on different sections of Ratchadamnoen Road leading to the Government House in Bangkok.
Public consultations on the bill were completed at the end of April 2022 and the draft act is currently with the Ministry of Social Development and Human Security (MSDHS), where the inputs from the consultation process are being reviewed for consideration in an updated draft. The MSDHS is also reviewing recommendations submitted by the Council of the State which compiles inputs from various parts of the government.
Human rights defender Angkhana Neelapaijit intimidated
According to Human Rights Watch, prominent, human rights defender Angkhana Neelapaijit was intimidated in April 2022. Angkhana, 66, is a former commissioner of the National Human Rights Commission of Thailand and a newly-appointed member of the United Nations Working Group on Enforced or Involuntary Disappearances.
She has been subjected to threats and judicial harassment due to her human rights work and her advocacy efforts on the 2004 enforced disappearance of her husband, human rights lawyer Somchai Neelapaijit.
The organisation reported that on 12th April an unidentified assailant threw a pair of 9-inch-long scissors at the house of Angkhana Neelapaijit in Bangkok, making a hole in her front door. The attack damaged her front door and her car, which was parked outside her house.
Acting Asia Director Elaine Pearson with Human Rights Watch said: "Violent acts intended to intimidate a well-known figure like Angkhana not only pose a threat to her and her family, but send a spine-chilling message to the entire Thai human rights community".
Prior to the attack, she had been under a witness protection scheme within the Department of Special Investigation (DSI), as the DSI had been investigating the enforced disappearance of her husband. However, on 23rd March 2022, Angkhana was informed that she would no longer be protected from 1st April 2022 becasue the case had been closed and there had been no threats and attacks against her for several years.
Angkhana told Human Rights Watch that she and her family felt vulnerable after the Justice Ministry cancelled her protection.