Activists concerned about counter-terror laws while impunity for past crimes persists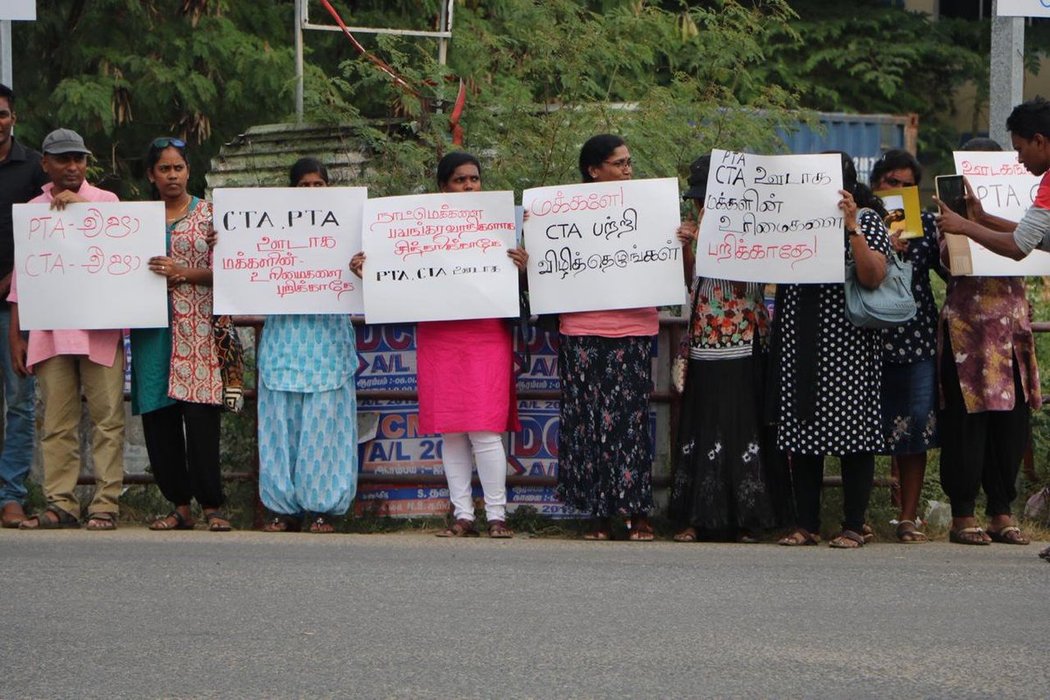 On 16th December 2018, Ranil Wickremesinghe returned as Sri Lanka's Prime Minster after being deposed by President Maithripala Sirisena on 26th October 2018. The return of Wickremesinghe occurred after the controversial former Prime Minister Mahinda Rajapaksa, who was appointed to replace Wickremesinghe, resigned after the courts found his appointment to be unconstitutional.
On 12th February 2019, Prime Minister Ranil Wickremesinghe presented to cabinet plans to establish a Truth and Reconciliation Commission to address address the serious human right violations that occurred during the three-decade-long armed conflict in Sri Lanka that ended in May 2009. There was no mention of any probe into alleged war crimes. On 6th March 2019, the president, reportedly seemed to be backing down on pledges to the UN Human Rights Council to investigate war-time atrocities, saying he did not want to "re-open old wounds".
In October 2015, the UN Human Rights Council issued Resolution 30/1 - which was co-sponsored by Sri Lanka and set out commitments to "undertake a comprehensive approach to dealing with the past, incorporating the full range of judicial and non-judicial measures" and made specific recommendations for Sri Lanka to ensure truth, justice, reparation and non-recurrence for victims. These measures included, but were not limited to, law reforms, investigations and reparations for victims. According to Human Rights Watch, despite government pledges, there has been little progress in prosecuting those responsible for wartime abuses or providing justice for victims. In March 2019, the Sri Lankan government will present its progress on Resolution 30/1, having already had an extension of time to complete the commitments made in 2015.
Over the last few months, civil society groups have raised concerns about existing and proposed anti-terror laws. A journalist was attacked by a police officer in Jaffna, northern Sri Lanka while a police officer investigating attacks on journalists during former president Mahinda Rajapaksa's tenure was arbitrarily transferred. There has also been a lack of progress for crimes against journalists and aid workers that occurred during the conflict.
Peaceful Assembly
Protest against anti-terror laws 
On 21st January 2019, civil society organisations including women's rights group protested in Jaffna, in northern Sri Lanka, against the Prevention of Terrorism Act (PTA) and the proposed Counterterrorism Act (CTA). Both the existing PTA and the draft CTA have been broadly viewed as unnecessary pieces legislation since the conclusion of the conflict in 2009. According to human rights groups, under the PTA, hundreds of Tamils have remained in jail without trial since 2009. Among the demands made at the protest was to "Say no to PTA & CTA" and "don't take away rights by PTA & CTA", The protesters had gathered by Vempady junction in Jaffna town, and marched towards the main bus station. Protesters also called for the "release the political prisoners" and urged the authorities not to "portray civilians as terrorists via PTA and CTA".
As previously documented by the CIVICUS Monitor, the proposed Counterterrorism Act, drafted to replace the PTA, significantly improves upon the current law but fails to adequately safeguard human rights violations. The Counterterrorism Act of 2018, drafted to replace the PTA, narrows the definition of terrorism, increases protections against torture and coerced confessions, and reduces pretrial detention. But overbroad provisions could still be used to prohibit peaceful protests and ban civil society groups. Further, curbs on police powers remain insufficient.
Human rights defender Ruki Fernando said:
"We need to repeal the very oppressive PTA and we should not bring similarly oppressive laws such as the CTA…the draft CTA has broad definitions that can infringe on rights activism and independent journalism…it creates a militarised and repressive environment instead of allowing democratic dissent."
Families of disappeared protest against UN resolution extension
Mannar families of disappeared protest against UN resolution extension https://t.co/5V3a0TfOtJ #Tamil #lka pic.twitter.com/uXOmcHgqPV

— Tamil Guardian (@TamilGuardian) February 28, 2019
In February 2019, families of the disappeared protested in Mannar, in eastern Sri Lanka, to express their anger towards reports that the 2015 UN Human Rights Council resolution 30/1 would be granted a time extension by another two years. The protest follows a mass rally in Kilinochchi and a similar protest in Amparai.
As previously documented by the CIVICUS Monitor, families of the disappeared have been campaigning to obtain answers about the fate of their loved ones in the final stages of the civil war in 2009 and its aftermath. Among the demands from the families, the investigation and release of a list of all secret detention centres, the publication of a list of all detainees held under the Prevention of Terrorism Act (since 1978), and the release of records of all those who had surrendered to the Sri Lankan armed forces at the end of the conflict. In February 2018, the Office on Missing Persons (OMP) was established to search for and trace people who were disappeared.
Expression
Attack on journalist by the police
Free Media Movement Condemns Police Attack on Journalist Nadarajah Kugarajah- https://t.co/FgTyKSpXwe #srilanka #lka #Jaffna @MangalaLK pic.twitter.com/eWTLvvYuK3

— FMMsrilanka (@FMMsrilanka) February 22, 2019
On 19th February 2019, Nadarajah Kugarajah, a journalist from Tamil television channel 'Dan TV' was filming an incident at Kokuvil East in Jaffna when he was threatened to halt the filming by Acting Officer-in-Charge of Kopay police station. When he refused to do so, he was attacked by the police officer. Kugarajah was taken to Jaffna Teaching Hospital to be treated for his injuries.
The International Federation of Journalists (IFJ) and their local affiliate Free Media Movement (FMM) condemned the police attack and urged all relevant authorities to immediately investigate the incident immediately. FMM said that the situation for journalists in the North and South is particularly concerning as many are still waiting on justice for media violations that occurred years earlier. They added:
"We view such repressive incidents as a major obstacle to journalists' freedom of speech and freedom of expression and condemns such threats."
Police inspector investigating attacks on journalists arbitrarily transferred
The International Federation of Journalists (IFJ) and its affiliate Sri Lanka Working Journalists Association (SLWJA), on 20th November 2019, raised concerns about the arbitrary transfer of police inspector Nishantha Silva, who was investigating several major investigations into attacks on journalists during former president Mahinda Rajapaksha's tenure out of the Criminal Investigation Department.
Silva was the chief investigator on several major investigations into attacks on journalists including the abduction and assault of Rivira's former editor Upali Tennekoon, Nation deputy editor Keith Noyahr, senior journalist Namal Perera as well as the assassination of Sunday Leader editor Lasantha Wickrematunge, and others.
SLWJA President Dhuminda Sampath said:
"We believe that this sudden transfer was made to hold up the…courts cases, and under these circumstances, we are shocked as media freedom and safety of journalists are in danger."
The organisations said that this move threatens "press freedom, justice and labour rights movement amid the political crisis after the appointment of Rajapaksa as prime minister".
Association
Lack of justice for crimes against journalists and aid workers
Flickering Hope: Truth, Justice, Reparations and Guarantees of Non-Recurrence in Sri Lanka.

Check out @amnesty's latest briefing on Sri Lanka's progress on UNHRC resolution 30/1. https://t.co/CD9d88A3qD#FlickeringHope 🕯 #lka #SriLanka @UNHumanRights @amnestysasia pic.twitter.com/XctrZ8MS2k

— ThyagiRuwanpathirana (@ThyagiR) January 24, 2019
In January 2019, Amnesty International issued a report evaluating the commitments made by the Sri Lankan government in Resolution 30/1 in 2015. The resolution at the UN Human Rights Council was to demonstrate the newly elected government's commitment to break with impunity for past serious human rights violations. The resolution among other issues, encouraged the government to "investigate and prosecute perpetrators of attacks against journalists, human rights defenders, members of religious minority groups, civil society and places of worship" and to "take steps to prevent such attacks in the future".
According to Amnesty International, in several cases, there have little to no substantial development. While arrests have been made in some cases, there have been no convictions and most cases have come to a standstill. Among these cases include the 2009 killing of newspaper editor Lasantha Wickrematunge, the disappearance of cartoonist and journalist Prageeth Eknaliagoda in 2019 and the murder of 17 aid workers from French NGO Action Contre la Faim (ACF) in Muttur in 2006.
More recently, in July 2018, Srishobana Yogalimgam, an anti-enforced disappearances activist, was assaulted in Jaffna. In the same month, as previously documented by the CIVICUS Monitor, unidentified motorists assaulted human rights defender Amitha Priyanthi and snatched the court documents of the case of her murdered brother which she is vigorously pursuing.
Amnesty International said that "the impunity enjoyed by the perpetrators of these crimes, amongst others, serves as a testament to the lack of willingness by the Sri Lankan authorities to hold those responsible for serious human rights violations accountable for their actions".