Media censored, activists silenced and opposition weakened ahead of Thai elections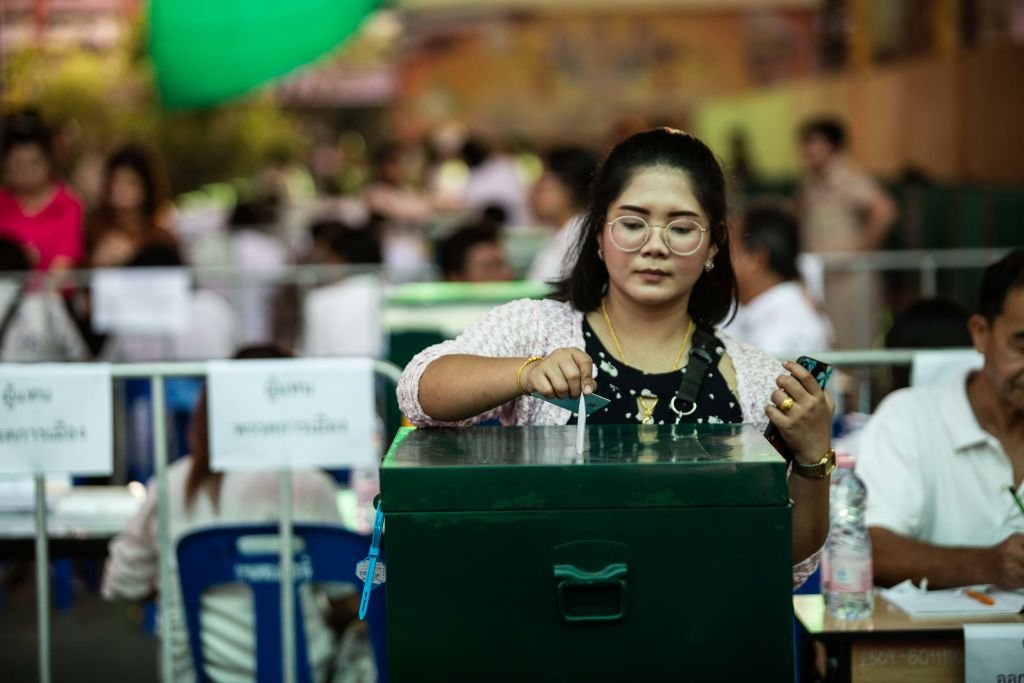 Elections will be held in Thailand on 24th March 2019 for the first time since the military coup in May 2014. The military government had repeatedly pushed back the timeline to hold the elections after seizing power. The junta has also relied on a range of repressive laws and decrees to quell dissent and jail opponents.
In December 2018, the military junta in Thailand lifted the ban on political campaigning which has been in place since 2014. This order repealed Article 12 of National Council for Peace and Order (NCPO) Order No. 3/2558, which prohibited the gathering of five or more persons for a "political purpose", and which carried a punishment of imprisonment not exceeding six months and/or a fine not exceeding 10,000 Baht (USD 315). However, many other restrictive laws and decrees remain in force..
Civil society groups believe that the military government has failed to create conditions for a free and fair national election. Among their concerns raised include the existence of repressive laws that restrict fundamental freedoms; media censorship; lack of equal access to the media; the outsized role of a junta-appointed Senate in forming a government; and the lack of independence and impartiality of the national election commission.
Expression
Media restrictions ahead of elections
On 12th February 2019, The National Broadcasting and Telecommunications Commission (NBTC) announced the suspension of Voice TV for 15 days, starting from 13th February, after accusing the station of "causing public confusion, inciting conflict in society and threatening national security because it provided airtime to candidates critical of Thailand's military government and broadcast criticisms of the government's handling of the upcoming election and the economy". However, on 16th February 2019 the Administrative Court ruled that Voice TV could continue broadcasting.
Voice TV has been targeted for censorship and punishment previously. Authorities suspended the station for 26 days in 2014 and seven days in 2017, while on 17 occasions it has been instructed to remove certain programs.
The National Council for Peace and Order (NCPO) Announcement 97/2014 bans "criticism of the work of the NCPO" while NCPO Announcement 103/2014 prohibits the propagation of news or the distribution of any publication containing information that the authorities consider "intentionally distorted to cause public misunderstanding that affects national security or public order".
Reporters Without Borders (RSF) condemned the suspension, saying:
"Voice TV's suspension sends a very disturbing signal and deals a fatal blow to democratic pluralism. We call on Gen. Prayut's government to rescind this decision at once, or else the 24 March election will have no credibility."
According to Human Rights Watch, on 1st March 2019, a prominent news anchor, Orawan Choodee, wrote on her Facebook page that she had been suspended from hosting a popular political debate programme, "Election War19," on the state-controlled MCOT Channel 9. During the show she had asked first time voters whether they agreed with the decision by Prime Minister not to debate his political opponents, among others. While the MCOT board, which the Prime Minister's Office directly supervises, denied ordering her suspension, she has not returned to the program.
Human Rights Watch also reported that international media outlets have also faced censorship. The main cable television service provider, TrueVisions, cut off broadcasts of major news networks, such as BBC, CNN, Al Jazeera, Bloomberg, and Australia Network, on 8-9th February and 7-8th March leaving only a blank screen with the message: "Programming will return shortly."
Cybersecurity bill passage raises concerns
#Thailand: Junta-appointed National Legislative Assembly rushing through a cybersecurity bill that lays the foundation for a "police state", critics warn https://t.co/fPiPocDddV

— AG (@ag_fidh) January 28, 2019
On 28th February 2019, the National Legislative Assembly of Thailand passed a bill on cyber security. The bill gives authorities the right to bypass court orders in "critical" situations. The act allows state officials to seize, search, infiltrate, and make copies of computers, computer systems and information in computers without a court warrant if an appointed committee deems it as a high-level security threat. Relevant courts can later be informed of such actions. Activists fear it will allow the government sweeping access to people's personal information.
Nutchapkorn Nummueng of the Internet Dialogue of Law Reform, said:
"The bill...will give the state authorities enormous power to obtain information freely on any individual, including accessing, making copies and collecting individual information or even entering the house of a person without a court warrant."
Jeff Paine, managing director of Asia Internet Coalition, an alliance of international tech firms that include Facebook, Google and Apple said that the law's ambiguously defined scope, vague language and lack of safeguards raises serious privacy concerns for both individuals and businesses, especially provisions that allow overreaching authority to search and seize data and electronic equipment without proper legal oversight".
Association
Political party dissolved ahead of elections
The Thai court dissolved the powerful opposition Thai Raksa Chart over its bid to nominate Princess Ubolratana as a candidate for PMhttps://t.co/6JzrIfSkFi

— SBS News (@SBSNews) March 7, 2019
On 7th March 2019, the Constitutional Court of Thailand ruled to dissolve the Thai Raksa Chart Party (TRC), and to prohibit TRC executive board members from running in an election, forming a new party, or be a board member of another party for a period of 10 years. It determined that the party's nomination of Princess Thun Kramom Ying Ubolratana Rajakanya as a candidate was "hostile to the constitutional monarchy" and in breach of the Political Parties Act 2017.
Analysts believe the court decision aims to weaken political parties aligned with exiled former prime minister Thaksin Shinawatra. Responding to the ruling, Katherine Gerson, Amnesty International's Thailand campaigner, said:
"This decision highlights the Thai authorities' abuse of judicial powers to restrict the peaceful association and expression of the political opposition. This far-reaching measure raises strong concerns about the human rights to freedom of association and expression in the period leading to the elections."
Defamation complaint filed again party leader by military
In December 2018, the military junta filed a complaint under the Computer Crimes Act against the leader of the Seri Ruam Thai Party, Police General Seripisut Temiyawet, for his media interviews criticising the military's attempts to stay in power after the elections. Seri Ruam Thai is an opposition party that campaigns on decreasing military spending and moving army bases outside the capital. In March  2019, another case was filed against Temiyawet under the Computer Crimes Act by army commander-in-chief Apirat Kongsompong accusing Temiyawet of defaming him.
As previously documented, the Computer Crimes Act was also used in September 2018 to charge Thanathorn Juangroongruangkit, the leader of the newly-formed Future Forward party and two senior members for allegedly spreading false information about the ruling military government on Facebook.
Bodies of two political activists found and one still missing
#Thai Police say DNA tests show that two bodies found washed up on the shore of the Mekong River in Nakhon Phanom province are the corpses of anti-government activistshttps://t.co/BqmxS5SPlP

— Asia-News-De (@base_thai) January 22, 2019
In December 2018, two bodies of anti-government activists "stuffed with concrete" were found along the Mekong River border with Laos. They were among dozens of dissidents who fled the country after the coup. DNA tests confirmed the two bodies, which were discovered belong to Chatcharn Buppawan, and Kraidej Luelert.
The two were close aides to political activist Surachai Danwattananusorn, who has been operating online radio programs critical of Thailand's junta and monarchy from neighbouring Laos. He also disappeared in December 2018 and is still missing. Surachai's wife believes her husband was also killed but his corpse was destroyed. Surachai, a leader of the Communist Party of Thailand during the 1980s, became active against the military's interference in politics. He fled to Laos in 2014, when army General Prayuth Chan-o-cha led a coup that toppled the government of Yingluck Shinawatra.
The disappearance of the activists from Laos has prompted concerns among rights groups that critics of the Thai monarchy and army are being targeted in exile.
Defamation complaints against rights defenders
#Thailand: In a letter addressed to @prayutofficial, @OBS_defenders and 87 other groups urge the government to seek the dismissal of at least 13 criminal and civil cases filed by Thai poultry company #Thammakaset against #HumanRights defenders: https://t.co/vV8ISFWPVv pic.twitter.com/DqZDCHeo2P

— The Observatory (@OBS_defenders) February 14, 2019
In February 2019, 89 CSOs signed a joint letter to express their concern regarding recent spurious complaints brought by Thammakaset Company Limited against several human rights defenders in Thailand. They urged the Thai government to take immediate action to oppose and seek the dismissal of these cases.
Thammakaset's criminal complaints stem from its former 14 employees' involvement in reporting labour rights abuses. Separate investigations found evidence of labour rights abuses, including that Thammakaset failed to pay minimum and overtime wages and failed to provide adequate leave to workers as required by law. In January 2019, the Supreme Court upheld a lower court's order requiring Thammakaset to pay 1.7 million Thai Baht (USD 51,470) in compensation to the 14 former employees for violations of Thailand's Labor Protection Act.
Thammakaset then brought legal complaints against human rights defenders involved in publicly reporting on labor rights abuses and employer reprisals against the workers. In October 2018, criminal defamation charges were initiated against Nan Win - an activist and former Thammakaset employee - for speaking out on the abuses and reprisals against the 14 former employees in a film produced by the human rights organisation Fortify Rights and during a Facebook-live press conference that Fortify Rights organised. Sutharee Wannasiri, a former human rights specialist with Fortify Rights, also faces criminal and civil defamation charges for sharing Fortify Rights' film on social media.
On 8th March 2019, the Bangkok Criminal Court confirmed criminal defamation charges against Nan Win. The court scheduled his criminal trial to start on 24th May 2019. The court is expected to decide whether to proceed with a separate criminal case against Suthareee Wannasiri on 25th March 2019.
According to the CSOs, the complaints by Thammakaset appear to be reprisals brought against harass human rights defenders involved in exposing abuses. Such reprisals "interfere with the work of human rights defenders and prevent the implementation of labour rights protections".
Activist detained and deported for producing documentary
On 7th December 2018, Rath Rott Mony, head of the Cambodia Construction Workers Trade Union Federation (CCTUF), was charged and detained in Bangkok for helping produce a documentary about sex trafficking between Cambodia and Thailand.
According to Mony's wife, Long Kimheang he was assisting Russia Today (RT) as an interpreter to interview Cambodian women and girls for the documentary, which was released in October 2018. She believes he is being targeted for his activism representing Cambodian construction workers. On 11th December 2018, Radio Free Asia reported that Rath Rott Mony was detained in an immigration detention center in the country and was denied access to a lawyer while in detention. He was deported the following day.
Peaceful assembly
Five activists arrested for holding protests
Five held after calling for Prayut to quit https://t.co/dBv0jRmelZ

— Bangkok Post (@BangkokPostNews) February 2, 2019
On 2nd February 2019, five people were arrested for demonstrating outside the Government House calling for Prime Minister Prayut Chan-o-cha's resignation. Parit Chiwarak from Thammasat University and Tanawat Wongchai, from Chulalongkorn University held placards and hung chilies, salt and garlic on the fence of the building as part of their demonstration. Parit said "garlic, according to western beliefs, can chase away blood-sucking vampires, but we are not sure if it can chase away tax-sucking vampires, power-sucking vampires and democracy-sucking vampires. Today, let's see if it works."
The two students were charged for violating the 2015 Public Assembly Act, for failing to give the police 24 hours advance notice, prior to their protest. According to news reports the students went out to protest as a response to the Prime Minister's recent remarks, during his speech on the government's 4-year record, saying that 'oust me if you can, jerk.' In addition to the two students, three other pro-democracy activists who joined them were also arrested while they tried to submit an open letter to the Prime Minister.
Defamation suits filed against environmental activists
In November 2018, two defamation suits were filed by the Office of the Judiciary, against activists based in Chiang Mai for campaigning to reclaim the Doi Suthep forest area from the authorities. The authorities say the activists have violated the law by exposing the names of the officers who are the current residents of the disputed area. As previously documented, there has been an ongoing protests by environmental groups against the building of a government luxury housing project on forested land near the foothills of Chiang Mai's Doi Suthep mountain. The mountain is regarded as sacred for Chiang Mai and as a "natural lung" for the north's largest city.
Teerasak Rupsuwan, who serves as a coordinator of the Doi Suthep Forest Reclamation Network, said that no details of the suits were revealed but he assumes one case may be due to a media briefing that was held after his house in Tambon Don Kaew, Mae Rim district was raided by the authorities on 13th November 2018. Officers also seized Teerasak's computer and phone.