Activists and journalists continue to be targeted as new president is elected in the Philippines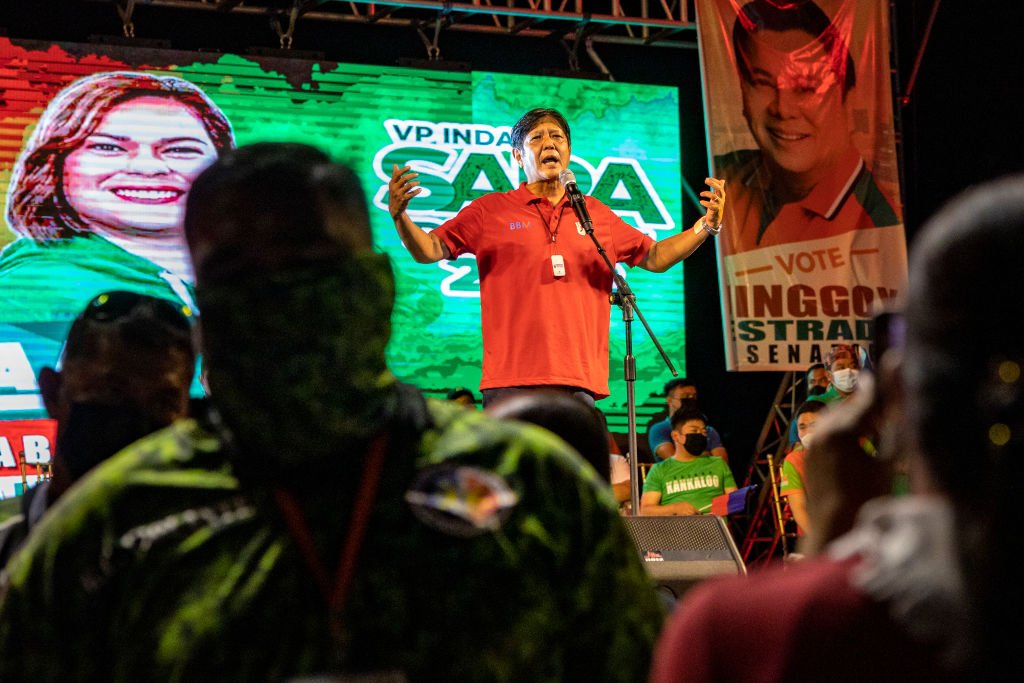 On 9th May 2022, Ferdinand "Bongbong" Marcos Jr, the son of late Philippine dictator Ferdinand Marcos won an outright majority in the Philippines presidential elections securing more than 30 million votes.
His father ruled for two decades, including a period of martial law (1972-1981) when grave human rights violations occurred including arbitrary arrests, torture, extrajudicial killings and disappearances before he was ousted by a popular uprising in 1986. The family name also became synonymous with plunder and cronyism. Marcos said he would bridge political divides in his country but survivors of the brutal regime of Marcos have warned that human rights in the country will be weakened. Human rights groups also said his campaign was built on lies and disinformation.
Sara Duterte, the daughter of President Duterte, who ran to be vice-president, also won by a huge margin. Since Duterte came to power in 2016 civic freedoms have been incrementally dismantled. Human rights groups have documented systematic intimidation, attacks and vilification of civil society and activists, an increased crackdown on press freedoms, and the emerging prevalence of a pervasive culture of impunity. Due to this, the Philippines's civic space rating was downgraded by the CIVICUS Monitor in early December 2020 from 'obstructed' to 'repressed'.
Human rights groups have renewed calls for an independent investigation by the United Nations Human Rights Council into serious human rights violations in the Philippines. In July 2021, the Philippines government and the UN formalised a human rights programme to implement Human Rights Council (HRC) resolution 45/33, adopted on 7th October 2020. However, human rights groups are sceptical about the programme, which they see as inadequate to ensure accountability for human rights violations committed under this administration.
In a joint report submitted in April 2022 ahead of the upcoming 41st session of the Universal Periodic Review (UPR) of the Philippines at the UN Human Rights Council, Karapatan and CIVICUS expressed concern over the "systematic intimidation, attacks and vilification of civil society and activists, an increased crackdown on media freedoms and the emerging prevalence of a pervasive culture of impunity."
In recent months, journalists have faced online attacks and intimidation while covering the elections, while protesters have been violently dispersed. Activists continue to be arbitrarily arrested on trumped up charges and remain in detention, while there has been slow progress in ensuring accountability for the 'Bloody Sunday' killing of nine activists.
Expression
Restrictions, online attacks and intimidation of journalists covering elections
Ahead of the elections, in February 2022, The National Union of Journalists of the Philippines (NUJP) and the Center for Media Freedom and Responsibility (CMFR) expressed alarm over attacks and hostility against the media. They reported election-related incidents such as the banning of reporters at campaign events, refusal by candidates to attend media-hosted debates, a spate of distributed denial of service (DDoS) attacks on news websites, and online hostility against news organisations and reporters in relation to their coverage of the candidates.
In April 2022, the BBC's Howard Johnson received death threats online after he posted on Twitter a video showing him asking Marcos about his refusal to participate in debates during the campaign. Regine Cabato, a reporter for the Washington Post, was called a "whorenalist" and subjected to other online intimidation for a story she reported about Marcos Jr.'s tendency of "historical revisionism."
On 3rd May 2022, Philippine journalists expressed grave concerns about online attacks by supporters of Ferdinand Marcos Jr. and urged social media giants to patrol their online platforms.
The Foreign Correspondents Association of the Philippines (FOCAP), which includes reporters working for some of the Western media's leading news agencies, said several members had faced intimidation while reporting on Marcos. FOCAP expressed its "grave concern over online attacks against some of our members by supporters of presidential candidate Ferdinand Marcos Jr. and the alarming difficulty we have faced in getting his clear, coherent and substantial explanations on issues imbued with public and national interest."
Incoming president shows contempt for the press
Ignoring critical journalists is bad enough, but incoming Philippine president Ferdinand Marcos Jr. will have tools at his disposal to muzzle the media in a manner that his dictator father could only dream of.

Marcos Jr.'s Contempt for the Press | @HRW https://t.co/jt0aP4KIg9 pic.twitter.com/KYcIXFfum8

— Carlos H. Conde 🇵🇭 (@condeHRW) May 13, 2022
On 12th May 2022, Human Rights Watch reported that during a press conference a spokesperson for Ferdinand Marcos Jr. repeatedly ignored questions from journalist Lian Buan of Rappler about an outstanding contempt order in the United States against the incoming Philippine president.
HRW said that this was not the first time that the Marcos camp has mistreated Buan and other journalists. While covering the presidential campaign, Buan has been shoved aside and blocked by Marcos' security personnel, incidents that she shared on her Twitter account. It was reported that that troll attacks and harassment against her worsened during the election season. Another Rappler reporter also complained about being harassed by Marcos supporters.
Marcos supporters have made Rappler its biggest target for online abuse. The news site has regularly reported on issues surrounding Marcos and his family. Rappler's CEO, the Nobel Peace Prize laureate Maria Ressa, has faced similar threats from Marcos supporters as well as from outgoing President Rodrigo Duterte, along with several lawsuits and investigations from the Duterte administration.
Peaceful Assembly
Violent dispersal of post-elections protest
For the first time in the history of the Commission on Human Rights—which for so long has been a sanctuary for peaceful protests—police brutally attacked and water-bombed rights advocates.

This is the situation before Marcos is even proclaimed president.pic.twitter.com/8NzAIYH7ag

— Rey Valmores (@ReynaValmores) May 25, 2022
On 25th May 2022, a relatively peaceful protest at the Commission on Human Rights (CHR) compound in Quezon City turned violent when authorities stopped the demonstrators from marching to the Batasang Pambansa, where the proclamation of winning presidential and vice-presidential candidates took place. This was despite the area not requiring permits to stage rallies.
Protesters were calling for the family of President-elect Ferdinand Marcos Jr. to be held liable for corruption and human rights violations during the Martial Law years and for the government to look into the supposed irregularities during the 9th May elections.
However, police officers in full battle gear clashed with the activists and a water cannon was used to disperse them.Fourteen protesters were hurt and in need of medical assistance. One of those injured was a campus journalist from the Polytechnic University of the Philippines who covered the protest.
Rights group Karapatan condemned the attempt of the Philippine National Police (PNP) to disperse the peaceful protest using violent force and called on the CHR to investigate and hold PNP officials accountable.
They added: "The right to peaceful assembly and protest is a basic right enshrined in our constitution; even our laws guarantee the exercise of this right. Is the violent dispersal today a prelude of things to come under a Marcos-Duterte administration — where exercising our basic rights and freedoms are met with brazen state violence?"
Association
Police arrest community doctor on trumped up charges
🇵🇭#Phillipines: Extremely concerned about the 'red-tagging' and arbitrary arrest of human rights & health worker Dr. Natividad "Naty" Castro. Her case highlights the ongoing risks and judicial harassment of activists in the countryhttps://t.co/u2tDFBx1tV pic.twitter.com/oxYn31T2L8

— CIVICUS Monitor (@CIVICUSMonitor) February 23, 2022
On 18th February 2022, Philippine police arrested a community doctor in the capital, Manila, accusing her of being a leader in the New People's Army (NPA) – the armed wing of the Communist Party of the Philippines - that has waged a decades-long insurgency against the government.
Dr Maria Natividad Castro, 53, - also known as Dr Naty Castro - was held without bail on charges of kidnapping and illegal detention, for which a lower court had ordered her arrest in 2020, according to a police statement.
However, human rights group Karapatan said Castro was facing "trumped up" charges after she investigated alleged human rights violations in the volatile Mindanao region while also setting up community health centres there. Karapatan denounced the arrest of the human rights and health worker as yet another form of attack against human rights defenders.
The Commission on Human Rights (CHR) said it was concerned with the manner of arrest. At the time of her arrest, the arresting officers declined to show proper identification, denied the accused access to her counsel and refused to divulge to her family where they intended to take her.
Prior to her arrest, Castro had been red-tagged for her human rights advocacy, according to her brother. She has served as a community physician for indigenous people, helping set-up community health centres and programmes in the rural areas of Agusan in Mindanao. She also brought members of the Lumad community before the UN in Geneva to seek help against harassment in their ancestral domains. She was also secretary general of Karapatan in Caraga.
She was detained for 42 days before the Bayugan City Regional Trial Court in Agusan del Sur dismissed the kidnapping charges against her on 31st March. The court called the doctor's arrest "repugnant to her right to liberty," saying it could find no reason for her detention.
Woman human rights defender Renalyn Tejero still in detention
#Philippines: Today marks one year since woman rights defender and @karapatan paralegal Renalyn Tejero was arbitrarily arrested on trumped-up charges. Although the charges have been dismissed, she is still in prison.

📢Release her immediately!

▶️https://t.co/cPHWIM3SIj pic.twitter.com/a5vF6phRdt

— The Observatory (@OBS_defenders) March 21, 2022
It has been more than a year since woman human rights defender Renalyn Tejero was arbitrarily arrested by officials of the Philippine National Police (PNP) and the Philippine Army (PA) in Cagayan de Oro City, Misamis Oriental Province. Tejero is a paralegal officer of human rights group Karapatan.
According to the Observatory for the Protection of Human Rights Defenders (OMCT-FIDH), on 21st March 2021, when she was detained, no subpoena was served regarding the charges she faced, and her request to call her family and lawyer was denied. Tejero's fate and whereabouts remained unknown for more than six hours. She was subsequently falsely accused and charged with "attempted murder" and "murder". According to local reports, all the charges were later dismissed. However, Tejero has still not been released.
Prior to her arrest, Renalyn Tejero had been a victim of red-tagging. She has appeared on Facebook posts and leaflets in the Caraga Administrative Region that labelled her as a "communist" and a "terrorist" and linked her to the armed opposition group New People's Army (NPA).
Church worker detained in Cagayan de Oro
Iglesia Filipina Independiente lay worker Aldeem Yañez was arrested in a police raid yesterday, April 10, in his home in Cagayan de Oro. Arresting officials were reported to have planted firearms and munition, same as in reports of illegal arrests of activists and progressives. pic.twitter.com/lqeUAnRvqI

— AlterMidya (@altermidya) April 11, 2022
Aldeem Yañez, a member of the IFI (Aglipayan Church), was arrested at his house in Cagayan de Oro during a raid by the military and police. He has served as a volunteer at the IFI's Visayas-Mindanao Regional Office for Development (VIMROD) and the Philippine Ecumenical Peace Platform, a network that has been advocating for the resumption of peace talks between the government and the National Democratic Front (NDF).
He was among those implicated in a 2018 New People's Army (NPA) offensive in Sibagat, Agusan del Sur, in which rebels burned an Army patrol base, carted away weapons and abducted a government militia member. In December 2021, he was among 17 activists whose "trumped-up" charges of "destructive arson, kidnapping and robbery with violence against or intimidation of persons" were dismissed by the Bayugan City Regional Trial Court (RTC) Branch 7.
However, Maj. Gen. Wilbur Mamawag, commander of the Army's 4th Infantry Division, said Yañez was arrested for violation of Republic Act No. 10591, or the Comprehensive Firearms and Ammunition Regulation Act. Mamawag said the raid was conducted on the strength of a search warrant issued by a local court on 6th April. The military claimed they recovered a .45-calibre pistol, two hand grenades, two 40mm rounds of ammunition, allegedly fake vaccination and voters' cards and anti- government documents.
IFI leaders protested the arrest, saying it was part of a continuing red-tagging of government critics and church workers sent to do volunteer work in communities.
Witnesses retract testimony against jailed Philippine senator
Two key witnesses in the Philippine government's case against Senator Leila de Lima, a longtime critic of President Rodrigo Duterte's "war on drugs," have retracted their testimonies.
De Lima has been in police custody since February 2017, faces charges alleging that she received money from drug lords while serving as justice secretary. She has repeatedly denied the charges, contending that the Duterte administration is retaliating against her for investigating extrajudicial killings under Duterte's anti-drug campaign.
Phil Robertson, deputy Asia director at Human Rights Watch, said: "Senator Leila de Lima has suffered five years in detention for an alleged crime that key witnesses now dispute. The authorities should immediately drop the politically motivated charges and release her, and impartially investigate the witnesses' claims that they were coerced to give false testimony."
Slow progress in ensuring justice for the 'Bloody Sunday' killing of nine activists
[STATEMENT] LEAGUE OF FILIPINO STUDENTS – CAVITE STATE UNIVERSITY ON COMMEMORATION OF BLOODY SUNDAY

It has been a year since the COPLAN ASVAL, or referred to as Bloody Sunday, happened – in which nine people were killed and six were arrested in a series of raids against

++ pic.twitter.com/sT8j9BvO3c

— League of Filipino Students - CvSU (@LFSCvSU) March 7, 2022
There has been slow progress in holding to account those involved in the killing of nine activists in March 2021 known as the 'Bloody Sunday' killings.
As previously documented, on 7th March 2021, members of the Philippine National Police (PNP) and the military killed nine community-based activists in coordinated raids across four provinces in the Calabarzon region. The police claimed the operations were meant to arrest alleged communist New People's Army rebels identified in search warrants issued by two Manila courts.
Those killed include fisher folk leaders Ariel Evangelista and Anna Mariz Lemita-Evangelista, Emmanuel Asuncion, a labour organiser, housing rights activists Melvin Dasigao and Mark Bacasno, Puroy Dela Cruz and Randy Dela Cruz of the indigenous Dumagat tribe and urban poor activists Abner Esto and Edward Esto.
The Department of Justice (DOJ) reported in December 2021 that 17 police officers, mostly from the Calabarzon regional police and one from CIDG Calabarzon, are facing murder charges for the death of labour leader Emmanuel Asuncion. The preliminary investigation, according to DOJ, has been transferred to the Justice Department's Office of the Prosecutor General. On 7th March, the DOJ said murder charges were filed against another 17 police officers for the deaths of Ariel Evangelista and his wife, Anna Marie.
However, no charges have been filed in the other cases. The Commission on Human Rights (CHR) stressed that "the government must continue to investigate questionable deaths. Mere filing of charges is insufficient to serve the ends of truth and justice. The wheels of justice must turn in favour of the rule of law."