Activists, academics and journalists in India face judicial harassment despite pandemic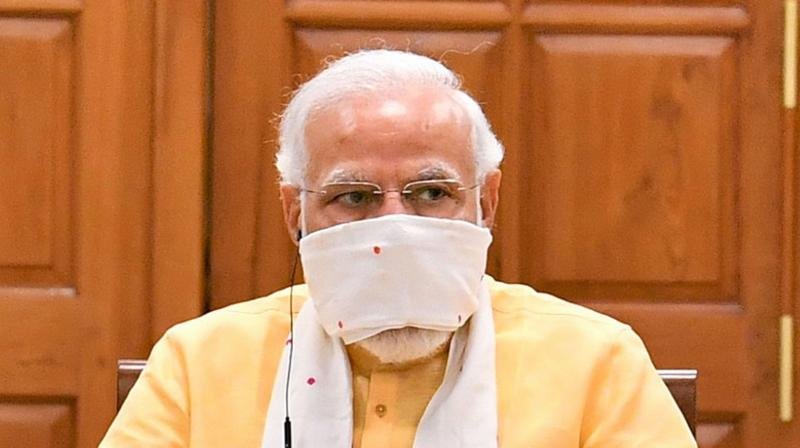 Nearly six months since a national lockdown was announced by Prime Minister Narendra Modi due to the coronavirus pandemic, it has proven to be a complete disaster, with opposition leaders predicting that India's infected tally may touch the 6.5 million mark by the end of September 2020 As at 4th September 2020, More than 76,000 people in India had died due to the coronavirus.
It is in this context that the Narendra Modi government has continued its persecution of human rights defenders, activists, student leaders and journalists. Political activists and student leaders continue to be the government's prime targets, with some detained under the draconian Unlawful Activities Prevention Act (UAPA) and for sedition.
A raging pandemic and national lockdown has not stopped the National Investigation Agency (NIA) from making more arrests in the controversial Bhima Koregaon case of 2018. Social activists, lawyers and academicians have pointed out that the purpose of the arrests is not to prove guilt but to "punish via lengthy isolation and detention while being demonised by the State-sponsored media witch-hunt". Human rights groups have continued to remain concerned about violations in Indian-administered Jammu and Kashmir.
Association
More judicial harassment in the Bhima Koregaon case
Government of India: Free Hany Babu! Free all the activists held on false charges in Bhima Koregaon case! - Sign the Petition! https://t.co/xHbAPRdXKK via @UKChange

— International Solidarity for Professor Hany Babu (@FreeHanyBabu) September 8, 2020
On 28th July 2020, human rights defender Hany Babu was arrested by the National Investigation Agency (NIA) in Mumbai. He is now the twelfth accused arrested for his alleged involvement in the violence that broke out at Bhima Koregaon on 1st January 2018. Hany Babu is an associate professor in the department of English at Delhi University. He is a strong advocate of Dalit rights and has been actively helping underprivileged Dalit students obtain their scholarships and reserved seats at University.
Following this, on 4th September 2020, the NIA issued a summons notice to Indian Institute of Science Education and Research (IISER)-Kolkata professor Partho Sarothi Ray, a renowned social activist and scientist and Convenor of Persecuted Prisoners Solidarity Committee (PPSC) West Bengal Unit, for questioning in connection with the Bhima Koregaon case. The professor has been asked to travel to Mumbai during the pandemic and appear for questioning on 10th September. On 8th September 2020, the NIA also summoned activist K Satyanarayana, a Dalit scholar and activist who is also the son-in-law of already arrested activist and poet Varavara Rao.
As previously documented, 11 human rights defenders have been detained under the Unlawful Activities (Prevention) Act (UAPA) for allegedly inciting violence during a 2018 demonstration in Bhima Koregaon, Maharashtra state. They have been detained since 2018 in relation to the case. They are known for their work defending the rights of Adivasi and Dalit communities. Human rights groups believe these charges have been fabricated as part of the government's efforts to clamp down on dissent.
Activists detained under restrictive laws during a pandemic facing health risks
Bhima Koregaon inmates can barely communicate, worried about their health: Families@nileenams reports: https://t.co/vWqmjm6MXR#BhimaKoregaon #VaravaraRao pic.twitter.com/iOvSASS22I

— The Caravan (@thecaravanindia) July 12, 2020
A number of activists detained under baseless anti-terrorism charges are facing health risks, especially due the pandemic.
In July 2020, the National Human Rights Commission observed that the deteriorating health of 81-year old activist Varavara Rao was a serious issue of violation of human rights after taking cognisance of the complaints about Rao's health by his family. The rights body had directed the Maharashtra state government to analyse his condition. Rao, who has been lodged in Taloja jail in Maharashtra in connection with the Bhima Koregaon case for the past two years, was admitted to the Nanavati Super Hospital in Mumbai after he tested positive for COVID-19 in July. He was discharged in late August and has since returned to prison.
As previously documented, Varavara Rao, a poet and civil rights activist based in Telangana state, founded the Revolutionary Writers' Association. He was arrested under the Unlawful Activities (Prevention) Act (UAPA) for allegedly inciting violence during a 2018 demonstration in Bhima Koregaon, Maharashtra state (see case above).
In the same month, Sharjeel Imam, an activist and student protester at the Jawarhalal Nehru University who was being detained at Guwahati Central Jail in Assam, tested positive for the coronavirus (COVID-19). It was reported that at least 435 inmates of the Guwahati Central Jail have tested positive for the deadly virus. Sharjeel Imam was involved in protests against the Citizenship (Amendment) Act 2019. He was arrested in March 2020 for his activism and has been charged with sedition as well as under the Unlawful Activities (Prevention) Act, an anti-terrorist law.
In August 2020, activist Akhil Gogoi's bail plea, on medical grounds, was rejected by a special National Investigation Agency (NIA) court despite him testing positive for COVID-19. Akhil Gogoi is the leader of Krishak Mukti Sangram Samiti (KMSS), a peasant rights organisation based in Assam State, who has played a key role in the campaign against the discriminatory Citizenship (Amendment) Act (CAA) in Assam. He was arrested by the police for sedition and under various sections of the UAPA in December 2019 for alleged links to a banned Maoist group and instances of violence during the anti-CAA protests.
In the same month, the Bombay High Court dismissed the interim bail plea by human rights lawyer and activist Sudha Bharadwaj on medical grounds. She has diabetes and hypertension and could be further at risk in view of the COVID-19 outbreak in prisons. Further tests in prison reported that she is suffering from ischemic heart disease. Referring to a prison doctor's report, the judge ruling in the case stated that her condition was found to be 'stable and satisfactory'. It has been two years since Sudha was arrested in the Bhima Koregaon case (see above). Sudha's health continues to decline at the Byculla Women's Jail in Mumbai.
Authorities continue to impose harsh restrictions in Indian-administered Jammu and Kashmir
According to Human Rights Watch (HRW), Indian authorities continue to impose harsh and discriminatory restrictions on Muslim-majority areas in Jammu and Kashmir, one year after the revocation of the states' constitutional status on 5th August 2019
Anticipating unrest after the government revoked Jammu and Kashmir's autonomous constitutional status and split it into two federally governed territories, the Indian authorities imposed broad restrictions on freedom of movement, banned public meetings, shut down telecommunication services and educational institutions and detained thousands of people. While in the months that followed the government eased some restrictions, HRW stated that hundreds of people remain detained without charge, critics are threatened with arrest and access to the internet is limited.
There also have been several allegations of new arrests, torture and ill-treatment by security forces. The government has also used harsh counterterrorism and sedition laws to clamp down on peaceful critics.
In June 2020, the government announced a new media policy in Jammu and Kashmir that empowers the authorities to decide what is "fake news, plagiarism and unethical or anti-national activities" and to take punitive action against media outlets, journalists and editors. The policy contains vague and overbroad provisions that are open to abuse and could unnecessarily restrict and penalise legally protected speech. 
Read our latest report "Kashmir's Internet Siege", with an expansive timeline.

The report provides an overview of the harms, costs and consequences of the digital siege in J&K, from Aug 2019 to the publication of this report in Aug 2020. #Kashmirhttps://t.co/HvgpCIWos6

— JKCCS (@jkccs_) August 25, 2020
In August 2020, The Jammu-Kashmir Coalition of Civil Society (JKCCS) released a report titled "Kashmir's Internet Siege" which called the communications blackout following the scrapping of the disputed region's semi-autonomy in 2019 "collective punishment" and urged the international community to question New Delhi over what it calls "digital apartheid".
The report said that "the multi-faceted and targeted denial of digital rights is a systemic form of discrimination, digital repression and collective punishment of the region's residents, particularly in light of India's long history of political repression and atrocities," It maps the consequences of the longest ever lockdown in the region's turbulent history and its severe effect on livelihoods, education, health and press freedoms.
In September 2020, HRW reported that security forces in Jammu and Kashmir were using shotguns firing metal pellets to disperse crowds. Indian police and paramilitary forces fired shotguns as well as tear gas at a Shia Muslim procession in Srinagar on 29th August 2020, injuring dozens of people. The forces opened fire after marchers defied orders to disperse under a COVID-19 ban. This sparked violent protests in which some protesters threw stones, injuring 15 security personnel, according to the police.
Women's rights activist charged for questioning government inaction
In May 2020, 66-year old writer and women's rights activist P Ranganayakamma was arrested by the Criminal Investigation Department (CID) for posting 20 questions on her Facebook page — questioning the government on its inaction in the case of a gas leak at the LG Polymers plant at Vishakhapatnam, Andhra Pradesh. The styrene monomer, a poisonous vapour that leaked from a storage tank, killed 12 people and left over 550 hospitalised.
Immediately after posting the questions, a First Information Report (FIR) was filed against Ranganayakamma by the Crime Investigation Department (CID) of Andhra Pradesh police under Section 505(2) (making statements that create or promote enmity), Section 153(A) (indulging in wanton vilification), Section 188 (Disobedience to order duly promulgated by public servant) and Section 120-B (criminal conspiracy) of the Indian Penal Code, and also under Section 67 (Punishment for publishing or transmitting obscene material in electronic form) of the Information Technology Act, 2008. On 18th May 2020, Ranganayakamma was arrested by the CID.
Action, in this case, was only taken after a committee inquiring into the case submitted its report to the Andhra Pradesh Chief Minister. Twelve officials of the South Korea-based chemical company were arrested in July 2020.
Anti-corruption activist charged for questioning police
On 26th May 2020, Raju Baitha, a Dalit anti-corruption activist and district convenor of the National Campaign for Dalit Human Rights (NCDHR), was arrested on multiple fabricated cases at East Champaran district, Bihar, for questioning on Facebook the Superintendent of Police (SP), Naveen Chandra Jha's handling of a recent charge against three policemen.
Baitha had accused the SP of being biased and discriminatory as he had suspended a policeman from the Dalit marginalised community but did not take the same action against two upper caste policemen. Baitha was threatened by the Superintendent of Police and was arrested soon after and charged with destruction of public property in connection with a protest held in January 2020 against the discriminatory Citizenship Amendment Act (CAA). Baitha was released on bail on 15th June 2020.
Social workers assisting rape survivor arrested and detained
Tanmay and Kalyani back in Araria after spending nearly 3 weeks in jail.Meanwhile, the accused in the gangrape case roam free. The 2 in the pic were charged for contempt of court, among others, after the judge said he was insulted by their conduct and that of the survivor. pic.twitter.com/fFKvEOqkR3

— JAGRITI CHANDRA (@jagritichandra) August 6, 2020
In July 2020, two social workers assisting a gang-rape survivor were detained and charged by a civil court in Araria district in Bihar.
According to reports, on 7th July 2020, a woman had filed a complaint at the Araria women's police station in which she alleged that she was gang-raped the day before. After a FIR was registered, she had been called to record her statement before the magistrate. The police said she appeared with two social activists, Kalyani Badola and Tanmay Nivedata from the NGO Jan Jagran Shakti Sangathan to record her statement.
While recording her statement, the woman allegedly raised her voice, insisting that she would sign the statement only after one of the activists had seen it. All three were then arrested on charges of preventing government servants from doing their duty, and the social activists were specifically accused of trying to snatch the complainant's written statement away from court officials. All three have strongly denied these charges.
The three women were detained in a jail located around 200 kilometres away from Araria. Following a nationwide outcry over the case, the 23-year old rape complainant was released, but the social activists, Kalyani and Tanmay, were only released in August after 25 days in detention.
Peaceful Assembly
Two members of a women's rights collective detained for protests
Devangana and Natasha are student activists who have remained committed to the democratic struggle towards building an equal and accessible university for all. #FreeDevanganaAndNatasha #FreeAllPoliticalPrisoners pic.twitter.com/jPEproxAG2

— Pinjra Tod (@PinjraTod) July 23, 2020
On 23rd May 2020, two members of Pinjra Tod, a women's rights collective, were arrested in connection with the protests opposing the discriminatory Citizenship Amendment Act in North East Delhi's Jafrabad area in February. Natasha Narwal and Devangana Kalita, both students of Jawaharlal Nehru University and founding members of Pinjra Tod, are among the many students and activists who have been arrested by the Delhi police in the last couple of months. On 1st September, the Delhi High Court granted bail to Devangana Kalita. However, she was not released from jail as she had another case against her under the draconian Unlawful Activities (Prevention) Act, an anti-terrorism law.
Student protest leader arrested
"The anti-CAA protest was an organic movement... it'll flourish again." Activist Sharjeel Usmani, who was arrested by UP ATS (Anti-Terrorist Squad) in connection with violence at AMU campus on 15 Dec 2019, speaks to The Quint's @ArshiQureshi30.
Read here: https://t.co/JaNMeii07v pic.twitter.com/z3hFlmV7n8

— The Quint (@TheQuint) September 9, 2020
On 8th July, Aligarh Muslim University (AMU) student and anti-CAA activist Sharjeel Usmani was arrested. He was picked up by the anti-terrorist squad (ATS) from his uncle's house in Azamgarh. The police had informed his family that he was being arrested for his active involvement in a protest against the Citizenship Amendment Act in December 2019 and he was detained at a temporary jail at Lodha. The police also confiscated Usmani's laptop, mobile phone and books.
He has been charged with several penal offences, including sections 147 (rioting), 148 (rioting while armed with a deadly weapon), 149 (committing offences in the prosecution of a common object of an unlawful assembly), 153 (inciting riots) and 153 A (carrying arms in a procession) of the Indian Penal Code. The other charges are sections 188 (disobedience to public servants' order), 307 (attempt to murder), 322 (inflicting grievous injuries), 353 (assaulting public servants) and 506 (making criminal intimidation) of the IPC besides section 67 of the Information Technology Act.
As previously documented, On 15th December, a group of students at Aligarh Muslim University (AMU) had organised a rally in protest against the police violence at Delhi's Jamia Millia University earlier in the day, and against the CAA. The police stormed onto the varsity campus and allegedly caned those they apprehended during the protest. Usmani was one of the students who led the protests. A fact-finding report on the violence and police action at the university has alleged that police used stun grenades, "usually used in war-like situations or terror operations", against AMU students and also raised slogans like Jai Shri Ram (a Hindu chant) while attacking the students and setting alight their scooters and vehicles. On 4th September, Usmani was granted bail by an Aligarh sessions court.
Police complicit in violence against protesters
Police in Delhi were "complicit and an active participant" in the February 2020 violence in Delhi in which 53 people, mostly Muslims, were killed, according to an investigation by Amnesty International India. According to the organisation, the investigation revealed that in the last six months not a single investigation has been opened into the human rights violations committed by the Delhi police. Other violations included excessive force on protesters, torture in custody and dismantling of protest sites.
Amnesty International said it spoke to riot survivors, witnesses, human rights activists and retired police officers and analysed several user-generated videos for the investigation that reveals a "disturbing pattern of grave human rights violations committed by the Delhi police during the riots".
Deadly violence broke out in February 2020 after weeks-long peaceful sit-in protests by Muslims in north-east Delhi against the controversial citizenship law were targeted by Hindu nationalist mobs. More than 500 people were also injured, according to the government.
Pregnant student protester released on bail
In June 2020, The Delhi High Court granted bail to Jamia Millia Islamia student Safoora Zargar after the Delhi Police said it had no objection to her release on humanitarian grounds. Zargar was 23 weeks pregnant. Given the COVID-19 pandemic and the ease with which the disease can spread in overcrowded prisons, concern had been expressed about her health and safety in Tihar jail.
As previously documented, on 21st April 2020, Delhi police charged Safoora under the draconian Unlawful Activities Prevention Act (UAPA) for her involvement in ant-CAA protests. She is facing multiple charges. Human rights groups have called the arrests "politically motivated" and "aimed at silencing those seeking state accountability".
Expression
Journalists attacked by a mob
Noticeboard | Brihanmumbai Union of Journalists demands FIR in attack on Caravan journalists, calls it "breakdown of law and order": https://t.co/sG7xFa4z0g pic.twitter.com/HlNea8iyZU

— The Caravan (@thecaravanindia) August 12, 2020
On 11th August 2020, three journalists working with The Caravan — Shahid Tantray, Prabhjit Singh and a woman journalist — were beaten, subjected to communal slurs, threatened with murder and sexually harassed by a mob while reporting in Subhash Mohalla, in north-east Delhi.
The journalists were reporting on a story concerning communal tensions that broke out in the area on the night of 5th August. The journalists were taking photographs of saffron flags that had been displayed in the area when some men approached them and told them to stop. A man who identified himself as a BJP general secretary asked Tantray for his identity card. The mob launched their attack upon realising that Tantray was Muslim.
When the women journalist tried to get away from the attackers she faced sexual harassment from a middle-aged man who exposed himself to her while others allegedly took her picture and videoed her without consent and verbally harassed her. Later, the mob attacked her as well.
All three journalists registered their complaints at the Bhajanpura station. The police personnel refused to register First Information Reports in the incident and said that they had to examine both sides' complaints before registering a FIR.
In April 2020, India fell two places to 142 out of 180 countries in the 2020 global press freedom index by Reporters Without Borders due to 'constant press freedom violations, including police violence against journalists, ambushes by political activists, and reprisals instigated by criminal groups or corrupt local officials'.
The Delhi Union of Journalists released a statement condemning the attack on the journalists and demanded immediate action. The Press Council of India has taken suo-moto action against the attack on the journalists and has sought reports from the chief secretary and the Delhi police, while the Editors Guild of India called the attack on the journalists "reprehensible" and demanded that the police take quick action against the guilty.
Journalist charged for sharing alleged medical scam on WhatsApp
In another case, a young journalist reporting on health issues, from Sharanpur in Uttar Pradesh, was charged with a fabricated FIR by the Chief Medical Officer (CMO) at the Sharanpur District Hospital for sharing news about a medical scam.
On 2nd August, the journalist, Sankalp Neb, shared a screenshot of a tweet alleging a medical scam on a WhatsApp group in an attempt to draw the attention of senior officials. COVID-19 negative test reports were intentionally shown as positive so that private hospitals could receive government funding. The tweet alleged the suspected involvement of the district's Chief Medical Officer (CMO), BS Sodhi, in the 'scam'.
By evening, the CMO, BS Sodhi, filed a complaint against Neb at the Janakpuri police station. The First Information Report (FIR) registered under various sections of the 'Epidemic Disease Act' and the 'IT Act' accuses the journalist of defaming authorities without any substance.
Lawyer found guilty of contempt for tweets
In August 2020, the Supreme Court of India punished civil rights lawyer Prashant Bhushan with a 'nominal' fine of one rupee for committing criminal contempt by 'scandalising the court'. Bhushan was convicted on 14th August for his tweets criticising the Supreme Court and Chief Justice of India (CJI), Bobde. In one of his tweets, Bhushan had commented on CJI Bobde's photo of himself astride a Harley Davidson bike during the lockdown. In the second tweet, he had criticised the incumbent and past CJIs about the functioning of the court in the past six years. He followed this by filing a 100-page reply in his defence, criticising the court for 'surrendering to a majoritarian executive acting in tyranny'.