Activist group continues resistance against seabed mining in PNG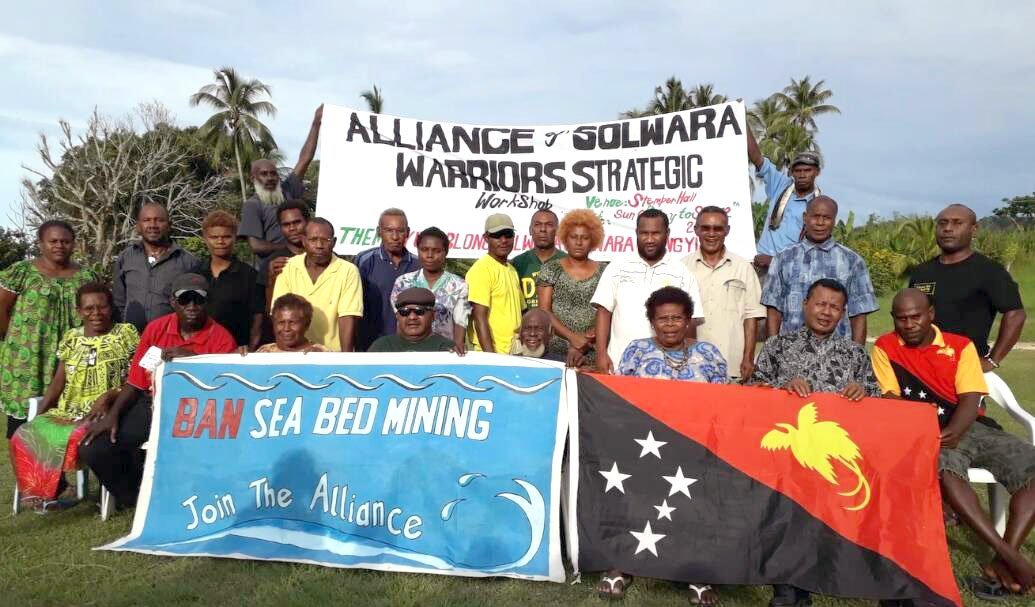 Papua New Guinea's prime minister James Marape who came to power in June 2019 has put a heavy emphasis on governance reforms and tackling corruption and there are proposals for the establishment of an anti-corruption commission and legislation to protect whistle blowers.
In November 2019, the region of Bougainville voted overwhelmingly to gain independence from Papua New Guinea (PNG). Almost 98 percent of the 181,067 votes cast backed independence in the non-binding poll.
The result of the referendum must be ratified by the National Parliament, where there is some opposition to the move. The landmark vote is a key part of a 2001 peace agreement struck in the aftermath of a decade-long war between Bougainville's rebel fighters, PNG forces and foreign mercenaries, which ended in 1998 and killed up to 20,000 people - 10 percent of the population.
The violence in Bougainville began in the late 1980s, triggered by conflict over an enormous opencast copper mine at Panguna. The mine was a huge export earner for PNG, but many in Bougainville felt they received no benefit and resented the pollution and disruption of their traditional way of living. The mine has remained shut since the conflict.
Over the last few months, an activist group known as the Alliance of Solwara Warriors have continued their campaign to ban seabed mining. Refugee and activist Behrouz Boochani was released from detention on Manus island after six years, a senior Papua New Guinea journalist was reinstated after being sacked briefly and thousands marched in support of West Papua.
Association
Anti-mining alliance continues advocacy for a ban on seabed mining
Jonathan Mesulam from the West Coast Development Foundation in Papua New Guinea talks about the rush towards seabed mining in the South Pacific. For more info: https://t.co/OnZYu9DEEa pic.twitter.com/upC8Sm2qQ2

— MiningWatch Canada (@MiningWatch) November 14, 2019
The Alliance of Solwara Warriors is an anti-mining alliance composed of communities within the local areas affected by these deep-sea mines, including local communities within PNG and across the Pacific. It has been organising resistance against seabed mining since 2009 when the controversial deep sea mining project Solwara 1 was proposed. The alliance also launched a legal case against the project in PNG's courts
The Solwara 1 project (Solwara is pidgin for 'salt water') planned to mine mineral-rich hydrothermal vents, formed by plumes of hot, acidic, mineral-rich water on the floor of the Bismarck Sea. However, the company behind Solwara 1, Nautilus, has gone into administration, with major creditors seeking a restructure to recoup hundreds of millions sunk into the controversial project. It is uncertain if the project will continue.
Deep sea mining has proven contentious wherever it has been proposed and trialled across the world. Environmental and legal groups have urged extreme caution around seabed mining, arguing there are potentially massive – and unknown – ramifications for the environment and for nearby communities, and that the global regulatory framework is not yet drafted, and is currently deficient.
The Pacific has been seen as a region of immense deep sea mining potential but at the Pacific Islands Forum in August 2019, the Fiji government called for a 10-year moratorium on seabed mining from 2020 to 2030 which would allow for a decade of proper scientific research of the economic zone and territorial waters. PNG Prime Minister Marape has publicly supported this proposal.
In September 2019, Jonathan Mesulam from the Alliance of Solwara Warriors said a 10-year moratorium would be welcomed, "but we need to go further to protect our seas, our livelihoods and traditions by imposing a ban".
A report, Why the Rush?, released in July 2019 from the Deep Sea Mining Campaign described the Pacific as the "new wild west" for speculative mining ventures, and argued Pacific regional decision-making and political processes have been manipulated by mining companies seeking to take advantage of inchoate and incomplete regulatory frameworks in the region.
Refugee rights activist freed from detention on Manus island
Behrouz Boochani leaves Manus Island after six years, lands in NZ https://t.co/uJQtgfJL1O pic.twitter.com/4gkOz5wNJS

— Al Jazeera News (@AJENews) November 14, 2019
In November 2019, Kurdish-Iranian refugee and author Behrouz Boochani left Papua New Guinea for New Zealand, more than six years after being detained there as part of Australia's notorious offshore processing scheme.
As previously documented by the CIVICUS Monitor, Australia's policy of detaining and processing refugees on Manus Island has resulted in the systematic violation of the rights of hundreds of individuals. Boochani became an outspoken advocate for the asylum seekers and a critic of the offshore processing system, writing numerous articles and producing a film. He documented unsanitary conditions, hunger strikes and violence, as well as deaths caused by medical neglect and suicide. He then wrote a book, via text message, which won Australia's richest literary prize, the Victorian Premier's Prize for Literature.
Boochani has recently been accepted for resettlement in the United States and said he was investigating whether he could fly from New Zealand to the US once the process was completed.
About 1,300 people were originally sent to the Manus detention centre. In 2016, PNG's Supreme Court ruled Australia's detention of asylum seekers on Manus was illegal and the centre was closed the following year. About 260 refugees and non-refugees remain in PNG, and the overwhelming majority have been moved to Port Moresby, in order to bring an end to asylum-seeker processing on Manus.
Expression
Senior Papua New Guinea journalist reinstated after being sacked
In an object lesson about what unified action can do, #PNG news director Neville Choi has been reinstated by his employer EMTV after staff, bolstered by social media, said they would walk off the job unless his sacking was reversed https://t.co/dxczrSbu1d

— Keith Jackson AM (@PNGAttitude) August 22, 2019
In August 2019, the EMTV newsroom staff stopped work in protest at the termination of news manager Neville Choi, a well-respected and leading Pacific journalist.
A public statement listed the reasons for his termination, one of which was his refusal to bury a February 2019 story about the PNG Defence Force pay strike outside the Prime Minister's office. Another reason for the termination was Choi's defiance of a directive from EMTV's board, Kumul Telikom Holdings Ltd, to fire journalist Scott Waide for his coverage of the 2018 APEC summit, including the purchase of a fleet of Maserati luxury cars by the government.
The sacking was also condemned by many media organisations across the region, including the Pacific media rights watchdog PFF, the Pacific Freedom Forum.
Two days later, Neville was reinstated. Ofani Eremae, the Melanesian co-Chair of the journalist network the Pacific Freedom Forum says it's a welcome development, describing it as a "victory" for EMTV staff, "who stood by their colleague during his removal. Also in my view...I think this is a win for media freedom in Papua New Guinea, as well as in Melanesia".
Peaceful Assembly
Thousands march in support of West Papua
Peaceful March against the occupation of West Papua here in Port Moresby pic.twitter.com/IGXTMDesjB

— 37Lionel37 (@LSafiawia) September 10, 2019
In September 2019, thousands of Papua New Guineans marched through Port Moresby in support of West Papuan freedom. This follows weeks of protests by West Papuans, as well as unrest, in the neighbouring Indonesian-ruled territory.
Two prominent PNG MPs led a large demonstration of Melanesian solidarity in the PNG capital - the national capital governor, Powes Parkop, and Oro province's governor, Gary Juffa. Those marching condemned recent cases of racism towards West Papuans in Indonesian cities which sparked the wave of mobilisations across the border. They were also calling for West Papua to be given an independence referendum.
The PNG prime minister James Marape has condemned the violence but reiterated PNG government support for Indonesian sovereignty in West Papua. His government however supports calls for the office of the UN Human Rights Commissioner to have access to the remote territory, on which Indonesia applies tight restrictions.