Sustained anti-government protests continue in Bulgaria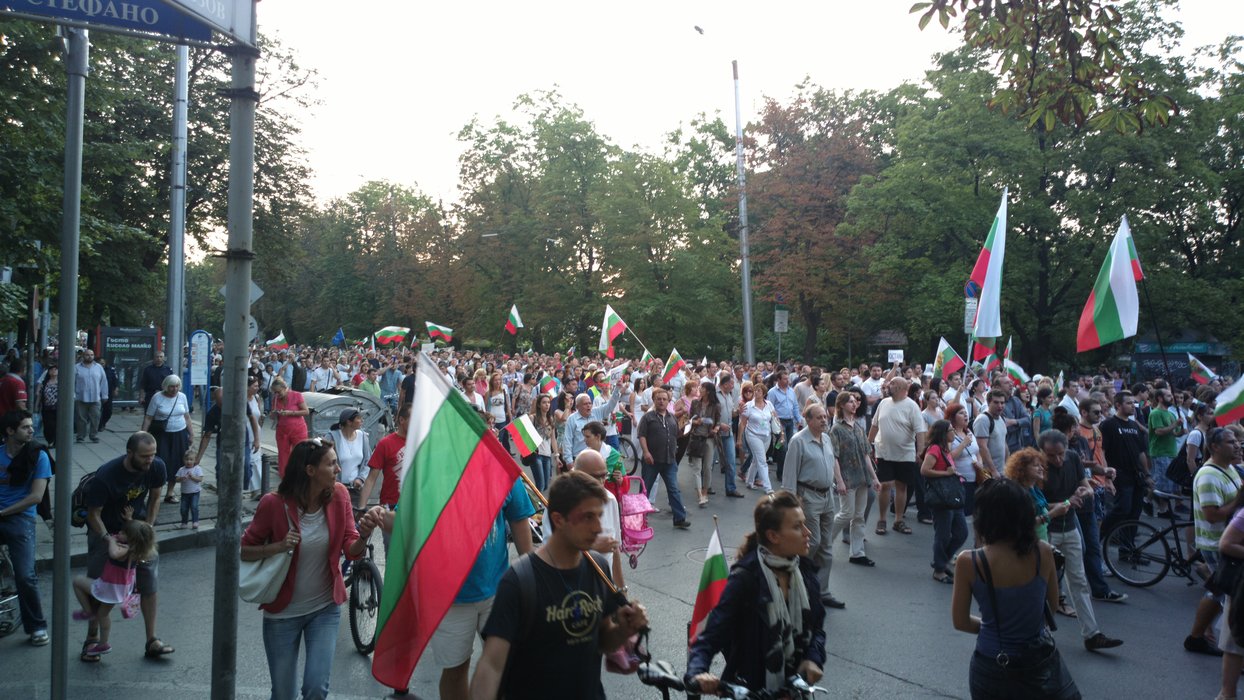 Do you know that #Bulgaria/ns have been #protesting against Boyko Borissov's government and General Prosecutor Ivan Geshev since July 2020? Today is #Day200 of mass #protests! https://t.co/M73j34aYLJ

— Dr Radosveta Vassileva; #Ostavka (@radosveta_vass) January 24, 2021
Peaceful Assembly
126 protesters detained during anti-government protests in September 2020
Anti-government protests which began in July 2020 continued in the months that followed. The protests erupted on 9th July 2020 to demand the resignation of Prime Minister Boyko Borissov's government, as well as the resignation of chief prosecutor Ivan Geshev, based on allegations of corruption and state capture.
As the wave of anti-government protests reached its 56th day, on 2nd September 2020, beteween 90,000 and 100,000 people gathered in Sofia as Bulgaria's Parliament held its first sitting of the 2020 autumn session. Protesters clashed with the police, as police used water cannon, pepper spray and tear gas to disperse the protest and also barred people from joining the protest. In retaliation, some protesters threw objects and vandalised police vehicles. Following the protests, it was reported that at least 126 people were arrested by the police.
Tired but defiant: 100 days of protests in Bulgaria https://t.co/U0HWAT25nj
Issued on: 17/10/2020 - 07:58Modified... pic.twitter.com/rb8s1pv2oU

— Dave's News (@davesnewscom) October 17, 2020
In response to the protests, on 1st October 2020, the European Parliament civil liberties committee called on the Bulgarian authorities to ensure EU values and the Charter of Fundamental Rights are respected, and also highlighted the need for the Bulgarian government to address concerns that taxpayers' money is being embezzled by those associated with the ruling party.
More than three months after the start of the anti-government protests, representatives of one of the groups organising the anti-government protests, "The Poison Trio," announced in early November 2020 that they would be changing strategy from holding public protests to other forms of protest, citing COVID-19 concerns. They added that they would find other forms of protest to continue the fight against injustice and the perpetuation of corruption.
Two days later however, on 3rd November, other groups which were also involved in organising the protests said they would continue to convene public actions.
Expression
Media experts condemn attack against journalists during the protests
Following incidents that took place during the 2nd September protests (see above in peaceful assembly section), several media organisations in Bulgaria, which advocate for the protection of journalists' rights, issued a joint statement condemning the attacks and use of violence against journalists.
According to a statement released by the Union of Bulgarian Journalists (UBJ) and supported by the European and International Federations of Journalists (EFJ), media organisations condemned the police attacks on journalists and peaceful protesters. During the protests, two journalists were injured, and some of them had their equipment damaged by law enforcement officers.
The organisations called on government authorities to stop attacks on journalists and create safe working conditions for them.
Earlier, in August 2020,the Association of European Journalists in Bulgaria condemned an attack on a Bulgarian journalist during a national conference by some political parties after they were prevented by party supporters from doing their work.
Association
New Bill extends pre-registration term for CSOs
In October 2020, the Bulgarian Centre for Not-for-Profit Law (BCNL) reported on a new Bill which would affect CSOs. According to BCNL, the bill aims to amend and supplement the Non-Profit Legal Entities Act by introducing an extension of the term for pre-registration of CSOs into the Registry Agency, from 31st December 2020 to 31st December 2022. The proposal was submitted to the National Assembly for examination and a vote.
BCNL prepared an opinion in support of the proposal to extend the pre-registration deadline.
Bulgaria's CSO sustainability index drops a second year in a row
On 17th September 2020, BCNL announced that Bulgaria's Civil Society Organization Sustainability Index for 2019 had decreased to 3.5, down from 3.4 a year earlier. This was the country's drop in overall score for a second year in a row.
Report on Public Attitudes towards Bulgarian CSOs in 2020 released
A new report about the public's attitude towards CSOs was published in October 2020 by BCNL. The report highlights some improvements in the overall perception of CSOS by the public, including:
- increased recognition of the role of NGOs in supporting social development and protecting citizens' interests;
- increased level of trust in civil society organisations;
- increased efficiency of NGO participation in problem-solving in key public spheres