Pressure increases on Russia as Oleg Sentsov's hunger strike passes 100 days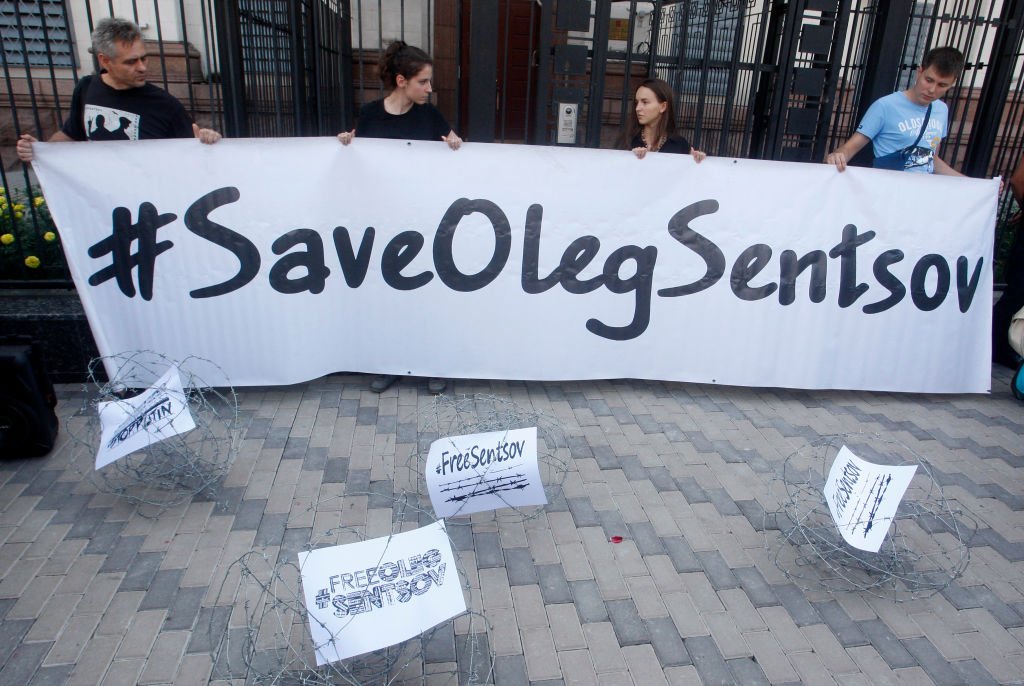 Worldwide protests to support Oleg Sentsov
Demonstrations continue across the world in support of Ukrainian filmmaker Oleg Sentsov, who has been sentenced to 20 years imprisonment in Russia for terrorism-related offences which stemmed from his opposition to the Russian occupation of Crimea. Protests have taken place in Ukraine, across Europe and in North America, as pressure builds on the Russian authorities to act. As the CIVICUS Monitor has previously reported, it is estimated that more than 70 Ukrainian political prisoners are being held by authorities in occupied Crimea and Russia.
Oleg Senstov is a film maker, a political prisoner, has been on hunger strike for over 100 days now, asking for the release of other political prisoners. Read his case, spread the word. https://t.co/OmRdC818ep #freesentsov #freeolegsentsov pic.twitter.com/YjqVGnaBTh

— Dona Коsturanova (@malaovca) August 25, 2018
Sentsov, who is being held along with other Ukrainian political detainees in the Labytnangi penal colony in the Arctic Circle, began a hunger strike on 14th May to demand Russian authorities to release all Ukrainian political prisoners. Authorities in Moscow have refused to allow Amnesty International to visit the prisoner and have so far refused to pardon or release Sentsov, whose hunger strike has being ongoing for over 100 days and continues at the time of writing. Russian authorities say that calls for a pardon should come directly from Sentsov himself, and not his mother. They also say that those who protest should not forget that the filmmaker has been sentenced to 20 years in jail for terrorist acts. Sentsov has said he will not ask for a pardon because he does not believe he has committed any crime. 
Activists have used many forms of protest in their attempts to support Sentsov: street protests, petitions (which have accumulated more than 50,000 signatures), protests in front of Russian Embassies in various countries, resolutions and statements. 
Ukrainian newspaper the Kyiv Post reported that the Russian Federal Penitentiary agreed with Sentsov to provide "support therapy", vitamins and glucose administered by drip which extend the survival time of a person going without food. However, Sentsov's relatives report that the activist's health is deteriorating.
Typical day in Kyiv. Coal miners continued their protest near Ministry of Energy and Coal Industry of Ukraine, asked for a meeting with minister to find out when will they get owed salaries. Minister was not in the mood to talk and tried to run away, but his car was blocked pic.twitter.com/HaUTbt0Nmx

— Liubchenko Dmytro (@dmitrliu) July 13, 2018
Ukrainian miners protest
On 5th July 2018, approximately 800 miners protested in front of the Ukrainian Rada (parliament building) demanding payment of salary arrears and the adoption of a law that allocates financial support to the coal industry, which is currently owned by the state. The protest was organised by the IndustriALL Global Union affiliates, the Coal Mining Workers' Union of Ukraine, and the Independent Trade Union of Miners of Ukraine (NPGU). According to the organisers, the miners had not received their salary for two and a half months. Despite promises by the government, the miners continued to strike into the following week, demanding that they be paid before a return to work.
Attack by #municipal #guards signals rising threats against #journalists in Ukraine https://t.co/j3Mi7VwVVm via @globalvoices #odessa #Ukraine #journalisten #journalistic #journalistenAttack #attacks

— Sergej Engelmann (@SergejEngelmann) July 26, 2018
Expression
On 13th July 2018, journalists were attacked by municipal workers in the centre of Odessa in Eastern Ukraine. The incident, which was captured on film, involved journalists who were covering a dispute between a law firm and several members of the Minicipal Guard in Odessa. During the altercation, the editor-in-chief of the Unsolved Crimes newspaper and Vitaly Tkachenko of Obshestvennyi Priboi newspaper were both physically attacked by police and members of the Municipal Guard, security officers who operate independently of law enforcement institutions but, according to Kanykei Tursunbaeva writing on Global Voices, "at the order of Odessa's city administration". Another journalist, Miroslav Bekchiv, of Obshestvennyi Priboi newspaper, was bundled into a car and beaten up on his way to the police station, allegedly by Yuri Savchenko the first deputy head of the Municipal Guard of Odessa City Council, and Evgenyi Miroshnichenko, the deputy head of the Municipal Guard. Another video appears to show uniformed police spraying pepper spray into the face of a journalist at close range. 
A press release put out by Odessa police on 13th July notes that "during a clash between security representatives and journalists, the participants of the incident sprayed their opponents with gas." From the press release, it is unclear who they consider the "participants of the incident" to be. The statement also indicates that investigations are underway into offences of "hooliganism" and "threat or violence against a journalist" under Ukraine's criminal code.
📅 17 / 07 / 2018 ▶️Follow the @EESC_REX events
📌EU-#Montenegro #civilsociety Joint Consultative Committee, Podgorica
📌EU-#Africa Economic & Social stakeholders' network, Brussels
📌#Eastern Neighbours Follow-up Committee, Brussels

Journalists register👉press@eesc.europa.eu pic.twitter.com/r46dDT1bhs

— EESC PRESS (@EESC_PRESS) July 13, 2018
Association
Ukrainian civil society organisations seek to increase their influence
On 17th July 2018, the European Economic and Social Committee (EESC) organised a meeting of the Eastern Neighbours Follow-up Committee. The EESC is a formal body of the European Union designed to provide a platform for organised civil society in Europe. Ukrainian civil society was represented at the meeting by Olena Carbou (Prystayko), Executive Director of the Ukrainian Think Tanks Liaison Office in Brussels. The meeting allowed civil society participants to exchange their views on how the EESC can support civil society in the Eastern Neighborhood. For Ukrainian NGOs, external support is particularly important and interaction with external partners creates additional opportunities for sharing good practices and continuous monitoring of how Ukrainian government policies related to civil society are implemented, for instance, including ensuring that the government does not limit civil society's watchdog role.
In a positive development for a section of civil society, at the end of June 2018, a few Ukrainian CSOs were invited to the Rada (Ukrainian parliament) to discuss a number of issues related to gender equality. The meeting also served as a platform to launch a new project dedicated to this topic. During the meeting, the Ukrainian Parliament's Commissioner for Human Rights displayed openness to creating a platform to discuss gender discrimination issues.