Watchlist September 2022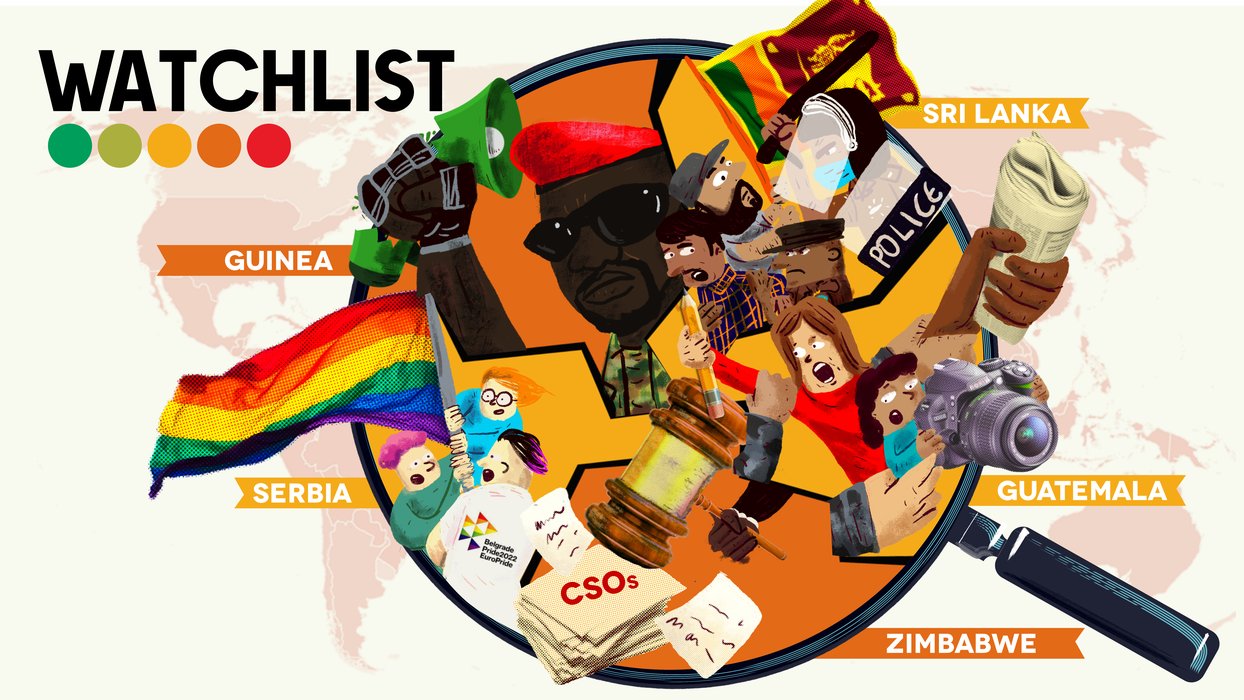 September 2022
Latest Update: 22 September 2022 - The new CIVICUS Monitor Watchlist highlights serious concerns regarding the exercise of civic freedoms in Sri Lanka, Guatemala, Zimbabwe, Guinea and Serbia. The Watchlist draws attention to countries where there is a serious, and rapid decline in respect for civic space, based on an assessment by CIVICUS Monitor research findings, our Research partners and consultations with activists on the ground.
In the coming weeks and months, the CIVICUS Monitor will closely track developments in each of these countries as part of efforts to ensure greater pressure is brought to bear on governments. CIVICUS calls upon these governments to do everything in their power to immediately end the ongoing crackdowns and ensure that perpetrators are held to account.
Descriptions of the civic space violations happening in each country are provided below. If you have information to share on civic space in any of these countries, please write to monitor@civicus.org.
| | | | | |
| --- | --- | --- | --- | --- |
| OPEN | NARROWED | OBSTRUCTED | REPRESSED | CLOSED |
Sri Lanka
Civic space rating:
Obstructed
Sri Lanka remains on the WatchList as serious civic space violations continue to be documented in recent months. It was added to the list in June 2022 due to arbitrary arrests, attacks on journalists and the use of excessive and even deadly force by the security forces as part of a crackdown on anti-government protests, following its worst economic crisis in decades.
In July 2022, following ongoing protests, the then President Gotabaya Rajapaksa fled the country and Ranil Wickremesinghe – a close ally of the Rajapaksa family – was elected as president in a parliamentary vote.
A state of emergency was declared by the new President and emergency regulations give sweeping powers to the police and the armed forces to search and make arrests of 'suspects' without due process safeguards. Further, a coordinated joint operation by the Sri Lankan military, police and special forces forcibly removed parts of the rolling peaceful protest site in front of the Presidential Secretariat in Colombo. Security forces severely beat protesters and lawyers, with some of them being beaten and dragged.
Following this the security forces sought to harass, arrest or detain activists and protesters seeking political reform and accountability including student activists, a prominent trade union leader, social media activists and others. In August 2022, the police disrupted a protest by members of the Inter University Student's Federation (IUSF) in central Colombo using water cannon and tear gas against them. The crackdown was followed by the arrestsof members of the IUSF. Three of those detained around the student protests have been detained under the draconian Prevention of Terrorism Act (PTA).
Guatemala
Civic space rating:
Obstructed
Serious civic space violations have been ongoing in Guatemala as the government moves to undermine the rule of law and reverse anti-corruption efforts of recent years. At the end of July 2022, journalist José Rubén Zamora, president and founder of newspaper elPeriódico, was arrested by police as part of an investigation for alleged extortion, money laundering and influence peddling. Authorities raided the newspaper's offices, froze their bank accounts and later arrested a member of their financial team. These actions were widely viewed as retaliation for elPeriódico's reporting on allegations of corruption in the Alejandro Giammattei administration, including within the prosecutor's office.
This was the latest in a wave of prosecutions and arrests under Attorney General Consuelo Porras, re-appointed in May 2022 to another four years in office, which have mainly targeted justice operators who contributed to the work of the International Commission against Impunity in Guatemala (CICIG) between 2007 and 2019. On 8th June 2022, the former Attorney General of Guatemala and current regional director for the civil society organisation Centre for Justice and International Law (CEJIL), Claudia Paz y Paz, was charged with alleged "abuse of authority," "usurpation of powers," and "torture". The accusations are related to her work prosecuting perpetrators of serious human rights violations during the armed conflict in Guatemala.
Civil society groups have also registered high levels of violence and restrictions against human rights defenders under the Giammattei government. Attacks on HRDs rose sharply in 2020 and 2021, with over a thousand cases documented in each year. Between January and June 2022, human rights organisation UDEFEGUA registered 589 attacks on HRDs and civil society groups, with several cases of defamation, harassment, intimidation and criminalisation.
Zimbabwe
Civic space rating:
Repressed
As Zimbabwe gears up for general elections next year, civic space is under severe attack as incumbent President Emmerson Mnangagwa, who has been in power since a November 2017 military intervention, and a subsequent disputed 2018 election, seeks to defend his presidency. Over the past few months, numerous cases have been reported of increasing restrictions targeting civil society ahead of the elections. Restrictive amendments to CSO law, public vilification of CSOs and foreign diplomatic missions, raids on CSO activities and suspension of CSO registration have become commonplace.
A new Bill, the Private Voluntary Organisations (PVO) Amendment Bill, if passed, will see CSOs subjected to tighter restrictions, and may lead to the undue targeting and/or closure of some prominent CSOs not previously required to register under the PVO Act. It provides the government with unchecked power to revoke a PVO's registration and remove or replace its leadership for terrorism related reasons and prevent PVOs from supporting or opposing any political party or candidate in elections. Even before the passing of the Bill into law however, registration agencies began reporting that they had suspended the registration of trusts and PVOs until further notice, citing 'orders from above'.
To justify the unwarranted crackdown on CSOs and the restrictive Bill, President Mnangagwa embarked on an intimidation and vilification campaign against civil society and diplomatic missions, warning them against "overstepping their boundaries" by interfering in the political affairs of the country. In related tactics, state-controlled media outlets, in responding to the vocal CSO concerns against the Bill, embarked on a propaganda and smear campaign agenda, painting civil society as conduits of foreign agents and criminal activities amongst other narratives.
Separately,disruption of activities by CSOs, followed by arrest and detention of CSO staff have been reported severally, in what may appear to be deliberate efforts by the government to prevent and shut out CSOs from participating in the democratic processes ahead of the upcoming elections. The opposition has also not been spared, as the government embarks on a severe crackdown on opposition party members and their supporters, particularly of the newly formed Citizens Coalition for Change (CCC), who face constant arrests, attempts at banning their rallies and attacks from supporters of the ruling party. This trend was especially seen ahead of the March 2022 by-elections and could be a cause for concern as the general elections draw closer.
Guinea
Civic space rating:
Repressed
On 5th September 2021, Guinea's Special Forces under the leadership of Mamady Doumbouya ousted President Alpha Condé, suspended the Constitution and dissolved the government and its institutions. Although the Comité National du Rassemblement et du Développement (CNRD), the military transitional authorities, initially released dozens of political prisoners and has opened consultations with the opposition and civil society, it became increasingly intolerant of dissenting voices, in particular those criticising how the transition is being managed.
On 13th May 2022, the military transitional authorities announced that all public protests "likely to compromise social tranquillity and the proper implementation of the activities contained in the timetable, (…)" are banned until the start of the electoral campaign period. In July and August 2022, security forces used excessive and lethal force during protests against the "unilateral management of the transition", leading to several casualties and arrests of protesters and HRDs.
Following protests of 28th and 29th July 2022, the Minister of Territorial Administration and Decentralisation of the military transitional government, Mory Condé, issued an order dissolving Front National pour la Défense de la Constitution (FNDC), a coalition of political parties, trade unions and civil society groups, a pro-democracy coalition that organised the protests.
Tournons la Page-Guinée deputy coordinator and FNDC coordinator Oumar Sylla, also known as Foniké Menguè Oumar Sylla was arrested at his residence in the early morning of 30th July 2022. Later in the day, Ibrahima Diallo, TLP-Guinée coordinator and FNDC activist in charge of operations, was likewise arrested by hooded and heavily armed gendarmes. The two FNDC activists and a third person, executive secretary of political party Union des Forces Républicaines (UFR) - who was also arrested on 30th July 2022 - were charged on 2nd August 2022 with 'participation in a prohibited assembly, looting, destruction of public and private property, setting fires and intentional assault and battery'.
Serbia
Civic space rating:
Obstructed
Concerning developments have been noted in Serbia, with the government's attempts to banthe LGBTQI+ Europride march event and ongoing threats to environmental rights defenders and journalists.
Following President Aleksandar Vucic's victory in the April 2022 elections - where observers raised several concerns over irregularities - growing pressure on civil society and the right to peaceful assembly has continued. In its election mission observation final report, the OSCE Office for Democratic Institutions and Human Rights (ODIHR) noted an "uneven playing field" during the election period, stating that major media outlets have close ties with the ruling coalition which reduced pluralism and undermined the "watchdog function of the media".
On 13th September 2022, the Ministry of Interior Affairs confirmed that it was banning the EuroPride march. A month earlier, President Aleksandar Vucic announced the cancellation of the EuroPride event citing safety concerns. EuroPride is a pan European and international LGBTQI+ event, which is hosted by a different European city each year and includes a series of events such as conferences and a march. Despite attempts to ban the EuroPride march, at the last minute the government allowed a short 'walk' to take place on 17th September 2022, thus limiting LGBTQI+ persons from fully exercising their right to peaceful assembly. Anti-LGBTQI+ protesters attempted to disrupt the march and attacked police and journalists. Concerningly, several LGBTQI+ activists reported being physically attacked after the event. Leading up to the EuroPride event, far-right and religious groups, including the Serbian Orthodox Church, have staged anti-LGBTQI+ protests and called for a ban on LGBTQI+ content (similar to the LGBTQI propaganda ban in Russia and Hungary) and for the protection of "traditional family values". The attempts to ban the EuroPride march comes as LGBTQI+ rights are under attack, with several attacks documented against the Pride Info Center in Belgrade over the past three years.
Those defending environmental rights through protests have faced repressions, including harassment and Strategic Lawsuits Against Public Participation (SLAPPs), intended to silence and intimidate them. Additionally, journalists face several restrictions, from SLAPPs to intimidation and harassment.