Watchlist September 2021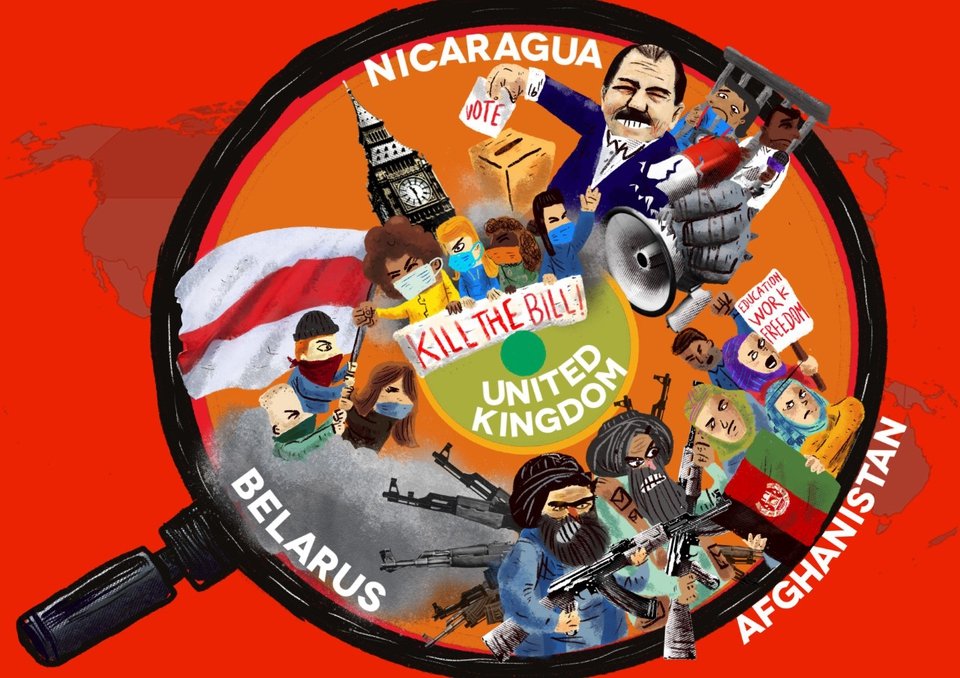 Watchlist September 2021
Latest Update: 23 September 2021 - The new CIVICUS Monitor Watch List highlights serious concerns regarding the exercise of civic freedoms in Afghanistan, Belarus, Nicaragua and the United Kingdom. The Watch List draws attention to countries where there is a serious, and rapid decline in respect for civic space, based on an assessment by CIVICUS Monitor research findings, our Research partners and consultations with activists on the ground.
In the coming weeks and months, the CIVICUS Monitor will closely track developments in each of these countries as part of efforts to ensure greater pressure is brought to bear on governments. CIVICUS calls upon these governments to do everything in their power to immediately end the ongoing crackdowns and ensure that perpetrators are held to account.
Descriptions of the civic space violations happening in each country are provided below. If you have information to share on civic space in any of these countries, please write to monitor@civicus.org.
| | | | | |
| --- | --- | --- | --- | --- |
| OPEN | NARROWED | OBSTRUCTED | REPRESSED | CLOSED |
Afghanistan
Civic space rating:
Repressed
On 15th August 2021, the Taliban seized power in Afghanistan after the government collapsed and US troops withdrew from the country. While some activists, journalists and others who were at risk of reprisals from the Taliban because of their work, were able to leave the country, others have gone into hiding. Since then, there have been reports of activists facing systematic intimidation throughout the country. The Taliban are carrying out house-to-house searches for activists and journalists, particularly women, and interrogating them and their families and demanding to look at their work. This has created a climate of significant fear.
Thousands have taken to the streets to hold anti-Taliban protests, many led by women, and to demand their rights. The Taliban has responded with excessive force, gunfire and beatings to disperse crowds, leading to deaths and injuries of peaceful protesters. On 10th September 2021, the Taliban announced a ban on all protests in Kabul and other provinces in Afghanistan which have not obtained prior permission. Journalists have been at increased risk for covering the situation on the ground. Some covering the protests have been arbitrarily detained, tortured or ill-treated with impunity.
While there have been calls by the international community to protect human rights, urgent requests from civil society to establish an international monitoring and accountability mechanism in response to rights abuses have yet to be realised. 
Belarus
Civic space rating:
Repressed
Repression against Belarusian civil society, which was documented by the Monitor after mass protests broke out before and immediately after the disputed August 2020 presidential elections, has continued relentlessly to date. In July 2021, attacks on human rights defenders and independent journalists intensified. Authorities staged raids and detained dozens of people in several cities across the country after they were accused of supporting the mass protests in the summer of 2020 or of protecting people involved in those protests. The police also continued to detain participants of peaceful protestsand regular citizens for using white-red-white symbols, including in their private residences. In June 2021, former presidential candidate in the 2020 elections Viktar Babaryka was sentenced to 14 years' imprisonment in a high-security penal colony, and by 29th July 2021 the list of political prisoners had reached 589 people.
In addition, at least 40 NGOs were disbanded by authorities in July 2021, in most cases without advance notice, in what Alexander Lukashenko called a "mopping-up operation" against "bandits and foreign agents."
These attacks against civil society come against the backdrop of recent draconian changes to the Mass Media Law and to the Law on Mass Events which were adopted in May 2021. The amendments effectively prohibit criticism against the government, enable authorities to strip journalists of accreditation without a court order, ban any form of public protest against authorities, ban real-time news coverage of mass events and prohibit the collection and use of funds to pay fines for participation in protest rallies, among other restrictions.
Nicaragua
Civic space rating:
Repressed
Since the end of May 2021, Nicaragua's authorities have carried out an unprecedented crackdown on civil society and the opposition. Dozens of political leaders and human rights defenders were arrested and prosecuted as the government acted to silence critics and opponents ahead of presidential elections in November. In many cases these arrests amounted to enforced disappearances, with those detained kept incommunicado from their families and legal representatives for several weeks, without any information from authorities on their whereabouts or the charges against them. At least 45 civil society organisations have also had their legal status revoked since July 2021. Among the organisations targeted were humanitarian organisations providing medical services to vulnerable communities, feminist groups, research institutes, civil society coalitions and professional associations.
The government has used a wide range of repressive legal instruments to criminalise civil society and prosecute rights defenders, enabled by laws approved in 2020 on "foreign agents", on cybercrimes and on crimes against sovereignty. In addition, authorities raided the offices of independent news outlets La Prensa and Confidencial, banned correspondents from major international newspapers and interrogated several journalists as part of an investigation into civil society groups. While recent months have seen Nicaragua's government escalate repression, civic space conditions in the country have been systematically worsening since widespread protests for social rights in April 2018 set off an enduring socio-political crisis.
United Kingdom
Civic space rating:
Narrowed
Civic space is in decline in the UK, with the right to freedom of peaceful assembly repeatedly targeted. Major concerns have been raised on the Policing, Crime, Sentencing and Courts Bill which proposes to give police more power to crack down on protests and will have serious repercussions for minority groups, including Gypsy and Traveller communities and people of colour. The bill, which has completed its second reading in the House of Lords (the upper house of Parliament), comes amid repeated restrictions on protests staged by anti-racism and environmental rights groups, which have been met with disproportionate force and detentions.
Several other legislative developments, such as proposed changes to the Human Rights Act, the New Elections Bill and the Judicial Review and Courts Bill, threaten fundamental rights and democratic checks and balances, which aim to hold the government accountable.
Climate defenders in the UK have repeatedly been targeted in the past few years and publicly vilified as "extremists" by the conservative government. In recent actions, staged ahead of COP26 by environmental group Extinction Rebellion, over 200 protesters were arrested. The group reports that since April 2019, there have been an estimated 2,000 prosecutions for protests organised by the group, with almost 1,000 trials still under way.
Freedom of Information (FOI) is a concern after it was revealed that selected journalists have been 'blacklisted', with FOI requests being processed by a "secretive" Clearing House unit within the Cabinet Office. FOI requests on Black Lives Matter and Extinction Rebellion protests have also been flagged as "high risk" by the Metropolitan Police system.