Watchlist March 2022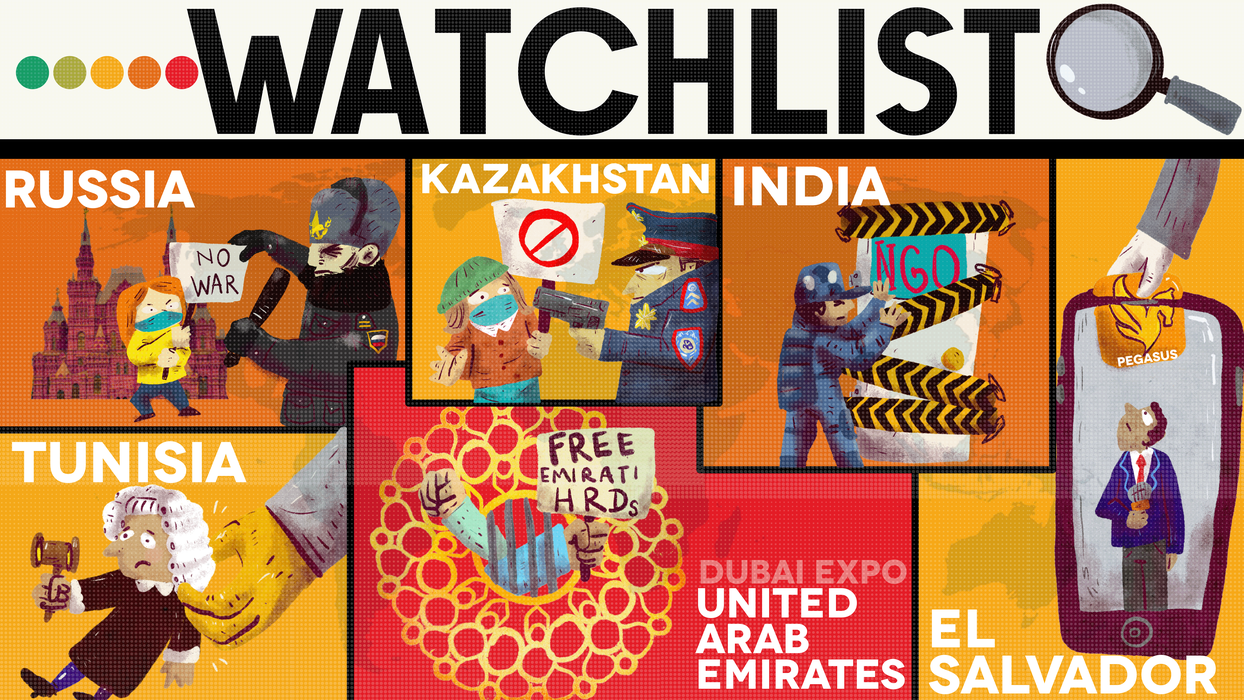 Watchlist March 2022
Latest Update: 10 March 2022- The new CIVICUS Monitor Watch List highlights serious concerns regarding the exercise of civic freedoms in El Salvador, India, Kazakhstan, Russia, Tunisia and the United Arab Emirates. The Watch List draws attention to countries where there is a serious, and rapid decline in respect for civic space, based on an assessment by CIVICUS Monitor research findings, our Research partners and consultations with activists on the ground.
In the coming weeks and months, the CIVICUS Monitor will closely track developments in each of these countries as part of efforts to ensure greater pressure is brought to bear on governments. CIVICUS calls upon these governments to do everything in their power to immediately end the ongoing crackdowns and ensure that perpetrators are held to account.
Descriptions of the civic space violations happening in each country are provided below. If you have information to share on civic space in any of these countries, please write to monitor@civicus.org.
| | | | | |
| --- | --- | --- | --- | --- |
| OPEN | NARROWED | OBSTRUCTED | REPRESSED | CLOSED |
El Salvador
Civic space rating:
Obstructed
In early January 2022, the discovery of Pegasus spyware on devices belonging to 35 journalists and HRDs in El Salvador served as evidence of an ongoing offensive against civic space. It was the latest, but not the only confirmation, that civic actors are viewed as adversaries by the country's powerholders. Since 2019, Salvadoran President Nayib Bukele and his allies have often discredited civil society and vilified journalists who criticise Bukele's administration. In addition, during the second half of 2021, attacks on fundamental freedoms intensified.
In July 2021, lawmakers allied with the government-proposed reforms to the Law on Access to Public Information that could lead to serious setbacks for public transparency and accountability. In November, Bukele's party introduced a bill on 'Foreign Agents' which would impact civil society and the press by establishing stringent registration requirements and a 40% tax on some of their funding. It would also ban them from conducting legitimate activities and could be used to stifle dissent. Public outcry led legislators to reconsider and delay the approval of both bills. After spyware was found on the devices of journalists and civil society actors, in February 2022 legislators swiftly approved reforms to the Criminal Code that use ambiguous language to legalise and enable law enforcement's use of digital surveillance tools.
These efforts to limit civic space take place in a wider context of democratic backsliding. Soon after Bukele's party won a majority in the National Assembly in February 2021, they began undermining judicial independence, replacing judges in the Supreme Court's Constitutional Chamber and forcing out a third of the country's judges with compulsory retirement. In September 2021, magistrates in the Constitutional Chamber published a resolution on consecutive presidential re-election, which was previously banned by the Constitution. Throughout this time, Bukele has stigmitised those protesting against the backsliding and other authoritarian measures.
India
Civic space rating:
Repressed
Civic space in India, has continued to deteriorate in recent months, despite concerns raised at the Human Rights Council by Michelle Bachelet, the UN High Commissioner for Human Rights, in September 2021 over the use of repressive laws to jail activists and human rights violations in Indian administered Jammu and Kashmir.
In January 2022, the authorities halted the Foreign Contribution (Regulation) Act 1976 (FCRA) licenses for numerous civil society organisations to access foreign funding and rejected their requests to renew licenses, including from Oxfam India. Furthermore, the Central Bureau of Investigation of India (CBI) raided the office of People's Watch - Tamil Nadu - and registered a case against the Centre for Promotion of Social Concerns (CPSC), a prominent human rights organisation, and its programmatic unit People's Watch, on charges of violating the FCRA. The law has been invoked by the Narendra Modi regime against human rights groups to justify an array of highly intrusive measures, ranging from raiding NGO offices and freezing bank accounts to suspending or canceling organisations' registration.
Scores of human rights defenders and activists remain in detention under the draconian Unlawful Activities (Prevention) Act (UAPA) and other laws. Slow investigations and stringent bail provisions under the UAPA ensure that those detained under the law are held in pre-trial detention for long periods. Some of those detained also believe that their phones were compromised after having been hacked with the Pegasus spyware.
Journalists have continued to be targeted in India for their work in recent months. In October 2021, the chief editor news portal Rakesh Pathak was detained by police for raising concerns over a redevelopment project in Gujarat, while in November 2021, the Tripura police registered a case against two journalists covering the violence in Tripura. The journalists were also intimidated and threatened for their reporting.
In Jammu and Kashmir, prominent human rights defender Khurram Parvez remains in detention under the UAPA. He was arrested in November 2021. Journalists have also faced harassment including Fahad Shah, editor of the Kashmir Walla magazine, who has been detained under the UAPA for his reporting.  The government has also taken control of Kashmir Press Club premises - the largest independent media body in Indian-administered Kashmir.
Kazakhstan
Civic space rating:
Obstructed
A rapid decline in civic space has been noted in Kazakhstan, with the freedoms of peaceful assembly, expression, and association under threat.  Following January 2022 events, when the country experienced its most serious crisis of its 30 years of independence, violations of civic freedoms have continued. Peaceful protests, in which thousands of people across the country took to the streets in early January 2022 to call for social and political change, turned bloody, as some in the crowd resorted to violence and security forces used excessive force to put an end to the protests. The circumstances under which the protests turned violent and the role of different actors in these developments have yet to be fully investigated. There are serious concerns over the manner in which authorities responded to the crisis. In particular concerns have been expressed over their failure to make a distinction between non-peaceful and peaceful protesters, both of whom were indiscriminately branded as ''terrorists''. In addition, the authorities have been criticised for the arbitrary mass detention of thousands of protesters; reports of the excessive use of force, including the use of lethal force against peaceful protesters and passers-by; widespread allegations of torture and ill-treatment, as well as due process violations; disappearances of detained protesters; and the prosecution of people for peacefully exercising their rights to freedom of peaceful assembly, association and expression.
Additionally, during these events, the authorities implemented a several-day nationwide internet shutdown, thereby preventing access to information about the crisis. Media workers were obstructed and attacked when covering the events, and independent journalists and human rights defenders have been targeted by smear and intimidation campaigns following the protests. Civil society activists and opposition supporters are among those detained, ill-treated and prosecuted in connection with the protests, reinforcing concerns that the events are being used as a pretext to increase pressure on government critics.
President Tokayev has rejected calls for an international investigation into the January events. At the same time, the authorities have thus failed to initiate a comprehensive, impartial and effective national investigation into these events to determine what happened and to hold to account all those responsible for human rights violations, including high-level officials.
Russia
Civic space rating:
Repressed
On 24th February 2022, Russia launched a military operation in Ukraine, with explosions heard across the country and Ukraine's foreign minister warning a "full-scale invasion" was under way. In the days that followed, Russian forces embarked on a full-on offensive in Ukrainian cities, in what Putin said was intended to topple the Ukrainian government.
Meanwhile, as the war ensued in Ukraine, Russian authorities embarked on a severe crackdown on civic freedoms after authorities brutally responded to nationwide anti-war protests, threatened, and shut independent media outlets for reporting about the war in Ukraine, and blocked access to social media and media websites.
Since Russia's invasion on 24 February 2022, anti-war protests have been held daily across the country. Peaceful protests have been recorded in over 130 cities, with over 13389 demonstrators being detained as of 7 March according to data collected by OVD-Info. Many protests have been met with excessive force with peaceful activists being beaten and assaulted by police. There are also reports of protesters being denied medical assistance and access to lawyers while in detention. Responding to the mass protests, Russia's Investigative Committee warned against organising unsanctioned gatherings and threatened "harsh punishment" for those who organise "mass riots."
Censorship has reached new levels as authorities seek to distort information about the war in Ukraine. Over 15 journalists have been detained for covering the protests and on 1 March 2022 authorities took Russia's top independent radio station, Echo Moskvy (Echo of Moscow) off the air for its coverage of the war. The outlet's board of directors thereafter decided to liquidate the radio channel and shut down its website. Two days later, Dozhd (Rain), a top independent TV station in Russia, announced it was suspending operations after receiving a threat of closure from the authorities.
Censorship has also been abetted by parliament, after it passed a new law imposing jail sentences up to 15 years for people spreading "fake information" about the military on 4th March 2022. Among other offences, the law criminalises using words such as "war" and "invasion" to describe the Russian attack. As a result, a number of international media outlets including the BBC, CNN, Bloomberg, ABC News and CBS News have temporarily suspended the work of all its journalists in Russia.
Online, reports indicated that Facebook was blocked in the country on 4 March in retaliation for what communications watchdog Roskomnadzor (RKN) described as discrimination of Russian state media. Twitter was also blocked thereafter.
Tunisia
Civic space rating:
Obstructed
A rapid decline in civic space has been noted in Tunisia, with the rights to peaceful assembly, expression and association significantly threatened. Following the decision of President Kais Saïed to dismiss Prime Minister Hichem Mechichi, suspend parliament and lift parliamentary immunity, violations on civic freedoms have continued unabated. In August 2021, the President extended his extraordinary powers indefinitely. In December 2021, he announced that parliament would remain suspended until December 2022, when elections for a replacement body will take place. Furthermore, he announced that there would be a national referendum in July 2022 on revisions to the Constitution.
In a concerning development for judicial independence, in February 2022 President Saïed announced the dissolution of the Supreme Judicial council which deals with the independence of judges. UN High Commissioner for Human Rights Michelle Bachelet noted the dissolution of the High Judicial Council as a clear violation of Tunisia's obligations under international human rights law. A week later the President announced a decree which replaced this council with a Temporary Supreme Judicial Council, to include nine of its 21 members appointed by the President who also has powers to dismiss "any judge failing to do his professional duties".
Amid the ongoing democratic crisis, those critical of the President have faced arbitrary restrictions on freedoms, which include travel bans and detentions. Independent media outlets have faced significant restrictions, including office raids and the prosecution of journalists. The right to peaceful assembly has also been restricted. On 13th January 2022 the government imposed a blanket ban on peaceful assemblies in response to rising COVID-19 numbers. The ban came a day before planned anti- government protests set to take place on the 11-year anniversary of the Tunisian revolution, which ousted the former president Zine El Abidine Ben Ali. Those staging anti-government protests have been met with excessive force. In addition, civil society has raised the alarm on a recently leaked draft amendment to the country's Decree law on associations which poses a serious threat to the freedom of association.
United Arab Emirates
Civic space rating:
Closed
The UAE's continued efforts to project a tolerant image internationally has been in the spotlight, with a glaring contradiction between an image of the country that promotes a diversity of voices and the trials and imprisonment of UAE human rights defenders.
The Dubai Expo taking place from 1st October 2021 until March 2022, with a purported mission to bring people together to create a better tomorrow, has been a classic demonstration of the contrast between the image projected by the UAE internationally and its dismal record of oppressing and imprisoning peaceful human rights defenders.
A similar contradiction was evident in late November 2021, after Major General Ahmed Nasser Al-Raisi was elected President of the International Criminal Police Organisation (INTERPOL) during the INTERPOL General Assembly. Al-Raisi's election poses a significant threat to human rights and civic freedoms in light of numerous allegations against the Major General's role in perpetrating torture as Inspector General of the United Arab Emirates' (UAE) Interior Ministry.
These attempts to whitewash the UAE's image internationally have taken place in the backdrop of complete intolerance for peaceful dissent, where human rights defenders face long prison sentences and severe retaliation for peacefully exercising their right to freedom of expression, while the government tightens the reins by enacting more restrictive legislation and using surveillance against activists and dissidents.
2022 marks the tenth anniversary of the arrest and arbitrary detention of a group of pro-democracy activists known as the UAE 94, who remain arbitrarily imprisoned for signing an online petition calling for political reform. They are held in Al-Razeen prison, a maximum-security facility in the desert of Abu Dhabi, where activists, government critics and human rights defenders are commonly held.
Similarly, March 2022 marks five years since the arrest and subsequent imprisonment of prominent human rights defender Ahmed Mansoor. Mansoor, who was arrested in a late-night raid on 20th March 2017 and held incommunicado for a year, was sentenced to ten years in prison on charges related to posts on his social media which called for the release of imprisoned HRDs and for investigating rights violations in Yemen and Egypt.
Other human rights defenders and journalists arrested for their opinions still remain in detention. Among them is Dr. Nasser Bin Ghaith, who was arrested on 18th August 2015 for his online criticism of the Emirati and Egyptian authorities. He was later sentenced to ten years in prison.
In continued efforts by the authorities to completely dismantle dissent in the country, despite the image of tolerance projected internationally, a newly-adopted anti-rumour and cybercrime law, Federal Law No. 34 of 2021 on combating rumours and cybercrime, which replaced the Law on Combating Information Technology Crimes, criminalises the work of journalists, whistleblowers, activists and peaceful critics.
Spyware has also been a key strategy used by UAE authorities to target activists and other dissidents. In July 2021, information emerged that more than 400 people with UK mobile phone numbers, including exiled dissidents and supportive activists, were listed with the NSO Group behind Pegasus spyware, a list made at the request of the client, the UAE Government.