Watchlist June 2022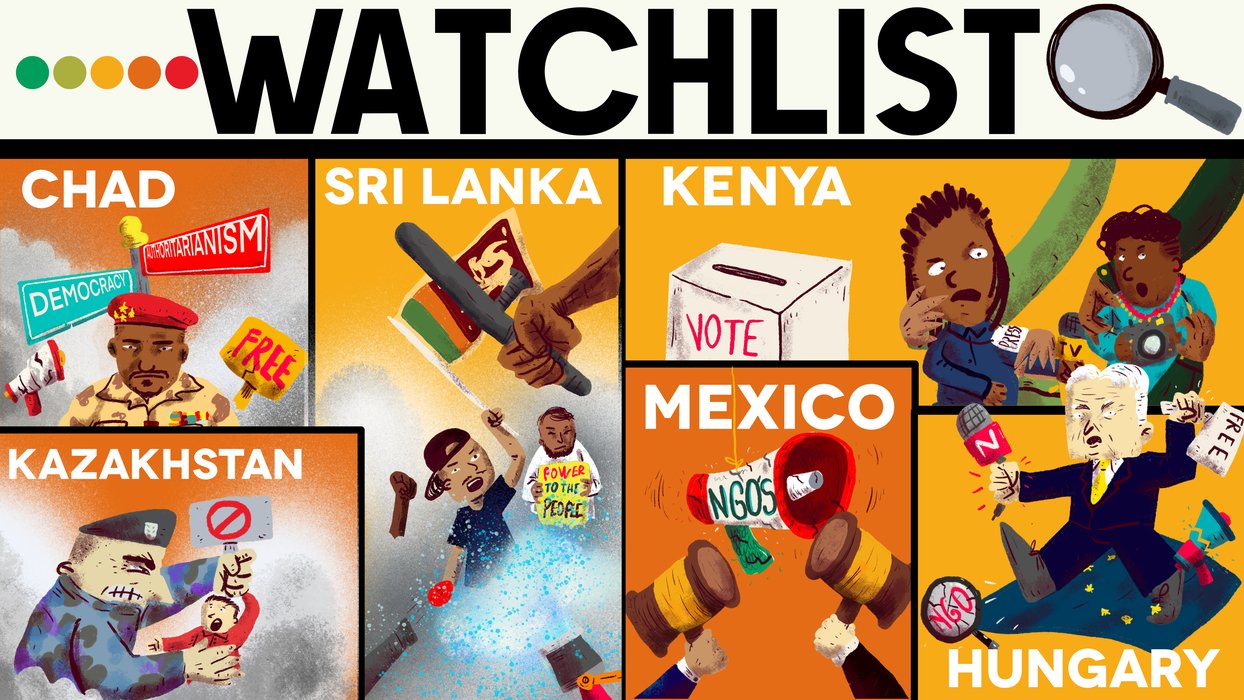 Watchlist June 2022
Latest Update: 21 June 2022 - The new CIVICUS Monitor Watchlist highlights serious concerns regarding the exercise of civic freedoms in Sri Lanka, Hungary, Kazakhstan, Mexico, Chad and Kenya. The Watchlist draws attention to countries where there is a serious, and rapid decline in respect for civic space, based on an assessment by CIVICUS Monitor research findings, our Research partners and consultations with activists on the ground.
In the coming weeks and months, the CIVICUS Monitor will closely track developments in each of these countries as part of efforts to ensure greater pressure is brought to bear on governments. CIVICUS calls upon these governments to do everything in their power to immediately end the ongoing crackdowns and ensure that perpetrators are held to account.
Descriptions of the civic space violations happening in each country are provided below. If you have information to share on civic space in any of these countries, please write to monitor@civicus.org.
| | | | | |
| --- | --- | --- | --- | --- |
| OPEN | NARROWED | OBSTRUCTED | REPRESSED | CLOSED |
Sri Lanka
Civic space rating:
Obstructed
There has been an increasing assault on civic freedoms in Sri Lanka following mass protests in the country that began in early March 2022, calling for the resignation of President Gotabaya Rajapaksa, due to the worsening economic condition in the country.
Human rights groups have documented numerous violations by the state and security forces committed with impunity. A state of emergency was declared in April 2022 to quell protests. It allowed authorities to arrest and detain suspects without warrants and restrict fundamental rights such as the freedoms of expression and peaceful assembly. The authorities also shut down social media networks. In May 2022, under the pretext of maintaining law and order, the government imposed another state of emergency, deployed the military and imposed a nationwide curfew.
A number of protests were met with excessive force including water cannons, tear gas and rubber bullets. On 31st March 2022, hundreds of protesters who marched outside President Gotabaya Rajapaksa's private residence were met with unprovoked force, leaving at least 50 people injured. Dozens of protesters were arrested, and some were ill-treated in custody. There were also some incidents of violence by protesters whichcivil society groups believe may have been incited by individuals infiltrating the protests.
On 19th April 2022, police opened fire using live ammunition on a large group of protesters in Rambukkana, leaving one person dead from gunshot wounds and 12 others injured. On 5th May 2022, police fired tear gas on students protesting around Parliament. At least 12 protesters were arrested.
Journalists and social media activists have also been targeted. At least eight journalists who were covering the protests on 31st March were allegedly assaulted by security forces and six journalists were accused of violating Section 120 of the Penal Code, which makes it an offence to "excite feelings of disaffection" against the president or government. Thisara Anuruddha Bandara, a youth activist who actively promoted the #GoHomeGota social media campaign to oust the president - used widely during the protest – was picked up at his home on 1st April 2022 in an abduction-style arrest and charged, before being granted bail.
On 9th May 2022, protesters peacefully demonstrating in front of the Presidential Secretariat for over a month were violently attacked by pro-government supporters who were allegedly incited to violence by top party leaders. The mob demolished tents and brutally attacked unarmed protesters. The police were largely bystanders to the violence, doing little to effectively protect the peaceful protesters and their protest site.
Hungary
Civic space rating:
Obstructed
A rapid decline in civic space has been noted in Hungary, with the rights to freedoms of association and expression under threat. In May 2022, Prime Minister Viktor Orbán announced yet another state of emergency, citing Russia's war on Ukraine as a "constant threat to Hungary''. The new state of emergency gives the government power to rule by decree, thus raising concerns for fundamental rights. Similar measures implemented during the COVID-19 pandemic via the Authorisation Act granted excessively wide powers to the government to rule by decree. Earlier in April 2022, Orbán and the Fidesz party secured its fourth term in a landslide victory during the general elections. Shortly after the election outcome, the European Commission for the first time triggered its rule of law conditionality mechanism which could see Hungary lose EU funds.
The government has continued its attack on civil society organisations (CSOs). Shortly after the elections, the State Audit Office began investigations into thousands of NGOs which are foreign funded and "capable of influencing public life". This comes after the government passed a new law last year, which requires the State Audit Office to report annually on the financial status of NGOs which have a budget that exceeds €55,000 (approx US$ 60,288), enabling the Office to selectively audit them. CSOs have faced increasing public vilification ahead of the general elections.
Media pluralism continues to decline as independent media are pushed out by the government-controlled National Media and Communications Authority (NHHH) and its Media Council, the supreme watchdog of Hungarian media. In the latest case in April 2022, the Media Council blocked the frequency licence renewal of the independent station Tilos Rádió, which began operating in the 1990's as the first non-profit independent radio station in Hungary. The council stated that the station had violated legal requirements on four occasions. Press groups state that the decision is harmful to media pluralism in the country.
Additionally, the government has continued to erode LGBTQI+ rights through restrictive legislation. The latest restrictions came when the government passed an 'anti-LGBTQI+ propaganda' law in June 2021, which prohibits education and advertising that is deemed to 'popularise' or even depict consensual same-sex conduct or the affirming of one's gender to children. As part of its anti-LGBTQI+ campaign, the government held a referendum on the law on the same day as the elections, which failed to garner enough votes to be deemed valid. Following the referendum outcome, 16 CSOs who campaigned for the anti-LGBTQI+ referendum to be invalidated have been fined by the National Election Committee. Meanwhile, the consequences of the new anti-LGBTQI+ propaganda law are already being documented, confirming fears that it will lead to increased homophobia.
Kazakhstan
Civic space rating:
Repressed
A rapid decline in civic space has been noted in Kazakhstan, with the freedoms of peaceful assembly, expression and association under threat. In early January 2022, peaceful protests, in which thousands of people across the country took to the streets to call for social and political change, turned bloody, as some in the crowd resorted to violence and security forces used excessive force to put an end to the protests. The circumstances under which the protests turned violent and the role of different actors in these developments have yet to be clarified. Following the January 2022 events, which was the country's most serious crisis in its 30 years of independence, violations of civic freedoms have continued.
There are serious concerns over the manner in which authorities responded to the January crisis. Over 10,000 protesters were detained, with reports of the excessive use of force, including the use of lethal force against peaceful protesters and passers-by; widespread allegations of due process violations, as well as torture and ill-treatment, with eight detainees having died in custody; disappearances of detained protesters; and the prosecution of people for peacefully exercising their rights to freedom of peaceful assembly, association and expression.
During the events, media workers were obstructed and attacked, and independent journalists and human rights defenders were targeted by smear and intimidation campaigns following the protests. Civil society activists and opposition supporters are among those detained, ill-treated and prosecuted in connection with the protests, reinforcing concerns that the events are being used as a pretext to increase pressure on government critics. Many protesters were warned, fined and sentenced to short-term detention for participating in assemblies that had not been sanctioned by authorities, and some activists are facing criminal charges related to the January protests, believed to be politically motivated.
The authorities have failed to independently investigate the 'Bloody January' events, with the investigation process initiated by the government lacking impartiality. While President Tokayev has vowed that all allegations of abuse in detention will be investigated, authorities have also failed to carry out thorough, impartial and effective investigations into such allegations and to adequately protect victims. In addition, there have been reports about acts of intimidation and harassment of civil society actors working to document and assist victims of violations.
Despite the pledges of the authorities to create "a new Kazakhstan'' and promote political pluralism, the authorities continue to crack down on opposition movements, disperse peaceful protests on issues that are not convenient to those in power and persecute government critics.
Mexico
Civic space rating:
Repressed
In February 2022, a legislator of Mexico's governing party Morena introduced a bill to reform tax legislation to restrict foreign funding for civil society groups working to influence laws and engaging in strategic litigation. The text under consideration by the Chamber of Deputies would enable the government to revoke the non-profit status of organisations found to be non-compliant. If approved, the reform could prevent human rights defenders from carrying out important work challenging restrictive laws, debating public policy and seeking to improve rights protections. This effort was preceded by other measures taken under the current government to restrict funding and obstruct the work of civil society, such as removing tax incentives for donations to CSOs.
Meanwhile the spiral of violence against the press in Mexico continues unabated. For several years, the country has been among the mostly deadly in the world for journalists and this year has been no different. In the first five months of 2022, at least 11 journalists were killed, sometimes in brazen attacks in broad daylight. Outrage over the wave of murders has led to protests for justice and calls for more government action to ensure security for reporters under threat.
Despite this crisis of violence, President Andrés Manuel López Obrador (AMLO) and his supporters display an openly hostile attitude toward journalists, and antagonise human rights defenders, protesters and groups that criticise the government. The President himself often makes vilifying statements that seek to disparage these actors and their work. In one example, in February 2022, the president published private information on a journalist, and later described him and others who publish critical articles as "thugs, mercenaries, sellouts." Since taking office, AMLO has also questioned the legitimacy of human rights defenders, such as feminist activists protesting against gender-based violence.
Kenya
Civic space rating:
Obstructed
Kenya has been added to a watchlist of countries that have seen a steady decline in civic freedoms. In the run-up to August 2022 elections, civic space continues to deteriorate as authorities systemically use excessive and lethal force against peaceful protesters, journalists face brutal and fatal attacks for their work, while the LGBTQI+ community faces unprecedented attacks and repression.
Excessive use of force has characterised the Kenyan authorities' systemic response to protests in the country despite the constitutional guarantee of the right to peaceful assembly. The police have continued to brutally disperse peaceful protests using lethal weapons such as teargas and rubber bullets, using batons to assault protesters, and subjecting protesters to arbitrary and illegal detentions. As elections draw near, the culture of vicious repression of protests by authorities remains worrisome and tells of the expected government response to any anticipated election related protests.
In what has been seen by some as an effort to extend the government's control over the media, with less than a year to the elections, president Uhuru Kenyatta recently appointed a new head of the Communications Authority of Kenya, thereby seemingly consolidating the ruling party's power over a strategically important body that is meant to be non-partisan. The potential political interference undermines the body's mandate to serve as a watchdog for public media and to monitor the state news agency's operations. In principle, the authority has the responsibility to ensure fair and impartial reporting around the upcoming elections. However there is a risk that it would be used to diminish the space for independent media.
Incidents of attacks on journalists have notably increased in the country over the last year and, as the country heads into this year's elections, this trend continues to be evident as a key violation of civic space. National and county government officials and their staff have in some instances been identified as the key violators.
LGBTQI+ rights have also come under repeated attack. The latest restrictions by the state include ongoing protracted efforts by the Non-Governmental Organisation Coordination Board to appeal the High Court and Supreme Court judgments allowing the registration of the National Gay and Lesbian Human Rights Commission as an NGO. Failure by state agencies to fully investigate rising cases of brutal and fatal attacks against members of the LGBTQI+ community also remains of great concern.
Chad
Civic space rating:
Repressed
Chad has been added to a watchlist of countries that have seen a steady decline in civic freedoms. The right to peaceful assembly in particular has seen an alarming number of violations. The military authorities, who took power after the death of former President Idriss Déby Itno in April 2021, have cracked down on critics and protests demanding a return to civilian rule. Violations of the right to protest include the frequent banning of civil society and opposition protests, the use of excessive and lethal force against protesters and arrests of protesters and protest organisers.
Between 14th and 17th May 2022, six members and supporters of Wakit Tama, a coalition of civil society actors and opposition, were arrested in relation to a protest on 14th May 2022 against the presence of French military troops, the perceived support of France to the military authorities and to demand a return to civilian rule. The six, including Wakit Tama spokesperson Max Loalngar and trade union leaders Gounoung Vaima Ganfare and Youssouf Korom, face charges of gathering to cause public disturbance, harm to property and physical assault. Faced with calls on social media to protest against these arrests, the Minister of Public Security and Immigration Idriss Dokony Adiker, issued a blanket ban on all protests in Chad on 20th May 2022. Planned protests for 28th, 29th and 30th May 2022 were likewise banned on grounds of maintaining public order.
Security forces have repeatedly used excessive force, including tear gas and live ammunition, to disperse peaceful protesters, killing dozens of people. At least 20 people were killed, 152 people injured and 849 arrested during protests against a possible sixth term for President Déby prior to his demise and against the military takeover after April 2021, according to a report by pro-democracy movement Tournons la Page. Additionally, cases of torture and ill-treatment of those who have been detained have been documented.
Despite announcements of investigations into the killing of protesters, to date no one has been held accountable for the killings. In Chad, abuses by security forces during protests are met with impunity.
Human rights defenders (HRDs) are routinely subjected to threats and judicial harassment. On 6thMarch 2022, coordinator for the Chadian chapter of pro-democracy movement Tournons la Page (TLP), Jacques Saham Ngarassal, received threats in a series of anonymous phone calls. The threats followed days after the HRD was interviewed on radio station Liberté FM regarding the human rights situation in Chad, as TLP had published a report documenting violations in pro-democracy protests.
In the past few years, several journalists have been arrested and prosecuted. On 20th April 2022, journalist for radio station Radio Oxygène, Olivier Memnguidé, was arrested when reporting on clashes between protesters and security forces in Donia, province of Logone Occidental. The journalist was taken to the nearby city of Moundou, where he was held for five days on accusations of rebellion.
Authorities in Chad regularly resort to internet restrictions. Access to internet and social media has been disrupted over 900 days between the last presidential elections in 2016 and 2021, according to Amnesty International.