Watchlist February 2021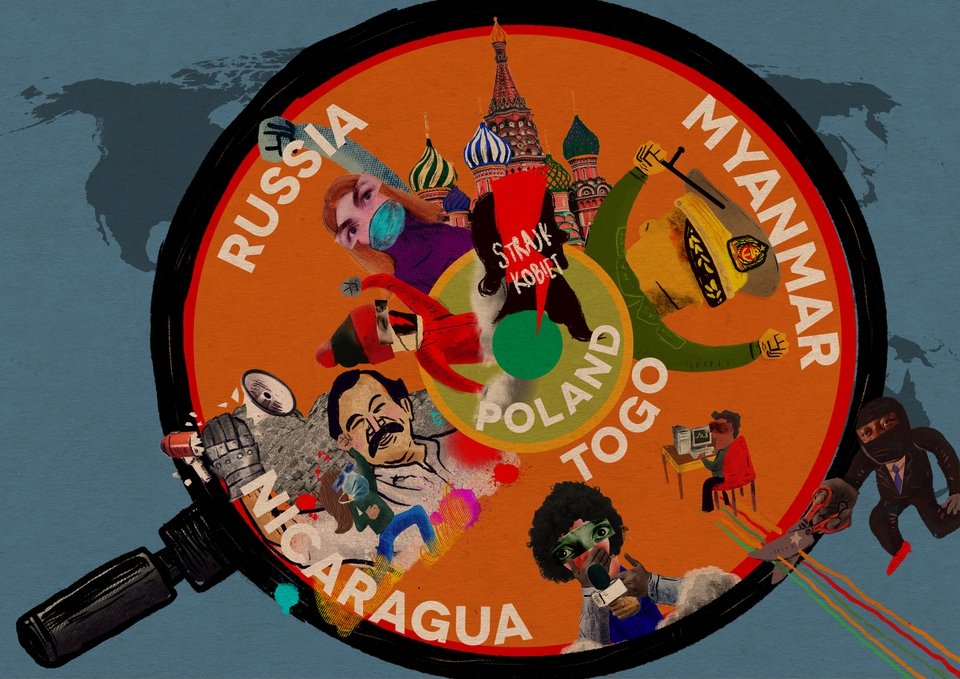 February Watchlist 2021
Latest Update: 18 February 2021 - The new CIVICUS Monitor Watch List highlights serious concerns regarding the exercise of civic freedoms in Myanmar, Nicaragua, Poland, Russia and Togo. The Watch List draws attention to countries where there is a serious, and rapid decline in respect for civic space, based on an assessment by CIVICUS Monitor research findings, our Research partners and consultations with activists on the ground.
In the coming weeks and months, the CIVICUS Monitor will closely track developments in each of these countries as part of efforts to ensure greater pressure is brought to bear on governments. CIVICUS calls upon these governments to do everything in their power to immediately end the ongoing crackdowns and ensure that perpetrators are held to account.
Descriptions of the civic space violations happening in each country are provided below. If you have information to share on civic space in any of these countries, please write to monitor@civicus.org.
| | | | | |
| --- | --- | --- | --- | --- |
| OPEN | NARROWED | OBSTRUCTED | REPRESSED | CLOSED |
Myanmar
Civic space rating:
Repressed
On 1st February 2021, the Myanmar military regime seized power in a coup, arrested the civilian leaders of the national and state governments and announced a one-year "state of emergency." The military arrested the de facto leader, State Counsellor Aung San Suu Kyi and other senior figures from the ruling National League for Democracy (NLD) in early morning raids in the capital, Naypyidaw. The military also detained NLD officials and civil society activists in other parts of Myanmar and imposed telecommunications blackouts in parts of the country.
Pro-democracy activists have launched a protest campaign dubbed the "Civil Disobedience Movement". They are demanding the release of Aung San Suu Kyi and other detained leaders and are calling on the military to respect the results of the country's November 2020 election.
As the military coup was under way, internet and phone outages were  reported in several parts of the country, including in the capital, Naypyitaw, the largest city, Yangon, as well as Shan and Kachin States and the Mandalay and Sagaing regions. Since then the military has ordered telecoms operators to block access to Facebook,Twitter and Instagram and to fully shut down internet and 4G services. Internet access was partially restored on 7th February. New cyber security laws have been proposed that could violate the rights to freedom of expression, data protection and privacy.
There have been arrests of civil society activists and politicians following the coup. As of 15th February 2021, around 400 people have been detained including activists, NLD officials and lawmakers, according to the Assistance Association for Political Prisoners (AAPP). According to human rights groups, journalists in Myanmar have also reported credible threats to and fear for their safety. Some local journalists had been arrested or reportedly gone into hiding. Journalists are also reporting increased surveillance of news reporting.
On 9th February 2021, military authorities imposed a curfew and overly broad restrictions on gatherings in 36 townships, effectively making all peaceful assemblies unlawful. Despite the restrictions, hundreds of thousands of people demonstrated in largely peaceful protests across the country. In response, the police used teargas, water cannon, rubber bullets and live ammunition.
Nicaragua
Civic space rating:
Repressed
In April 2018, widespread protests for social rights set off a crisis in Nicaragua which persists to date. Systematic repression of demonstrations has effectively suppressed mass mobilisations. Even alternative forms of demonstration, such as flash flyer distribution and satirical performances, have been swiftly punished. Human rights defenders, journalists and perceived political opponents face repeated attacks, criminalisation and harassment from security agents and civilian pro-government groups. The government enacted an Amnesty Law in 2019 which led to the release of hundreds of political prisoners but shielded human rights violators from investigation. Since then, there has been an increase in cases of human rights defenders charged with common crimes, such as drug and arms possession, which authorities use to convict them while discrediting them and denying their status as political prisoners. Indigenous communities of Nicaragua have also denounced an upsurge in attacks, with at least 10 Indigenous people killed in 2020.
In addition, Nicaraguan authorities have sought to silence independent press, including through the detention of journalists, financial strangulation, seizure of assets and even by refusing to release major news outlets' paper and ink imports from customs.
Since the end of 2020, pro-government legislators have doubled down on civil society, enacting a series of laws designed to reduce the space for freedoms of association, peaceful assembly and expression. These included a legislation requiring organisations to register as " foreign agents", expanding government control over civil society, and laws which enable the criminalisation of legitimate online activity, as well as further persecution of protesters and political opponents. Another law banning "traitors" from public service, enacted in January 2021, may also be used to prohibit opposition candidates from taking part in upcoming general elections.
Poland
Civic space rating:
Narrowed
Civic space in Poland has been in decline since the ruling Law and Justice Party (PiS) came into power in 2015. The government has passed over fifteen laws and reforms which undermined judicial independence, the rule of law and as a result civic space.
On 22nd October 2020 the Constitutional Tribunal ruled to impose a near-total ban on abortion. Human rights organisations regard this ruling as illegitimate as the independence and impartiality of the Tribunal has been being severely undermined due to judicial reforms by the PiS party. The decision has sparked months of ongoing protests.
Authorities have used excessive force on protesters, which included the use of tear gas and pepper spray, kettling tactics and physical violence. Far-right groups have also physically attacked protesters. Despite identifying themselves as members of the media, journalists covering protests have been detained and physically attacked by authorities and far-right groups. Protesters of all ages, including minors and older persons, have been intimidated, detained and charged for participating in or expressing support for protests. Thus far, at least 150 people have been detained. Authorities have used unjustifiable detention methods, where in some cases, detainees have had little or no access to legal representation and have been subjected to strip searches or physical violence during detention.
LGBTQI+ persons have continuously been targeted by the government. Several LGBTQI+ activists are currently facing charges for protesting against the arrest of non-binary activist 'Margot S', and others are being persecuted for the crime of "offending religious feelings''. The Polish parliament is currently considering the "Stop LGBT bill" which aims to ban gatherings that promote "sexual orientations other than heterosexuality".
Media independence has also been repeatedly under threat from the government, with independent media outlets facing dozens of lawsuits and the government pushing for an advertising tax which will further restrict press freedom. Recently, Polska Press- one of the country's largest media publishers with an audience of 17,4 million internet users, was bought over by PKN Orlena, whose CEO has close ties with PiS party Leader Jarosław Kaczyński.
Russia
Civic space rating:
Repressed
On 17th January 2021, the leader of the Russian opposition, Alexei Navalny, returned to Moscow after spending several months in a hospital in Germany, where he was flown for treatment after he was poisoned in August 2020. Immediately upon arrival, Navalny was detained at Moscow's Sheremetyevo airport, after which he was taken to a nearby police station by law enforcement. Since his arrest and detention, his supporters, including colleagues from the Anti-Corruption Foundation, have held sustained solidarity protests which the authorities, particularly security forces, have responded to by intensifying their crackdown on the rights of protesters, activists and journalists.
A brutal crackdown on the protests over the past few weeks has seen authorities respond to the mass protests by arresting and detaining over 10,000 protesters since 23rd January 2021, with reports of inhumane treatment of those detained. At least 90 criminal cases have so far been initiated by authorities in relation to the protests.
Security forces have used excessive and disproportionate force to disperse the protests, as police officers beat, stomped, dragged, and even electrocuted protesters. On 23rd January, police beat protesters, forced detained people to lie face down on the ground in the snow at freezing temperatures, stomped on them and dragged them towards police vehicles. On 31st January several detained people were kept in the cold, on buses, and brutalised by law enforcement for several days due to lack of space in temporary detention centres, some recalled how they were tortured. On 2nd February 2021, security agents beat and electrocuted protesters.
Journalists have also not been spared from police excesses and detention while they cover the protests, with hundreds of cases of violence and detention being reported across the country. On 31st January alone, at least 120 journalists were detained, obstructed or beaten across 32 cities while covering the protests.
Togo
Civic space rating:
Repressed
The detention of a journalist and trade unionists and the suspension of a newspaper are recent examples of civic space violations in Togo, highlighting the deterioration in the respect of civic freedoms in the country.
Civic space has been backsliding in Togo since the crackdown on anti-government opposition protests in 2017-2018 to demand a return to the provisions in the 1992 constitution that included a two-term limit on presidents. Civic space violations since 2017 include the killing of protesters, the arrest and prosecution of human rights defenders, journalists and pro-democracy activists, banning of civil society and opposition protests, the suspension of media outlets, regular disruption of and shutting down of access to the internet and social media, the adoption of restrictive legislation such as the 2018 Cybersecurity Law and the 2019 modification of the law on conditions and exercise of peaceful meetings and protests.
On 29th December 2020, editor for L'Indépendant Express, Carlos Ketohou, was arrested on and held for four days on accusations of defamation. In January 2021, Togo's national media regulator HAAC ordered that the newspaper L'Indépendant Express cease all operations - online and print - and requested the Court of First Instance of Lomé to withdraw the newspaper's operating licence, after having accused its editor, Carlos Ketohou of defamation and violating the Code of Ethics.
In January 2021 eight members of the teachers' union, Syndicat des Enseignants du Togo (SET) were detained after calling for a teachers' strike. On 20th January 2021, police from the Central Service of Criminal Investigations (SCRIC) entered the offices of the workers' trade union Synergie des Travailleurs du Togo (STT), interrupted a meeting and arrested four trade unionists, including three SET officials, without warrants. The eight were released but remain under judicial control.