Slovenia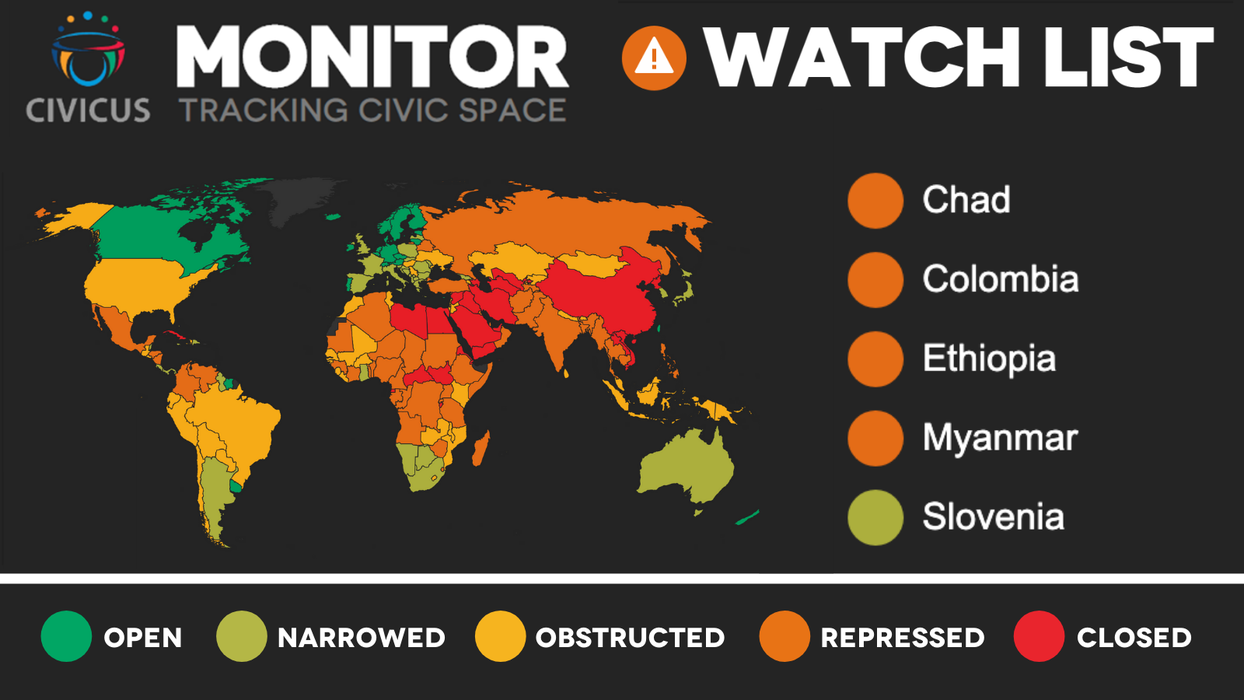 SLOVENIA PRESS RELEASE
Slovenia added to human rights watchlist as government restricts fundamental rights
Johannesburg, 23 June 2021
COVID-19 measures used as a pretext to restrict civic freedoms
Freedom of association threatened as Civil Society Organisations (CSOs) are increasingly targeted
Journalists repeatedly attacked by Prime Minister as media freedoms decline
Slovenia has been added to a watchlist of countries that have seen a recent and rapid decline in fundamental civic freedoms. Under Prime Minister Janez Janša's government, civil society organisations have been undermined by funding cuts and journalists and the country's press agency have been targeted, leading to a decline in civic freedoms in the country.
The new watchlist is released by the CIVICUS Monitor, an online platform that tracks the latest developments to civic freedoms, including the freedoms of expression, association and peaceful assembly, across 196 countries.
Since the government came to power, it has used COVID-19 as a pretext to try and pass measures which affect basic human rights. Civil society organisations have faced funding cuts, with the government justifying its decision by stating that this money will be redirected to tackle the pandemic. Organisations have repeatedly been publically vilified by the state.
The right to peaceful assembly has also come under threat with the government completely banning protests during the pandemic. Since Janša came into power, people have staged weekly Friday anti-government protests. However, protesters have faced unlawful and disproportionate sanctions, including fines up to €10,000 (US$12,000).
"Peaceful protesters are facing fines that are higher than the average Slovene salary. People have been fined for laying down paper footprints in front of the Parliament to express their discontent with the ban on protests, while in another instance a person was fined for walking through a Christmas market with an umbrella that said "Falling Government". Police are also regularly conducting ID checks of protesters," said Katarina Bervar Sternad, Director of Legal Information Centre Slovenia.
The Prime Minister has also adopted "Trump" style tactics on Twitter, and repeatedly targeted and discredited independent journalists by branding them "liars"; women journalists in particular have been labelled "presstitutes".
The independence of the national press agency, STA, hangs in the balance, with the government recently cutting funding to the agency and exerting pressure on its management in an attempt to dismantle it.
"Online and offline harassment of journalists is not coming just from anonymous trolls but from the highest political elites, including the Prime Minister. Although on paper Slovenia still ranks high on media freedom indexes, the real life experience of journalists is proving to be insecure, unpredictable and hostile," said Špela Stare, General Secretary of the Slovenian Journalist Association.
Global civil society alliance CIVICUS calls on European institutions to take immediate action to address fundamental rights violations in Slovenia.
"In December 2020 the CIVICUS Monitor downgraded Slovenia to 'narrowed', already signalling a red flag. We urge European institutions to pay attention to the rapid decline of civic space in Slovenia as the country continues on a downward spiral under Prime Minister Janez Janša," said Aarti Narsee, Civic Space Research Lead, Europe, CIVICUS.
Slovenia is currently rated NARROWED by the CIVICUS Monitor. There are a total of 40 countries in the world with this rating (see all). This rating is typically given to countries where democratic freedoms, such as the freedoms of expression, peaceful assembly and association, are increasingly being violated (see full description of ratings).
DOWNLOAD FULL COUNTRY RESEARCH BRIEF
---
For more details, or to arrange an interview, please contact:
Aarti Narsee, European Civic Space Researcher for CIVICUS
Aarti.narsee@civicus.org and media@civicus.org
European Civic Forum (ECF): gnegri@civic-forum.eu
---
Slovene
Slovenija dodana na seznam držav pod drobnogledom zaradi kršenja človekovih pravic – slovenska vlada vse bolj omejuje temeljne človekove pravice
Ukrepi za zajezitev pandemije kot pretveza za omejevanje državljanskih svoboščin
Svoboda združevanja je ogrožena, saj so civilnodružbene organizacije vse pogosteje tarče napadov
Predsednik vlade nenehno napada novinarje, medtem ko svoboda medijev upada
Slovenija je dodana na seznam držav, v katerih je pred kratkim naglo upadlo spoštovanje temeljnih državljanskih svoboščin. Vlada Janeza Janše z ukinjanjem financiranja slabi civilnodružbene organizacije ter napada novinarje in nacionalno tiskovno agencijo, kar vodi do krčenja državljanskih svoboščin v državi.
Monitor CIVICUS, spletna platforma, ki v 196 državah spremlja stanje na področju državljanskih svoboščin, vključno s svobodo izražanja, združevanja in mirnega zbiranja, je predstavila nov seznam držav, ki jih opazuje.
Odkar je vlada nastopila mandat, uporablja covid-19 kot izgovor za prizadevanja, da bi sprejela ukrepe, ki vplivajo na temeljne človekove pravice. Civilnodružbene organizacije so deležne zmanjšanja sredstev, vlada pa svoje odločitve utemeljuje s trditvami, da bo ta denar preusmerjen v zamejevanje pandemije. Organizacije so nenehno žrtve javnega sramotenja s strani države.
Tudi pravica do mirnega zbiranja je ogrožena, saj je vlada med pandemijo popolnoma prepovedala proteste. Odkar je Janša nastopil mandat, ljudje ob petkih organizirajo vsakotedenske protivladne proteste, vendar so bili protestniki deležni nezakonitih in nesorazmernih sankcij, vključno z globami do višine 10.000 evrov.
»Miroljubni protestniki so soočeni z globami, višjimi od povprečne slovenske plače. Nekateri so bili oglobljeni, ker so na tla pred parlament položili papirnate stopinje v znak nestrinjanja s prepovedjo protestov. V drugem primeru so neko osebo oglobili, ker se je skozi božični sejem sprehodila z dežnikom, na katerem je pisalo »vlada pada«. Poleg tega policisti redno preverjajo identiteto protestnikov,« pravi Katarina Bervar Sternad, direktorica Pravno-informacijskega centra.
Poleg tega je predsednik vlade na twitterju prevzel Trumpov slog, v okviru katerega nenehno napada in diskreditira neodvisne novinarje, jih označuje za »lažnivce«, novinarke pa je poimenoval »prestitutke«. Neodvisnost nacionalne tiskovne agencije STA je negotova, saj je vlada nedavno omejila njeno financiranje, hkrati pa izvaja pritisk na njeno vodstvo in jo tako poskuša uničiti.
»Spletno in tradicionalno nadlegovanje novinarjev ne izvira le od anonimnih trolov, temveč tudi od najvišjih političnih elit, vključno s predsednikom vlade. Čeprav je Slovenija na papirju še vedno visoko na indeksih medijske svobode, se kaže, da dejanske izkušnje novinarjev
vključujejo vse več negotovosti, nepredvidljivosti in sovražnosti,« pravi Špela Stare, generalna sekretarka Društva novinarjev Slovenije.
Mednarodna zveza za civilno družbo CIVICUS poziva evropske ustanove, naj nemudoma ukrepajo v zvezi s kršitvami temeljnih pravic v Sloveniji. »Monitor CIVICUS je stanje v Sloveniji decembra 2020 znižal na 'zoženo', kar je že opozorilni znak. Zato pozivamo evropske ustanove, naj bodo pozorne na naglo krčenje civilnodružbenega prostora v Sloveniji, ki se je pod vlado Janeza Janše znašla v spirali nenehnega poslabševanja,« pravi Aarti Narsee, vodja preiskovanja civilnodružbenega prostora za Evropo v združenju CIVICUS.
Monitor CIVICUS stanje v Sloveniji trenutno ocenjuje kot ZOŽENO. Enako oceno ima na svetu skupaj 40 držav (seznam). To oceno tipično dobijo države, kjer so demokratične svoboščine, kot so svoboda izražanja, mirnega zbiranja in združevanja, vse pogosteje kršene (glej celoten opis ocen).
---
For more details, or to arrange an interview, please contact:
Aarti Narsee, European Civic Space Researcher for CIVICUS
Aarti.narsee@civicus.org and media@civicus.org
European Civic Forum (ECF): gnegri@civic-forum.eu