Myanmar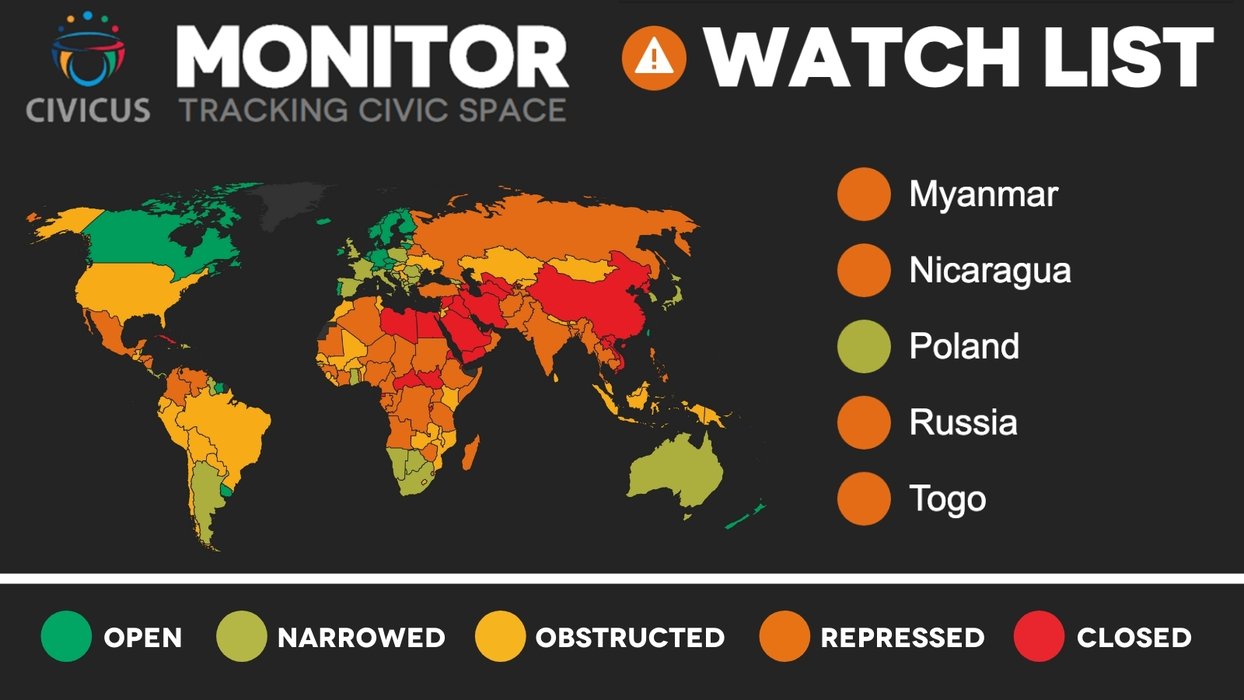 MYANMAR PRESS RELEASE
Myanmar added to human rights watchlist as military takes over and cracks down on dissent.
Kuala Lumpur, 18 February 2021
Watchlist includes countries that have experienced recent and rapid decline in rights
Concerns about arrests of activists, internet shutdown and excessive force used against protesters
Journalists and human rights groups threatened, fear for safety
Myanmar has been added to a watchlist of countries that have seen a recent and rapid decline in fundamental democratic freedoms. Since early February following a military coup, arrests of activists, an internet shutdown and the use of excessive force and firearms against protesters have contributed to a decline in civic rights in the country.
The new watchlist is released by the CIVICUS Monitor, an online platform that tracks the latest developments to civic freedoms, including the freedoms of expression, association and peaceful assembly, across 196 countries.
On 1 February 2021, the Myanmar military regime seized power in a coup, arrested the civilian leaders of the national and state governments and announced a one-year "state of emergency". The military arrested the de facto leader, State Counsellor Aung San Suu Kyi, and other senior figures from the ruling National League for Democracy (NLD). The military also detained NLD officials and civil society activists in other parts of Myanmar.
As of 15 February 2021, nearly 400 people have been detained including activists, NLD officials and lawmakers, according to the Assistance Association for Political Prisoners (AAPP). Human rights groups and journalists in Myanmar have also reported threats to their safety and some l journalists have been arrested or gone into hiding. Journalists are also reporting increased surveillance of news reporting.
The military regime has disrupted telecommunications and access to Facebook, Twitter and Instagram in several parts of the country. New cyber security laws have been proposed that could violate the rights to freedom of expression, data protection and privacy.
On 9 February 2021, military authorities imposed a curfew and placed restrictions on gatherings in 36 townships, effectively making all peaceful assemblies unlawful. Despite the restrictions, hundreds of thousands of people demonstrated in largely peaceful protests across the country. The police have responded using d teargas, water cannons, rubber bullets and live ammunition. Dozens have been reported to have been injured.
The UN Special Rapporteur on the situation of human rights in Myanmar has condemned the coup, called for the release of those detained, and urged the military to, 'avoid any use of force against protesters or civilians, and to respect the rights of the people of Myanmar to peacefully protest and express their opposition'. The UN High Commissioner for Human Rights has raised 'deep fears of a violent crackdown on dissenting voices', and a Special Session of the Human Rights Council was convened on 12 February to address the situation.
Myanmar is currently rated REPRESSED by the CIVICUS Monitor. There are a total of 44 countries in the world with this rating (see all). This rating is typically given to countries where civic space is heavily contested by power holders, who impose a combination of legal and practical constraints on the full enjoyment of fundamental rights (see full description of ratings).
DOWNLOAD FULL COUNTRY RESEARCH BRIEF
For more details, or to arrange an interview, please contact:
Josef Benedict, Civic Space Researcher for Asia-Pacific, CIVICUS
josef.benedict@civicus.org and media@civicus.org