Ethiopia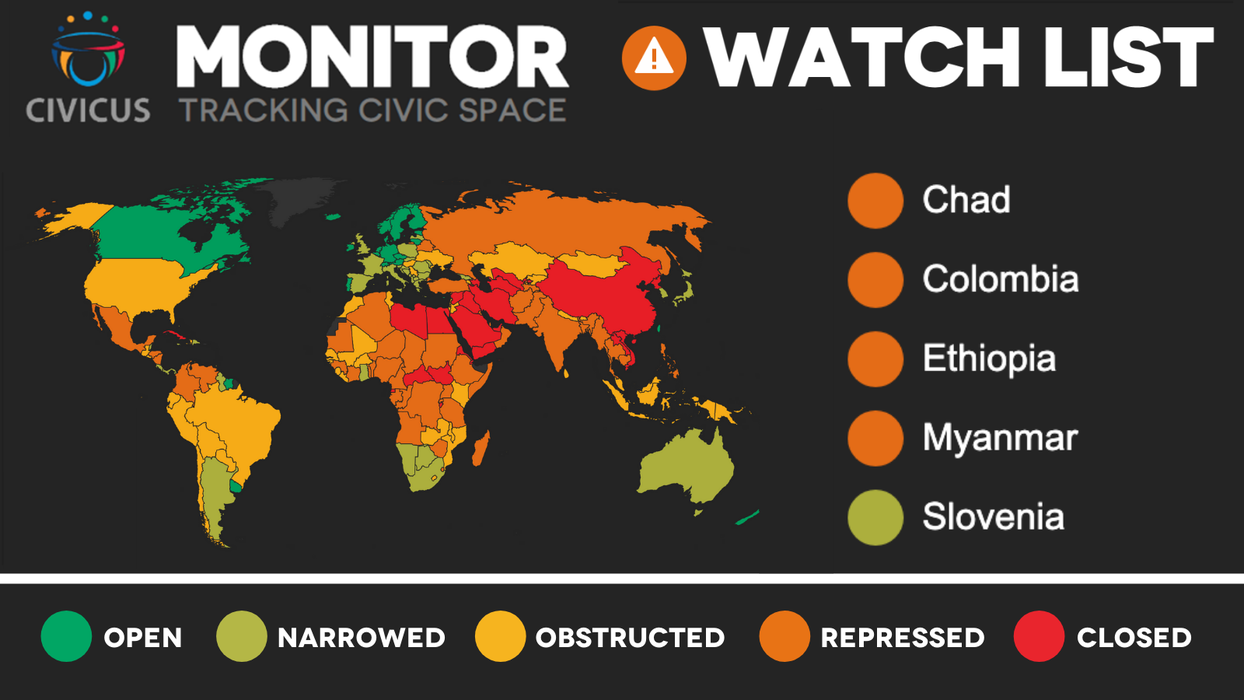 ETHIOPIA PRESS RELEASE
Ethiopia added to human rights watchlist as mass human rights violations occur in Tigray and in the run-up to elections
Johannesburg, 23 June 2021
Armed conflict in Tigray perpetuates mass human rights violations
Internet shutdowns threaten freedom of association and expression
Journalists repeatedly attacked as press freedoms decline
Ethiopia has been added to a watchlist of countries that have seen a recent and rapid decline in fundamental civic freedoms. Since early November 2020, the government of Prime Minister Abiy Ahmed has been engaged in armed conflict with the leading party in the Tigray region, the Tigray People's Liberation Front (TPLF). Claims emerged that the conflict was escalating towards a state of civil war, as thousands were killed and tens of thousands displaced, either within the country or to neighbouring Sudan.
The new watchlist is released by the CIVICUS Monitor, an online platform that tracks the development of civic freedoms, such as freedoms of expression, association and peaceful assembly.
The June 2021 elections were initially scheduled for 2020 but were postponed because tensions increased in the lead-up to the elections as members of the political opposition accused the government of targeting some of its members with arrests while others have boycotted the polls.
These have led to widespread communication blackouts that shutdown access to the internet, messaging services and other forms of communication. Thus, resulting in misinformation spreading widely during the conflict and the limiting of freedom of opinion and expression of people in Ethiopia.
"Internet access is critical at a time of crisis," … Especially at a time of emergency, broad restrictions on access to the internet cannot be justified on public order or national security grounds." said UN Special Rapporteur on Freedom of Opinion and Expression, David Kaye
There have been many arrests, searches, threats and attacks directed against political opponents, journalists and media organisations for all kinds of reasons including the spread of "false propaganda" and information that incites violence. Some of the notable events include the arrest of a journalist called Dawit Kebede, the arrest of Kumerra Gemechu, a cameraman working for Reuters and the killing of Dawit Kebede (not the same Dawit Kebede who remains in prison) who worked for Tigray regional state TV.
"Unanswered questions about the killing of journalist Dawit Kebede Araya will send a message of fear to the broader media community in Ethiopia, and will entrench impunity in attacks on the press," said Committee to Protect Journalists' Sub-Saharan Africa representative, Muthoki Mumo
On 5th February 2021, protestors marched in different parts of Oromia regional state, including Ambo, to demonstrate for the release of Oromo opposition politicians Jawar Mohammed, Bekele Gerba and Hamza Borana. Police arrested and beat up several protesters.
Ethiopia is currently rated REPRESSED by the CIVICUS Monitor. There are a total of 45 countries in the world with this rating (see all). This rating is typically given to countries where civic space is heavily contested by power holders, who impose a combination of legal and practical restrictions which make it difficult for people to enjoy their full democratic rights (see full description of ratings).
---
DOWNLOAD FULL COUNTRY RESEARCH BRIEF
For more details, or to arrange an interview, please contact: