Belarus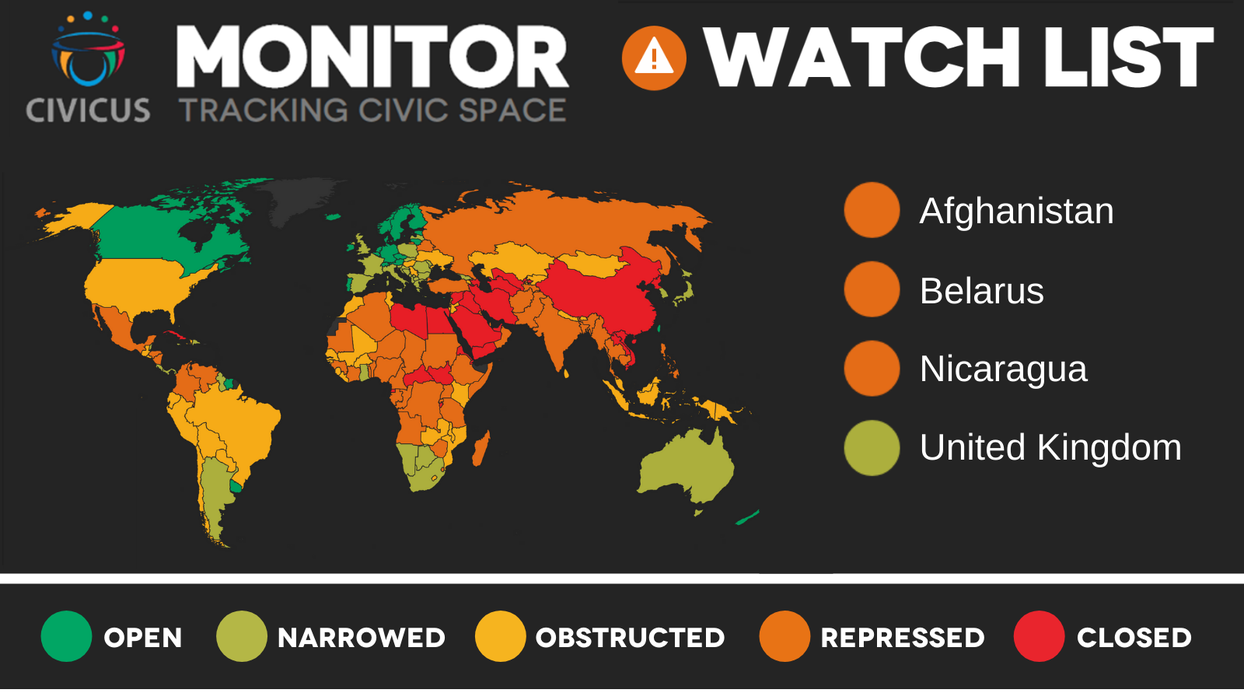 BELARUS PRESS RELEASE
Belarus added to human rights watchlist as government persecutes activists who participated in protests following disputed 2020 presidential elections
Johannesburg, 23 September 2021
Over 580 political prisoners, including a former presidential candidate detained and imprisoned
Widespread raids on the homes and offices of people who supported the mass protests
Over 40 NGOs disbanded by authorities
Belarus has been added to a watchlist of countries that have seen a rapid decline in fundamental civic freedoms. The government of Belarus continued its broad crackdown on civil society which began just before the August 2020 elections, and which has intensified in the last few months with authorities conducting raids and disbanding dozens of organisations.
The new watchlist is released by the CIVICUS Monitor, an online platform that tracks the latest developments to civic freedoms, including the freedoms of expression, association and peaceful assembly, across 196 countries. Other countries included on the list are Belarus, Nicaragua and the United Kingdom.
The raids began in July and have affected a broad range of civil society groups, including those that have helped in the response to COVID-19 to those that campaign for the rights of political prisoners. Longtime president, Alexander Lukashenko has called the crackdown a "mopping-up operation" against "bandits and foreign agents".
In early September, a Belarusian court sentenced the opposition leader Maria Kalesnikava to 11 years in prison, punishing one of Lukashenko's most prominent critics. The government has also continued to detain participants of peaceful protests and anyone that displays white-red-white symbols.
"In Belarus, we are seeing a systematic silencing of civil society. Anyone can be arrested on absurd charges. It is no surprise that many activists and staff of human rights organisations have needed to relocate abroad," said Sylvia Mbataru, Civic Space Researcher for the Monitor.
Over the past several months, several journalists have been detained and a number of news websites have been blocked. The website Nasha Niva, one of the country's oldest independent newspapers, was blocked on 8th July 2021 by the Ministry of Information following a notice issued by the General Prosecutor's Office.
Belarus is currently rated REPRESSED by the CIVICUS Monitor. There are a total of 45 countries in the world with this rating (see all). This rating is typically given to countries where civic space is heavily contested by power holders, who impose a combination of legal and practical constraints on the full enjoyment of fundamental rights (see full description of ratings).
---
DOWNLOAD FULL COUNTRY RESEARCH BRIEF
For more details, or to arrange an interview, please contact:
media@civicus.org