Sudan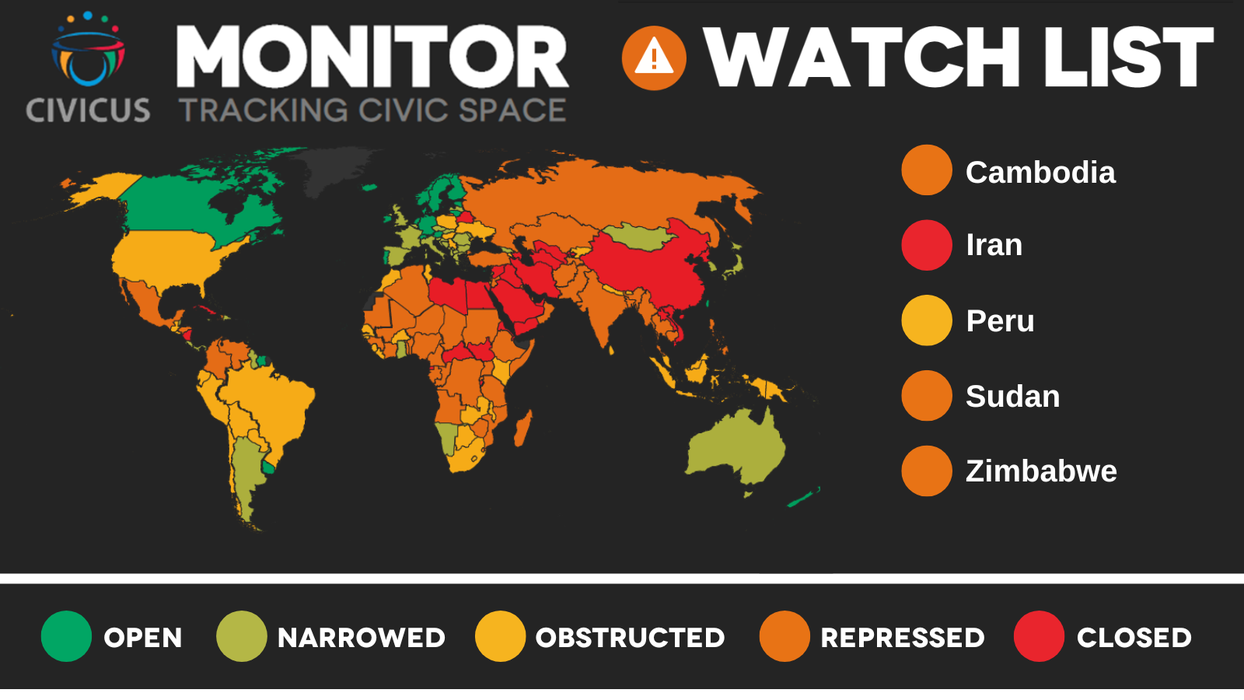 PRESS RELEASE
Sudan added to human rights watchlist as pro democracy protesters face recurring attacks
16 February 2023
Protests in December and January met with excessive force
Thousands injured and 119 killed since October 2021 protests
Women human rights defenders on the frontline face brutal assaults
Sudan has been added to a watchlist of countries that have seen a rapid decline in civic freedoms. Since the October 2021 coup, pro-democracy protesters, including women, have been met with excessive and lethal force, and torture and ill-treatment in detention, while woman human rights defenders are facing increased restrictions on their work.
The new watchlist is released by the CIVICUS Monitor, an online platform that tracks the latest developments to civic freedoms, including freedom of expression, association and peaceful assembly, across 197 countries and territories. Other countries included on the list are Cambodia, Iran, Peru and Zimbabwe.
In December 2022, pro-democracy resistance committees rejected a two year deal signed by the military and political parties, mapping a framework for a civilian-led transition towards elections. They are demanding transitional justice measures and security sector reforms.
Renewed protests, which took place in December 2022 and January 2023, have been met with brutal and excessive force. On 17th January 2023, the Sudanese Doctors Association reported that at least 112 protesters were injured, with 13 requiring hospitalisation, while 60 were detained. Security forces are reported to have used harmful chemicals in response to protestss, including in water cannons, tear gas canisters filled with stones or glass and rubber bullets, in violation of international law.
Women human rights defenders (WHRDs) and women protesters, who are on the frontline, have been subject to violent attacks. In one case, security forces threw a 24 year old woman protester off a bridge in central Khartoum, resulting in severe spinal injuries, while another women protester lost her eye during protests after she was shot by a tear gas canister shotgun.
Several women led assocations have also faced restrictions. The office of Alharisat, one of the prominent women groups, was raided by plain clothes officers who broke into the office of the director, and harassed and threatened the staff with detention.
Other associations have also been targeted. The Sudanese Consumers Protection Society (SCPS) was deregistered by the authorities while the Sudanese Bar Assocation's premises were taken over and attacked by the police and members of the former regime's Lawyers Syndicate.
" Sudanese women groups and WHRDs continue to struggle from increasing repression and violations under the military coup. The political process should not compromise on issues of justice or accountability and ensure womens effective participation after ending the militarys' hold on power," said Nazik Kabalo, Sudanese Women Human rights Defender.
Sudan is currently rated 'Repressed' by the CIVICUS Monitor. There are a total of 50 countries in the world with this rating (see all). This rating is typically given to countries where civic space is heavily contested by power holders, who impose a combination of legal and practical constraints on the full enjoyment of fundamental rights (see the full description of ratings).
DOWNLOAD FULL COUNTRY RESEARCH BRIEF
---
For more details, or to arrange an interview, please contact: media@civicus.org