Kenya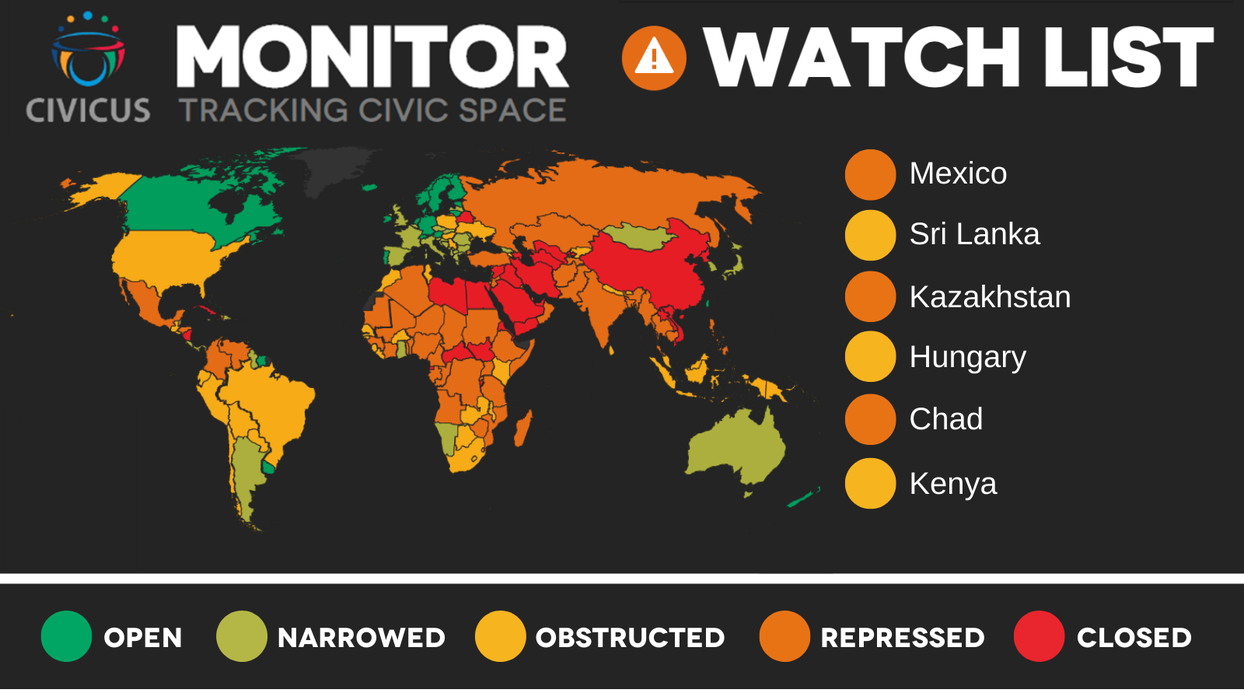 PRESS RELEASE
Kenya added to human rights watchlist ahead of August General Elections
21 June 2022 // Johannesburg, South Africa
Brutal repression of peaceful protests remains a key concern
Political capture of media regulatory body and attacks on press freedom
Escalating attacks on journalists and minority groups
Kenya has been added to a watchlist of countries that have seen a steady decline in civic freedoms. In the run-up to the August elections, civic space continues to deteriorate as authorities systemically use brutal and lethal force against peaceful protesters, journalists face vicious and fatal attacks for their work, while the LGBTQI+ community faces unprecedented attacks and repression.
The new watchlist is released by the CIVICUS Monitor, an online platform that tracks the latest developments to civic freedoms, including the freedoms of expression, association and peaceful assembly, across 197 countries and territories. Other countries included are Mexico, Sri Lanka, Hungary, Chad and Kazakhstan.
Excessive use of force has characterised the Kenyan authorities' systemic response to protests in the country, despite the constitutional guarantee of the right to peaceful assembly. The police have continued to brutally disperse peaceful protests using lethal crowd control weapons such as teargas and rubber bullets, batons to brutally assault protesters, and subjecting protesters to arbitrary and illegal detentions. As elections draw near, the culture of brutal repression remains a critical concern and tells of the expected government response to any anticipated election-related protests.
"An attempt to suppress peaceful protests is nothing else but an attempt to undermine democracy. The Kenyan government insists on using pre-colonial policies to silence voices of dissent, suppress peaceful protests, and push the message that participating in public affairs is a public nuisance and not for ordinary people". Said Davis Malombe, Executive Director of the Kenya Human Rights Commission
President Uhuru Kenyatta recently appointed a new head of the Communications Authority of Kenya, seemingly consolidating the ruling party's power over a strategically important body that is supposed to be non-partisan, in what may be seen as an effort to extend the government's control over the media less than a year before the elections. The possibility of political interference undermines the body's mandate to serve as a watchdog for public media and to monitor the operations of the state news agency. In theory, the authority is responsible for ensuring fair and impartial reporting on the upcoming elections, but there is a risk that it will be used to limit the space for independent media.
Incidents of attacks on journalists have notably increased in the country over the last year, and as the country heads into this year's elections, this trend continues to be evident as a critical violation of civic space. In many instances, national and county government officials and their staff have been identified as the key violators.
LGBTQI+ rights have also come under repeated attack. The latest restrictions by the state include ongoing protracted efforts by the Non-Governmental Organisation Coordination Board to appeal the High Court and Supreme Court's judgments allowing the registration of the National Gay and Lesbian Human Rights Commission as an NGO. Failure by state agencies to thoroughly investigate rising cases of brutal and fatal attacks against members of the LGBTIQ+ community also remains of great concern.
"It is indeed worrying that attacks on minority groups such as the LGBTIQ+ community continue to happen in the country without proper investigations from relevant authorities, and without any public condemnation by public officials. The escalating targeting and attacks on journalists are also of particular concern as the elections approach. The government must put measures in place to protect minority groups and journalists undertaking their work to report on election-related matters." Said Sylvia Mbataru, CIVICUS Research Lead, Eastern Africa
These restrictions are further exacerbated by the Kenyan Government's persistent failure to address critical insecurity concerns in some parts of the country. Citizens in regions such as Baringo, Kerio Valley and Elgeyo Marakwet continue to grapple with insecurity that has been attributed to armed bandits and terror attacks by the Al-Shabab. This could mean that some citizens may not be able to exercise their constitutional right to choose leaders of their choice.
Kenya is currently rated Obstructed by the CIVICUS Monitor. There are 42 countries in the world with this rating ( see all). This rating is typically given to countries where power holders heavily contest civic space and impose a combination of legal and practical constraints on the full enjoyment of fundamental rights (see the full description of ratings).
---
DOWNLOAD FULL COUNTRY RESEARCH BRIEF
For more details, or to arrange an interview, please contact: media@civicus.org