Iran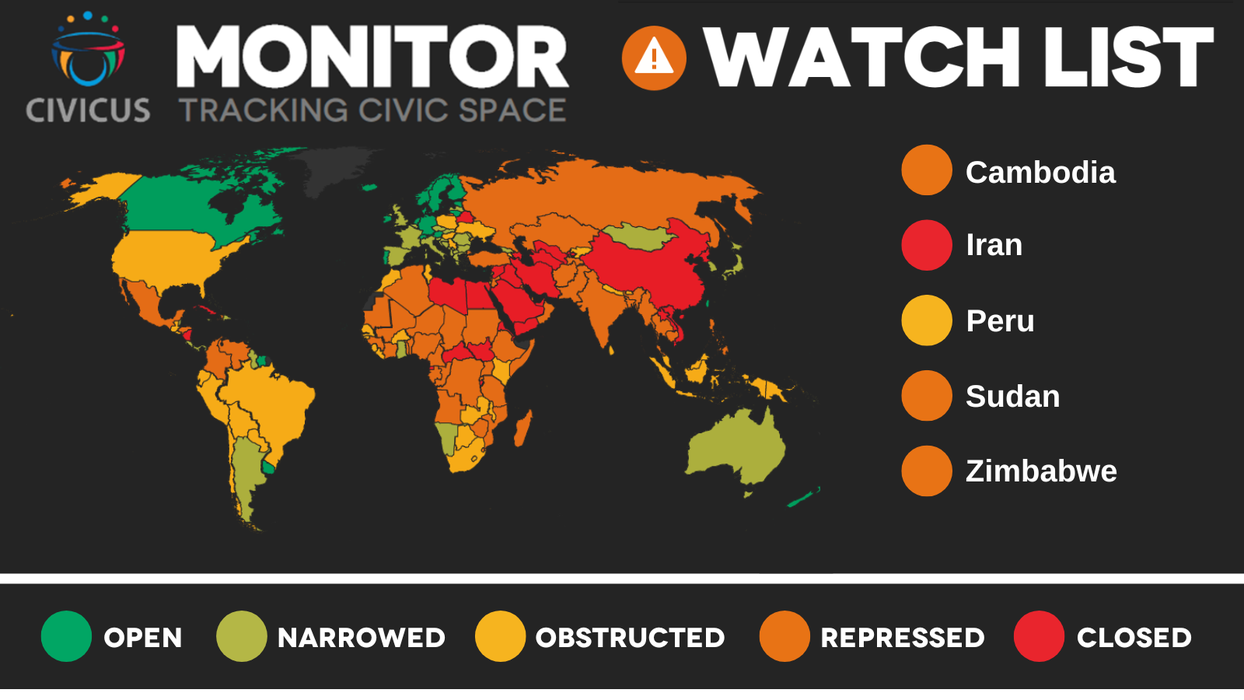 PRESS RELEASE
Iran added to human rights watchlist as authorities kill over 500 protesters and detain thousands more
16 February 2023
Government has doubled-down on brutal repression and lethal force
Judiciary has sentenced protesters to death on charges of "waging war on God"
Government is disrupting internet and social media, as well as using phishing techniques to access sensitive information from protesters and staff of civil society groups
Iran has been added to a watchlist of countries that have seen a rapid decline in civic freedoms. This decline follows a massive crackdown on a wave of protests that began on 16th September 2022 following the death of an Iranian Kurdish woman - Mahsa Amini - while in police custody after being arrested by Iran's morality police for breach of the country's strict dress code.
The new watchlist is released by the CIVICUS Monitor, an online platform that tracks the latest developments to civic freedoms, including freedom of expression, association and peaceful assembly, across 197 countries and territories. Other countries included on the list are Cambodia, Peru, Sudan and Zimbabwe.
The authorities' heavy-handed response to the protests, which began as collective action against the country's compulsory head-covering laws, and quickly expanded to articulate broader grievances and demands for fundamental political and social change, show no signs of abating. Protesters, activists and journalists continue to face dire consequences for daring to exercise their rights.
Iranian authorities used live ammunition against numerous peaceful protesters, killing over 500 protesters and injuring many others. The government has also embarked on a worrying retaliation campaign against protesters, activists and others who support the protests, undertaking violent home raids, indiscriminate and targeted arrests, attacks and prosecutions. At least 1,000 indictments were issued by the judiciary against protesters as of 31st October 2022, and over 18200 arrests had been made by mid-December 2022.
By mid-December 2022, at least 400 protesters had been handed prison sentences of up to 10 years by courts in Tehran. Many others are facing prosecution and are at imminent risk of the death sentence, with two men having already been executed for charges related to the protests. This violent treatment of those who participate in protests has also been characterised by suspicious deathsof a number of recently released detainees, which Iranian authorities have labelled "suicides" despite significant evidence indicating otherwise.
Another key element of the government's crackdown has been the suppression of online freedom. Internet and mobile disruptions, as well as restrictions on mobile applications were reported by users during the protests, with some fearing that the government could track their activities through their smartphones. The Iranian government has also gone even further, targeting 2 staff members of Human Rights Watch, and at least 18 other high-profile activists, journalists, researchers, academics, diplomats, and politicians doing work around Middle East affairs with social engineering and phishing attempts in efforts to access sensitive information.
Iran is currently rated 'Closed' by the CIVICUS Monitor. There are a total of 25 countries in the world with this rating (see all). This rating is typically given to countries where an atmosphere of fear and violence prevails, where state and powerful non-state actors are routinely allowed to imprison, seriously injure and kill people with impunity for attempting to exercise their rights to associate, peacefully assemble and express themselves. Any criticism of the ruling authorities is severely punished and there is virtually no media freedom. (see the full description of ratings).
DOWNLOAD FULL COUNTRY RESEARCH BRIEF
---
For more details, or to arrange an interview, please contact: media@civicus.org