Hungary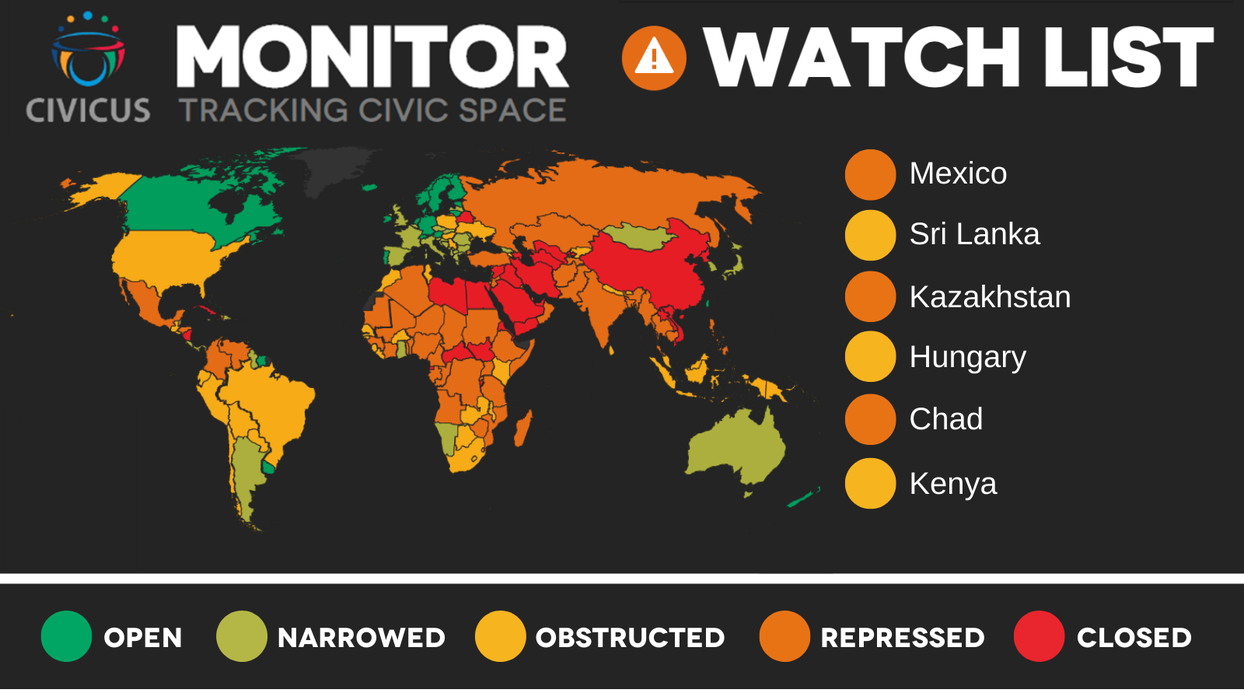 PRESS RELEASE
Hungary added to the human rights watchlist as Orbán passes another state of emergency to rule by decree
21 June 2022
Government passes a state of emergency due to Russia's war on Ukraine, raising a red flag for fundamental rights.
Thousands of civil society organisations investigated over "influencing public life."
Media pluralism further diminished as another independent radio station loses its licence.
Hungary has been added to a watchlist of countries that have seen a rapid decline in civic freedoms. In another attempt to undermine fundamental rights, Prime Minister Viktor Orbán announced another state of emergency to rule by decree. This comes just over a month after Orbán, and the Fidesz party secured its fourth term in a landslide victory during the general elections.
The new watchlist is released by the CIVICUS Monitor, an online platform that tracks the latest developments in civic freedoms, including the freedoms of expression, association and peaceful assembly, across 197 countries and territories. Other countries included are Chad, Kazakhstan, Kenya, Mexico and Sri Lanka.
In May 2022, the Orbán government announced yet another state of emergency, stating that Russia's war on Ukraine represents "a constant threat to Hungary", which puts "physical security at risk" and threatens "the energy and financial security" of the economy and people in Hungary. This means that the government can enact laws by decree without parliamentary oversight. Similar measures were implemented during the COVID-19 pandemic via the Authorisation Act, which granted excessively wide powers to the government to rule by decree.
"Months after virtually all pandemic restrictions were lifted in Hungary, the government claimed the need to still maintain special legal order to be able to 'react quickly' to developments potentially endangering public health. More than two months after the war started in Ukraine, it announced that it needs special powers to deal with the situation. This is a classic 'emperor is naked' situation, where it could not be more obvious that all they want is power," said Orsolya Reich, senior advocacy officer, Civil Liberties Union for Europe.
Emese Emese Pásztor, Political Freedoms Project director, Hungarian Civil Liberties Union, added: "The new special legal order is a multi-faceted tool that the government can use to support its own political aims. If the government wishes to do so, civil society can be silenced by decree in the blink of an eye by re-introducing the general ban on assemblies or curtailing other political rights."
Following its election victory, the government has wasted no time in continuing its intimidation against civil society. The State Audit office began investigations into thousands of foreign-funded CSOs "capable of influencing public life". This comes after the government passed a new law last year, which requires the State Audit Office to report annually on the financial status of CSOs which have a budget that exceeds €55,000 (approx US$ 60,288), and it enables the Office to audit them selectively.
Media pluralism continues to decline as independent media are pushed out by the government-controlled National Media and Communications Authority (NHHH) and its Media Council, the supreme watchdog of Hungarian media. Tilos Rádió, an independent station which began operating in the 1990s as the first non-profit independent radio station in Hungary, is the latest to be forced off the airwaves. In April 2022, the Media Council blocked the station's frequency licence renewal citing that it violated legal requirements on four occasions.
"The Orbán government has been emboldened by its landslide election victory as it continues down the path of democratic decline by repeatedly targeting civil society and the media. The European Commission must waste no time in acting against Hungary through its new rule of law conditionality mechanism," said Aarti Narsee, Civic Space Research Lead, Europe, CIVICUS.
Hungary is currently rated Obstructed by the CIVICUS Monitor. There are 42 countries in the world with this rating (see all). This rating is typically given to countries where power holders heavily contested civic space and impose a combination of legal and practical constraints on the full enjoyment of fundamental rights (see the full description of ratings). Hungary is one of two countries in the European Union with an Obstructed rating, the other is Poland.
DOWNLOAD FULL COUNTRY RESEARCH BRIEF
---
For more details, or to arrange an interview, please contact: media@civicus.org