Guinea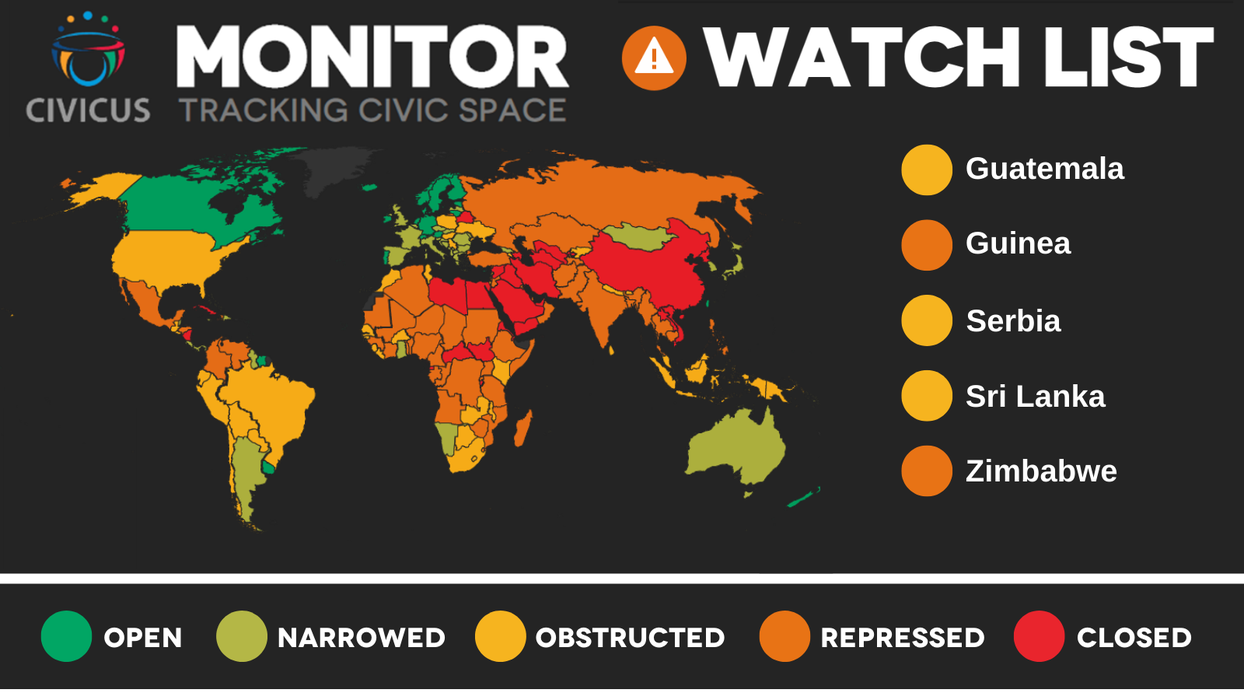 PRESS RELEASE
Guinea added to human rights watch list as military transitional authorities crack down on protests
22 September 2022
Protest banned until the start of the electoral period
At least seven people killed in protests against military junta
Activists arrested, prosecuted for protests
The FNDC dissolved by military authorities
Guinea has been added to a watchlist of countries that have seen a rapid decline in civic freedoms. In recent months, the Comité National du Rassemblement et du Développement (CNRD), the military transitional authorities who ousted former President Alpha Condé in a military coup on 5 September 2021, has grown increasingly intolerant of dissenting voices, in particular those criticising the way the transition to civilian rule is being managed. Protests in July and August 2022 to demand transparency in Guinea's political transition have been met with force. Civic space violations in the past few months include a ban on all protests, the use of excessive force against protesters, a pro-democracy group being dissolved and the arrest of pro-democracy activists.
The new watchlist is released by the CIVICUS Monitor, an online platform that tracks the latest developments to civic freedoms, including freedom of expression, association and peaceful assembly, across 197 countries and territories. Other countries included on the list are Guatemala, Serbia, Sri Lanka and Zimbabwe.
Since May 2022, all public protests"likely to compromise social tranquility " have been banned for an extended period - until the start of the electoral campaign period in a few years time. Despite the protest ban, protests against the "unilateral management of the transition" and demands for more transparency in the political transition have been organised by the Front National pour la Défense de la Constitution (FNDC), a coalition of political parties, civil society groups and trade unions. In July and August 2022, at least seven people were killed during these protests, some reportedly by live ammunition, while dozens of protesters were arrested. Following protests on 28 and 29 July 2022, two activists of FNDC and pro-democracy group Tournons la Page - Oumar Sylla and Ibrahima Diallo - were arrested and charged with participation in a prohibited assembly, looting, destruction of public and private property, setting fires and intentional assault and battery'.
"The military transitional authorities should lift the ban on protests and refrain from using excessive use of force against or arresting protesters who are exercising their rights to freedom of expression and peaceful assembly. An independent and impartial investigation should immediately be conducted into the use of excessive force and extrajudicial killings by security forces during these protests" said Ine Van Severen, Civic Space Researcher at CIVICUS.
The crackdown on dissenting voices by military transitional authorities continued, on 8 August 2022, by issuing an order dissolving FNDC, the coalition that organised the protests against the military junta. In the order, the military transitional government accuses FNDC of perpetrating violence and targeting security forces during protests. The order further motivates the group's dissolution as FNDC "jeopardises national unity, public peace and peaceful living together, does not appear on the list of NGOs in Guinea, nor on the list of association collectives [...] and even less in the directory of NGOs approved in Republic of Guinea".
Journalists also have been targeted by the military junta. For example, Mosaiqueguinee.com reporter Mohamed Bangoura was summoned on 5 August 2022 to the military intelligence headquarters, where he was questioned on his sources for an article he wrote about the involvement of military officers in the theft of a truck containing medical supplies.
Guinea is currently rated 'Repressed' by the CIVICUS Monitor. There are a total of 50 countries in the world with this rating ( see all). This rating is typically given to countries where civic space is heavily contested by power holders, who impose a combination of legal and practical constraints on the full enjoyment of fundamental rights (see the full description of ratings).
---
For more details, or to arrange an interview, please contact: media@civicus.org
---
Guinée vient d'être inscrite dans la liste de surveillance de droits de l'homme alors que les autorités militaires de la transition répriment les manifestations
22 SEPTEMBRE 2022
Interdiction des manifestations jusqu'au début de la période électorale
Au moins sept personnes tuées lors des manifestations contre la junte militaire
Des militants arrêtés et poursuivis pour avoir manifesté
Les autorités militaires dissolvent le FNDC
La Guinée vient de rentrer dans une liste de surveillance qui inclut des pays ayant connu un déclin rapide des libertés civiques. Ces derniers mois, le Comité national du rassemblement et du développement (CNRD), constitué des autorités militaires qui ont renversé l'ancien président Alpha Condé par un putsch le 5 septembre 2021, s'est montré de plus en plus intolérant à l'égard des contestataires, en particulier de ceux qui critiquent sa gestion de la transition vers un régime civil. Les manifestations organisées en juillet et août 2022 pour exiger de la transparence durant la transition politique ont été réprimées par la force. Parmi les violations de l'espace civique de ces derniers mois se trouvent l'interdiction de toutes les manifestations, l'usage excessif de la force contre les manifestants, la dissolution d'un groupe pro-démocratie et l'arrestation de militants pro-démocratie.
La nouvelle liste de surveillance vient d'être publiée par le Monitor CIVICUS, une plate-forme en ligne qui suit les derniers développements en matière de libertés civiques dans 197 pays et territoires, notamment la liberté d'expression, d'association et de réunion pacifique. Les autres pays figurant sur la liste sont le Guatemala, la Serbie, le Sri Lanka et le Zimbabwe.
Depuis mai 2022, toutes les manifestations sur la voie publique « de nature à compromettre la quiétude sociale » ont été interdites pendant une longue période, à savoir jusqu'au début de la campagne électorale dans quelques années. Malgré l'interdiction de manifester, le Front National pour la Défense de la Constitution (FNDC), une coalition de partis politiques, de groupes de la société civile et de syndicats, a organisé des manifestations pour protester contre « la gestion unilatérale de la transition » et pour exiger davantage de transparence dans la transition politique. Des dizaines de manifestants ont été arrêtés en juillet et août 2022 lors ces manifestations et au moins sept personnes ont été tuées, parmi lesquelles certaines auraient été tuées par balles réelles. À la suite des manifestations des 28 et 29 juillet 2022, deux militants du FNDC et du groupe pro-démocratie Tournons la page, Oumar Sylla et Ibrahima Diallo, ont été arrêtés et mis en examen pour « participation à un attroupement interdit, pillages, destruction de biens publics et privés, incendies et de coups et blessures volontaires ».
« Les autorités militaires de la transition doivent lever l'interdiction des manifestations et s'abstenir de faire un usage excessif de la force contre les manifestants qui exercent leurs droits à la liberté d'expression et de réunion pacifique. Il est nécessaire d'ouvrir immédiatement une enquête indépendante et impartiale sur l'usage excessif de la force et les exécutions extrajudiciaires par les forces de sécurité lors de ces manifestations », a déclaré Ine Van Severen, chercheuse de l'espace civique chez CIVICUS.
Le 8 août 2022, les autorités militaires de la transition ont poursuivi la répression des voix dissidentes par la publication d'un arrêté consignant la dissolution du FNDC, la coalition qui avait organisé les manifestations contre la junte militaire. Dans ce document, le gouvernement militaire de la transition accuse le FNDC de perpétrer des violences et de prendre pour cible les forces de sécurité lors des manifestations. L'arrêté motive aussi la dissolution du groupe en alléguant que le FNDC « met en péril l'unité nationale, la paix publique et le vivre ensemble ; ne figure pas sur la liste des ONG en Guinée, ni sur la liste des collectifs d'association [...] et encore moins dans le répertoire des ONG agréées en République de Guinée ».
La junte militaire a ciblé les journalistes également. Par exemple, le journaliste de Mosaiqueguinee.com, Mohamed Bangoura, a été convoqué le 5 août 2022 à la direction des renseignements militaires, où il a été interrogé à propos de ses sources pour un article qu'il avait écrit sur l'implication des militaires dans le vol d'un camion contenant du matériel médical.
Le Monitor CIVICUS vient de classer la Guinée dans la catégorie « réprimé ». Au total, 50 pays sont inscrits dans cette catégorie (voir tous). Ce qualificatif est généralement attribué aux pays où l'espace civique est fortement contesté par les détenteurs du pouvoir, qui imposent une combinaison de contraintes juridiques et pratiques au plein exercice des droits fondamentaux (voir la description complète des catégories).