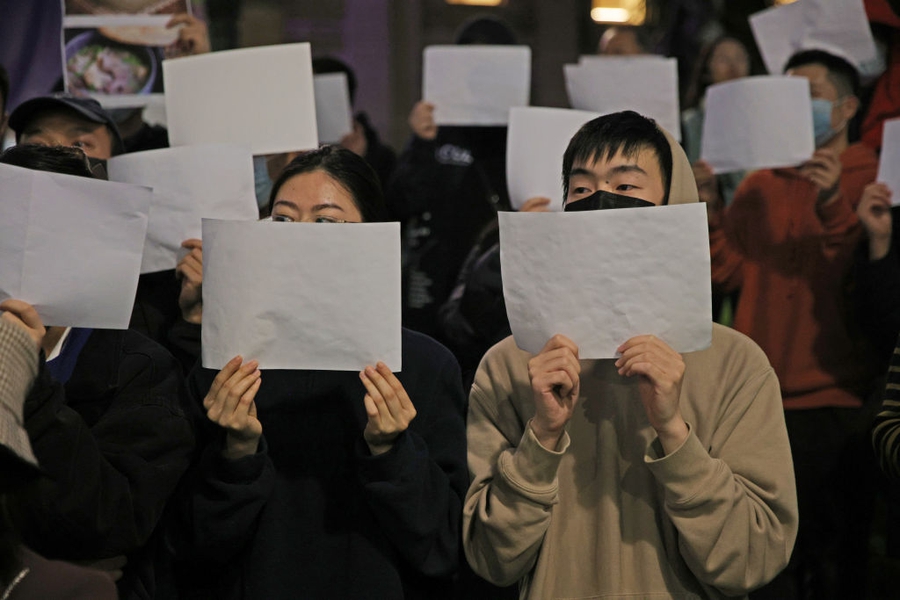 Unprecedented protests have erupted across China starting from Tibet and Xinjiang to Beijing, Shanghai, Nanjing, Wuhan, Lanzhou, Guangzhou, and Chengdu due to widespread public frustration with the "zero-COVID" policy, lockdowns and other restrictions. Large-scale, disruptive protests are rare in China, and smaller protests over local grievances have often been met swiftly with restrictions, arrests and excessive force and are rarely covered by the media.
The large-scale protest in China poses a challenge to the authority of President Xi Jinping - after he was given an unprecedented third term mandate - and the Communist Party of China and the authorities have moved swiftly to stifle the mass protests by blocking protest sites, harassing and arresting protesters, and have stepped up surveillance and censorship of social media. At the same time, due to the protests the authorities have had to eased some controls but maintained they would stick to a "zero-COVID" strategy that has confined millions of people to their homes for months at a time.
Human rights groups have called on the Chinese authorities to respect the fundamental rights of people across China to peacefully protest restrictions and to call for freedom and human rights. They have also called on the authorities to immediately release all protesters wrongfully detained and cease online censorship of protest-related information.
The United Nations also urged China to respect the right to peaceful protests in the country and asked the Chinese government not to detain people just for participating in a protest. UN Human Rights Office spokesman Jeremy Laurence said: "We call on the authorities to respond to protests in line with international human rights laws and standards. No one should be arbitrarily detained for peacefully expressing their opinions".
Peaceful Assembly
Protests in Tibet against lockdown
In October 2022, hundreds in the tightly policed Tibetan regional capital of Lhasa staged a rare demonstration against a harsh lockdown that persisted for almost three months.
Footage of protests that emerged from the region showed hundreds of both Tibetans and Han Chinese migrants demonstrating on the streets of the capitalto protest the lockdown. One video showed hundreds of people gathered on a narrow street, while officials in protective gear blocked them. Protests were geolocated to an area near the Potala Palace, the traditional residence of the Dalai Lama, Tibet's exiled spiritual leader. Those videos and related content were quickly scrubbed from Douyin and the Twitter-like Weibo platform.
Tibet is governed as an autonomous region of China and rights groups say China continues to violate human rights, accusing Beijing of political and religious repression.
Workers clash with police as hundreds protest at iPhone plant
Workers clashed with authorities at Taiwan-invested iPhone maker Foxconn in the central Chinese city of Zhengzhou on Wednesday, as hundreds of laborers staged a protest over delayed bonus payments amid mounting anger at China's zero-COVID policy.https://t.co/VPCPxMB8mS

— Radio Free Asia (@RadioFreeAsia) November 27, 2022
On 24th November 2022, protests broke out around Foxconn's vast iPhone factory in the central city of Zhengzhou in central China, as workers clashed with security personnel over salaries and living conditions at the plant.
Hundreds of workers joined the protests, with footage uploaded on social media showing some men pulling down barriers and smashing surveillance cameras and windows. The trigger for the protests appeared to be a plan to delay bonus payments, according to many of the demonstrators on livestream feeds. "Give us our pay!", chanted workers. Some workers had complained they were forced to share dormitories with colleagues who had tested positive for COVID-19.
The protests were met by excessive use of force by the police in white protective suits with plastic riot shields. Police kicked and hit a protester with clubs after he grabbed a metal pole that had been used to strike him. Police also fired tear gas and a water cannon at the crowd.
Anti-lockdown protests in Xinjiang following deadly apartment fire
On 26th November 2022, hundreds took to the streets of Xinjiang's regional capital Urumqi in late November, according to videos circulating on social media, calling for an end to lockdown measures that have affected the region for the past three months.
The protests occurred after a fire killed 10 people in a city apartment block. Social media users claimed lockdown measures prevented residents from leaving their homes in time and delayed access to the compound by emergency services.
According to the BBC, footage shared showed residents, many of them in face masks, gathering after dark on the city streets. They were seen chanting, pumping their fists and arguing with officials. One demonstrator shouted through a megaphone, and in another clip a crowd breaks through a barrier policed by city workers wearing protective gear. Live streams monitored by the BBC also appeared to show protesters gathered on the steps of a city government building.
Protest against the zero-Covid policy spread across the country
The rare mass protests in Xinjiang have sparked a wave of similar protests across Chinese cities and campuses. The protest often featured demonstrators holding pieces of blank white paper - a metaphor for the critical social media posts, news articles and outspoken online accounts that have been wiped from the internet as thousands of people took to the streets.
In Beijing, people gathered under Sitong Bridge, where on the eve of the 20th Communist Party Congress in October 2022 a lone protester unfurled banners stating: "Remove that authoritarian traitor Xi Jinping."
According to Al-Jazeera, hundreds of students from Beijing's Tsinghua University rallied at their campus on 27th November 2022, chanting "freedom will prevail" and calling for an end to lockdowns.Protests also took place on other campuses, including the prestigious institutions of Peking University and Communication University of China, Nanjing.
Hundreds of people protested in Wuhan, where COVID-19 first emerged in 2019. Footage showed people gathered at night, cheering and recording the protest on their mobile phones.
This is now on Wulumuqi (=Urumqi) lu in #Shanghai. People holding up white sheets of paper. 'We don't need to write anything on it. It is a symbol of the revolution of the people', someone says. (Don't manage to send videos.) pic.twitter.com/oWwyADTHuX

— Eva Rammeloo (@eefjerammeloo) November 26, 2022
In Shanghai, hundreds of people gathered at the city's Wulumqi Road at midnight, The Associated Press reported people bringing flowers, candles and signs reading "Urumqi, November 24, those who died rest in peace" in memory of the 10 people who died in a fire in an apartment building in Xinjiang.
The crowds in Shanghai chanted, "Lift lockdown for Urumqi, lift lockdown for Xinjiang, lift lockdown for all of China!", according to a video said to be of the demonstration that circulated on social media. At one point a large group began shouting, "Down with the Chinese Communist Party, down with Xi Jinping, free Urumqi!", according to witnesses and video footage.
In Hong Kong, where a national security law imposed by Beijing in 2020 has been used to stifle dissent, dozens of people gathered in the city's Central district for a vigil. Some held blank pieces of paper, while others left flowers and held signs commemorating those killed in the Urumqi fire.
The Chinese government has cracked down swiftly, deploying police at key protest sites, calling protesters to warn them and tightening online censorship.
The crackdown on protesters
China's vast security apparatus has moved swiftly to smother mass protests that swept the country, with police patrolling streets, checking cell phones and even calling some demonstrators to warn them against a repeat https://t.co/dZ9ZkuJgjC

— CNN International (@cnni) November 29, 2022
China's vast security apparatus has moved swiftly to stifle the mass protests. While protests in several parts of the country appeared to have largely dispersed peacefully, according to Human Rights Watch videos circulated online show dozens of police officers arriving at protest sites in Shanghai and elsewhere, trying to disperse the crowds, and dragging protesters into police vehicles.
On 30th November 2022, CNN reported that in major cities police flooded the sites of protests. The heavy police presence has discouraged protesters from gathering since then, while authorities in some cities have adopted surveillance tactics used in the far western region of Xinjiang to intimidate those who demonstrated.
Without mentioning the demonstrations, state security minister Chen Wenqing urged law enforcement officials to "resolutely strike hard against infiltration and sabotage activities by hostile forces, as well as illegal and criminal acts that disrupt social order," the state-run news agency Xinhua reported.
Wulumuqi Road, the sight of protests and clashes over the past few days, now fenced up. Heavy police and security presence. People who take photos are being stopped by police and forced to delete. Two people taken away for refusing to. #shanghai #china pic.twitter.com/g7YcDxnya1

— Edward Lawrence (@EP_Lawrence) November 28, 2022
The sidewalks of Urumqi Road – the main protest site in Shanghai – have been completely blocked by tall barricades, making it virtually impossible for crowds to congregate. In Beijing, police vehicles lined quiet streets on 28th November 2022 throughout parts of the capital, including near Liangmaqiao in the city's central Chaoyang district, where a large crowd of protesters had gathered the night before.
Chinese police have also deployed sophisticated surveillance tools to stamp out the nationwide wave of unrest, using facial recognition software and location data to track down and detain protesters.
Authorities are also using cellphone data to track down protesters. Some protesters have been contacted by police, demanding information about their whereabouts. Some protesters and relatives were also detained for up to 24 hours and there were reports that police also confiscated the cellphones of protesters under arrest.
Widespread censorship of online posts and videos related to protests
China's censorship machine is going to great lengths to prevent people seeing scenes of protest in multiple Chinese cities.Videos and posts on social media about the protests were deleted by the ruling party's vast online censorship apparatus.
According to the BBC, an ever-growing list of words that reference the protests are being censored, and attempts are being made to deflect the narrative on both domestic and overseas platforms.
To stop people talking about the latest anti-COVID protests, the words "Shanghai" and "Urumqi" - cities where residents have protested - have been added to a list of censored search terms by platforms like Weibo. Whereas before they showed tens of millions of results on the Chinese social media platform, now they only show hundreds.
According to The Guardian, the authorities have initiated the highest "emergency response" level of censorship, according to leaked directives, including a crackdown on VPNs and other methods of bypassing online censorship. Leaked directives issued to online Chinese platforms have revealed authorities' specific concerns about the growing interest among citizens in circumventing China's so-called "Great Firewall". Protesters and other citizens have this week used VPNs to access non-Chinese news and social media apps which are banned in China.
Phones being checked for foreign apps
Police are also checking people's phones for the presence of foreign apps, including Instagram, Twitter and the encrypted messaging app Telegram.
According to reports, people in the country were accessing banned services like Twitter, Telegram and Instagram through virtual private networks (VPNs) to communicate and organise protests against China's zero-COVID policies. Posts about the protests have been heavily censored on Chinese social media, and a flood of spam - supposedly posted by accounts with ties to the Chinese government - is reportedly burying legitimate reports about the protests on Twitter.
In China's capital city, authorities are writing down the personal information of anyone they catch with foreign apps and giving them a warning. Chinese police are also threatening to arrest people for not deleting photos of the protests, according to the BBC.
Journalists covering protests targeted
Police have also detained journalists covering the protests. News agency Reuters said one of its journalists was briefly detained on 27th November before being released.
Edward Lawrence, a journalist at the BBC, was arrested by police in Shanghai at the scene of protests on the same day, according to the BBC and as captured on what appears to be mobile phone footage of the arrest. About four police officers pushed Lawrence to the ground, beat and kicked him, and then arrested him. He has since been released.
On the same day, the Committee to Protect Journalists said that Shanghai police detained Michael Peuker, China correspondent for Swiss public broadcaster Radio Télévision Suisse's news platform RTS Info, for about an hour. After Peuker finished a live broadcast from a protest site, police detained him and his camera operator, brought them to RTS Info's office, and confiscated their video equipment, according to those sources.
The Foreign Correspondents Club of China said in a statement that journalists from "multiple outlets" had been physically harassed by police while covering protests in Shanghai and Beijing, and urged authorities to protect journalists'.