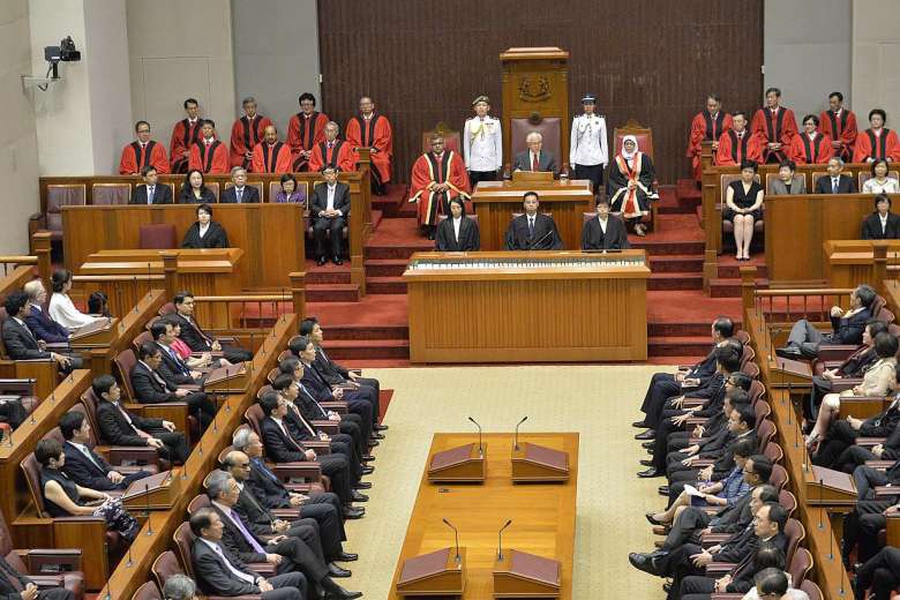 The 'Protection from Online Falsehoods and Manipulation Bill' to combat fake news was passed by parliament on 8th May 2019, despite civil society concerns it could stifle freedom of expression. The issue of freedom of expression remains a serious concern in Singapore. Most recently, the country ranked a dismal 151st spot out of 180 countries in Reporters without Borders (RSF) 2019 World Press Freedom Index, released in April 2019.
Regarding peaceful assembly, in this update we also highlight the case of activist Jolovan Wham. Wham was sentenced to a fine or days in prison, in February 2019 for organising an 'illegal assembly' and for contempt of court in April 2019.
Expression
Anti-fake news bill approved by parliament
The Protection from Online Falsehoods and Manipulation Bill was passed by the Singaporean parliament on 8th May 2019. According to the government the bill was drafted to 'protect Singaporeans from fake news and educate them about potential damage it can cause - in particular inciting racial and religious disharmony.' However, analysis of the draft text by civil society groups shows that the bill contains provisions that are inconsistent with international human rights law and standards on freedom of expression and information.
The proposed bill grants broad powers to the authorities to order the correction of online content when there is a 'false statement of fact' that jeopardises the 'public interest', which is defined broadly and includes: protecting Singapore's 'friendly relations' with other countries; preventing the diminution of public confidence in the Government, any statutory board or part of the Government; or protecting 'public tranquillity.' It authorises the Minister to order Internet service providers to post statements indicating that content is false, or to disable access to certain content. It also forces Internet service providers, digital advertising intermediaries, and companies to restrict access to funding to such 'false' news sites..
The International Commission of Jurists (ICJ), has raised significant concerns about bill in an open letter to the government. These concerns include:
- Vague, overbroad provisions: Provisions fail to define fundamental terms pertaining to the implementation of the law, including 'false statement of fact' and 'public interest', preventing precise understanding of the law so that individuals are able to regulate their conduct accordingly. They also open the law up to a real risk of misuse by ministers and government authorities charged with its implementation;
- Unfettered discretion to ministers and government authorities: Powers granted to ministers and government authorities under the bill fail to include sufficient judicial oversight measures to protect against the risk of arbitrary and abusive implementation. Notably, the first stage of recourse available to an aggrieved party is ministerial review of a direction or order made under the bill, which is not an independent or impartial mechanism, negatively impacting on the right of aggrieved parties to prompt and effective remedy, including judicial remedy;
- Non-compliance with 'least restrictive means' principle: Provisions impose a range of imprisonment terms and hefty fines as penalties for not only makers of an alleged false statement of fact – which is a category that can in itself potentially be interpreted in an overbroad manner to, for example, include individuals or non-individuals who 'like', 'share' or 'comment' on such information on social media – but also of intermediaries facilitating communication of such statement. This can result in a chilling effect on the free communication of opinions or information, especially in the context of discussions about matters of public interest and concern;
- Absence of clear protections for freedom of expression, opinion and information: Provisions fail to provide clear protections for the right to freedom of expression, opinion or information, or include exceptions or defences that would guarantee the same. Defences of public interest, honest mistakes, parody and artistic merit are also not provided for under the bill. There is no recourse available for a direction or order made under the bill to be quashed on judicial review grounds of illegality, irrationality and procedural impropriety;
- Scope of jurisdiction: Provisions allow for extraterritorial application, providing that penalties can be imposed on individuals or non-individuals 'whether in or outside of Singapore'. This is inconsistent with obligations to protect the rights to communicate expression, opinions and information "regardless of frontiers" and can violate the rights of persons not only in Singapore but also outside of Singapore, for example, where a subject statement is ordered to be removed off a platform that is also accessed by persons outside of the country
In April 2019, Frederick Rawski, International Commission of Jurists (ICJ) Director for Asia and the Pacific said:
"This bill, if passed, would make the government the sole arbiter of what information is permissible online and what is not, creating a real risk that the law will be misused to clamp down on opinions or information critical of the government."
On 24th April 2019, the UN Special Rapporteur on the promotion and protection of the right to freedom of opinion and expression, raised serious concerns regarding the bill in a letter to the government. .
Activist Jolovan Wham fined for contempt of court
On 29th April 2019, activist Jolovan Wham and opposition politician John Tan were fined S$5,000 (USD 3,666) each for contempt of court.
On 9th October 2018, Wham and Tan were found guilty of contempt of court for criticising the judiciary of Singapore. Both had argued that the comments were fair criticism and in line with their right to freedom of expression. However, despite this, Woo Bih Lih, the High Court Judge, said the post "posed risk that public confidence in the administration of justice would be undermined".
Under Singapore's Administration of Justice (Protection) Act, it is considered contempt to "publish anything that imputes improper motives to or impugns the integrity, propriety, or impartiality of any court and poses a risk that public confidence in the administration of justice would be undermined". Those found in contempt face up to three years in prison and a fine of up to S$100,000 (USD 73,415).
According to Frontline Defenders the sentencing of Jolovan Wham is part of an intensifying pattern of judicial harassment that he has faced since September 2017. The organisation added:
"Front Line Defenders condemns the unjust punishment of Jolovan Wham as it believes that the human rights defender is being prosecuted solely as a result of his legitimate and peaceful work in the defence of human rights".
No change in Singapore press freedom ranking by Reporters without Borders
Singapore has remained ranked at a dismal 151st spot out of 180 countries in RSF's 2019 World Press Freedom Index released in April 2019. According to Reporters without Borders (RSF), Prime Minister Lee Hsien Loong's government is always quick to sue critical journalists, apply pressure to make them unemployable, or even force them to leave the country.
Defamation suits are common and as a result of judicial and financial pressure from the authorities, self-censorship is widespread, including within the alternative independent media. The situation worsened significantly in 2018, with serious charges being pressed against five independent news websites and at least seven journalists and bloggers. The Singaporean authorities have also started sending journalists emails threatening them with up to 20 years in prison if they don't remove offensive articles.
Government plans to adopt new anti-foreign interference laws
The Singaporean government is reportedly exploring the possibility of adopting anti-foreign interference legislation. On 5th March 2019, it was reported that Singapore's home affairs minister Shanmugam is studying what Australia is doing in terms of anti-espionage and secrecy laws. In addition to the Australian model, the Home minister said to be looking also at German hate speech laws.
However, human rights groups have raised concerns about these plans due to the already repressive environment for freedom of speech in the country. Phil Robertson of Human Rights Watch, pointed out how "Singapore has plenty of laws already to violate free expression & it doesn't need anti-foreigner legislation to add to that".
Peaceful assembly
Judicial harassment of activist Jolovan Wham continues
On 21st February 2019, Singaporean human rights defender Jolovan Wham was sentenced to a fine of $3,200 (USD 2,367) or 16 days in prison, for organising an 'illegal assembly'. Instead of paying the fine, Jolovan expressed the preference to serve prison so as not to "validate a system which does not respect basic freedoms and where even a Skype call is considered an offence". He plans to appeal the sentence.
As documented previously by the CIVICUS Monitor, in January 2019 Jolovan was found guilty by the Singapore District Court for organising an 'illegal assembly without a police permit' in violation of the Public Order Act'. The conference featured a Skype call with Hong Kong activist Joshua Wong. According to the Public Order Act, a permit is required when a foreign national participates in an assembly.
Regional and international human rights groups including global civil society alliance, CIVICUS condemned Jolovan's sentence, urging the Singaporean authorities to quash the conviction against Jolovan and repeal or substantially amend all repressive laws curtailing fundamental freedoms in the country.
In a separate incident, on 2nd March 2019, the police interrogated Jolovan for staging an 'illegal assembly' in December 2018, in violation of the Public Order Act 2009, and confiscated his phone. Jolovan had posted a photo of himself on Facebook holding the sign "drop the charges against Terry Xu and Daniel De Costa" outside the State Court. Both are facing criminal defamation charges for condemning government corruption while Da Costa has also been charged under the Computer Misuse Act.
Jolovan pointed out on Twitter that "as the photograph clearly shows, I was the only person holding up the sign. To characterise my act as an assembly is to defile the English language for political ends. The Oxford dictionary defines an assembly as a 'group of people gathered together for a common purpose". He also noted how "Singapore cannot call itself a developed nation and a democracy if it continues to criminalise peaceful acts where even a photo op is criminalised".