Youth protest in Mongolia on the economic situation while press freedom rankings drop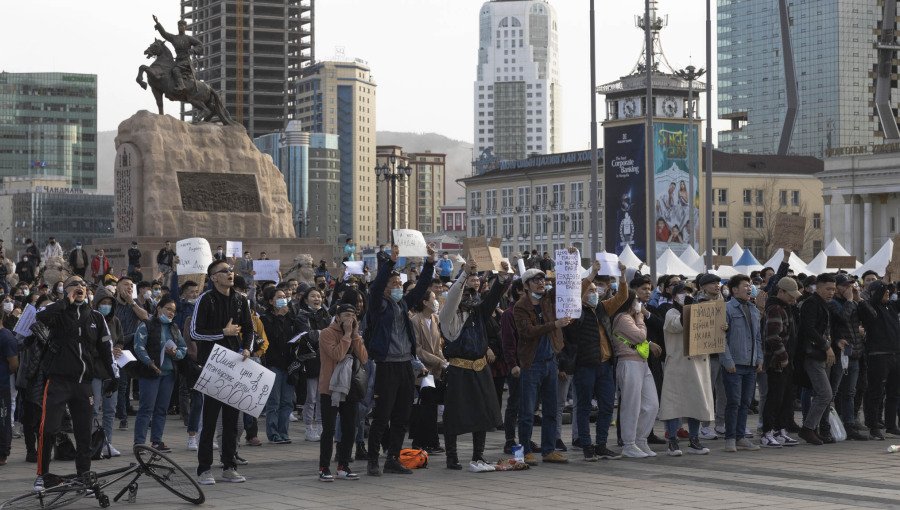 Peaceful Assembly
Youth hold protests around failure of government to address economic issues
Over 7th and 8th April 2022, thousands of youth gathered at Sukhbaatar Square in Ulaanbaatar to protest the government's lack of action in solving the country's issues.
They voiced their concerns about corruption, governmental inefficiency, injustice, debt burden and, of course, inflation. Through their representatives, they delivered to the government a list of fifteen demands, including measures to prevent inflation, revise tax law, fairly distribute credit, support industrialisation and restrict government rights and spending.
The protest signalled a breaking point for citizens who struggle to keep up with rising costs. They accused the government of neglecting its duty to remedy the situation and forcing people to consider fleeing the country. Mongolians are grappling with a record rise in inflation from 2.4 percent in January 2021 to 14.6 percent in the same month in 2022.
They chanted "Do your job" and very soon the movement became known as the "Do Your Job!" protests. They also chanted "You cut back on your expenses!" at government officials with the chant targeted especially at the Speaker of Parliament Gombojavyn Zandanshatar, who had pressed Mongolians to cut back on their expenditure during the current difficult times.
According to some of the protesters, after the peaceful protest dispersed on 7th April, about 20 individuals were caught by the police and beaten. Pictures of multiple police officers stomping on an individual went viral, sparking social media outrage. The police claimed that some protesters "were eager to create chaos, instigate strife, or serve as henchmen of certain characters with money".
On 8th April, more protesters turned out to oppose the police brutality the previous day, marking one of the biggest peaceful protests among Mongolia's youth since the beginning of the COVID-19 pandemic.
In response, Prime Minister Oyun-Erdene Luvsannamsrai, attempting to address concerns, said: "The government will do all in its power to lower the price of meat, rice and flour, and to not cut off medicines and medical supplies, and to keep the price of gasoline stable". Later that evening, he informed the protesters that he would be proposing legislation to parliament to bring about measures that would ease the current dire economic straits.
Expression
Press freedom ranking drops as journalists continue to be targeted
In May 2022, Reporters Without Borders (RSF) issued their annual press freedom rankings, with Mongolia dropping 22 spots from 68th in 2021 to 90th place. The organisation said that "Mongolia, a liberal democracy since the early 1990s, broadly respects the principles of freedom and media pluralism, though its regulation still lacks basic legal protection for the confidentiality of sources and imperfect defamation laws encourage abusive lawsuits against journalists, stirring self-censorship".
RSF reported that "Mongolian media ownership is very concentrated and lacks transparency. Whether owned privately or by the state, most Mongolian media openly show their affiliation to the government or political parties. Therefore, the media ability to act as watchdogs is limited by the pressure from politicians".
It added that "more than half of all defamation cases in Mongolia are brought against journalists and media outlets. Harsh financial penalties force them to censor themselves and curtail the development of independent and investigative media. Many cases of journalists accused of spreading false information are based on petitions and complaints from high-ranking political officials, members of parliament, civil servants or government agencies."
The organisation said that "many Mongolian journalists experience some form of threats, pressure or insults related to their work, and several cases of harassment and violence have been reported."
Activist Munkhbayar Chuluundorj remains detained
🇲🇳 #Mongolia: Arrest of activist critical of #China Munkhbayar Chuluundorj and proposed restrictive NGO laws, a regressive step by the authorities

Our latest #civicspace update: https://t.co/mFdbftVRZw pic.twitter.com/h1QUJnIddr

— CIVICUS Monitor (@CIVICUSMonitor) March 9, 2022
In June 2022, the Southern Mongolian Human Rights Information Centre published an open letter from detained activist Munkhbayar Chuluundorj. As previously documented, the prominent activist, who has been critical of China, was arrested in Mongolia in February 2022, part of what campaigners have said is a wider effort to "clean up" Beijing's critics in the country.
Munkhbayar Chuluundorj was arrested in Ulaanbaatar on suspicion of "receiving instructions and funds from a foreign intelligence group", the country's spy agency said. The General Intelligence Agency (GIA) said he had "engaged in illegal cooperation activities".
In the open letter Chuluundorj said: "The General Intelligence Agency of Mongolia manufactured evidence and shamelessly brought a trumped-up case against me to silence me. I have been cut off from society for more than 100 days due to the deep infiltration of defenders of the People's Republic of China into the Mongolian state."
Human rights groups said they suspected Munkhbayar's comments on China had brought him under official scrutiny. The Southern Mongolian Human Rights Information Centre said he has been one of the most vocal critics of the Mongolian government's "cosy relationship with China" and has "defended Inner Mongolian human rights, culture, history and land rights".