Withdrawal from the Istanbul Convention; journalists remain under threat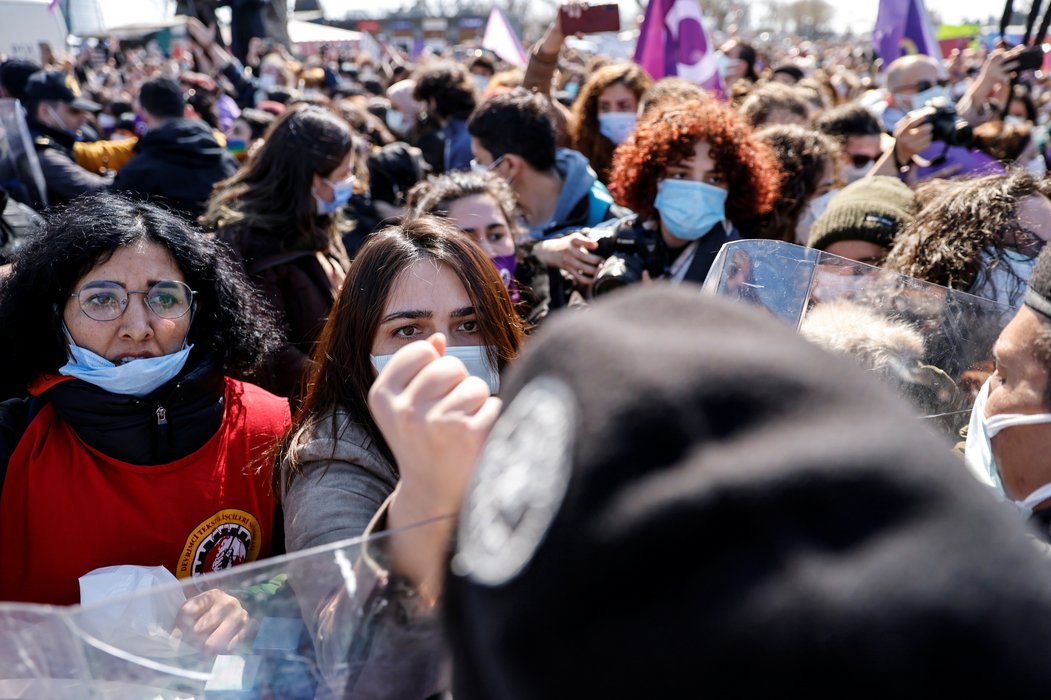 Association 
HRDs detained, politicians targeted
On 19th March 2021, the Human Rights Association (İnsan Hakları Derneği –İHD) Co-Chairperson Öztürk Türkdoğan was arrested together with ten other individuals. This comes the morning after the police searched the co-chairperson's house within the scope of an investigation conducted by the Ankara Chief Public Prosecutor's Office. Following democratic reactions to his arrest, both at home and abroad, along with the fact that the issue was passed on to the Ministry of Justice, Türkdoğan was released under judicial control. However, the ten other individuals arrested remain in custody.
3 veya 4 ayrı koldan gözaltı işlemi yapılıyor bu sabah.
1. İstanbul'da HDP'nin Beşiktaş ve Kağıthane ilçe başkanlarının da aralarında bulunduğu 10 kişi.
2. Adana'da HDP'lilere gözaltı
3. Gazi Katliamı anmasına katılanlara gözaltı.
4. Bazı HDP ve İHD yöneticilerine gözaltı.

— Ahmet Saymadi (@ahmetsaymadi) March 19, 2021
As reported previously on the Monitor, on 19th February 2021, Turkey's top appeals court approved a jail sentence for Omer Faruk Gergerlioglu, a lawmaker from the pro-Kurdish HDP on terrorism charges. On 17th March 2021, Gergerlioglu was stripped of his MP status. However, he chose not to leave the parliament as a sign of protest. On 31st March 2021, the Constitutional Court rejected an application against the revocation of his parliamentary mandate. Following this, he was detained at his home in the capital city of Ankara on 2nd April 2021.
In a separate but related development, the Chief Public Prosecutor of the Court of Cassation has filed a closure case against the People's Democratic Party (HDP) by appealing to the Constitutional Court. The indictment has been sent to the top court. In the indictment there is also a request for political bans on 687 HDP politicians.
Peaceful Assembly
Withdrawal from domestic violence treaty
President Recep Tayyip Erdoğan ended the country's participation in the Council of Europe's Istanbul Convention - a landmark international treaty protecting women from violence - through a surprise overnight decree in March 2021. The decision prompted widespread demonstrations and condemnation from women's rights groups and western countries. On 6th April 2021, four Iranian asylum seekers were detained for taking part in protests in March 2021. Several opposition parties and civil organisations went to court to try to paralyse the decision on the grounds that a simple decree of the President could not invalidate membership in an international treaty approved by Parliament. According to a research report, "women's organisations with different affiliations have reached out across divides to many groups both nationally and internationally, even including GONGOs [Governmental civil society organisations] to a certain extent, making an extra effort to convince everybody to keep the Convention in place." The international community, including the European Union, the European Commission and UN representatives, heavily criticised Turkey's withdrawal from the Istanbul Convention.
"We are concerned that Turkey's withdrawal from the Istanbul Convention would undermine the significant efforts invested so far to prevent and combat violence against women and may hinder progress towards further strengthening of national legislative, policy and institutional frameworks. "We urge the Government of the Republic of Turkey to continue protecting and promoting the safety and rights of all women and girls, including by remaining committed to the full implementation of the Istanbul Convention", UN agencies.
Turkey's withdrawal from the Istanbul Convention was the focal point of the international community and civil right activists during this reporting period. Turkey has high rates of femicide: at least five women are killed per day, amid nationwide protests against the decision. Violence against women and LGBTI groups are major problems currently in Turkey.In the first four months of 2021, men killed 108 women, harassed 37 women, abused 49 children and raped 39 women. Men forced at least 256 women into sex work and inflicted violence on/injured at least 253 women. In the first four months of 2021, the deaths of at least 74 women were reported in the press as "suspicious". Men killed at least seven children in this period.
May Day protests
In a separate development, police tried to prevent meetings taking place on Labour Day (1st May 2021) by closing all roads leading to Taksim Square - a place that holds symbolic value in the marking of this day, and in other cities. During the protest, 212 people were detained by the police in 29 demonstrations, which the police claim were organised illegally.
The trend of using the country's terrorism law to target journalists was again noted in this period. At least ten journalists, including Reporters Without Borders Turkey's Erol Önderoğlu were due to appear in court on terrorism related charges during April 2021. RSF issued a statement expressing concern and condemnation of the practice of silencing Turkish journalists on terrorism-related charges.
According to a report released by the Coalition of Women in Journalism (CFWIJ) on World Press Freedom Day, 3rd May 2021 Turkey has the highest number of threats and attacks on women journalists. The report said:
"CFWIJ closely monitored and documented 114 cases of legal harassment, detentions, and attacks in the field across the country. At least 50 women journalists appeared in court to defend the stories they revealed or the posts they shared on social media. In Turkey, women journalists often face defamation or terror-related charges. Three women journalists were sentenced to prison since the beginning of the year.
Related to this, Hatice Duman, former owner and news editor of the socialist Atılım, who has been imprisoned since 2003, is the longest-jailed journalist in Turkey. She has accused the state of depriving her of the right to a fair trial.
This year, the RSF World Press Freedom Index ranked Turkey 153rd out of 180 countries, one place higher than last year. RSF notes:
"Even if Turkey is no longer the world's biggest jailer of journalists, the risk of imprisonment and the fear of being subjected to judicial control or stripped of one's passport is ever-present."

"In this "New Turkey" marked by Recep Tayyip Erdogan's hyper-presidency, one in which arbitrary decisions by magistrates and government agencies are the new normal, Internet censorship has reached unprecedented levels. Questioning the authorities and the privileged is now almost impossible."
A public prosecutor requested up to four-year prison sentences for four journalists who collaborated with French satirical publication Charlie Hebdo in publishing content. The journalists have been charged with insulting and tarnishing the reputation of Turkish President Recep Tayyip Erdogan.
An investigation was launched against the Diyarbakır Bar Association on allegations of "insulting the Turkish Nation, the State of the Republic of Turkey, the institutions and organs of the state" after the association issued a statement on 24th April 2021 for "Armenian Genocide Remembrance Day". In response to this, the Bar Association said:
"Defending the freedom of expression of everyone to the end, the Diyarbakır Bar Association will not restrict its own freedom of expression due to pressures and investigations. We will keep on defending our statements befitting our values in a manner befitting the same historical values."
Positive developments
In a positive development, Turkey's top court annulled a state of emergency decree that resulted in the closure of media outlets, when it was introduced after the failed coup in 2016. Hundreds of media outlets were shut down by the government under the guise that they pose a threat to national security.
In another positive move, the European Court of Human Rights (ECtHR) ruled that Turkey had violated, among others, the right to freedom of expression of prominent author and journalist Ahmet Altan. Altan was jailed in 2016 as part of a purge of media organisations and was accused of supporting the coup attempt by spreading "subliminal messages announcing a military coup" on television. At age 71, Altan was freed from jail in April 2021.
THREAD @RSF_inter welcomes the decision of a Turkish court to release journalist Ahmet Altan. He is 71 years old and has spent the past five years in jail. His detention was a pure and long non-sense and a violation of all democratic values. #PressFreedom pic.twitter.com/QqPbthrJhR

— Christophe Deloire (@cdeloire) April 14, 2021
Another ruling in favour of a Turkish journalist took place, as the ECtHR ruled that Turkey violated the rights of the prominent journalist Banu Guven by denying her access to information into corruption allegations against four ministers in Erdoğan's government, after the journalist herself brought the complaint to the ECtHR.